How can something poked with spikes and holes be leak-proof? We know that when an object has holes and you pour water on it, the water will obviously leak from the holes. But that actually depends on many factors. And for today's experiment, we'll find out how to make a leak-proof hedgehog and the science behind it!
My Pre-K Box: The best subscription box for kids ages 3 to 5!
My Pre-K Box is an educational subscription box for preschoolers filled with different learning activities for math and literacy skills! With fresh new themes each month, your child will delight in all of the fun, play-based learning activities inside! Prepped and delivered straight to your door, My Pre-K Box is so much fun - your child won't even realize how much they're learning!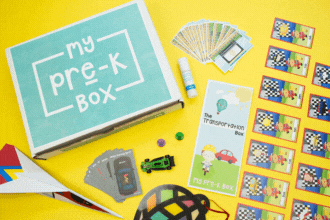 We will use a cute hedgehog drawing (not a real one) for this experiment since it's almost fall and hedgehogs are commonly found in piles of dry leaves. These cute little hedgehogs are known for their spikes, which is perfect for our exciting experiment!
Materials for the Leak-proof Hedgehog Science Experiment:
Ziploc plastic bag

marker

toothpicks
Before we start…

Get your welcome freebie here!

Want to know how a rocket launches? Get this Print & Go Rocket Launch Experiment! It's a complete guide and instructions to help you process a rocket launch experiment with your kids while at home. Read more about the Rocket Launch Experiment here, or download it right away!
Procedure for the Leak-proof Hedgehog Science Experiment:
Step 1 Get a ziplock plastic bag and draw your little hedgehog!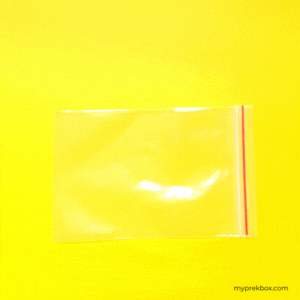 Step 2 Pour water inside the plastic bag, fill it up to three-fourths, and lock it. Make sure it is zipped well and no water leaks from the opening.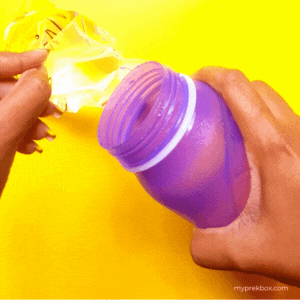 Step 3 Now grab the toothpicks and start putting the hedgehog's "spikes"!
Step 4 Observe the hedgehog. Is it really leak-proof? How did this happen?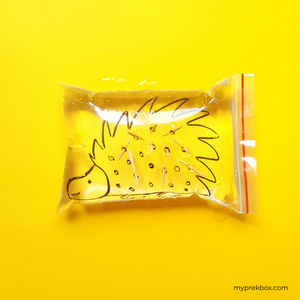 Before we tell you how it happened…

Here's another gift for your preschooler!

If you enjoyed this science experiment, you can try our Science Preschool Fun Pack for more science learning! It includes simple activities about the weather, plants, living things, temperature, and more! Interested? Learn more about the Science Preschool Fun Pack here, or get your copy now!
The Science Behind the Leak-proof Hedgehog Science Experiment
Is it magic? How did this drawn hedgehog become leak-proof even after pricking it with toothpicks? It's definitely not magic, but we can explain it with science! You see, plastics are made up of polymers. These polymers are long and flexible chains of molecules. If you try to forcefully break them (like by poking them with a stick), they will immediately pull back together, resulting in a seal forming around the stick!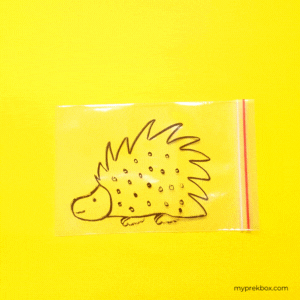 To extend your discoveries, try different scenarios and find out if the results would be different!
Try a bigger stick or a pencil

Try to poke it through the plastic

Try to wiggle the stick to make a bigger hole

Try to pull out the stick and put it back
What happened when you did these? Talk to your little one and discuss your observations and findings!
For more science experiments and discoveries, check out these exciting activities!
The Leak-proof Hedgehog Science Experiment is just one of the many science experiments we shared in our blogs. And if you want more activities but don't have enough time to prepare the materials and tools, check out My Pre-K Box! It's a subscription box that is filled with fun preschool activities, delivered every month to busy families like yours.
And because want our customers to be happy and satisfied, we always make sure that My Pre-K Boxes' games and activities are safe and of excellent quality. It is also very kid-friendly, incredibly practical, and reusable! It can be shared with his siblings and friends and can be used repeatedly! We also sell duplicate crafts for only $3.25 per month, so you can get a duplicate for his siblings! If your little one is a fan of our craft, you can also subscribe to our Craft Lovers Upgrade for $4.25 per child, which includes more fun crafts and two more arts and crafts activities.
The fun and exciting activities inside My Pre-K Box will help your child enjoy learning, and you won't have to worry about a thing - it will be all prepped and delivered to your door! No more researching, planning, and cramming to make the activities yourselves! My Pre-K Box will handle it all for you, while you can simply guide and watch them learn in the convenience of our home!

Let's Connect
Did you enjoy the Leak-proof Hedgehog Science Experiment? We hope you enjoyed it and learned a lot! LIKE and FOLLOW us on Facebook and Instagram for more scientific discoveries, thematic crafts, art projects, and free printables! Use the hashtag #myprekbox when sharing your fun moments with us. See you there!
Haven't Tried My Pre-K Box Yet?
My Pre-K Box is the best subscription box for

kids 3-5 years of age!

Everything you need to play, create, explore,

learn, laugh, and enjoy!