Ask a group of preschoolers what they want to be when they grow up and I bet you will hear at least a few enthusiastic answers of, "an Astronaut!" Space travel, exploring planets and, of course, flying are at the top of the list of reasons why kids want to be astronauts. Doing this hands-on experiment is a fantastic way to build on your curious preschooler's interests.
My Pre-K Box: The ultimate subscription box for preschoolers!
You'll love how our preschool subscription box, My Pre-K Box, is filled with hands-on learning activities! Haven't tried the best preschool subscription box yet? My Pre-K Box delivers play-based learning activities right to your door! Each month, expect high-quality materials packed and ready for hours of hands-on fun! Our monthly themes are certain to excite your preschooler!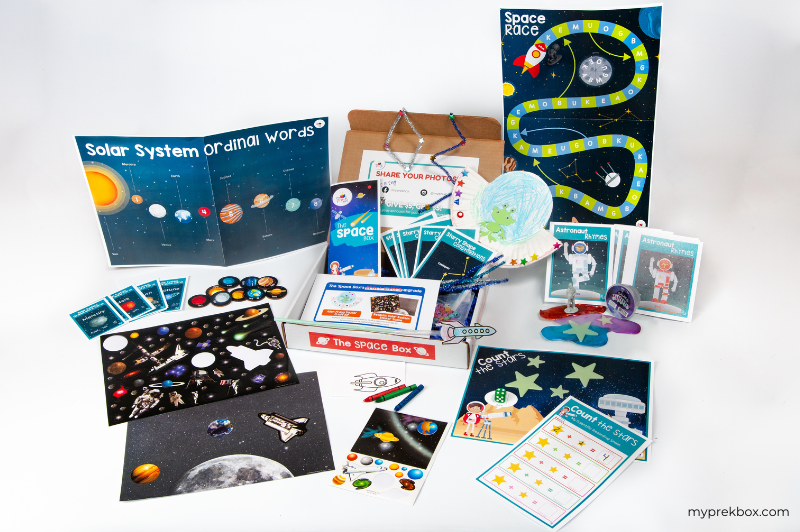 Film Canister Rocket Launch
Let's launch into this easy-to-set-up, fun, and hands-on science experiment that ties in perfectly with My Pre-K Box's The Space Box. Your little learner will love having a rocket launch take place in their own home or backyard! So, gather some materials, and let's get started!
Materials for the Rocket Launch Experiment:

Film canister*

Alka-Seltzer tablets

Water

Water dropper (optional)
*Don't have any film canisters? Try a small play-doh container, plastic egg, or even an M&M mini's container with the lid connector cut. Anything with a lid that can easily snap on and off will work. You would be surprised what kind of things you may already have around your house!
Set Up Your Launch
You've gathered all of the materials needed and now you are ready to blast off! Allow your preschooler some time to add some stickers to the film canister to decorate it if you like. Keep in mind, that the canister will get pretty wet, so most decorations may not last more than a few rocket launches.
This activity requires adult participation. Our Film Canister Rocket Launch can get messy and the reaction happens quickly. Setting up the rocket launch outside is ideal, but it can be done inside as well. If you are doing this experiment inside, we suggest launching the rocket from a baking pan placed on a beach towel. We also recommend having your preschooler wear safety goggles for the launch.
Rocket Launch Experiment Procedure
Step 1 Pour enough water into the canister to fill it about ⅓ of the way. You can also have your preschooler use a water dropper to fill the canister (and help build those fine motor skills).
Step 2 Add half of an Alka-Seltzer tablet to the film canister.
Step 3 Place the lid tightly on the canister and flip the canister upside down. The lid should be on the bottom now. Stand back and wait.

*Steps 2 and 3 should be completed by an adult because you will need to move quickly! Once you add the tablet, the reaction begins right away. You will need to get the lid on the canister within the first few seconds of adding the tablet for the launch to work.
Some reactions take longer than others, but just be patient...it will launch! 🚀
Test Different Variables

Use your Rocket Experiment Printable to flex your preschooler's scientific reasoning skills by testing out different variables! What happens if you change one aspect of the experiment? Make your predictions (hypothesis) and then test out your results!



Try experimenting with different amounts of water

Use a different type of canister

Add a smaller or larger amount of Alka-Seltzer
Have a blast experimenting with your preschooler!
Behind the Science
Your preschooler might be wondering what makes the canister rocket actually launch. There is a chemical reaction when the Alka-Seltzer tablet and the water combine. A gas, carbon dioxide, is released during this reaction.
If you didn't put the lid on the canister, you would see the gas as bubbles. With the lid on, the gas builds up and creates pressure until the lid blasts off, launching the canister in the air! How cool is that?!
Want more?
Want to learn more about space? Check out our reading list featuring the best books about space! Or, even better, delight your little space cadet with My Pre-K Box's no-prep preschool learning kit! Each month we pack and send you a new themed box filled with games, activities, and crafts. Our hands-on learning tools are play-based, targeting math and literacy skills. It also includes sensory play, fun thematic crafts, and a grownup guide. Your preschooler will be engaged with learning and you won't have to do any of the prep work! So, what are you waiting for? Check out our plans now!

Share Your Fun with Us!
We love seeing all of the hands-on learning fun you can have with your preschooler! Share your pics of your rocket launch with us on Facebook or Instagram with #myprekbox. Our favorite pics could be featured on our website or newsfeed!
Want to try My Pre-K Box?
My Pre-K Box is a monthly subscription service

that delivers the best, fun-filled preschool learning

materials right to your front door!

All the materials you need to explore, learn, create, and play!