Blast off!
Most of us probably once dreamed of being an astronaut and riding on a rocket ship when we were young. It is a common childhood dream, but only a few are able to achieve this. So if you see your preschooler aspiring to be one, encourage and support him by buying him space-themed toys! And to help him enjoy learning, get him space-and-rocket-themed stuff like this Rocket Preschool Fun Pack! Check out what's inside this fun-filled learning pack in this blog post.
My Pre-K Box: The number 1 subscription box for preschoolers!
My Pre-K Box is an educational subscription box perfect for kids aged 3-5! We deliver the most fun play-based preschool learning available! Each box has its own unique theme and is filled with different learning activities to target math and literacy skills. Your kids will have fun exploring the new activities, and you will delight in the fact you are helping them with essential Kindergarten readiness skills!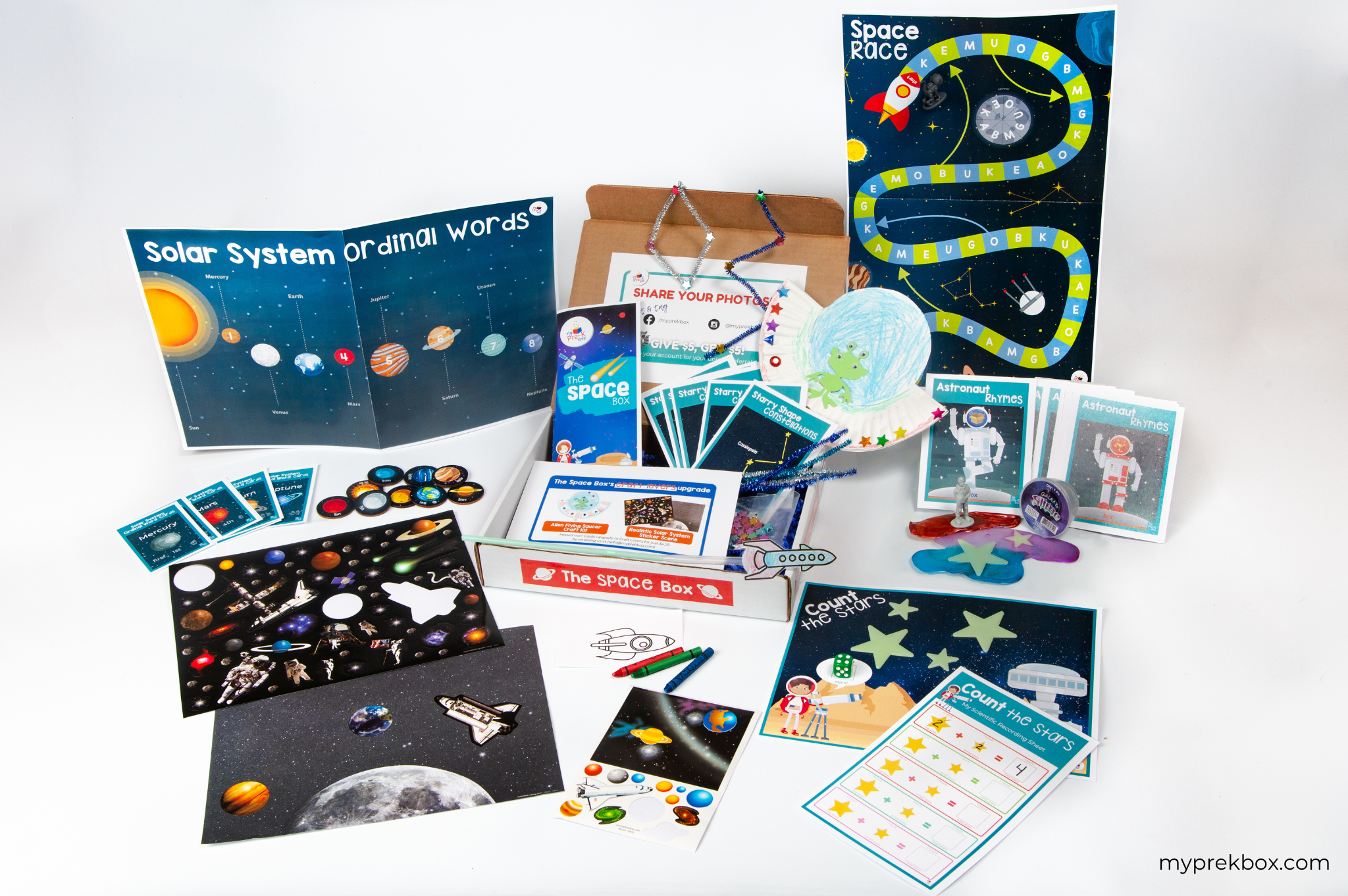 The Rocket Preschool Fun Pack is a collection of rocket-themed activities designed for preschoolers. It targets math and literacy skills, and kids enjoy the fun rocket-themed activities while they learn! Let's go on a space adventure to see what's included in the Rocket Preschool Fun Pack!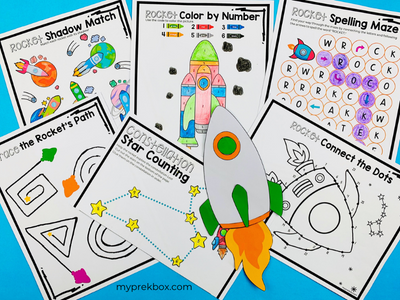 What's included in the Rocket Preschool Fun Pack?

The Rocket Preschool Fun Pack includes 7 fun-filled worksheets to help kids develop important skills to prepare them for Kindergarten!

Build a Rocket

Rocket Shadow Match

Rocket Spelling Maze

Rocket Color by Number

Constellation Star Counting

Rocket Connect the Dots

Trace the Rocket's Path

Materials:

printer

paper

pencil

crayons or markers

scissors

glue
Check out all the 7 worksheets included in the FREE Rocket Preschool Fun Pack!
1 Build a Rocket
Your little one will surely enjoy creating and building his own rocket! Just cut and paste the parts, and he will have his own rocket to play with. This will also help him practice his scissor skills and develop small muscles in his little hands!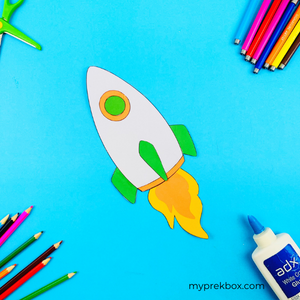 2 Rocket Shadow Match
Help each rocket reach its destination by matching them with their shadows! This activity will help them improve their pattern recognition and observation skills. Plus, more hand practice as they will cut and paste the rocket to the matching shadow!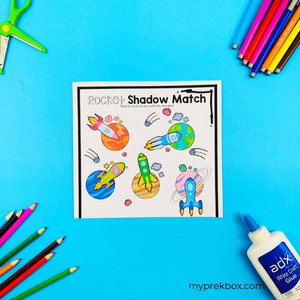 3 Rocket Spelling Maze
Launch the rocket to the moon! Find your way through the maze by connecting the letters and following the arrows to spell the word "ROCKET." This will help with letter recognition and improves their ability to think and follow instructions!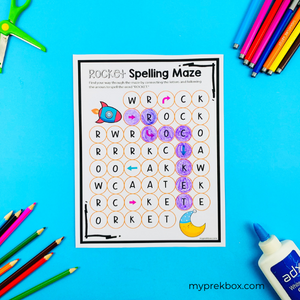 4 Rocket Color by Number
Create a cool and colorful rocket with the Rocket Color by Number worksheet! There are many color-by-number worksheets online, but your little astronaut will surely love this big and awesome rocket! Help him practice number and color recognition at the same time with this worksheet. And if you have broken crayons, let him use them too to develop his fine motor skills! If you want to learn how and why it works, read our blog post on How to encourage correct pencil grip in your preschooler here.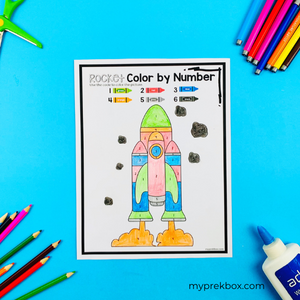 5 Constellation Star Counting
Help the rocket explore the constellation Leo! Cut out the stars on the bottom of the page and glue them on the constellation in order. It's a great way to teach them about size differences, number recognition and sequence, as well as drawing straight lines as they connect the dots! When they are finished, you can also help them color the rocket and stars.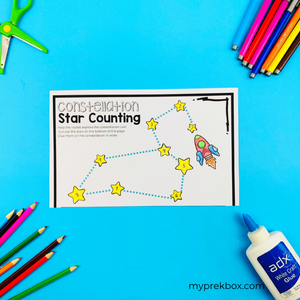 6 Rocket Connect the Dots
Connect the dots to form a rocket! Just draw a line from one point to another by following the numbers. This activity will test and practice your little one's skills in counting and drawing, but they will surely have fun. You can count together with them as they draw the lines too! Once they are done, they can have more fine motor practice by coloring the rocket.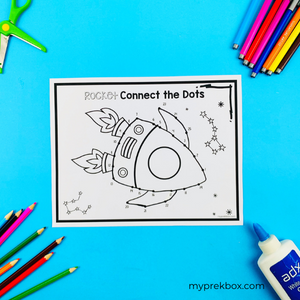 7 Trace the Rocket's Path
Four rockets are on the go, and they fly on different paths! Trace the paths they need to go with to form different shapes. This is a nice activity for preschoolers who need to practice their pencil grip! As they go, you can also teach them the shapes formed in each rocket's path.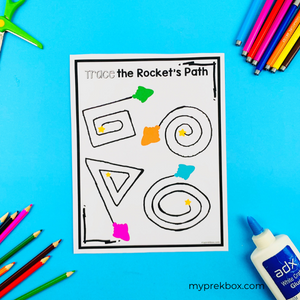 And that's it! These 7 exciting activities are all included when you get a copy of our Rocket Preschool Fun Pack. It may be just seven activities, but the things they'll learn are more than that, plus they are having fun while learning! That's what we always work for at My Pre-K Box, to make sure kids ENJOY LEARNING.
So what are you waiting for? Get a copy of the Rocket Preschool Fun Pack now while it's FREE!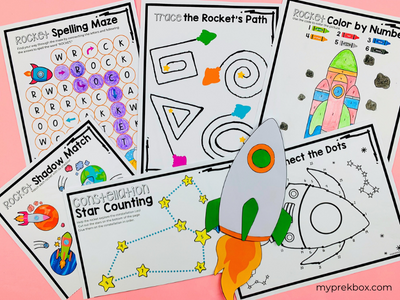 The Rocket Preschool Fun Pack is just one of the many activities that perfectly match My Pre-K Boxes! You can use it to extend their learning or as a follow-up after the activities in The Space Box. So if your little one loves space themes so much, subscribe to My Pre-K Box to get The Space Box and get more surprises EVERY MONTH with new and fresh themes! They will absolutely love it because our boxes are filled with fun crafts and lots of exciting hands-on activities! The hands-on learning tools we create are play-based, targeting math and literacy skills. It also includes sensory play, fun thematic crafts, and a grownup guide.
The games and activities in My Pre-K Boxes are kid-and-adult-friendly, safe, very practical, and reusable! It can be shared with your child's siblings, cousins, and playmates and can be used again and again! We also offer duplicates of non-reusable crafts for only $3.25 a month! Craft lovers can also subscribe to our Craft Lovers Upgrade, which comes with more fun crafts and two additional arts and crafts activities for just $4.25 per child.
With all the fun and exciting activities inside My Pre-K Box, your child won't even notice he's learning a lot! And as parents, we wouldn't have to worry about the hassle of researching, planning, and making the activities ourselves! We can simply guide and watch them learn in the convenience of our home - with the help of My Pre-K Box!

Let's Connect
Have you grabbed a copy of the Rocket Preschool Fun Pack for your kids? LIKE and FOLLOW our Facebook and Instagram pages for more free printables and worksheets! Learn more DIY activities, art projects, and fun crafts with us too! You can also tag us on photos of your kids as they enjoy the activities in the Rocket Preschool Fun Pack - just use the hashtag #myprekbox or send those adorable photos on our social media pages!
Want to try My Pre-K Box?
My Pre-K Box is the best subscription box for

kids 3-5 years of age!

Everything you need to play, create, explore,

learn, laugh, and enjoy!