Teaching letters to preschoolers is an important skill to help prepare your child for kindergarten. That's why we strategically target letter recognition for both capital and lowercase letters in our monthly subscription, My Pre-K Box! And today, we are going to share simple ways that can help you teach your preschooler the alphabet... all with materials you likely already have around your home!
My Pre-K Box: The best subscription box for kids ages 3 to 5!
My Pre-K Box is the best educational subscription box for preschoolers in the US! Each month we deliver everything you need to create, laugh, play, and learn! Our preschool learning kits include an exciting new theme each month, packed with play-based learning that targets essential school readiness skills like letter recognition, letter sounds, rhyming, number sense, counting, problem-solving skills, and more!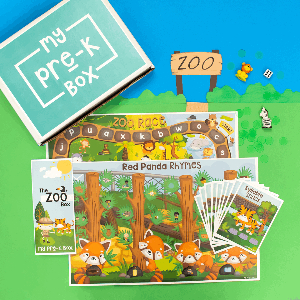 If you aren't yet a subscriber to My Pre-K Box, we've compiled a list of ways to learn letters at home--you'll just need some basic materials! We'll also be sharing some activities from My Pre-K Boxes that can make teaching the alphabet more fun and exciting!
Here are 7 fun and easy activities you can do today to teach your child letter recognition. These activities work, and even better, they're fun! Read on, and enjoy.
1 Find sticks and other items outside to make letters
You'd be hard pressed to find a three to five-year-old who doesn't enjoy exploring the outdoors. If your little one is a collector of sticks, rocks, and more, then this letter recognition activity is a natural fit. It'll teach them what letters look like and the shapes that form them. You can also check out more ideas for outdoor arts and learning in our Getting Creative in Nature blog post here.
Supplies needed: Whatever Mother Nature has provided
Instructions: Explore your yard, local park, etc. and search for twigs, leaves, and more. Lay them out and see what letters you can make out of the natural shapes. Some of the items may already look like letters, and others you can combine to form letters, both uppercase and lowercase.
2 Create flashcards of your own
There's no need to spend money on flashcards when you can make them very easily at home. Flashcards will help trigger your child's memory when it comes to letters. Try to keep flashcards light and fun, making them into games rather than "quizzing" your tot.
Supplies needed: Paper, scissors, and colored markers
Instructions: Cut up cardstock, construction paper, or whatever other kind of paper you have into 26 playing card-size pieces. On each piece, write a capital letter on one side and its lowercase counterpart on the other side. Use them for games (like hiding them around the house and hunting for them!) and eventually they'll remember the letters and even fly through the deck faster as time goes by.


In My Pre-K Boxes, we have game mats for play-based activities to master the alphabet. For example, Zoo Race Game from The Zoo Box, the Storm Race Game from The Weather Box, and The Treasure Island Game from The Pirate Box are just some of the activities that target letter recognition and letter sounds. You can get a similar activity each month when you subscribe to My Pre-K Box, so they get to practice and play it regularly, till they master the alphabet!
3 Create a good old-fashioned memory match game
This letter recognition activity will be similar to the flashcards above, but you'll need to create paper squares or rectangles with a letter on only one side. This matching game is educational and loads of fun for any proud preschooler.
Supplies needed: Paper and a writing utensil
Instructions: Cut 52 squares of paper that are all ideally the same size. On 26 of them, you'll write one capital letter of the alphabet starting from A-Z. On the other 26, you'll write all of the lowercase letters of the alphabet. Keep in mind that it may be easier to have the uppercase cards and lowercase cards be a different color. Lay the cards face-down and take turns flipping over squares, trying to match the capital letter to its matching lowercase letter. You may want to draw little pictures to make the game more interesting and intriguing to your easily-distracted juvenile.

Since we're already talking about the alphabet...

We got a welcome gift for you!

Get this FREE Alphabet Workbook today to help your little one learn more about the alphabet while at home! It includes activities for letter formation, capital and lowercase letters, and letter sounds!
4 Mold your own Play-doh letters
Rolling Play-doh or clay into snakes is a favorite pastime of many tots. Turn those slithery serpents into letters for a new activity that channels their creative side as well. If are already subscribed to My Pre-K Box, we often include clay, putty, or slime for a sensory play activity! Let them turn these into different letters, or you may teach them to spell out their name too!
Supplies needed: Play-doh or other types of moldable product
Instructions: Break out the Play-doh, roll it into long pieces, and form those pieces into letters. Consider keeping a "snake head" on your serpent to keep this learning activity fun and entertaining.


5 Have a letter scavenger hunt
Scavenger hunts are always a good time, especially when your toddler gets to actively run around and look for something. This letter scavenger hunt is perfect for a rainy day, encouraging your child to move around and learn in the most fun way possible
Supplies needed: Any kind of letter toys you have around the house (blocks, foam), or paper and crayons.
Instructions: You may already have some singular letter toys around the house, like blocks, or you may need to simply make some letters with paper, markers, etc. Hide multiple letters of your choice around the house and have your child seek them out. When they find one, have them yell what the letter is out loud. This is such a fun game that when it's over, your little learner will likely want you to hide them all again.

6 Write down letters and have your child trace them
If your child isn't a pro at scribbling letters quite yet, this activity will help them learn the motion. And you likely already have the very simple materials at home. We have this kind of activity in our Pet Box - the Bird Seed Finger Writing activity, as well as the Dust Writing Activity from The Leprechaun Box!
Dust Writing Activity from The Leprechaun Box

Bird Seed Finger Writing

from The Pet Box
Supplies needed: Paper and any kind of writing tools (crayons, markers, pens, etc.)
Instructions: Using your writing tool of choice, write down letters on a piece of paper. Have your little learner trace the letters with their finger. Then when they're beginning to get the hang of it, let them trace or color with a crayon, pen, etc. You may want to create larger letters at first and then go smaller as they get used to the motion.
Wait up!

Here is another freebie for your little one!

Does he seem confused with uppercase and lowercase letters? Then, get this Print & Go Lowercase Letters Craft Pack to help him learn and remember the small letters of the alphabet in a fun and enjoyable way!
7 Grab the sidewalk chalk and play a game (or two!) of letter hopscotch
This isn't your ordinary hopscotch game. Instead of numbers, you'll use letters, and your youngling will have fun leaping like an alphabet antelope again and again! It's also a great exercise while learning!
Supplies needed: Sidewalk chalk
Instructions: Create a hopscotch pattern as long as you'd like and fill it in with random letters. Shout out different letters you'd like your child to hop to, whether they're right next to each other, or even more fun, a few blocks away. This activity can be ever-changing with traditional hopscotch patterns, circles, swirls, or whatever you and your kid's mind can come up with. Always keep them guessing and things will always be interesting.
Help your preschooler

ENJOY

while

LEARNING

!
The seven activities listed above are just a few fun ways to teach your child letters. But if you do not have much time for those activities and want no-prep, play-based activities for your preschooler like our examples from My Pre-K Boxes, you might want to subscribe to get exciting surprises every month! These boxes are perfect for busy parents like you! With our educational subscription box, each month we mail your preschooler a learning kit with a fresh new theme. Their package is packed full of fun, hands-on, play-based learning that preschoolers LOVE to do! You'll love how fun and easy it is! No more researching, planning, and cramming to make the activities yourselves! My Pre-K Box will handle it all for you, while you can simply guide and watch them learn in the convenience of our home!

Let's Connect
We love, love, love seeing your little ones in action! Post your photos on your social media account and tag us @myprekbox so we can see which name learning activity you're doing! And be sure to follow us on Facebook and Instagram for more fun and easy activities to do with your preschooler at home!
Haven't tried My Pre-K Box yet?



My Pre-K Box is the best subscription box for

kids 3-5 years of age!




Everything you need to play, create, explore,

learn, laugh, and enjoy!