Have you tried making something using your own handprints? I just asked because today, we are going to create Father's Day Handprint Cards! If you can't believe that we can use your own handprint to design a card, keep on reading this blog post to see what's inside the Print & Go Father's Day Handprint Cards and see how you can use these FREE printable templates for an easy and personalized Father's Day gift!
My Pre-K Box: The best subscription box for kids ages 3 to 5!
My Pre-K Box is an educational subscription box for preschoolers aged 3-5! We deliver the most fun play-based preschool learning available! Each box has its own unique theme and is filled with different learning activities to target math and literacy skills. Your kids will have fun exploring the new activities, and you will delight in the fact you are helping them with essential Kindergarten readiness skills!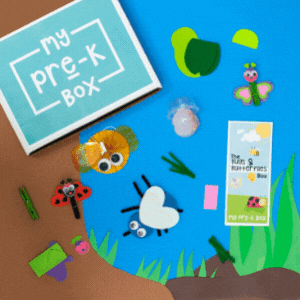 Finding gifts that are easy for kids to do, personalized, and appealing can be very difficult. Of course, we want to help our little ones create wonderful gifts but we have to make sure that these are simple and easy so that they wouldn't end up pressured or frustrated! That is why we come up with the idea of using handprints! This will make the gift more personalized, and kids will have lots of fun playing with colorful paints in their hands.
Materials for Father's Day Handprint Cards

colored papers

acrylic paints

paintbrushes

colored markers

glue
What's included in the Father's Day Handprint Cards template?

This craft pack includes 10 Father's Day Handprint Cards templates, each having a unique design to fit every dad's personality! We made them in black and white so you can choose the colors you want, and you can have your preschooler practice coloring them at the same time! Just glue them in colored paper after the handprints dry up, and you now have a personalized handprint card for Father's Day!



Before we start with the handprint cards…

Here's a welcome gift for you!

Enjoy the remaining days of spring with this FREE Garden Preschool Fun Pack! It is filled with garden-themed math and literacy activities to help your little one practice Kindergarten skills.

Read more about the Garden Preschool Fun Pack here, and be sure to download a copy now!
Let's create 10 Father's Day Handprint Cards!
1 Thank you, Daddy (Badminton Racket Handprint Card)
If your dad is a little sporty or loves to play badminton, this card is perfect for him! It features a badminton racket and the caption says "Thank you, Daddy". The child's handprint will become a shuttlecock!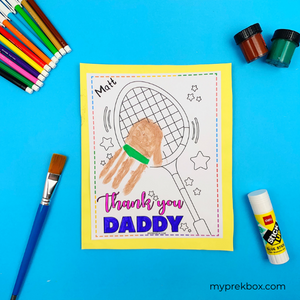 2 Happy Father's Day (Heart Card)
Show your love to your dad this Father's day with this handprint heart card! Paint the child's hands using many different colors (you can use a different color for each finger too!). Then put them side by side, as if forming a triangle in the middle. Stamp it on the card, and the hands will be like holding the heart in the middle!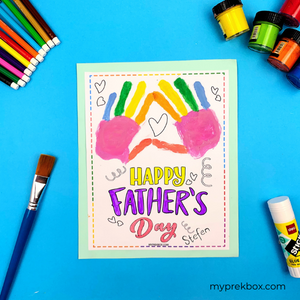 3 Wonderful Dad (Sunflower Handprint Card)
Sunflowers symbolize warmth and adoration. And if these characteristics remind you of your dad, the Sunflower Handprint Card is for you! The template has the stem and leaves, and the handprints will become the flower itself! Paint the palms brown (for the center of the flower), while the fingers should be yellow, as these will be the petals!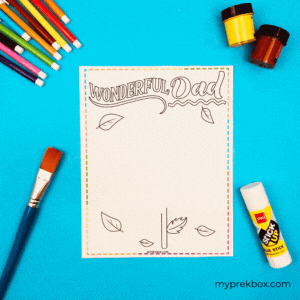 4 Wise Dad, Best Dad, My Dad (Handyman Handprint Card)
Most dads are great at repairing and fixing stuff around the house. If your dad is one great handyman, get him this Handyman Handprint Card to show appreciation!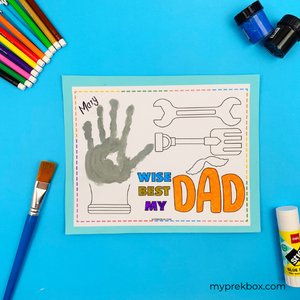 5 Happy Father's Day (Bowtie Handprint Card)
Create a bowtie using your handprints! Just paint the child's hands with the color you want for the bowtie, and stamp it on both sides of the small square on the template. Paint small white circles on the handprint to make a polka dots design!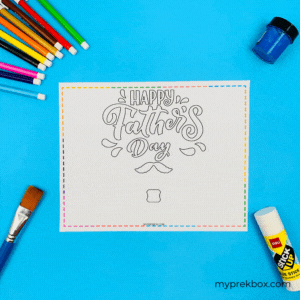 Let's take a break first…

Here's another freebie for you!

Summer is about to begin, and you might want to grab this Print & Go Summer Pom Pom Mats to start up your preschooler's summer learning! Learn more about the Summer Pom Pom Mats in this blog post, or download it now!
6 Thank you for being my buddy (Dad-Buddy figure Handprint Card)
To create the dad-buddy figure, paint the palm of one hand with blue paint, including the thumb and baby finger. Then, paint the index, middle, and ring fingers black. Stamp this on the lower left side of the template, pointing downwards. You now have a body for your dad-buddy figure! To create a head for it, paint the palm of the other hand with peach, cream, or your preferred skin tone! Then, paint the fingers (except the thumb) black or any color you want for the hair. Stamp it on top of the body you made earlier. Let it dry first then draw the dad-buddy figure's face!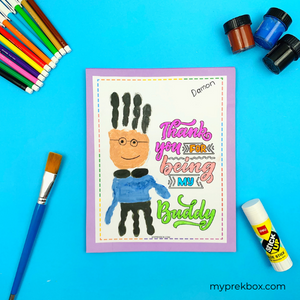 7 You're my Hero (Superhero Dad Card)
We all consider our dad's superheroes. They are strong and can hurdle all hardships for their kids, so they deserve this Superhero Dad Card! Just print the template and paint one of your child's hands! Choose a color you want for the cape, then stamp it on the back of the superhero. Now you have a flying superhero with a handprint cape!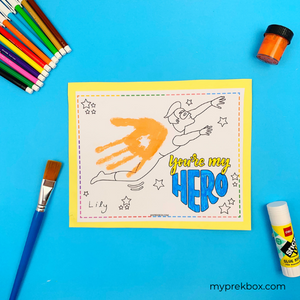 8 You're an Un-BEElivable Daddy! (Bee Card)
Dads are un-BEElivably busy but they always make time for us! So, give them this Bee Card and they'll surely BEE-happy! To create this, paint one of the hands with alternating black and yellow stripes, just like a bee. Then, stamp it in place on the template to form the bee's body!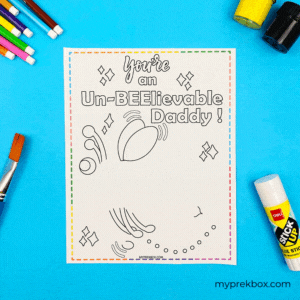 9 Love you Dad (Heart Handprint Card)
A loving dad deserves this card! It simply says "Love you, Dad" in the caption, and your child's handprint forms a heart when put together. So lovely!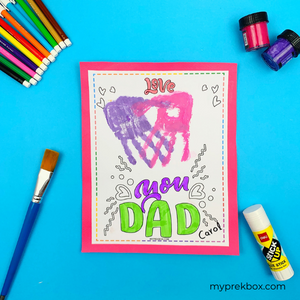 10 Dad, You're the Best (High Five Card)
Each of us thinks our dad is the best (of course!). So say it through this High Five Card! Color the caption saying "Dad, You're the Best", and place your child's handprint above!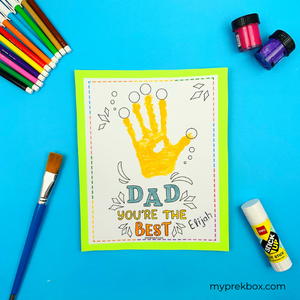 These handprint cards are really adorable! And for sure, kids enjoyed seeing their colorful hands stamped to create awesome Father's Day cards. This will also help build their confidence and develop a sense of achievement for them, knowing they made it themselves (with a little bit of help too!). You can also have them write their names on it too, so dad knows who gave it to them! The download includes ten templates, so you create one for grandpa and uncles too!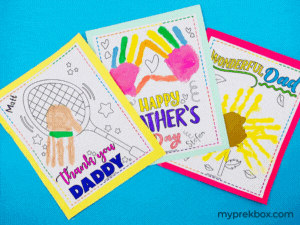 Get Father's Day Handprint Cards
For other DIY Father's Day cards, check out the Father's Day Rocket Card and Father's Day Superhero Card! You can also try the Father's Day Coffee Sleeve craft for a more creative gift! Click the photos below to direct you to the blog post.
If your little one enjoyed making these Father's Day Handprint Cards, he will probably love hands-on and play-based activities from My Pre-K Box! Our boxes are filled with exciting hands-on activities and lots of fun crafts! Each month features a new theme, which lots of kids look forward to. You can get one by subscribing to My Pre-K Box - the best subscription box for preschoolers! Our hands-on learning tools target math and literacy skills, and also include a sensory play activity, fun thematic crafts, and a grownup guide.
We want our customers to be happy and satisfied, so we always make sure that My Pre-K Boxes' games and activities are safe and of excellent quality. It is also very kid-friendly, incredibly practical, and reusable! It can be shared with his siblings and friends and can be used repeatedly! We also sell duplicate crafts for only $3.25 per month, so you can get a duplicate for his siblings! If your little one is a fan of our craft, you can also subscribe to our Craft Lovers Upgrade for $4.25 per child, which includes more fun crafts and two more arts and crafts activities.
With all of the interesting and enjoyable activities in My Pre-K Box, your child won't even realize he's learning so much! And as parents, we wouldn't have to bother researching, planning, and creating activities! We can simply assist and watch them while they learn in the comfort of our own home, thanks to My Pre-K Box!

Let's Connect
If you enjoyed our Father's Day Handprint Cards, LIKE and FOLLOW our Facebook and Instagram pages to get more free printables, DIY activities, art projects, and fun crafts! Be sure to tag us on photos of your kids doing this Father's Day Handprint Cards. Use the hashtag #myprekbox or send those awesome photos on our social media pages!
Haven't Tried My Pre-K Box Yet?
My Pre-K Box is the best subscription box for

kids 3-5 years of age!

Everything you need to play, create, explore,

learn, laugh, and enjoy!