I love you to the moon and back…
Awww, that's just so sweet, right? As parents, we often say this to our kids to express just how much we love them. And today, we're going to share this sweetness with dad (and grandpa!) through a very cute Father's Day Rocket Card! Literally saying I love you to the moon and back - through a rocket ship! Come on and join us in making this very cute greeting card for Father's Day!
My Pre-K Box: The best subscription box for kids ages 3 to 5!
My Pre-K Box is an educational subscription box for preschoolers filled with different learning activities for math and literacy skills! With fresh new themes each month, your child will delight in all of the fun, play-based learning activities inside! Prepped and delivered straight to your door, My Pre-K Box is so much fun - your child won't even realize how much they're learning!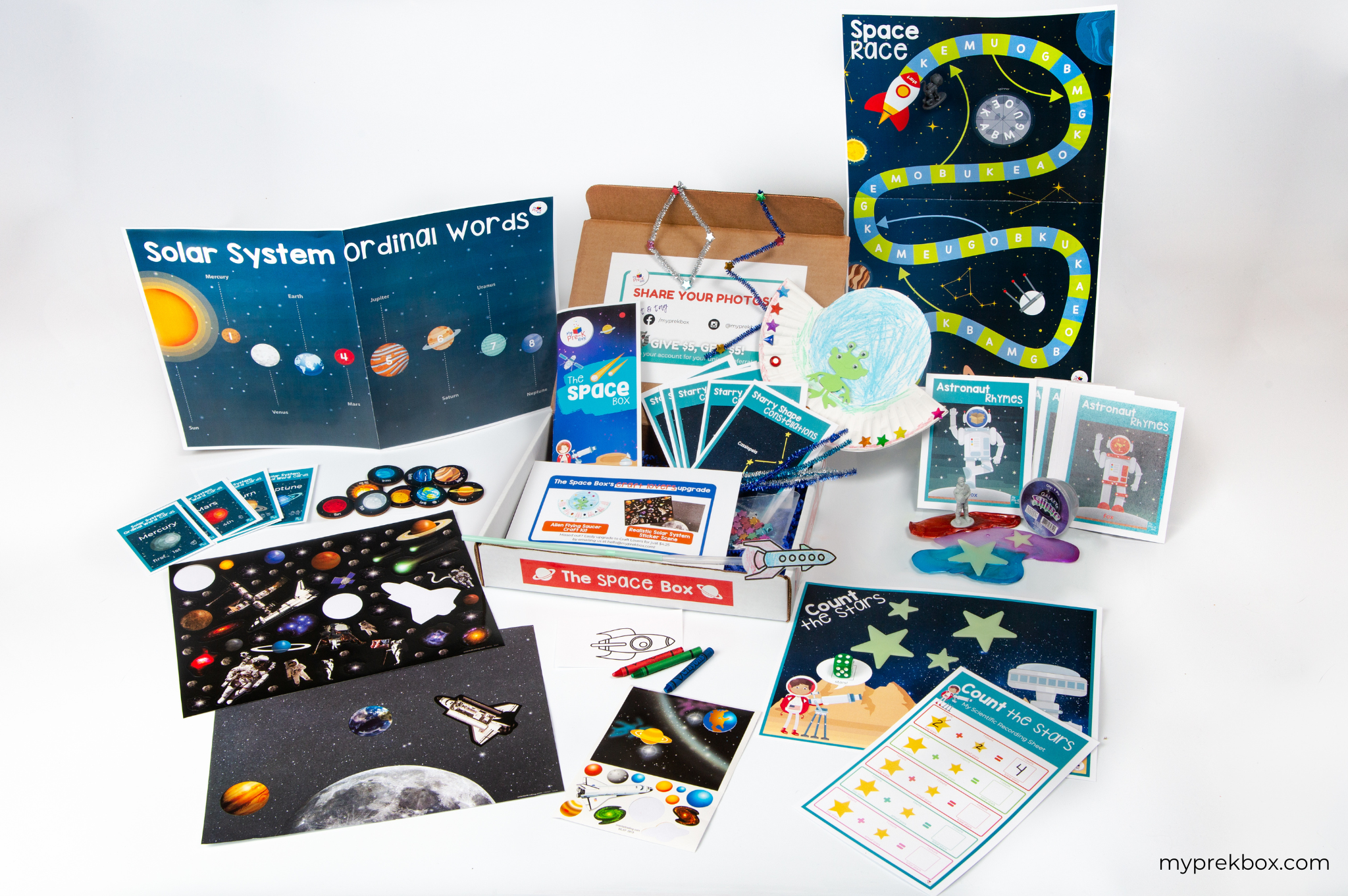 If your kid is a space-lover and loves everything space-themed, he will surely have fun creating this Father's Day Rocket Card! And his dad will absolutely love it too! Best of all, he will be able to practice important Kindergarten skills (like cutting, identifying shapes, colors, and fine motor skills)! Through this simple craft, your kids will be learning while having fun!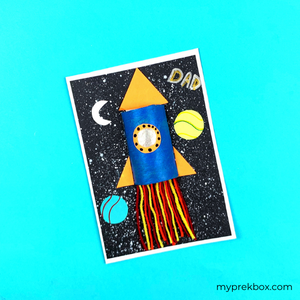 Materials for creating your Father's Day Rocket Card

cardstock

scissors

colored paper

colored markers

watercolor brush

white and blue acrylic paint

empty toilet paper core

glue and all-purpose adhesive

red, yellow, and orange yarn
Steps in Creating your own Father's Day Rocket Card
Step 1 Use the white cardstock as the base of your card. Then, attach a black colored paper on top of it. Make the black colored paper a little smaller than the white cardstock to create a small white margin on all sides.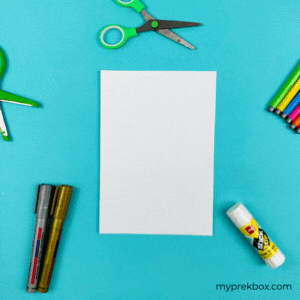 Step 2 Now, let's make a cool space background! Dip the watercolor brush into white acrylic paint. Then, place it a few inches on top of the blank black card. Carefully tap the brush using your other hand, or flick it with your fingers. The result will be white paint spots, similar to stars in outer space! How cool! Repeat this step a few more times to evenly scatter more white spots.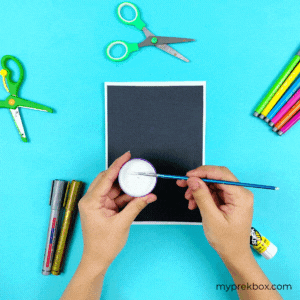 Step 3 Next, cut the empty toilet paper core vertically in half. Paint the outer part with blue acrylic paint or whatever color you want your rocket to be. Let it dry for a few minutes, then attach it to the middle of the card using an all-purpose adhesive.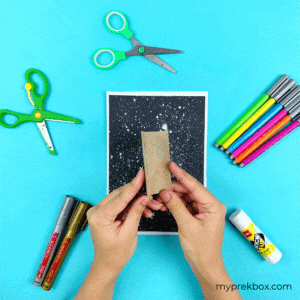 Step 4 Cut several pieces of red, yellow, and orange yarns to at least 3 inches long each. Arrange them alternately at the end of the rocket to make it look like fire and ignition! Then, cut out two right triangles and a circle on colored paper to decorate the rocket. Paste the triangles on each side and the circle in the upper middle part of the rocket.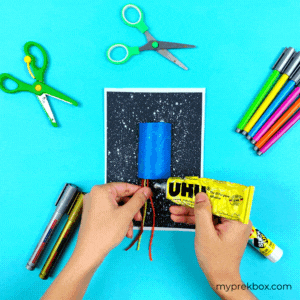 Whooosh! 🚀

Let's fly by for a freebie!

Is your kid amazed at this Father's Day Rocket Card you are making?

If so, be sure to grab this FREE Rocket Preschool Fun Pack! It's filled with rocket-themed activities for your preschooler! Read more about the Rocket Preschool Fun Pack here, or download a copy now!
Step 5 Use a silver or gray marker to make a circle inside the circle! Now your rocket has a window! You can also use foil if you do not have a silver marker. Then, use a black marker to draw small black dots around the rocket's window.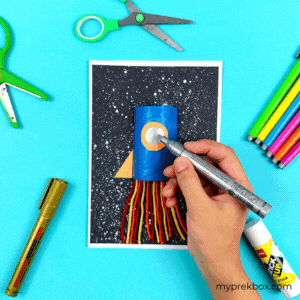 Step 6 Let's add the moon and other planets! Cut out circles on colored paper and draw curved lines on them using colored markers. You can use different colors for each planet! Then, cut out a crescent shape for the moon. Use glue to attach them to the card.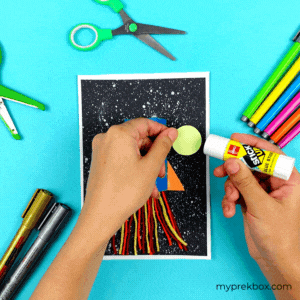 Step 7 Cut out a rectangle from cardstock or white paper. Measure it to be big enough to fit inside the rocket. Then, attach a rectangle on top of it. Now, write your message on the white rectangle. You can say, "Daddy, I love you to the moon and back!" or "Happy Father's Day, Daddy! Have a blast!". You can also come up with your own space-themed message! Place it inside the rocket, waiting to launch your message to your dad!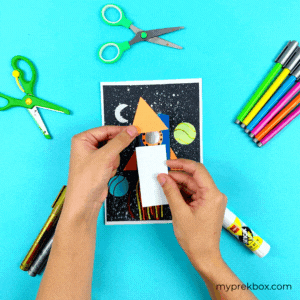 Step 8 Write the word DAD on the upper right corner of the card using shiny silver and gold markers. Now your Father's Day Rocket Card is complete! Blast off!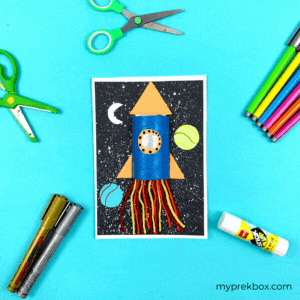 This Father's Day card is really cute, unique, and awesome! You can gift it to anyone who loves space-themed stuff too! Just replace the message and the name on the last step, and you have an out-of-this-world gift ready! Hope you had fun crafting with us today!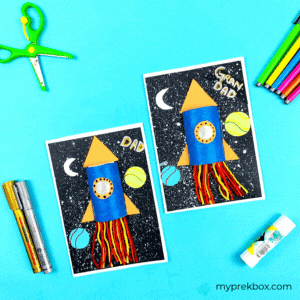 At My Pre-K Box, we make sure kids ENJOY while LEARNING! So, be sure to subscribe and get loads of fun, learning, and surprises EVERY MONTH! It's because our boxes are filled with fun crafts and lots of exciting hands-on activities! Each month features a new theme, which lots of kids look forward to. The hands-on learning tools in each box are play-based, targeting math and literacy skills. It also includes sensory play, fun thematic crafts, and a grownup guide.
The games and activities in My Pre-K Boxes are made kid-friendly and safe. We guarantee its high quality, even your next kids can use it too! Yes, most games and activities in it are reusable. If your child has siblings, it can be shared and can be used again and again! We also offer duplicates of the crafts for siblings for only $3.25 a month! We also have a Craft Lovers Upgrade for those who love arts and crafts. It comes with more fun crafts and two additional arts and crafts activities for just $4.25 per child.
My Pre-K Box takes all the searching, prepping, and stress out of planning preschool activities for your 3-5-year-olds. Each month, we focus on a different set of Kindergarten readiness skills and provide all the materials and instructions you need right in the box. You'll never have to worry about what activity to do next or spend hours looking for ideas online again.
Let's Connect
We're glad you love this Father's Day Rocket Card! For more DIY activities, art projects, fun crafts, and free printables, please LIKE and FOLLOW our Facebook and Instagram pages! Be sure to share your output of the Father's Day Rocket Card using the hashtag #myprekbox or send those awesome photos on our social media pages!
Want to try My Pre-K Box?
My Pre-K Box is the best subscription box for

kids 3-5 years of age!

Everything you need to play, create, explore,

learn, laugh, and enjoy!