Thinking of a unique kid-made gift this Father's Day? Try this DIY Father's Day Coffee Sleeve! Nothing beats the effort your kids put in making their own gift for their dad. With your help and a little creativity, they can make this simple coffee sleeve the best Father's Day gift!
My Pre-K Box: The ultimate subscription box for preschoolers!
My Pre-K Box is an educational subscription box for preschoolers filled with different learning activities for math and literacy skills! Each box is based on a different theme and is focused on play-based learning. Your kids will love exploring new activities each month while practicing kindergarten readiness skills!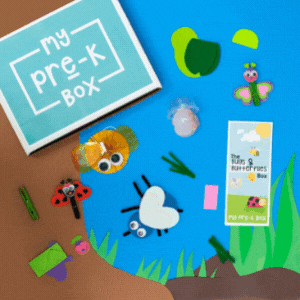 Arts and crafts are not just fun - you can actually gift this to your loved ones! They will surely appreciate handmade gifts, like this cute coffee sleeve. If your dad or husband loves his coffee a lot, this is a perfect Father's Day gift for him! Check out how this is done in just a few steps.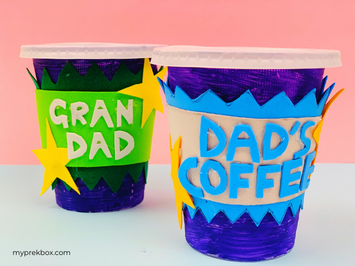 Materials for the DIY Father's Day Coffee Sleeve
disposable coffee cup

colored papers

cardboard

felt letters

glue

scissors

pencil
Create your own Father's Day Coffee Sleeve in just 6 easy steps!
Step 1 Cut a rectangular piece of colored paper. You can choose your dad's favorite color or whichever color goes well with your felt letters. I choose blue for mine! Measure it around a regular-sized disposable coffee cup. Then use the pencil to draw a curved-shaped banner with zigzag edges on it and cut it out. You can also use zigzag scissors if you have one to make it easier!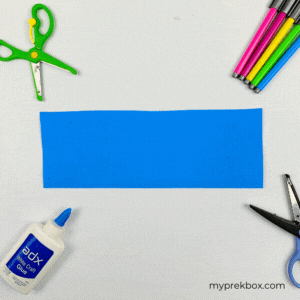 Step 2 Next, get the cardboard and draw a curved-shaped banner about the same length as the one you did earlier on the colored paper. It does not need to have curved edges, so it's okay to make it a bit shorter in height. Cut it out using a scissor.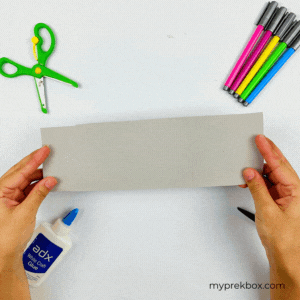 Step 3 Attach the cutout cardboard to the colored paper using glue. Make sure the zigzag edges are visible.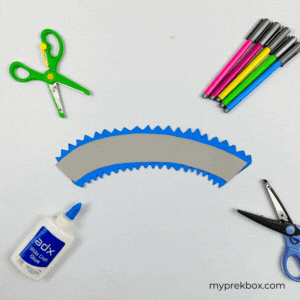 Step 4 Get the disposable coffee cup and wrap the coffee sleeve. Secure it with glue with the cardboard facing outward. If it fits well, you can now decorate it!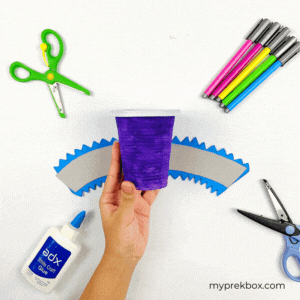 Step 5 Spell out DAD'S COFFEE using felt letters! Or GRANDPA, or to whoever you want to gift it to. Then arrange and glue each letter carefully on the coffee sleeve.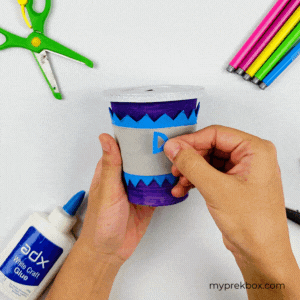 Step 6 Using yellow colored paper and pencil, draw two small stars. Cut out these cute little stars and decorate them on both sides of the coffee sleeve.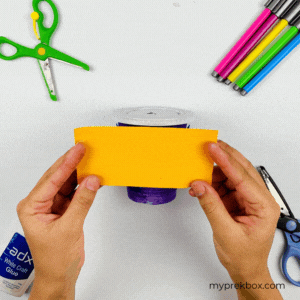 This DIY Father's Day Coffee Sleeve is really cute! Your husband will surely love it, knowing your kids made it themselves. Plus, your kids will have fun creating it while practicing important Kindergarten skills! You can also gift it to anyone who loves coffee - on any occasion! Just change the wording or name on the coffee sleeve, and you have a really adorable gift ready!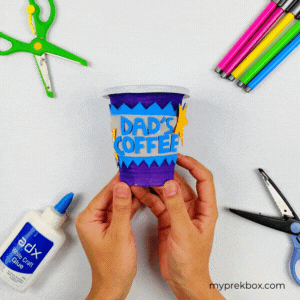 This DIY Father's Day Coffee Sleeve helps kids practice fine motor skills. If you want more activities like this prepared and delivered to you every month, be sure to subscribe to My Pre-K Box! Our boxes are filled with fun crafts and lots of exciting play-based activities. Each month, kids look forward to a new theme! Our hands-on learning tools target math and literacy skills and include sensory play, fun thematic crafts, and a grownup guide.
The games and activities in My Pre-K Boxes are made with love and guaranteed to be of top quality. It is also kid-and-adult-friendly, very practical, and reusable! If your child has siblings, it can be shared and can be used again and again! We also offer duplicates of the crafts for only $3.25 a month. For more fun crafts and two additional arts and crafts activities, you can also subscribe to our Craft Lovers Upgrade for just $4.25 per child.
With all the fun and exciting activities inside My Pre-K Box, your child won't even notice he's learning a lot! And as parents, we wouldn't have to worry about the hassle of researching, planning, and creating the activities from scratch! We can simply guide and watch them learn in the convenience of our home - with the help of My Pre-K Box!

Let's Connect
Did you and your kids enjoy this Father's Day Coffee Sleeve? If so, be sure to LIKE and FOLLOW our Facebook and Instagram pages to get more DIY activities, art projects, fun crafts, and free printables! Don't forget to tag us on photos and videos of your kids doing this Father's Day Coffee Sleeve using the hashtag #myprekbox, or send those adorable photos on our social media pages!
Want to try My Pre-K Box?
My Pre-K Box is the best subscription box for

kids 3-5 years of age!

Everything you need to play, create, explore,

learn, laugh, and enjoy!