1, 2, 3… set, go! Let the games begin, inside The Sports Box!
The Sports Box is our newest play-based learning kit, perfect for young sports enthusiasts! The Sports Box is packed with fun games and activities designed to make learning exciting and engaging for kids. From developing hand-eye coordination to improving social skills, this kit is the perfect way to promote healthy physical and mental growth in children. Let's get ready to play and learn!
My Pre-K Box: The ultimate subscription box for preschoolers!
My Pre-K Box is an educational subscription box for preschoolers filled with different learning activities for math and literacy skills! Each box is based on a different theme and is focused on play-based learning. Your kids will love exploring new activities each month while practicing kindergarten readiness skills!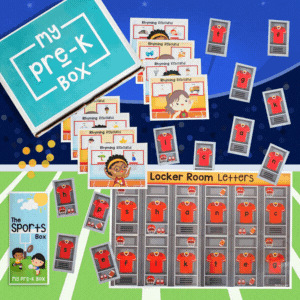 The Sports Box is jam-packed with engaging and unique games for preschoolers to learn important math and literacy skills. Kids will be thrilled to receive this sports-themed learning kit, and if you want to learn more about it, let's take a look inside The Sports Box! Let the games begin!
What's Inside The Sports Box?
The Sports Box consists of 3 math games, 2 literacy activities, a sensory play toy, and crafts. You can get duplicate crafts for your other kids too, or get additional crafts by subscribing to our Craft Lovers Upgrade! Let's find out more about this sport-themed, play-based learning kit!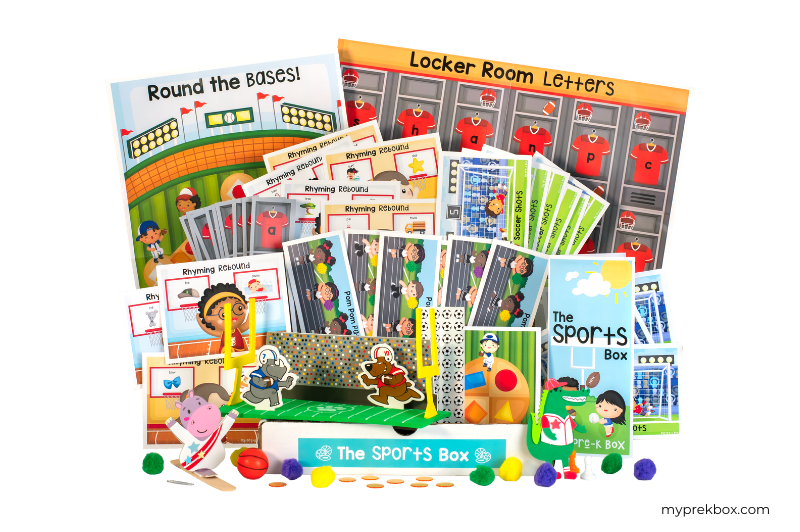 Activities for Learning Math
1 Pom Pom Patterns
Materials: Pom Pom Patterns cards, pom poms
Game mechanics: Help the cheerleader find her missing pom pom by completing the pattern. Start the game by selecting a Pom Pom Patterns card. Point to each pom pom and ask your child to name the color. Say it again, varying your voice as you say each color (to help them identify the difference). Pause as you point to the final cheerleader's missing pom pom. Give your child a moment to think about what color comes next. Then, ask your child to choose the correct colored pom-pom and place it on the card. Repeat the same step with the other cards. When your child is finished, go over the cards again and discuss how each pom pom was arranged in the proper order.
About the game: The Pom Pom Patterns game helps preschoolers recognize colors and patterns. It is an important math skill that would be useful in Kindergarten, and in daily life! And the Pom Pom Patterns game just made learning these skills a lot easier and more fun.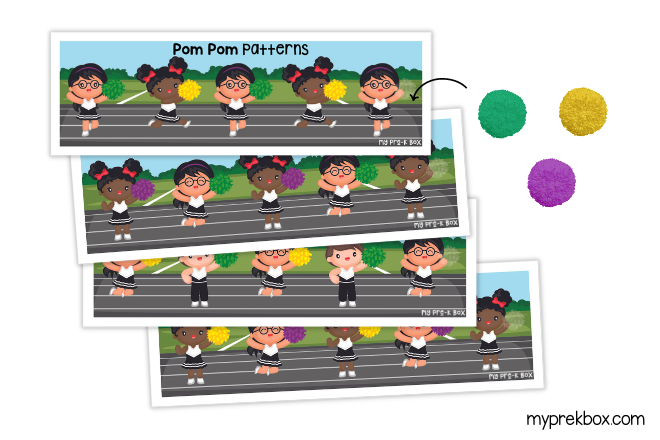 2 Round the Bases! Board Game
Materials: Round the Bases game mat, 2 playing pieces, spinner, paper clip, pencil
Game mechanics: Start by placing your playing piece on "Start" on home plate. On your turn, place the paperclip in the middle of the spinner. Put the pencil tip inside the paperclip, then flick the paperclip to spin. Ask your child to name the color or shape that the paper clip lands on. Help them move their playing piece to the next available space on the board with that shape or color . The first player to reach "Finish" on home plate is the winner!
About the game: This entertaining baseball-themed board game can help your little ones enjoy learning about shapes and colors as you round the bases and score a run for your team. They can gain mastery of colors and shapes if they play and enjoy the Round the Bases! Board Game several times. Color and shape recognition is an important math skill for preschoolers because it helps build the foundation for more advanced mathematical thinking, including pattern recognition, categorization, and spatial reasoning
3 Soccer Shots
Materials: Soccer Shots cards, soccer ball stickers
Game mechanics: Practice counting and recognizing numbers with this fun sticker counting game! First, shuffle the cards and randomly select one. Ask your child to name the numeral written on the scoreboard at the top of the card. The number on the scoreboard shows how many goals the girl on the blue team has made against the goalie. Then ask him to count the corresponding number of soccer ball stickers and place them into the goal to show how many times the girl has scored! Repeat with the remaining cards.
About the game: The Soccer Shots game is a very enjoyable game for preschoolers to practice counting and develop their number recognition skills! Plus, the soccer ball stickers make it more exciting too. Placing the stickers on the Soccer Shots cards can also improve their fine motor skills as their little hand muscles move and get the practice it needs!
Literacy Activities
1 Rhyming Rebound
Materials: Rhyming Rebound cards, orange "basketball" chips
Game mechanics: Catch the rebound and get the basketball into the correct hoop by matching rhyming words! To start, select a Rhyming Rebound card. Ask your child to name the word pictured on the basketball player's jersey, then ask him to name the objects pictured on each basketball backboard. Help your child identify which word rhymes with the word pictured on the player's jersey. If they successfully identified the rhyming words, instruct him to put an orange "basketball" chip on the hoop with the rhyming word! Continue until you have finished all of the cards and made all of the rebounds!
About the game: The ability to identify rhyming words is an essential aspect of developing phonological awareness in preschoolers. And the Rhyming Rebound game can help your little one with it! This play-based activity will help them practice recognizing rhyming sounds and words, and still have fun!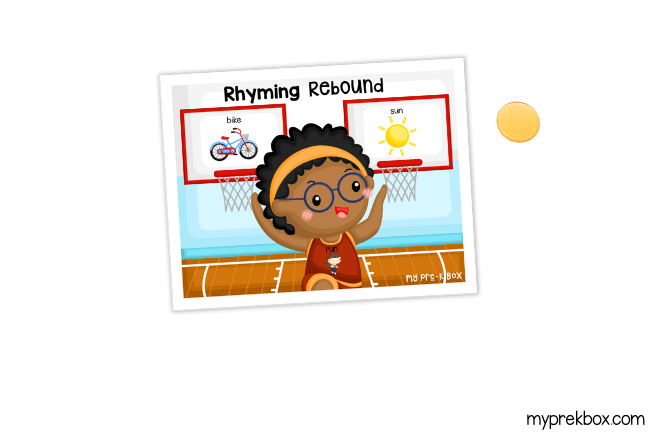 2 Locker Room Letters
Materials: Locker Room Letters game mat, jersey cards
Game mechanics: Learn about letters as you help the players hang up their jerseys by putting them in the correct locker! Start the Locker Room Letters game by randomly selecting a jersey card. Let your child examine the jersey card. If he/she can name the letter on the jersey, ask him to name it or assist him if he's not yet familiar with it. Then, tell him/her to find the matching locker on the game mat. Another way to play the Locker Room Letters game (but a more difficult and challenging one) is by finding the matching letter through sounds! You examine the jersey card without revealing it to your child. Identify the letter's sound and let your child find the locker with the displayed letter that creates that same sound. Then, ask your child to place the jersey card in the correct locker with the corresponding letter. Continue putting the jerseys away in their lockers until they are all in their correct spot!
About the game: The Locker Room Letters game provides a fun and interactive way for children to learn about letters and letter sounds. By examining the jersey cards and finding the matching locker, children can practice letter recognition and improve their visual discrimination skills. Moreover, the more challenging variation of the game, where children have to identify the letter by its sound, helps to develop phonemic awareness, which is a crucial skill for early reading and writing.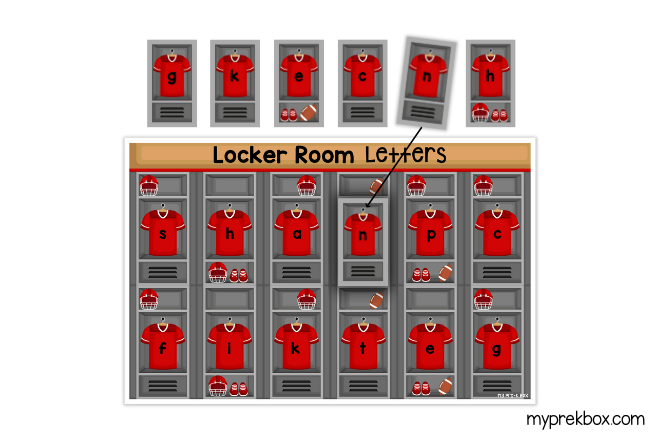 Want more fun letter-learning activities for your child?

If yes, here's the perfect freebie for you!

Get a copy of our Print & Go Lowercase Letter Craft Pack! This FREE printable includes 26 pages of lowercase letter crafts that you and your child can enjoy while learning at home. It will help them develop letter recognition skills and their creativity as they craft different figures out of the lowercase letters! Read more about the Print & Go Lowercase Letter Craft Pack here, or download it now!
Sensory play and crafts
1 Rubber Basketball Bouncing Ball
Bounce, bounce, bounce! Oh, look, a round bouncing ball! This little bouncy treat can help your little ones practice their motor skills and better brain development through sensory play. Not only is it a fun way to keep them active, but it also encourages hand-eye coordination and improves their overall physical abilities.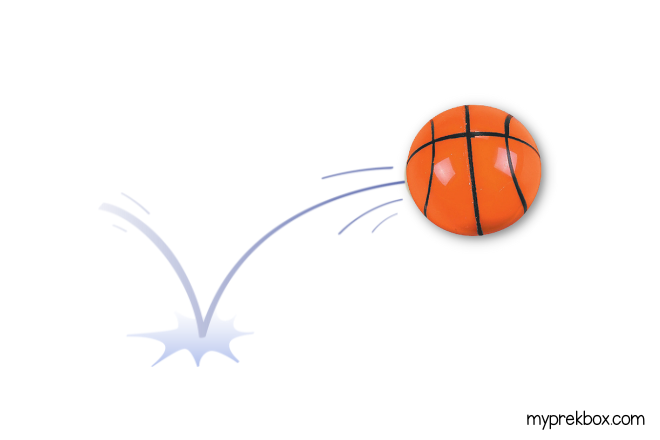 2 Sports Animal Magnet Craft Kit
Kids will surely love crafting with these Sports Animal Crafts! The craft kit includes all the needed materials - just assemble it and you can play with the adorable Sports Animals! Crafts like the Sports Animal Magnet Craft Kit help in developing kids' creativity, hand and eye coordination, and fine motor skills.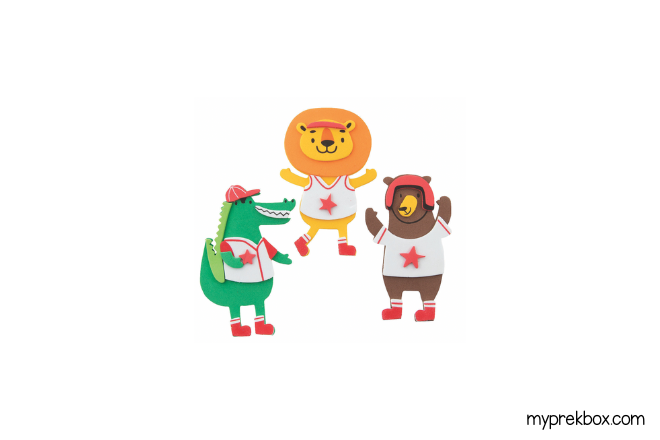 Craft Lovers Upgrade
1 3D Animal Football Craft Kit
If you're a football fan, you will surely love the 3D Animal Football Craft Kit included in our Craft Lovers Upgrade. It includes a football field, background and audience, and cute animal football players. Your child will have a blast creating their own animal football game scene!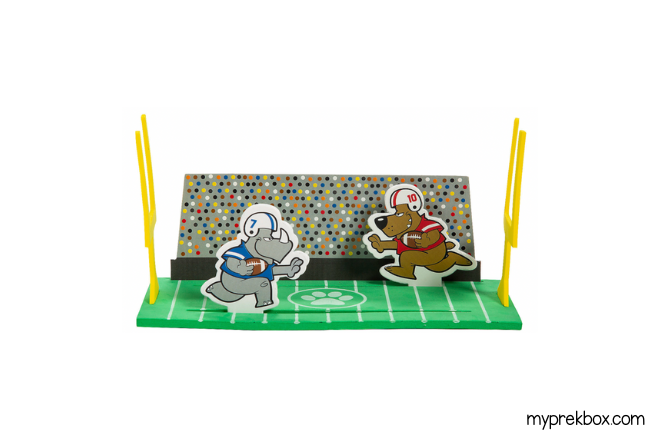 2 Gymnast Craft Kit
Enhance your child's creativity and imagination with our Gymnast Craft Kit, included in our Craft Lovers Upgrade! The Gymnast Craft Kit features a variety of materials and supplies, allowing kids to design and create their own adorable gymnast trio!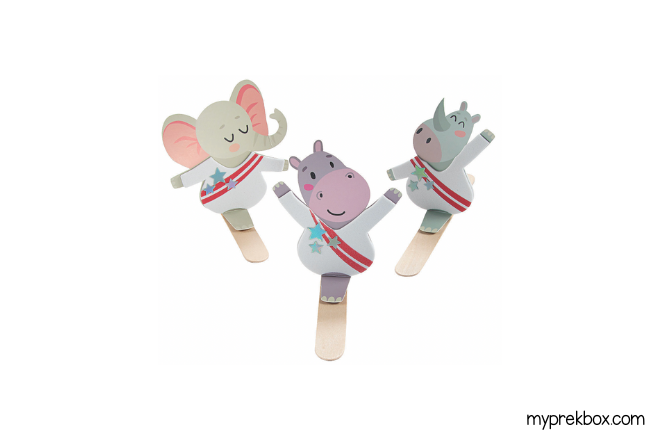 Grownup Guide
First time using our play-based learning kit? Not sure how to use it? No need to worry, we have a detailed Grownup Guide to help you explain the games and activities in every My Pre-K Box! If you found this blog post helpful already, the Grownup Guide is made much better because it has pictures and sample play scenarios, which you can use to introduce and explain the game to your child.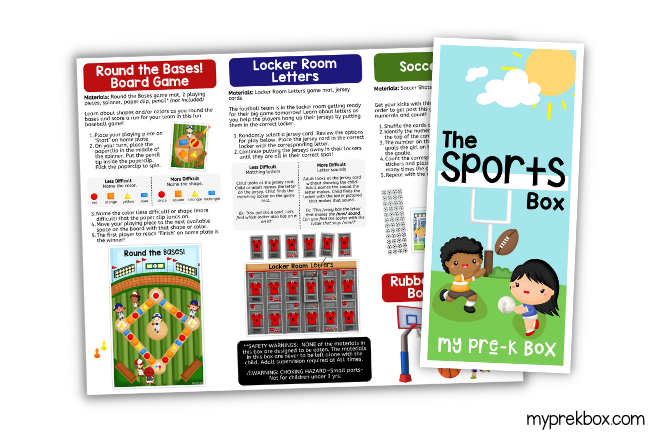 5.. 4.. 3.. 2.. 1! Game over!
Nah, just kidding. But that's all we could share about The Sports Box for now, and we hope you could share your experience with us too! The Sports Box is a great way to combine fun and learning for children. Through various games and activities, children can develop their math and literacy skills while engaging in physical activity. And we made it just easier and more convenient for you - all the materials are included, totally no prep, and delivered right to your doorstep! Try it now!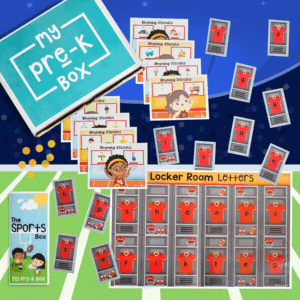 How was your tour of The Sports Box? The games and activities are not only cute but also educational, making them irresistible to kids! If you haven't subscribed to My Pre-K Box yet and would like to learn more about our other products, be sure to check out our featured blog posts!
Why Choose My Pre-K Box?
1 Activities are play-based and learner-centered.
Every single activity is well-thought and child-friendly, and ensures learning while having fun!
2 Easy and effortless
If you would be the one to research and prepare the crafts yourself, it would be too tiring and time-consuming. But if you subscribe to My Pre-K Box, it will be delivered to your door every month, hassle-free and easy right? You can have more time for fun and quality family time!
3 Affordable prices
The monthly subscription plan costs $37.95 each month. Or you can save more by committing to a 6-month term ($32.95/month) or a 12-month term ($30.95/month). We also have regular promos and discounts! Check out our current promos here, or choose your plan now!
4 High-quality materials
All the contents of the box are carefully selected and are of top quality to ensure the safety of your kids! Most are also reusable, so your child can play with them over and over again!
5 Great customer service
100% Happiness Guaranteed! We make sure to give you unparalleled customer satisfaction. If you have a problem, we will solve it. Because as you support our family business, we also treat you like family.
Don't wait any longer - subscribe now and start making learning fun for your kids!

Let's Connect
If you love this Popcorn Craft, give us a LIKE and FOLLOW our Facebook and Instagram pages to get more DIY activities, art projects, fun crafts, and free printables! We'd love to see photos of your kids doing this Popcorn Craft, so be sure to tag us on our social media pages or use the hashtag #myprekbox! For comments, questions, and suggestions, you can also shoot us a message at hello@myprekbox.com.I look forward to hearing from you!
Haven't Tried My Pre-K Box Yet?
My Pre-K Box is the best subscription box for

kids 3-5 years of age!

Everything you need to play, create, explore,

learn, laugh, and enjoy!