Get ready to celebrate Earth Day with The Earth Box! This exciting new product from My Pre-K Box is filled with eco-friendly activities for kids, designed to take them on a thrilling adventure that embraces the spirit of environmental awareness. The Earth Box is the perfect way to ignite their love for nature and spark their curiosity about sustainable living - join the journey as we explore the wonders of The Earth Box! Thumbs up for a greener world!
My Pre-K Box: The number

1

subscription box for preschoolers!
My Pre-K Box is an educational subscription box for preschoolers filled with different learning activities for math and literacy skills! Each box is based on a different theme and is focused on play-based learning. Your kids will love exploring new activities each month while practicing kindergarten readiness skills!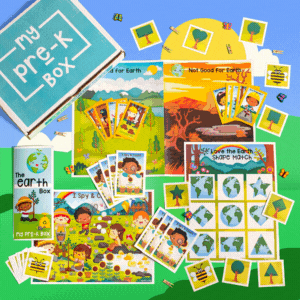 Join us in an enchanting journey of environmental exploration and math and literacy learning as we discover the wonders of the games and activities inside The Earth Box! This delightful product from My Pre-K Box is filled with activities that will develop your child's cognitive and fine motor skills as well as their love for our planet Earth and inspire a deeper connection with nature. Let's celebrate our beautiful world and learn how to nurture it for a greener, sustainable future with The Earth Box!
What's Inside The Earth Box?
Explore The Earth Box and discover a delightful collection of 3 fun math games and 2 exciting literacy activities to captivate your preschooler's imagination! Additionally, we've included an Earth day themed craft to ignite their creativity and a sensory toy for engaging hands-on play. To ensure you have an amazing experience, we've also included an easy-to-use Grownup Guide inside the box.
Activities for Learning Math
1 Eco-Friendly or Not? Sort
Materials: Good for Earth vs. Not Good for Earth game mat, Eco-Friendly? cards
Game mechanics: Explore environmental issues and solutions while having fun with this sorting game! Shuffle the cards and let your child pick one. Read the description together and discuss its impact on the Earth. For example, reusable shopping bags are better because we reuse them, reducing landfill waste. Then, have your child place the card on the correct side of the game mat, reinforcing their understanding of eco-friendly choices.
About the game: The Eco-Friendly or Not? Sort game teaches kids about environmental issues and solutions while developing essential skills. They'll practice sorting items into categories based on their impact on the Earth. Through discussions about each item's eco-friendliness, children gain an understanding of making environmentally responsible choices. This game fosters critical thinking, problem-solving, and decision-making abilities, while also promoting awareness and appreciation for the environment. It's a fun and engaging way for kids to develop their knowledge of sustainability and take small steps toward a greener future.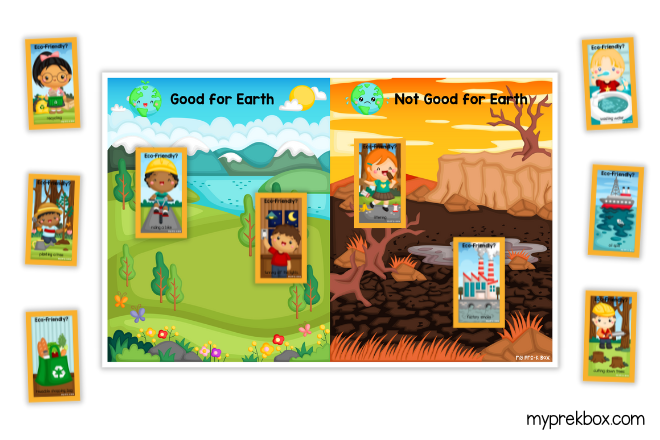 2 Love the Earth Shape Match
Materials: Love the Earth Shape Match game mat, shape cards
Game mechanics: In the Love the Earth Shape Match, you and your child will pick a card with a bee or a tree shape on it. Then, you'll search for the matching shape on the game mat and place the card there. Keep going until all the cards are on the game mat. It's a fun way to practice matching shapes together!
About the game: In this shape-matching game, kids will learn to identify and name different shapes. They'll develop their visual recognition skills and improve their ability to match shapes accurately. This game enhances their cognitive skills, concentration, and problem-solving abilities while having fun with the challenge of finding the right shapes on the earth-themed game mat. It's a great activity to promote early math concepts and critical thinking in a playful and engaging way.
3 I Spy & Count
Materials: I Spy & Count game mat, I Spy & Count cards, mini clothespins, butterfly mini erasers
Game mechanics: Step into nature's embrace and explore Mother Earth with this delightful game! Strengthen your fingers as you clip clothespins or use mini erasers to count and match objects on the cards. Randomly select a card and identify the item, like a butterfly. Then, find the matching item on the game mat, count how many there are, and read the numbers on the card. Clip the clothespin to the correct number if you can or use mini erasers if you prefer. It's a fun way to develop finger strength for future handwriting while enjoying the wonders of nature!
About the game: I Spy & Count game can help enhance your preschooler's ability to identify and count objects, like butterflies, on the game cards and mat. By using clothespins or mini erasers, they'll develop essential fine motor skills and finger strength, which are beneficial for future handwriting. Additionally, the game fosters number recognition and basic math concepts as children match the counted objects to the correct numbers on the cards. It's an engaging and educational way for kids to connect with the environment and improve their cognitive and motor abilities.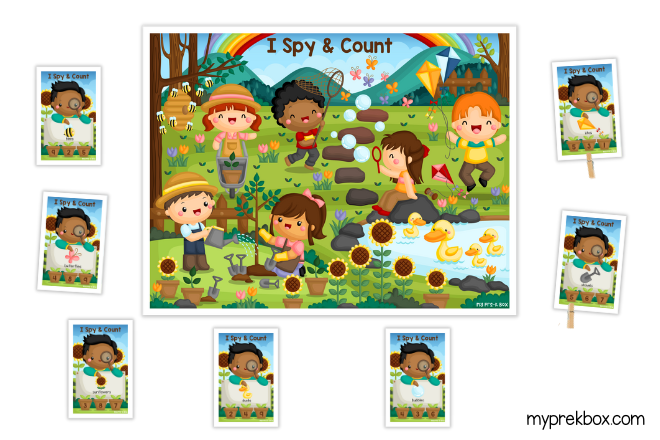 Literacy Activities
1 Recycling Bin Syllable Sort
Materials: three recycling bins (1 syllable, 2 syllables, 3 syllables), recycling cards, glue or tape
Game mechanics: Get ready for a recycling adventure and learn about syllables in this fun game! Roll recycling bins and label them for 1, 2, and 3 syllables. Pick a card and say the word, like "catalogs." Together, clap and segment the word into syllables, like "cat-(clap)-a-(clap)-logs(clap)." Your child repeats and raises a finger for each clap. Count the fingers to know how many syllables there are. Then, put the card in the recycling bin with the matching syllable number. It's a fantastic way to teach recycling and improve language skills at the same time!
About the game: In this recycling-themed game, kids will learn and practice recycling. They will also develop language skills by identifying and clapping out syllables in different words, improving their phonological awareness. The game also enhances their counting abilities as they match the number of syllables to the correct recycling bin. This fun and interactive activity enhances cognitive skills, language development, and environmental awareness for preschoolers, making it an educational and engaging way to learn about recycling and language at the same time.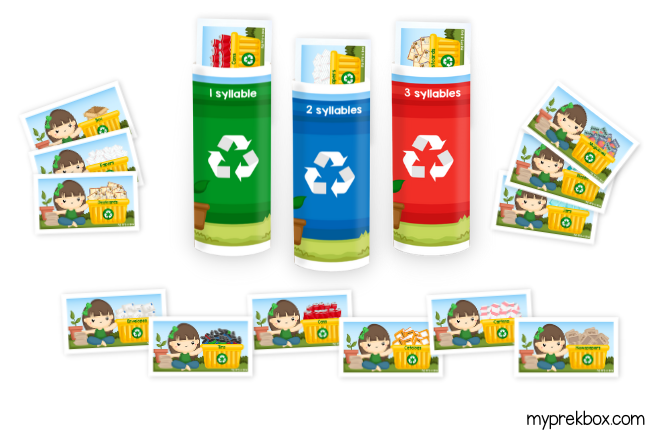 2 Butterfly Beginning Sounds
Materials: Butterfly Beginning Sounds cards, butterfly mini erasers
Game mechanics: Join the butterflies in a pollinating lovely flower while learning letter sounds in this delightful game! Name the letter on each butterfly and say its sound, like "/a/ for a." Then, identify the pictures on the flowers and emphasize their beginning sounds, like "g-g-goat." Help your child decide if the word matches the target sound, like "/a/ for apple." Then, place mini erasers on the flowers with matching sounds.
About the game: The Butterfly Beginning Sounds game can help kids learn letter sounds and develop their phonological awareness. They'll be able to practice recognizing and matching the beginning sounds of words with the correct letters. This activity helps in the development of language skills, letter recognition, and critical thinking as they decide which flowers match the target sound. Additionally, the game introduces the concept of pollination and the essential role butterflies play as pollinators. It's a fun and interactive way for kids to enhance their language abilities and learn about nature at the same time.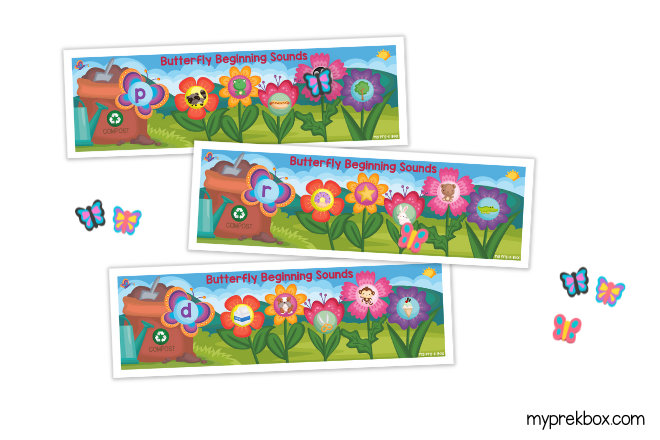 Sensory play and crafts
1 Googly Eyes Butterfly Magnet Craft Kit
Get ready for a whimsical crafting adventure with our Googly Eyes Butterfly Magnet Craft Kit! Enhance your child's creativity as you guide them in assembling adorable butterfly magnets adorned with charming googly eyes. This all-inclusive kit provides hours of fun for crafters of all ages.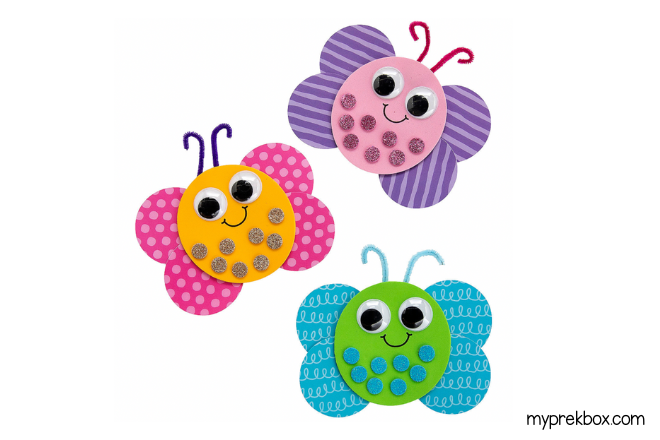 2 Break Your Own Geode!
Discover the thrill of cracking open a genuine geode to reveal its hidden wonders. Just place the geode in a bag or sock, grab a hammer, and hit it firmly under adult supervision. Each geode is a natural wonder, so you might uncover colored rocks or sparkling crystals – it's a delightful surprise every time!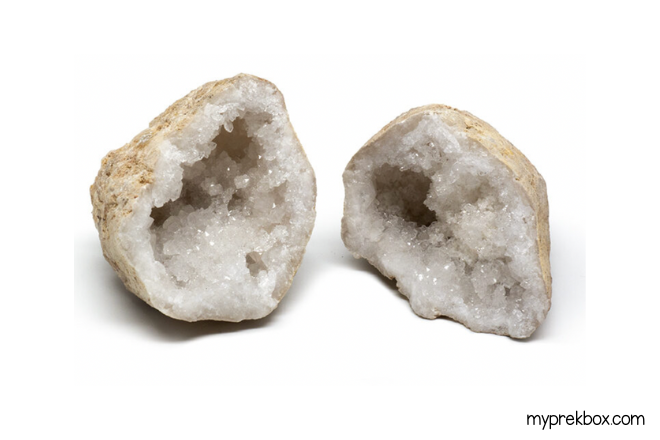 Craft Lovers Upgrade
1 3D Spring Tree Craft Kit
Celebrate Earth Day with our 3D Spring Tree Craft Kit! Craft your own adorable three-dimensional tree and help kids embrace the beauty of nature. Easy and enjoyable for all ages, this simple craft kit brings the joy of spring and the spirit of environmental awareness together in one creative project.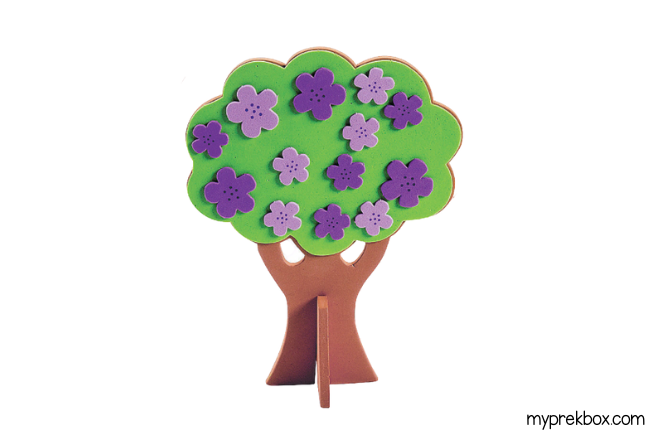 2 Happy Spring Rain Cloud Craft Kit
Spread smiles and celebrate Earth Day with our Happy Spring Rain Cloud Craft Kit! Craft your own adorable rain cloud with colorful raindrops, bringing the joy of a spring shower to life. Simple and delightful, this craft is perfect for all ages and a wonderful way to honor our planet.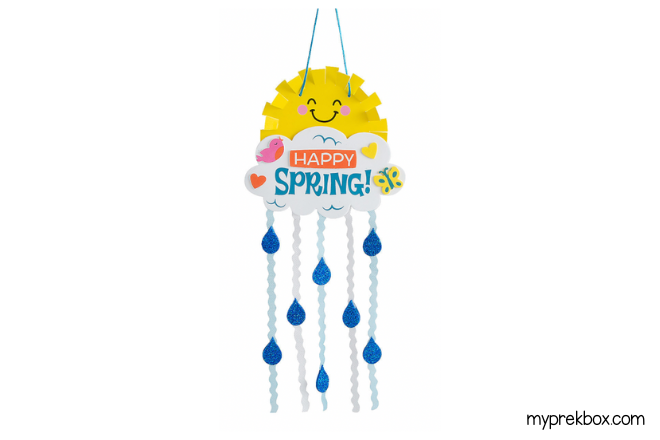 Grownup Guide
With its cuteness and comprehensive approach, this manual becomes your trusty sidekick, providing a step-by-step guide and valuable tips to effortlessly navigate through the exciting games and activities in The Earth Box!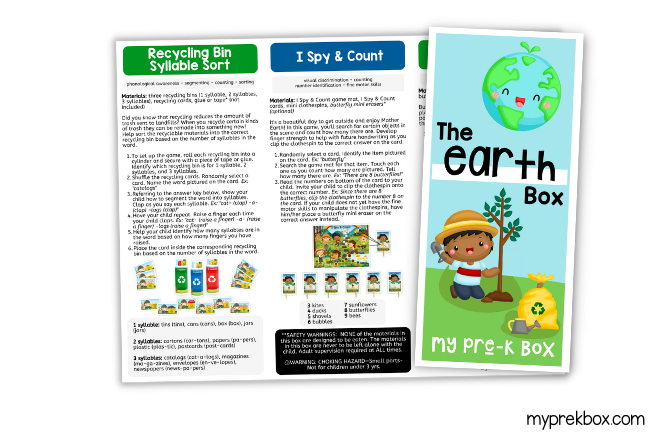 We hope you had an amazing Earth Day celebration with The Earth Box, exploring a world of eco-conscious fun, learning, and creativity. Subscribe now and embark on thrilling journeys filled with environmental awareness and endless possibilities. Get your box now, and let the eco-friendly adventures begin!
Did you have a blast exploring The Earth Box? The games and activities are both adorable and educational, making them irresistible to kids! If you haven't subscribed to My Pre-K Box yet and want to learn about our other exciting boxes, take a look at some of our featured blog posts!
Why Choose My Pre-K Box?
1 Activities are play-based and learner-centered.
Every single activity is well-thought and child-friendly, and ensures learning while having fun!
2 Easy and effortless
If you would be the one to research and prepare the crafts yourself, it would be too tiring and time-consuming. But if you subscribe to My Pre-K Box, it will be delivered to your door every month, hassle-free and easy right? You can have more time for fun and quality family time!
3 Affordable prices
The monthly subscription plan costs $37.95 each month. Or you can save more by committing to a 6-month term ($32.95/month) or a 12-month term ($30.95/month). We also have regular promos and discounts! Check out our current promos here, or choose your plan now!
4 High-quality materials
All the contents of the box are carefully selected and are of top quality to ensure the safety of your kids! Most are also reusable, so your child can play it over and over again!
5 Great customer service
100% Happiness Guaranteed! We make sure to give you unparalleled customer satisfaction. If you have a problem, we will solve it. Because as you support our family business, we also treat you like family.
So, what are you waiting for? Subscribe now and start making learning fun for your kids!

Let's Connect
Your feedback means the world to us! Whether you have questions, or suggestions, or simply want to share your experiences with our products, don't hesitate to connect with us at hello@myprekbox.com or through our Facebook and Instagram pages. While you're there, give us a LIKE and FOLLOW for more exciting activities to enjoy with your preschooler at home! We can't wait to see you there!
Haven't Tried My Pre-K Box Yet?

My Pre-K Box is the best subscription box for

kids 3-5 years of age!

Everything you need to play, create, explore,

learn, laugh, and enjoy!