Saddle up, partners! Get ready to embark on a wild adventure with our exciting new product, The Western Box. This month, we've created a themed box that will transport your little ones to the thrilling world of the Wild West! Let's explore the captivating games and engaging activities that await you in this educational learning kit - giddy up, as you step into the world of The Western Box!
My Pre-K Box - No prep learning kits for your little ones!
My Pre-K Box is an educational subscription box for preschoolers aged 3-5! We deliver the most fun play-based preschool learning available! Each box has its own unique theme and is filled with different learning activities to target math and literacy skills. Your kids will have fun exploring the new activities, and you will delight in the fact you are helping them with essential Kindergarten readiness skills!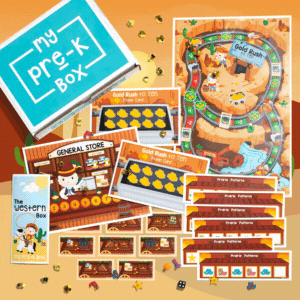 If you're already a subscriber, we hope you and your little cowboys and cowgirls have already received and enjoyed every moment with The Western Box! And if you haven't joined the My Pre-K Box family yet, it's high time you discover the incredible treasures hidden within this cowboy-inspired treasure trove. You still have the chance to avail of The Western Box through our website store, while supplies last!
What's Inside The Western Box?
The Western Box includes 3 fun math games and 2 exciting literacy activities that your preschooler will surely enjoy! We've added a touch of creativity with a Western-themed craft that will inspire your child's artistic spirit. And for a truly engaging sensory experience, we've included a delightful sensory toy too! It even comes with an easy-to-use Grownup Guide.
Activities for Learning Math
1

Gold Rush to Ten Board Game
Materials: Gold Rush to Ten game mat, Gold Rush to Ten Player Cards (ten frames), two playing pieces, die
Game mechanics: The objective of the game "Gold Fever" is to race against your opponent to be the first to gather ten gold nuggets. To begin, place all the gold nuggets in a single pile on the table. Each player takes a Player Card, puts their playing piece on the starting position, and collects one gold nugget from the pile, placing it in the top left spot on their Player Card's ten frame. On your turn, roll the die and move in a clockwise direction along the outer game path, the number of spaces indicated by your roll. The space you land in determines your next action. For instance, if you land on a space labeled "+2," you add two gold nuggets to your ten frames. The game continues with players taking turns and following the actions dictated by their landing spaces. However, to win the game, you must precisely reach ten gold nuggets. Only by reaching the exact number of ten gold nuggets can you win in Gold Fever!
About the game: Your preschooler will get to practice counting

and

develop number recognition

as they count the number of gold nuggets they have collected and track their progress toward reaching ten. They will also learn

addition and subtraction

as the game involves adding or subtracting gold nuggets from the player's current total. Players need to calculate the result of their roll and determine whether it will help them reach ten or not. This promotes basic addition and subtraction skills in a fun and engaging way. In addition, it will also teach them

patience

,

taking turns

, as well as

strategy and decision-making

.
2

Shopping at the General Store
Materials: General Store game mat, merchandise cards, gold nuggets
Game mechanics: Player one starts by selecting a card randomly. On the card, two items are pictured. They say, "I would like to buy a hat and boots, please." Player two looks at the General Store game mat and announces the prices for each of the items. They say, "Sure! A hat is 4 gold nuggets, and boots are 5 gold nuggets." Player one places the corresponding number of gold nuggets on the counter of the General Store game mat. Player two counts the total number of nuggets. Optionally, player one can count how many gold nuggets they have remaining and see if there are any other items they can buy with the remaining gold. Then, the roles switch, and the game continues with other cards!
About the game: The Shopping at the General Store game offers an interactive and enjoyable way for kids to practice counting

and enhance their

mathematical skills

while simulating a shopping experience. As kids determine the prices of items and count the corresponding number of gold nuggets, it strengthens their counting skills and reinforces number recognition. They will also be engaged in simple addition as they count and calculate the total number of gold nuggets required to purchase items. You can also challenge them to explore subtraction when determining the remaining gold nuggets after a purchase. Lastly, this simple western-themed shopping simulation is a great dramatic play for preschoolers. It encourages interaction between players as they take turns requesting items and announcing prices. Communication skills are honed as they listen to each other, respond with the correct prices, and express gratitude.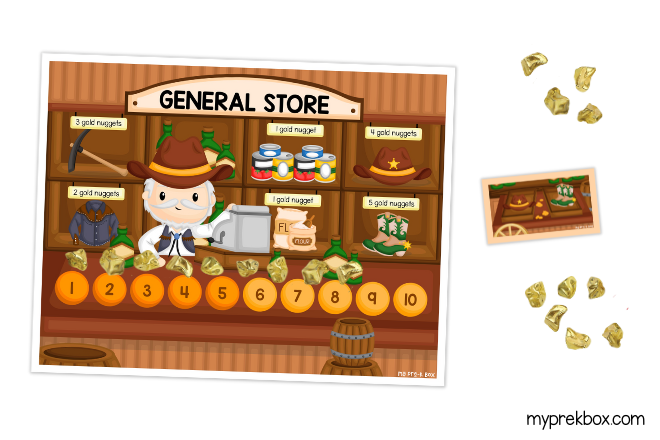 3

Prairie Patterns
Materials: Prairie Patterns cards, Western mini erasers
Game mechanics: In the game "Western Window Patterns," the Western store has new items on display, but some windows are empty. Your task is to complete the patterns and fill the empty window! Ask your preschooler to start the game by selecting a Prairie Patterns card. Point to each object on the card and name it, changing the sound of your voice for each object. Pause as you point to the empty window, allowing your child time to think about which item comes next in the pattern. If needed, provide the answer to your child. Next, invite your child to choose the correct mini eraser that matches the missing item in the pattern. They place the mini eraser on the empty window, completing the pattern.
About the game: The Prairie Patterns game focuses on teaching kids to identify and complete patterns. By observing the objects and their sequence, children develop the ability to recognize and extend patterns

, which is a fundamental skill in mathematics and

logical thinking

. It encourages their ability to identify and replicate patterns while promoting creativity and fine motor skills as they place the mini-erasers on the windows to complete the pattern. This game can also help in vocabulary development as you teach and help them name and describe the objects in the pattern, such as hats and stars.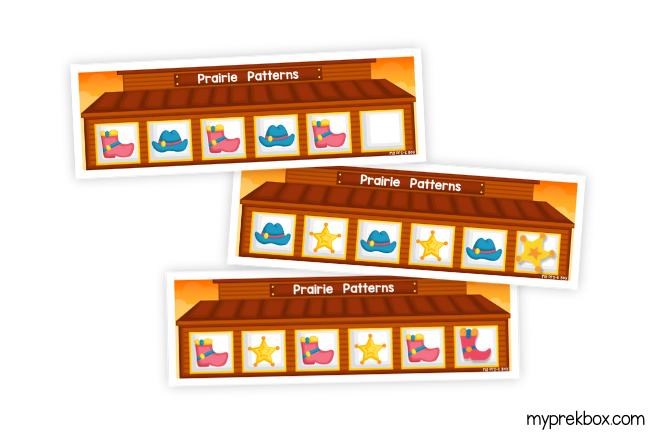 Literacy Activities
1

Panning for Gold
Materials: Panning for Gold game mat, Panning for Gold cards, gold nuggets
Game mechanics: In the game "Gold Panning Letters," join the characters in their quest for gold! When you discover a gold letter, "collect" it by covering the matching capital letter on the game mat. Ask your little one to start the game by randomly selecting a card and ask him/her the name of the letter or tell them the letter's name. Assist your child in finding the corresponding capital letter on the game mat. Provide guidance if needed. Then, cover the matching capital letter with a gold nugget. Repeat these steps until all the letters have been covered, and all the gold nuggets have been collected!
About the game: By playing the game, preschoolers will learn to identify and recognize both lowercase and uppercase letters. They become familiar with the shapes and forms of the letters in an engaging and interactive way. This helps in developing their letter recognition skills

. Also, as they name or identify the letters on the cards, kids reinforce the association between the visual representation of a letter and its corresponding sound. This supports early literacy skills and

phonemic awareness

. It also enhances their

visual discrimination skills

as they compare and differentiate between different letter forms. Lastly, this game also supports the development of

hand-eye coordination

, finger dexterity, and precision in manipulating small objects which assists in the development of

fine motor skills

.
2

Rhyme Ranch
Materials: Rhyme Ranch cards
Game mechanics: In the game "Rhyme Ranch," your little cowboy will become a rancher rounding up cattles while exploring rhyming words! Assist them in starting the game by separating the Rhyme cards from the Ranch cards. Then, spread out the Ranch cards on a table. Ask him/her to randomly select a Rhyme card and name the word pictured in the lasso. Emphasize the ending sound of the word. Next, ask your preschooler to find the corresponding Ranch card on the table that rhymes with the word on the Rhyme card. These two words rhyme because they share the same ending sound. For instance, they can match "star" with "car." In the game, kids will have to continue to find other Rhyme and Ranch card pairs that rhyme, reinforcing the concept of rhyming words.
About the game: The game focuses on helping children develop and strengthen their ability to identify and recognize rhyming words. By matching Rhyme cards with corresponding Ranch cards that share the same ending sound, kids enhance their understanding of rhyming patterns

and develop

phonological awareness

. They learn to recognize and identify words that have similar ending sounds, strengthening their understanding of rhyming patterns and promoting their language and literacy skills. It also helps children isolate and pay attention to individual sounds within words. This supports their phonemic awareness, which is essential for reading and spelling.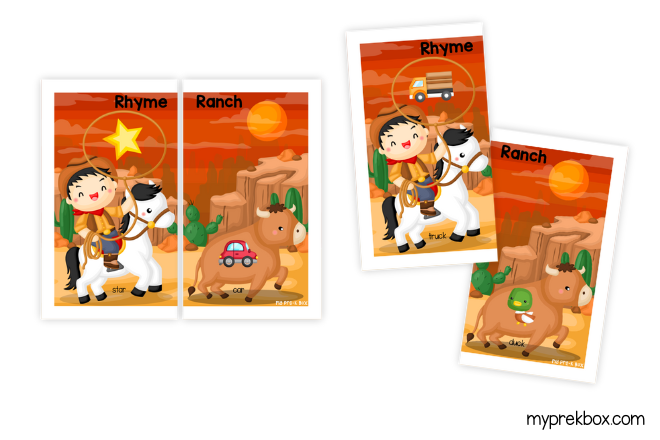 Sensory play and crafts
1

Western Horse Ornament Craft Kit
Saddle up for some crafting fun with our Western Horse Ornament Craft Kit and bring a touch of the Wild West to your holiday decorations!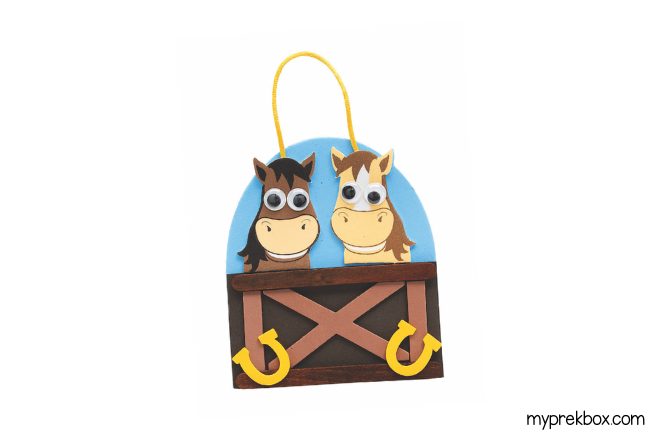 2

Arizona's Painted Desert Sand
Experience the magic of the Wild West with Arizona's Painted Desert Sand, a sensory toy that allows your little ones to explore the wonders of the desert right at their fingertips.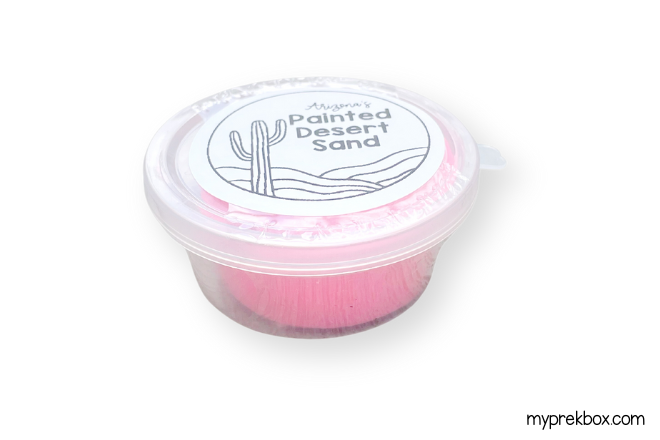 Craft Lovers Upgrade
If your preschooler loves crafting, our Craft Lovers upgrade is the perfect addition to your subscription! With this affordable add-on, you'll receive additional thrilling crafts to develop your child's creativity, making each month an exploration of their creative side!
1

Cactus Handprint Sign Craft Kit
Get ready to create a unique keepsake with our Cactus Handprint Sign Craft Kit!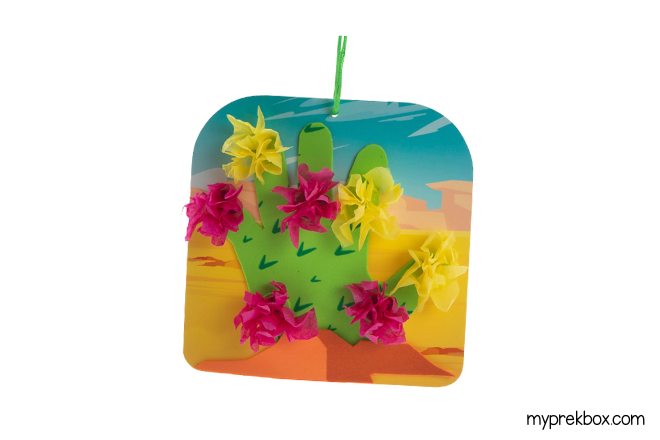 2

Bolo Tie Craft Kit
Add a touch of Western style to your little cowboy and cowgirl outfit with our Bolo Tie Craft Kit!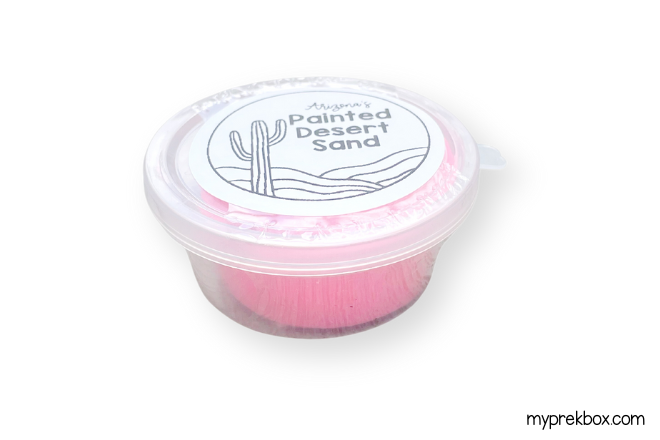 Grownup Guide
This comprehensive but very cute manual will be your trusty sidekick, providing step-by-step instructions and helpful tips to navigate through the games and activities seamlessly!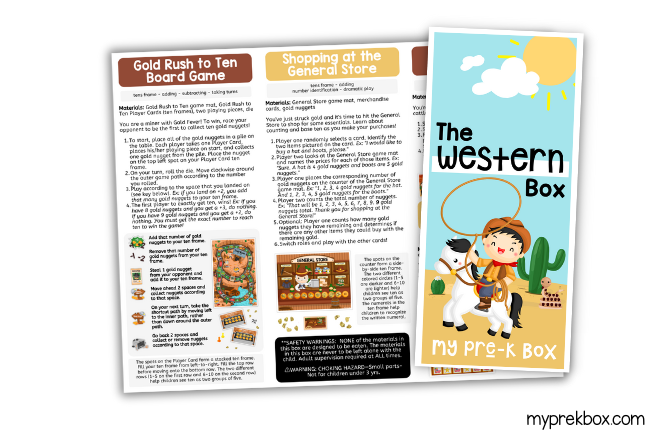 Yie-pee, yie-pee, yay! We hope you enjoyed this educational expedition with The Western Box and unlock a world of excitement, growth, and imagination. Subscribe today and let the adventures begin!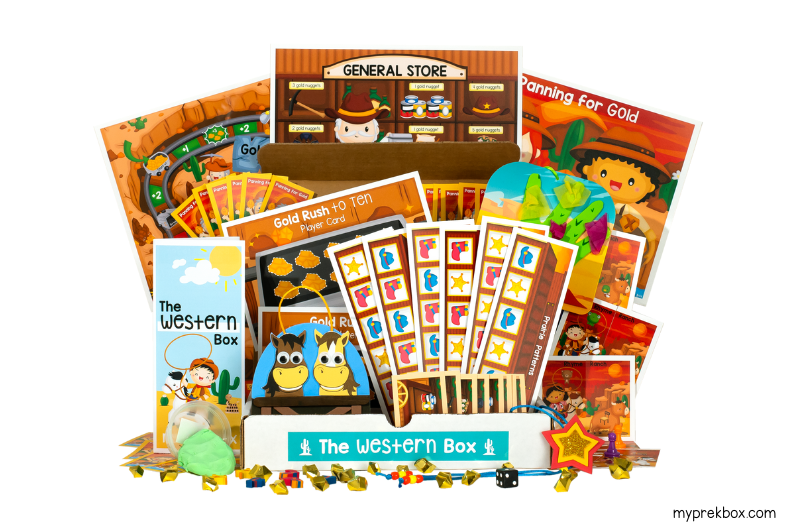 Did you have a great time exploring The Western Box during our tour? The games and activities provided are not only adorable but also highly educational, making them irresistible for kids! If you haven't subscribed to My Pre-K Box yet and want to learn more about our other exciting themed boxes, be sure to check out some of our featured blog posts!
Why Choose My Pre-K Box?
1 Activities are play-based and learner-centered.
Every single activity is well-thought and child-friendly, and ensures learning while having fun!
2 Easy and effortless
If you would be the one to research and prepare the crafts yourself, it would be too tiring and time-consuming. But if you subscribe to My Pre-K Box, it will be delivered to your door every month, hassle-free and easy right? You can have more time for fun and quality family time!
3 Affordable prices
The monthly subscription plan costs $37.95 each month. Or you can save more by committing to a 6-month term ($32.95/month) or a 12-month term ($30.95/month). We also have regular promos and discounts! Check out our current promos here, or choose your plan now!
4 High-quality materials
All the contents of the box are carefully selected and are of top quality to ensure the safety of your kids! Most are also reusable, so your child can play it over and over again!
5 Great customer service
100% Happiness Guaranteed! We make sure to give you unparalleled customer satisfaction. If you have a problem, we will solve it. Because as you support our family business, we also treat you like family.
So, what are you waiting for? Subscribe now and start making learning fun for your kids!
Let's Connect
How was your experience with The Western Box? Share the cool photos and your experiences by tagging us @myprekbox or using the hashtag #myprekbox! And while you're at it, leave us a LIKE and FOLLOW us on our Facebook and Instagram pages! See you there!
Haven't Tried My Pre-K Box Yet?
My Pre-K Box is the best subscription box for

kids 3-5 years of age!

Everything you need to play, create, explore,

learn, laugh, and enjoy!