Let's go and discover helping and learning adventures at The Community Helpers Box! August's box definitely amazed a lot of kids, and if your child hasn't had one yet, join us to see what's inside The Community Helpers Box! It features a variety of community helpers and their profession while teaching them fundamental math and literacy concepts. In this box, fun and education go hand in hand, making it an ideal companion for your young learners on their journey to understanding the world around them!
My Pre-K Box - No prep learning kits for your little ones!
My Pre-K Box is an educational subscription box for preschoolers filled with different learning activities for math and literacy skills! Each box is based on a different theme and is focused on play-based learning. Your kids will love exploring new activities each month while practicing kindergarten readiness skills!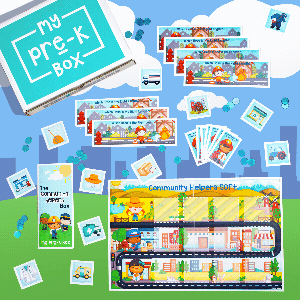 The Community Helpers Box is an exciting and educational resource designed to spark young minds and develop a deep appreciation for the everyday heroes who make our communities thrive. Packed with themed games and activities, this box takes preschool learning to new heights by exposing them to the captivating world of community helpers. From firefighters and nurses to postal workers and farmers, The Community Helpers Box invites children to explore, play, and learn about these essential roles while developing critical skills that will serve them well as they grow. And who knows? Maybe through this box, they might also discover what kind of community helper they want to be when they grow up!
What's Inside The Community Helpers Box?
The Community Helpers Box is packed with 2 challenging math games, 3 exciting literacy activities, a helper-themed craft for creativity, and a fun sensory toy! We've also added an easy-to-follow guide for grown-ups to help you assist your kids in using the activities in it. And if you want more crafts, check out our Craft Lovers Upgrade! Get ready for loads of fun, helping, and learning!
Activities for Learning Math
1

Community Helpers Sort
Materials: Community Helpers Sort game mat, community helpers cards
Game mechanics: In the Community Helpers Sort game, your little ones will help a farmer, mail carrier, and veterinarian gather things they need for their jobs in the community. First, ask your child to identify each helper and talk about what they do. Then, discuss their clothes, tools, and where they work. Next, pick a card, describe what's on it, and match it to the right helper. Keep going until all the cards are sorted correctly. It's a fun way to learn about community helpers and what they do!
About the game: In this game, children learn about the roles of community helpers and develop essential skills such as classifying, grouping, categorizing, and sorting. By matching job-related items to the correct community helper, they enhance their problem-solving abilities and critical thinking. Additionally, the game promotes understanding of different professions and encourages discussions about the tools, clothing, and work environments associated with each helper, fostering knowledge and empathy for the contributions of community workers.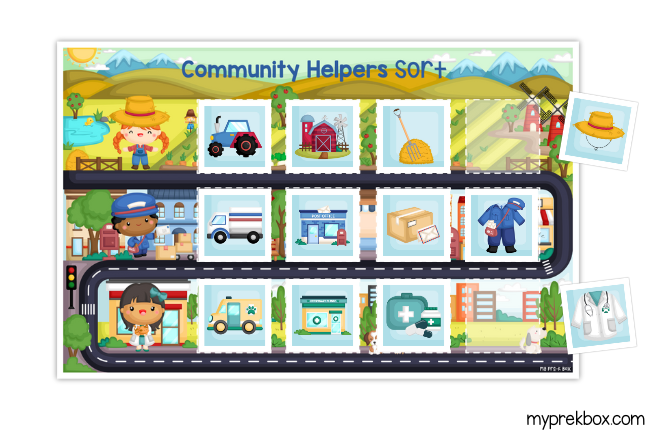 2

Which Hose is the Right Length?
Materials: Which Hose is the Right Length? cards, firefighter hose number cards, blue "water" chips
Game mechanics: In the Which Hose is the Right Length game, kids practice their measuring and counting skills while helping firefighters choose the correct hose to put out fires. First, they randomly select a Which Hose is the Right Length? Card. Then, they will measure the hose's length starting from the fire hydrant, and use blue "water" chips to mark the hose's path to the nozzle. By counting how many chips they've used, they find the firefighter hose number card with the matching number and place it next to the Which Hose is the Right Length? card. This continues until all cards are matched with the right hose.
About the game: In this game, children get to practice and develop their measuring and counting skills by determining the correct hose length to extinguish fires. They also develop numeral identification abilities by matching the counted "water" chips to corresponding numeral cards. This engaging activity not only reinforces mathematical concepts but also encourages problem-solving and critical thinking as kids try to select the right hose for each firefighting scenario.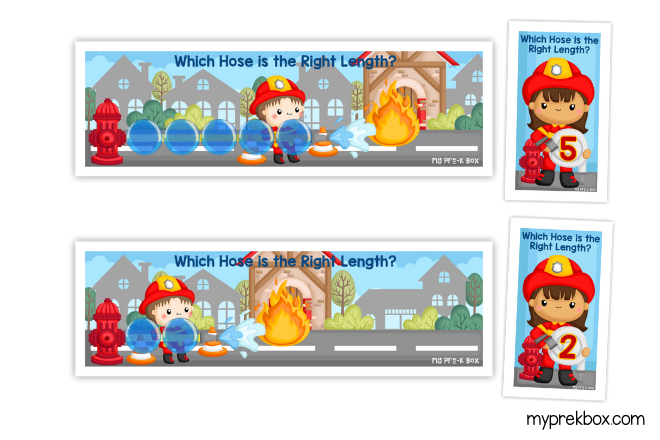 Literacy Activities
1

Police Dog Match
Materials: Police Dog Match cards
Game mechanics: In the Police Dog Match game, kids will use their rhyming skills to pair police officers with their matching police dogs. They split the cards into two groups: one with police officers and one with dogs. Then, they pick a police officer card, name the word on the uniform, and emphasize the ending sound (e.g. "cone"). The challenge is to find the police dog card on the table with a word that rhymes with it (e.g. "bone"). By matching rhyming words, children strengthen their phonics and language skills through this fun matching game.
About the game: Children can practice their rhyming abilities and phonological awareness in this Police Dog Match cards game as they connect police officers with their rhyming police dogs. By identifying and matching words with the same ending sounds, kids strengthen their understanding of rhymes and enhance their language skills, which are crucial for early literacy development.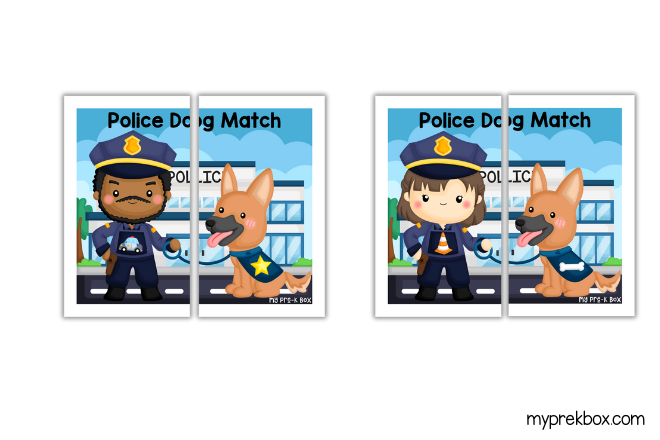 2

Put Out the Fires
Materials: Put Out the Fires game mat, Put Out the Fires cards, blue "water" chips
Game mechanics: In the Put Out the Fires game, children help firefighters put out fires using letters. They can play at different levels of difficulty. For a more challenging version, kids choose cards without seeing them, and adults say the letter sounds. Your child finds the letter on the game mat that makes that sound, names it, and covers it with a "water" chip to "put out" the fire. In an easier version, the child randomly selects a card, and with help from a parent or guardian, then names the letter on the card, and covers the matching letter on the game mat with a "water" chip. This is such a fun way for kids to learn about letters and their sounds!
About the game: Children learn letter identification and letter sounds while practicing matching skills in the Put Out the Fires game. They enhance their ability to recognize letters and their corresponding sounds, crucial for early reading. Additionally, the game helps them work on their fine motor skills as they handle "water" chips to cover the matching letters, making it an engaging way for kids to develop both literacy and coordination abilities.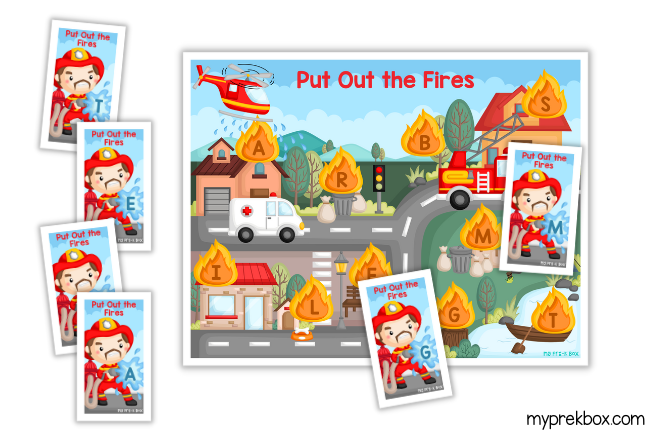 3

Fill the Trucks
Materials: Fill the Trucks game mat, Fill the Trucks cards, construction bricks
Game mechanics: Through the Fill the Trucks game, children practice the important reading skill of blending sounds to create words while filling construction vehicles with bricks. You give your child word sounds, like "c-a-t" for "cat" or "f-i-re" for "fire," and the child combines these sounds to say the word. Then, they randomly choose a card, listen to the sounds on it, blend them to form the word, and find the matching picture on their game mat to cover it with a construction brick.
About the game: The Fill the Trucks game helps children develop essential pre-reading skills by learning to blend sounds together to form words. By practicing this skill, they prepare themselves for reading as they acquire the ability to combine individual sounds into complete words. This game is an engaging way for kids to improve their reading readiness and word-building skills, which are crucial foundations for early literacy.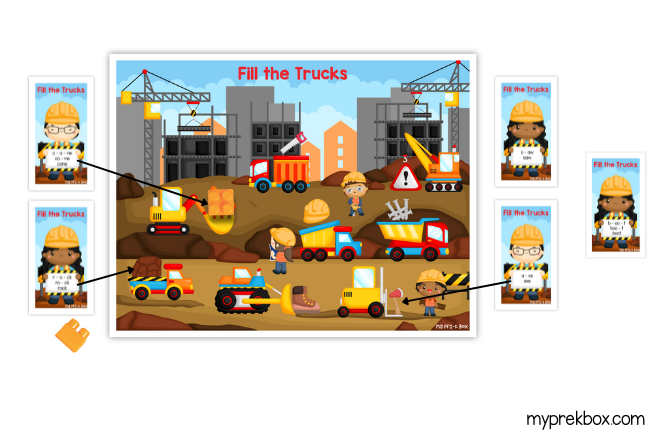 Sensory play and crafts
1

Rainbow Magic Scratch Trucks
Fuel your child's creativity with Magic Color Scratch Trucks! Kids can scratch in designs and messages, and watch the black coating turn into vibrant colors. Includes cement, dump, and moving trucks.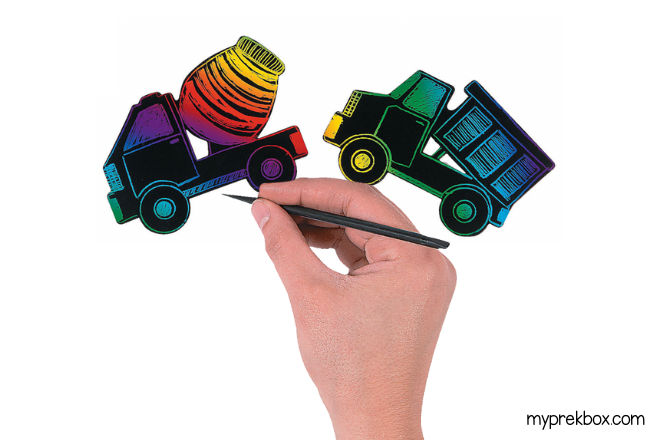 2

Construction Bricks
Construction Bricks are like mini LEGO for preschoolers, offering tactile exploration that enhances fine motor skills and sparks creativity!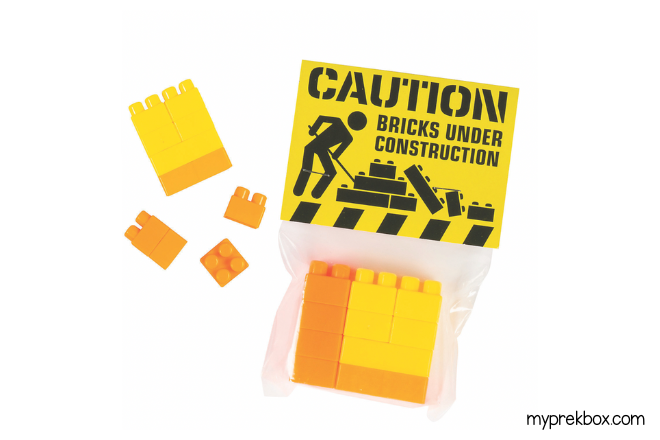 Craft Lovers Upgrade
If your preschooler loves our crafts, be sure to subscribe to our Craft Lovers upgrade now to receive even more exciting crafts that enhance your child's creativity, turning every month into a journey of discovery and exploration of their very own artistic talents!
1

Community Helpers Sticker Scene
Engage your child in hands-on learning and skill development with the Community Helpers Sticker Scene craft. As they create scenes featuring community heroes, children enhance their creativity, fine motor skills, and understanding of important roles in their community.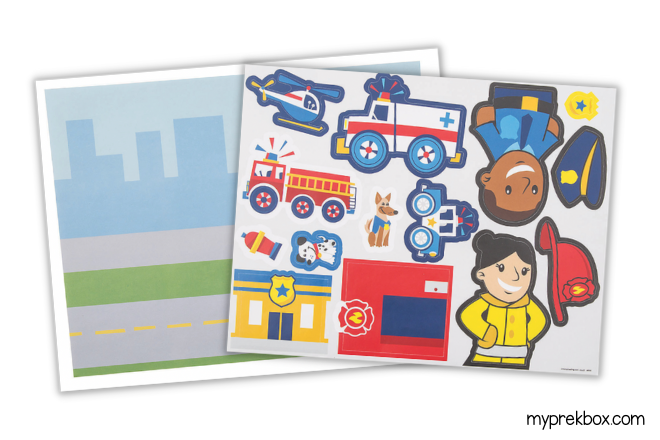 2

Military Appreciation Handprint Sign Craft
Teach children about our brave military men and inspire gratitude with the Military Appreciation Handprint Sign Craft! This hands-on activity not only allows kids to create a heartfelt sign but also helps them develop creativity and awareness of the brave heroes in our community.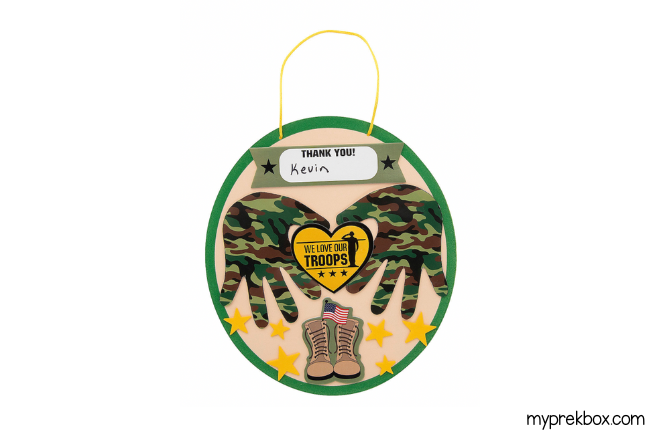 Grownup Guide
The Grownup Guide will be your manual for navigating through the exciting adventures in My Pre-K Box! This handy guide helps grownups to effortlessly guide kids through the games and activities, to make sure they have a smooth and enjoyable learning experience!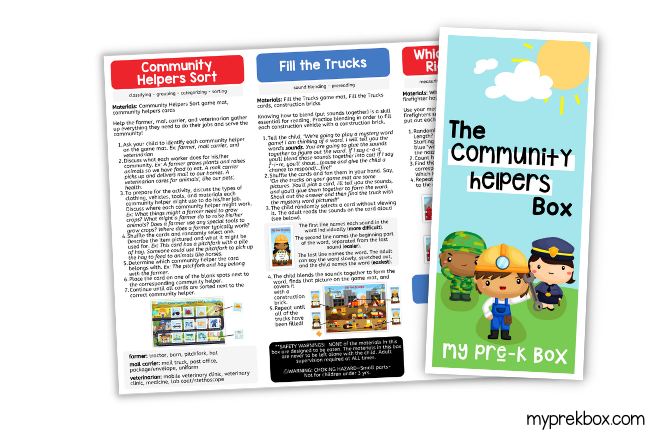 So, to wrap it up, The Community Helpers Box is a fantastic way for kids to learn about important people in our community while having lots of fun! It's not just a regular box of games and activities – it's like a special key that helps children unlock new knowledge and skills. So, when kids play with this box, they're not only having a great time but also getting ready to learn more and help their community as they grow up.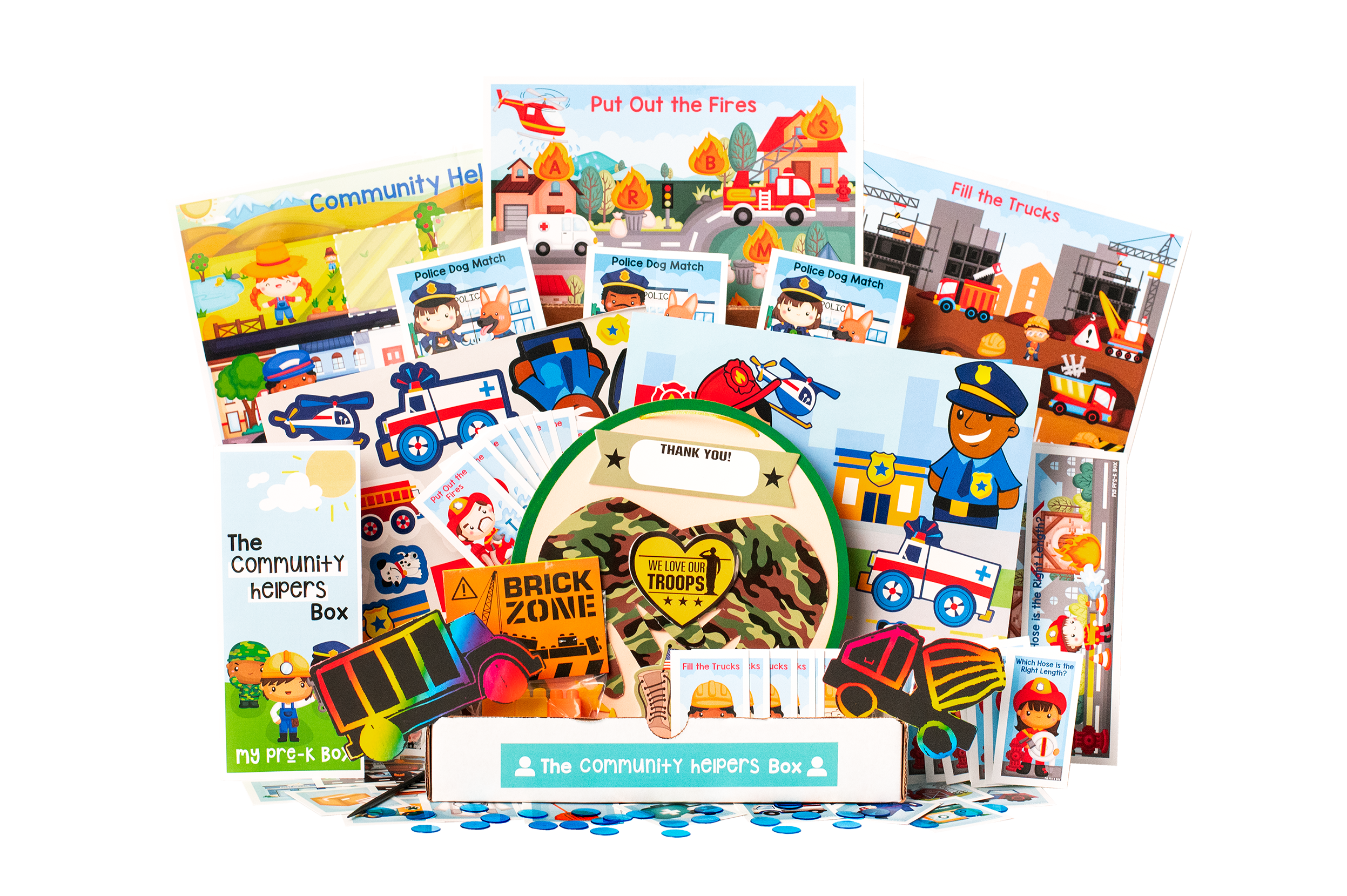 We hope you had fun with our tour inside The Community Helpers Box! The games and activities are adorable and educational, making them irresistible to kids! If you're not yet subscribed to My Pre-K Box and want to learn about more of our featured My Pre-K Boxes, take a look at our highlighted blog posts!
Why Choose My Pre-K Box?
1 Activities are play-based and learner-centered.
Every single activity is well-thought and child-friendly, and ensures learning while having fun!
2 Easy and effortless
If you were the one to research and prepare the crafts yourself, it would be too tiring and time-consuming. But if you subscribe to My Pre-K Box, it will be delivered to your door every month, hassle-free and easy right? You can have more time for fun and quality family time!
3 Affordable prices
The monthly subscription plan costs $37.95 each month. Or you can save more by committing to a 6-month term ($32.95/month) or a 12-month term ($30.95/month). We also have regular promos and discounts! Check out our current promos here, or choose your plan now!
4 High-quality materials
All the contents of the box are carefully selected and are of top quality to ensure the safety of your kids! Most are also reusable, so your child can play it over and over again!
5 Great customer service
100% Happiness Guaranteed! We make sure to give you unparalleled customer satisfaction. If you have a problem, we will solve it. Because as you support our family business, we also treat you like family.
Don't miss out on the fun! Subscribe now and kickstart a fun learning adventure for your kids!

Let's Connect
How was your experience with The Community Helpers Box? Share the adorable photos and your experiences by tagging us @myprekbox or using the hashtag #myprekbox! And while you're at it, leave us a LIKE and FOLLOW us on our Facebook and Instagram pages! See you there!
Haven't Tried My Pre-K Box Yet?
My Pre-K Box is the best subscription box for

kids 3-5 years of age!

Everything you need to play, create, explore,

learn, laugh, and enjoy!