Are you ready to "dive into learning" this summer? We have the best ocean-themed activities for preschoolers inside The Ocean Box, the perfect activity for summer and shark week! Join us in exploring the wonders of the ocean while enjoying math and literacy games inside The Ocean Box. Splish, splash, and join the adventure!
My Pre-K Box: The best subscription box for kids ages 3 to 5!
My Pre-K Box is the ultimate educational subscription box for preschoolers aged 3-5! Get ready for loads of fun and learning all in one package! Each box has a cool theme and is packed with different activities to help your little ones with math and reading. They'll have a blast trying out new things, and you'll be happy knowing you're helping them get ready for kindergarten!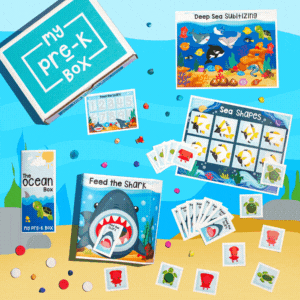 Experience a thrilling underwater adventure with your young explorers in The Ocean Box! Immerse yourself in the wonders of the deep blue sea with our ocean-themed activities designed for preschoolers. See the world of sharks, dolphins, and colorful marine life while enjoying engaging math and literacy games. Let your imagination swim free as you go on a journey filled with fun and learning. Get ready to make a splash in The Ocean Box!
What's Inside The Ocean Box?
The Ocean Box includes 3 exciting math games and 2 adorable literacy activities to delight your little ones! It also includes an ocean-themed craft to develop their creativity and a sensory toy for engaging hands-on play. And to make sure that you have an amazing experience, we've also included an easy-to-use Grownup Guide inside the box. And for additional crafts, you can also subscribe to our Craft Lovers Upgrade.
Activities for Learning Math
1 Feed the Shark
Materials: Feed the Shark game mat, Feed the Shark number sheet, Feed the Shark cards, seashells, pencil, scissors
Game mechanics: Get ready for some shark-filled fun! Use the scissors to cut out the middle of the shark's mouth. Count the sharp teeth of the hungry shark and match the number with the correct numeral on the Feed the Shark number sheet. Using your finger or a pencil, trace the numeral. Cover the numeral with a seashell and feed the card to the shark through its open mouth. Enjoy the thrill of learning numbers and feeding the hungry shark in this exciting game!
About the game: This shark-themed game will help kids develop essential counting skills as they count the teeth on the hungry shark. They will also strengthen their numeral recognition by matching the counted number to the corresponding numeral on the Feed the Shark number sheet. Additionally, they will also enhance their numeral formation abilities by tracing the numerals with their fingers or a pencil and covering them with seashells. The game effectively combines counting, tens frames, numeral recognition, and numeral formation skills in a fun and interactive way, making learning a delightful adventure!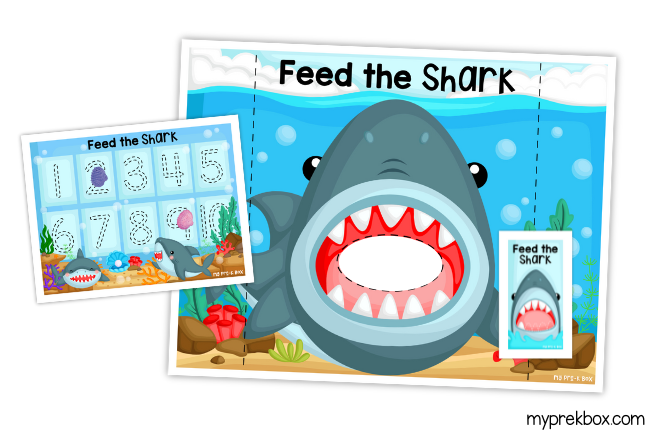 2 Sea Shapes
Materials: Sea Shapes game mat, shape cards
Game mechanics: Get ready for a fun shape-matching adventure! Before starting, the adult names the shapes on the fish using the Grownup Guide. The child then picks a card and names the shape on the squid or sea turtle. Match the card to the shape on the game mat and keep going until all the cards are matched. Enjoy learning shapes in this exciting undersea game!
About the game: In this engaging undersea game, kids will develop their knowledge of two-dimensional shapes as they learn to identify and name shapes found on the fish, squid, and sea turtle. The game enhances their matching skills as they match the shapes on the cards to the corresponding shapes on the game mat. By playing this game, children will strengthen their shape recognition abilities, making learning shapes a delightful and rewarding experience!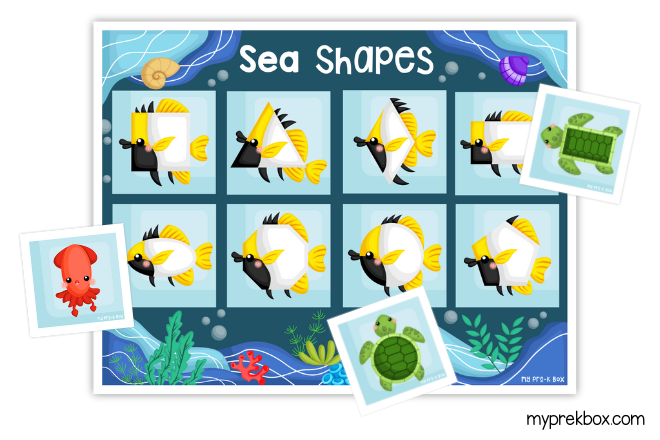 3 Deep Sea Subitizing
Materials: Deep Sea Subitizing game mat, 1 mini eraser, seashells, 5 two-sided counters, cup
Game mechanics: Dive into a thrilling underwater adventure with the Sea Urchin Subitizing Game! Practice subitizing, the skill of instantly recognizing quantities without counting, to save sea animals from the poisonous sea urchin. The adult hides 1-5 counters under the cup, and the child lifts the cup, calling out the number of counters without counting. If they correctly identify the quantity, they save a sea creature with the matching numeral using seashells. If they get it wrong, they get "stung" and move the mini eraser to the next X on the game board. Three stings and the game ends. Subitizing becomes exciting and rewarding with this ocean-themed game!
About the game: The Deep Sea Subitizing game can assist in developing essential skills in subitizing, counting, and numeral recognition. By instantly recognizing quantities without counting, children practice subitizing, enhancing their ability to grasp numbers at a glance. They also strengthen their counting skills when verifying larger quantities that may be challenging to subitize. Moreover, the game encourages numeral recognition as kids associate the counted quantities with the corresponding numerals on the game board.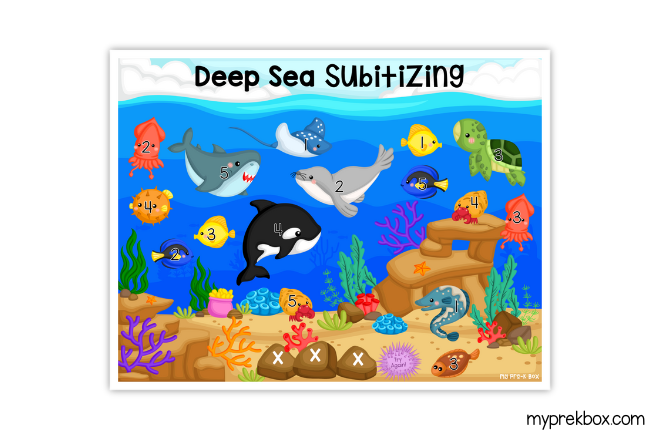 Literacy Activities
1 Under the Sea Syllables
Materials: Under the Sea Syllables cards, seashells
Game mechanics: Dive under the sea to learn syllables with friendly sea creatures! Pick an Under the Sea Syllables card, say the word on it, and clap for each syllable. Your child repeats, placing a seashell on the card with each clap. Count the shells to identify how many syllables the word has. Enjoy learning syllables with this fun game!
About the game: This delightful undersea game can help kids develop crucial phonological awareness skills by learning to segment words into syllables. Through clapping and repetition, they enhance their segmenting abilities, breaking words like "jellyfish" into "jel-" [clap] "-ly-" [clap] "-fish" [clap]. As they place seashells on the card for each syllable, children can practice counting, reinforcing their understanding of syllable quantities. This engaging activity fosters phonological awareness, segmenting, and counting skills, making learning a fun-filled underwater adventure!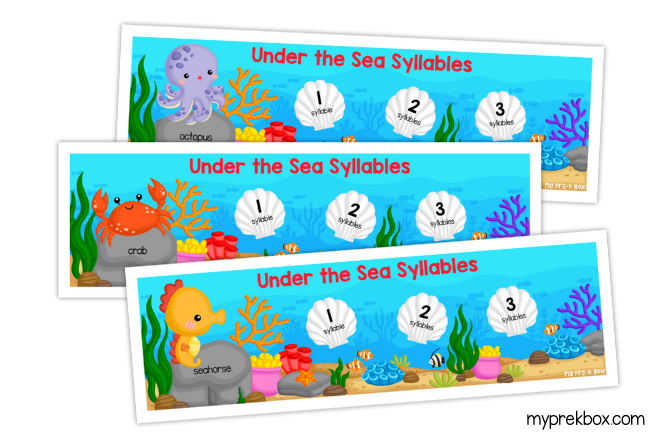 2 Alphabet Octopus Board Game
Materials: Alphabet Octopus game mat, 2 Alphabet Octopus player cards, die, 2 mini eraser playing pieces, seashells
Game mechanics: Discover the fascinating world of octopuses in this exciting game! Each player aims to help their octopus collect 8 shells and take them home to win. Start by taking a player card and placing your mini eraser playing piece on the Start. Roll the die on your turn and move your playing piece clockwise according to the number rolled. Follow the instructions of the space you land on (you will see the key in the Grownup Guide). If you've collected all 8 seashells on your player card and land on a tan space, head towards Home on your next roll. Win by rolling the exact number to enter the den and reach Home. See who can be the first to complete the shell collection!
About the game: The Alphabet Octopus Board Game is a great way to help kids in developing crucial skills in letter identification and turn-taking. As they move their playing pieces around the path, they reinforce their ability to recognize letters and follow instructions based on the spaces they land on. Additionally, the game fosters turn-taking etiquette, encouraging kids to wait patiently for their chance to roll the die and make their moves. Through this fun undersea theme game, children will enhance their letter recognition and social skills while having a blast collecting shells for their octopuses' dens!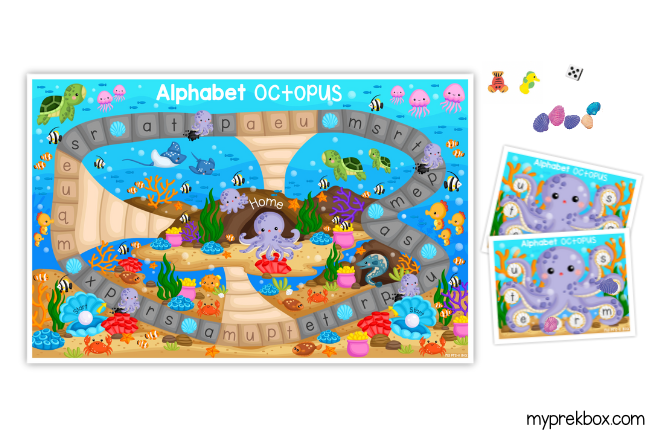 Sensory play and crafts
1 Shark Puppet Craft Kit
Unleash creativity and play with our Shark Puppet Craft Kit! This fun and easy-to-make kit lets kids create their own adorable shark puppet. Dive into imaginative storytelling and puppetry with this fin-tastic craft project!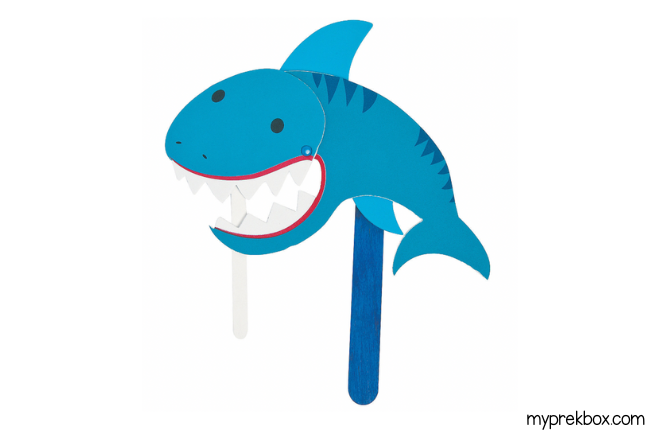 2 Dolphin Water Bead Squeeze Toy
Experience a sea of sensory delight with our Dolphin Water Bead Squeeze Toy! Squeeze, squish, and explore the soothing sensation of water beads in this playful dolphin-shaped toy. Dive into a world of tactile wonder and relaxation with every gentle squeeze.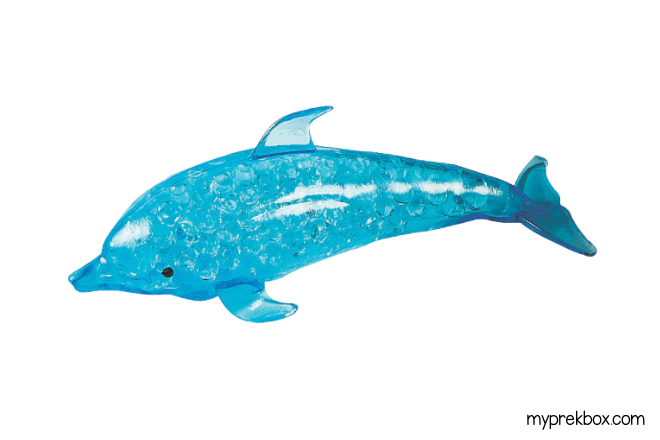 Craft Lovers Upgrade
1 3D Floating Submarine Craft Kit
Dive into a world of imagination and adventure with our 3D Floating Submarine Craft Kit! This delightful craft set allows young explorers to assemble their very own miniature submarine, bringing the deep sea to life in stunning 3D detail.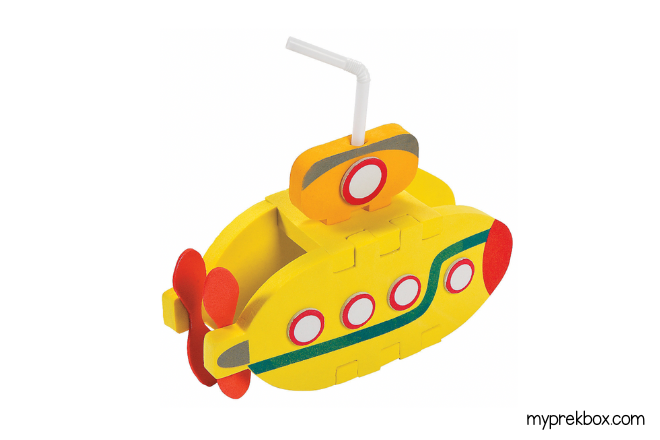 2 Under the Sea Giant Sticker Scene
Experience an enchanting underwater adventure with our Under the Sea Giant Sticker Scene! Decorate the vast ocean landscape with colorful stickers of marine life. Let your imagination soar beneath the waves!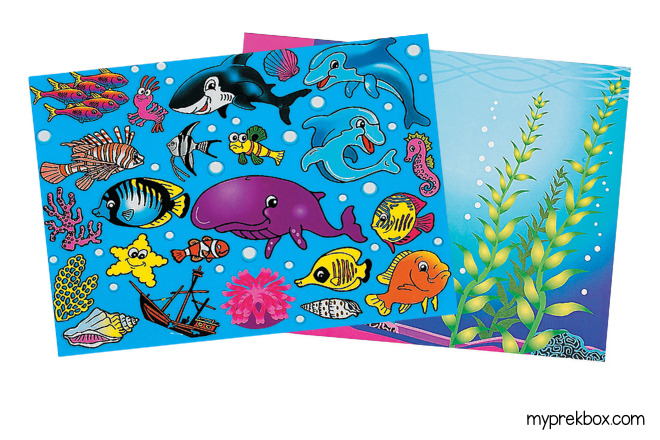 Grownup Guide
This all-inclusive manual will be your trusted companion for a step-by-step guide and valuable tips for a smooth-sailing experience as you go through the games and activities of The Ocean Box!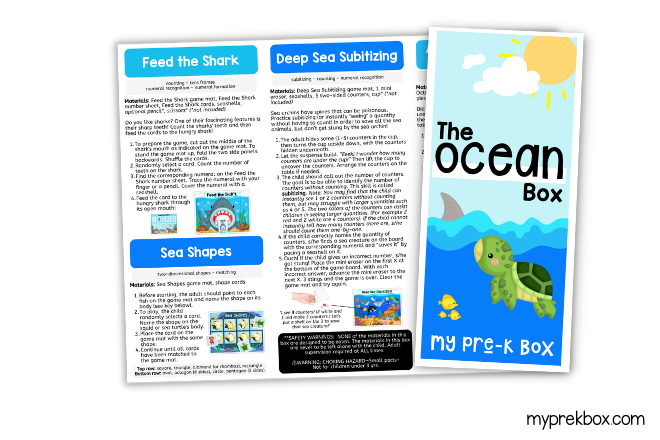 As we finish our tour with The Ocean Box, we hope you had a splashing good time exploring the wonders of the deep sea. We hope that the fun math games, exciting literacy activities, ocean-themed crafts, and engaging sensory toys had your little one brimming with joy and new learnings! Thank you for diving into learning in The Ocean Box with us, and till next time, keep riding the waves of imagination and discovery!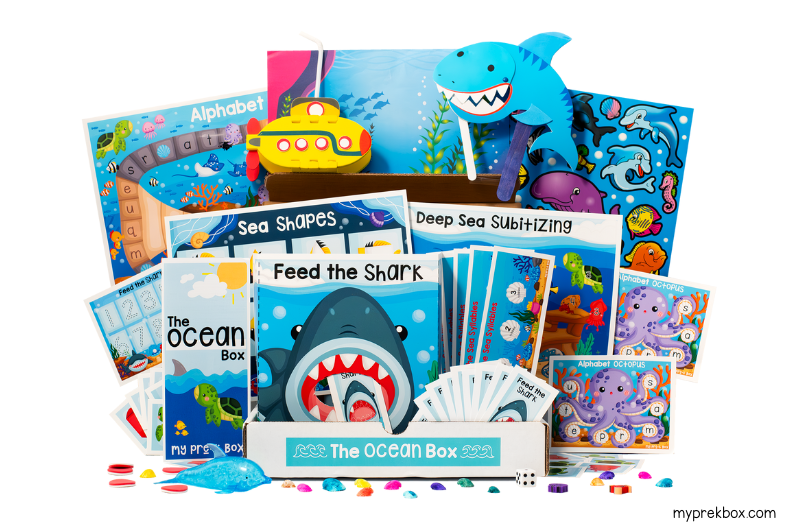 Did you have fun exploring The Ocean Box during your tour? The adorable and educational games and activities are irresistible to kids! If you're not subscribed to My Pre-K Box yet and want to learn about other exciting boxes, be sure to read some of our featured blog posts!
Why Choose My Pre-K Box?
1 Activities are play-based and learner-centered.
Every single activity is well-thought and child-friendly, and ensures learning while having fun!
2 Easy and effortless
If you would be the one to research and prepare the crafts yourself, it would be too tiring and time-consuming. But if you subscribe to My Pre-K Box, it will be delivered to your door every month, hassle-free and easy right? You can have more time for fun and quality family time!
3 Affordable prices
The monthly subscription plan costs $37.95 each month. Or you can save more by committing to a 6-month term ($32.95/month) or a 12-month term ($30.95/month). We also have regular promos and discounts! Check out our current promos here, or choose your plan now!
4 High-quality materials
All the contents of the box are carefully selected and are of top quality to ensure the safety of your kids! Most are also reusable, so your child can play it over and over again!
5 Great customer service
100% Happiness Guaranteed! We make sure to give you unparalleled customer satisfaction. If you have a problem, we will solve it. Because as you support our family business, we also treat you like family.
So, what are you waiting for? Subscribe now and start making learning fun for your kids!

Let's Connect
We'd love to hear your feedback! If you have any questions, or suggestions, or want to share your experiences with our products, please don't hesitate to reach out to us at hello@myprekbox.com or through our Facebook and Instagram pages. While you're there, show us some love with a LIKE and FOLLOW to stay updated on more thrilling activities to enjoy with your preschooler at home! We can't wait to connect with you there!
Haven't Tried My Pre-K Box Yet?

My Pre-K Box is the best subscription box for

kids 3-5 years of age!

Everything you need to play, create, explore,

learn, laugh, and enjoy!