Look no further for free summer worksheets for preschoolers! My Pre-K Box created the Summer Preschool Fun Pack just for your little ones! The Summer Preschool Fun Pack is a cool collection of summer-themed worksheets designed to bring the spirit of summer to your preschoolers' learning journey! It is focused on developing math and literacy knowledge and prepares kids for learning essential Kindergarten skills. Dive into learning with these free summer worksheets for preschoolers, and learn how to get them for free!
My Pre-K Box: The best subscription box for kids ages 3 to 5!
My Pre-K Box is an educational subscription box for preschoolers filled with different learning activities for math and literacy skills! With fresh new themes each month, your child will delight in all of the fun, play-based learning activities inside! Prepped and delivered straight to your door, My Pre-K Box is so much fun, your child won't even realize how much they're learning!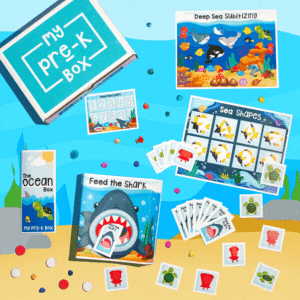 Learning doesn't stop in summer! But it doesn't have to make summer boring too! With the Summer Preschool Fun Pack, your preschoolers can explore counting summer-themed objects to matching flip-flop letters, from measuring with beach balls to discovering lemonade rhymes! Each worksheet offers a truly unique and engaging kids' activity for summer. Kids will dive into a world of beach adventures, sunny patterns, and refreshing lemonade, all while developing their cognitive, motor, and language abilities. Let's make this summer a season of fun-filled learning and adventure!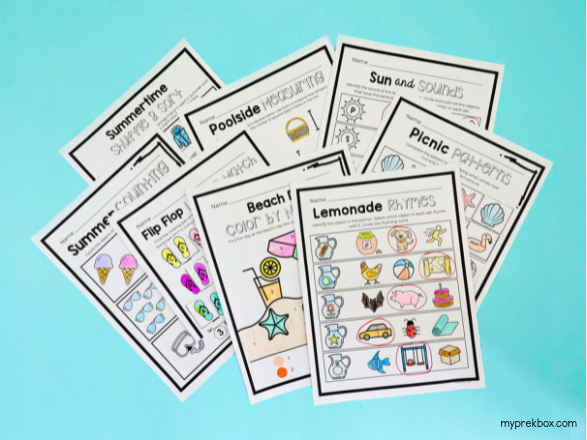 Get FREE Summer Theme Worksheets
How to Use the Summer Preschool Fun Pack
To enjoy the Summer Preschool Fun Pack, just download and print it on regular white paper. Gather some basic materials like pencils, markers, crayons, glue, and scissors. Then, dive into a world of summer-themed fun and learning! Feel free to use one worksheet at a time and afterward, engage in summer-inspired activities and crafts together! Check out one of our blog posts for exciting and engaging summer-themed activities that you can try at home with your preschooler, along with the games from The Ocean Box!
What's included in the Summer Preschool Fun Pack?
Summer Counting

Picnic Patterns

Poolside Measuring

Beach Day Color By Number

Summertime Shuffle & Sort

Sun and Sounds

Flip Flop Letter Match

Lemonade Rhymes
Check out the 8 worksheets included in the Summer Preschool Fun Pack!
1 Summer Counting
Summer Counting is a fun and engaging worksheet designed to help kids enhance their counting skills while enjoying the summer theme. In each box of the worksheet, there are various summer-themed objects like ice creams, beach balls, and sunglasses. The objective is for kids to carefully count the number of objects in each box and then color the corresponding number on the side. This activity not only reinforces their counting abilities but also promotes hand-eye coordination and attention to detail. Through this worksheet, children will develop a better understanding of numbers and strengthen their ability to associate quantities with numerical symbols.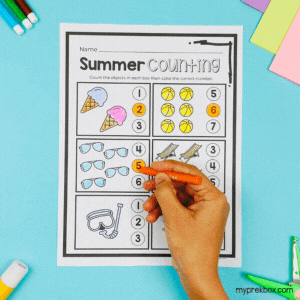 2 Picnic Patterns
Summer wouldn't be complete without a fun picnic, so we included in this collection the Picnic Patterns! It is an exciting worksheet designed to help kids improve their pattern recognition skills while enjoying a delightful picnic-themed activity. Each row of the worksheet presents a sequence of pictures with a missing image at the end. To complete the pattern, children must identify what comes next in the sequence. They have to cut out the correct picture from the options provided and then paste it in the empty space to continue the pattern successfully. This activity enhances their logical thinking and problem-solving abilities and also fosters fine motor skills through cutting and pasting. As they engage with Picnic Patterns, kids will learn to identify and create different types of patterns, such as color, shape, or size patterns, thus building a strong foundation for more advanced math concepts in the future.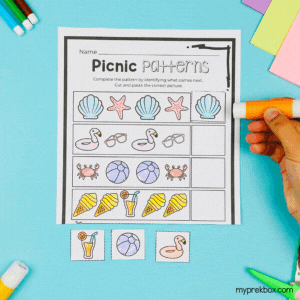 3 Poolside Measuring
Poolside Measuring is an interactive worksheet designed to make summer learning enjoyable and practical for kids. Through this activity, children will develop essential measuring skills while using non-standard units in a fun beach-themed context. The worksheet features various summer-related objects like a surfboard, basket picnic mat, and a frisbee, each with a designated space beside it. To answer the worksheet, kids need to cut out the small pictures of beach balls found at the bottom of the worksheet and use them to measure the length of each object. They should line up the beach balls from one end of the object to the other and count how many beach balls it takes to measure the length accurately. They can then write down the measurement or the number of beach balls used beside each object. This hands-on activity not only reinforces measuring concepts but also improves fine motor skills through cutting and lining up the beach balls to measure the objects.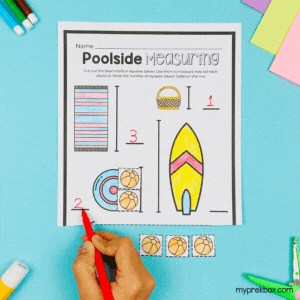 4 Beach Day Color By Number
Bring vibrant colors to this cute beach day scene in our Beach Day Color by Number worksheet! Children will enjoy this fun activity while improving their coloring and number recognition skills. The worksheet features a beautiful beach scenery with different elements numbered throughout, such as umbrellas, sea shells, and sea creatures. Kids simply have to follow the number guide and use the corresponding colors to fill in each area. By engaging in this activity, kids can enhance their ability to identify numbers while also improving their hand-eye coordination and concentration. Furthermore, as they immerse themselves in coloring the beach scene, they can let their imaginations run wild, fostering creativity and artistic expression.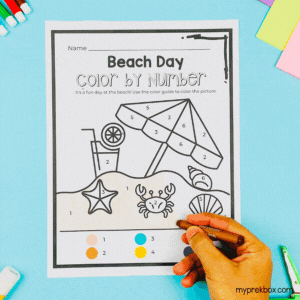 5 Summertime Shuffle & Sort
Do your kids know which objects are for summer and which ones are not? A good way to practice that is through our Summertime Shuffle and Sort! This fun activity will not only keep them entertained but also help develop their critical thinking skills. The worksheet contains a mix of different objects, some associated with summer, and others not related to the season. To complete this worksheet, children need to cut out each object and carefully sort and paste them into the correct boxes: "Summer" or "Not for Summer." Through this sorting exercise, kids will sharpen their observation and sorting abilities, learning to distinguish between summer-themed items and those unrelated to the season.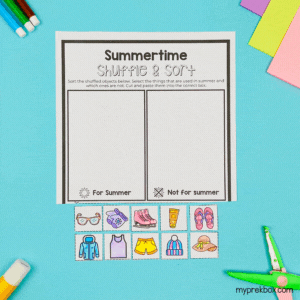 6 Sun and Sounds
Sun and Sounds is a delightful worksheet that combines letter recognition and phonics practice in a sunny and enjoyable setting. Kids will have a great time learning while completing this activity. Each sun on the worksheet represents a letter, and children have to identify the sound of that letter. Once they've identified the letter sound, they can move on to the sets of objects. In each set, kids must carefully circle and color all the objects that have the same beginning sound as the letter inside the sun. This activity not only reinforces letter-sound associations but also strengthens visual discrimination skills and phonemic awareness. This will also expand their phonics knowledge, enhance their ability to distinguish sounds at the beginning of words, and build a solid foundation for reading and language development.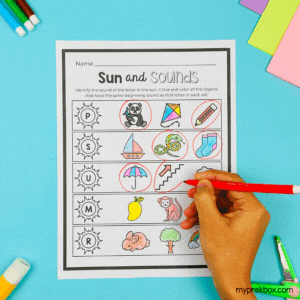 7 Flip Flop Letter Match
Finding matching letters and flip-flops? Our Flip Flop Letter Match is an engaging and interactive worksheet that combines letter recognition with a beachy twist. Kids will have a blast while honing their matching skills. The worksheet features a set of flip-flops, each missing its pair. Instruct your kids to identify the letter on one flipflop and then find its matching uppercase or lowercase letter on another flipflop. Once they've found the missing pair, they can cut it out and paste it in the correct spot. This activity not only reinforces uppercase and lowercase letter recognition but also improves fine motor skills through cutting and pasting.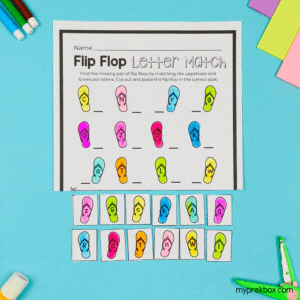 8 Lemonade Rhymes
What's best on hot summer days? Cold lemonade! And our Lemonade Rhymes is a refreshing and educational worksheet that makes rhyming practice fun. Kids will enjoy this activity while improving their phonemic awareness skills. In this worksheet, each pitcher is filled with a specific object, and children must identify the object shown. Next, they will encounter a set of different objects, and their task is to select which one rhymes with the object in the pitcher. After identifying the rhyming word, they should circle it to complete the worksheet. This strengthens their ability to recognize and generate rhymes while also enhancing their vocabulary and language skills. The Lemonade Rhymes will help kids develop a deeper understanding of the sound patterns in words, which is essential for early reading and language development.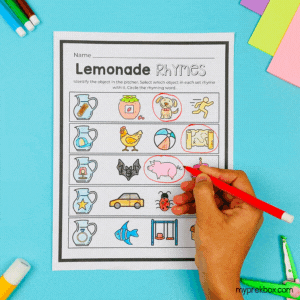 Before you go…

Here's one last freebie for you!

Enjoy summer with these absolutely cute Summer Pom Pom Mats! Kids will surely love creating summer-themed images with the help of our FREE printable fine motor mats! All you need to do is print these Summer Pom Pom Mats and prepare colorful Pom poms and pencils, and you're good to go. This will help in developing not only their fine motor skills but also their counting, color, and pattern recognition skills! Learn more about our Summer Pom Pom Mats here, and download it now!
We believe in the power of joyful learning, and that's why we are delighted to offer all these 8 worksheets in the Summer Preschool Fun Pack for FREE! We want to make sure every child can enjoy the wonders of learning while developing important skills this summer. Just click the button below to get all 8 summer-theme worksheets free of charge! Happy learning and have a fantastic summer ahead!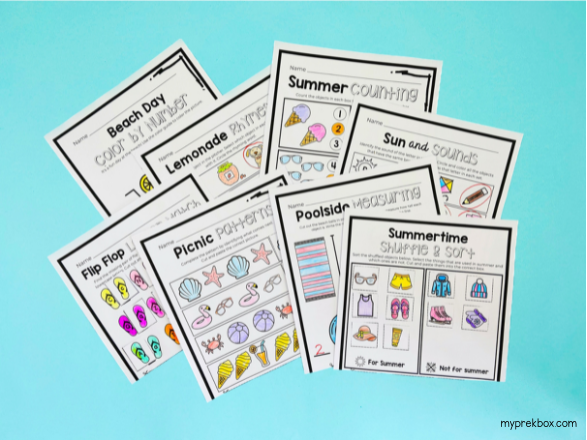 Download Summer Preschool Fun Pack
We hope your experience with the Summer Preschool Fun Pack was amazing! If your little one had a blast with The Ocean Box, our themed box for July, then the Summer Preschool Fun Pack is an ideal follow-up activity for it!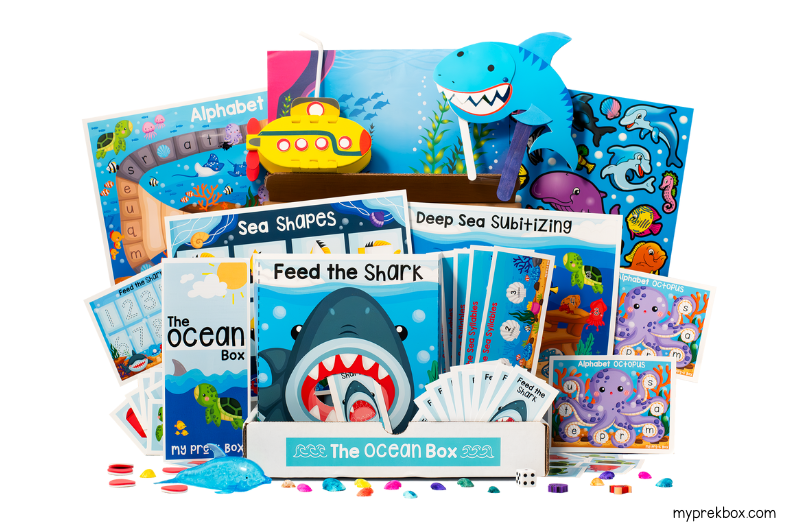 Each month My Pre-K Box creates an exciting, educational box for preschoolers with themed math and literacy activities! Preschoolers will love play-based learning and parents will love the easy, open-and-play format!
My Pre-K Box takes all the searching, prepping, and stress out of planning preschool activities for your 3-5-year-olds. Each month, we focus on a different set of Kindergarten readiness skills and provide all the materials and instructions you need right in the box. You'll never have to worry about what activity to do next or spend hours looking for ideas online again.

Let's Connect
Want more Preschool Fun Packs? Get more FREE printables, fun craft ideas, and exciting activities to do at home with your little ones when you LIKE and FOLLOW our Facebook and Instagram pages! Use the hashtag #myprekbox when you share adorable moments in your social media posts using our free resources and subscription box.
Haven't Tried My Pre-K Box Yet?
My Pre-K Box is the best subscription box for

kids 3-5 years of age!

Everything you need to play, create, explore,

learn, laugh, and enjoy!