Wee-hoo! Wee-hoo!
It's a big, red fire truck! Among many transportation vehicles, this one is always a favorite. Kids love its bright red color and its loud siren. Most of all, they love how brave and heroic firefighters are! If your kid wants to be a firefighter, or simply loves fire trucks, you should definitely get this FREE Firetruck Name Craft! Learn more about this craftivity and how to get it for free in this article.
My Pre-K Box: The ultimate subscription box for preschoolers!
My Pre-K Box is an educational subscription box for preschoolers aged 3-5! We deliver the most fun play-based preschool learning available! Each box has its own unique theme and is filled with different learning activities to target math and literacy skills. Your kids will have fun exploring the new activities, and you will delight in the fact you are helping them with essential Kindergarten readiness skills!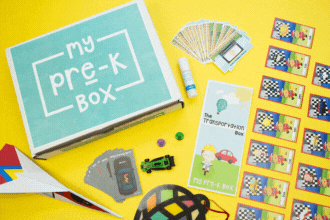 The Firetruck Name Craft is also a good way to teach them how to spell and write their name properly. The fire truck's ladder is connected together and kids write the letters of their name on it! Get it now for FREE and see how your kids will enjoy this craft while learning!
Get the Firetruck Name Craft for FREE

What's inside our FREE printable?

Fire truck body

Small parts of the fire truck

Fire truck ladder

4 colored version

Black & white version

Get the FREE Firetruck Name Craft
Materials for creating your own Firetruck Name Craft
cardstock

printer

scissors

glue

pen or marker

crayons (if you will be using the black & white version)
How to create your Firetruck Name Craft
Step 1 Download and print My Pre-K Box's Print & Go Firetruck Name Craft. Choose from the different colored and black and white versions. Then, get the page labeled Fire Truck Body and cut it out.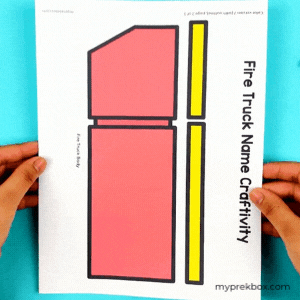 Step 2 Paste the yellow line at the bottom of the fire truck.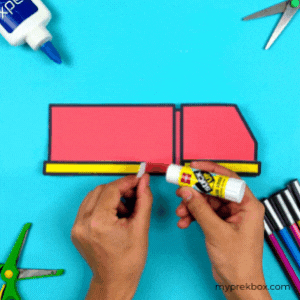 Step 3 Next, get the page with small parts of the fire truck and cut it out too!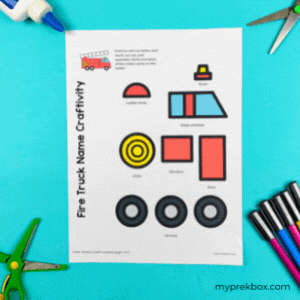 Step 4 Paste the blue and red figure on the front part of the fire truck. Now your little fire truck has a window! Next, the small yellow and red figure goes on top. It will be the fire truck's siren! Wee-hoo! Wee-hoo! Then, attach the round black and gray figure at the bottom of the fire truck to become the wheels.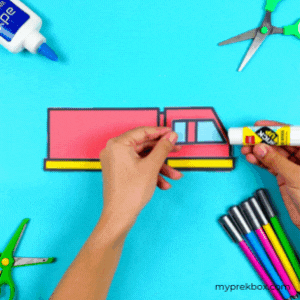 Need help with your kid's letter recognition?

Want more craftivities?

Then you can have both with our FREE Corn Craftivity!

A fun craft PLUS learning activity targeting letter recognition for preschoolers.

Learn more about this FREE Corn Craftivity here.
Step 5 Attach the red semi-circle figure on top of the fire truck. This will hold the ladder later. Next, paste the water hose near the rear end of the fire truck. It's the round yellow figure with circles on it. Lastly, put the red square and rectangle parts opposite the water hose. The square one will be in the middle of the fire truck, which is most likely the pump panel. Next to it will be the red rectangle, which serves as the door to the tools compartment. Now your fire truck is almost done!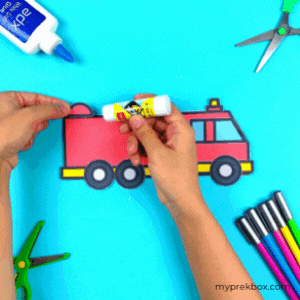 Step 6 To complete the fire truck, let's make a ladder! But not just an ordinary ladder, we will have your name on it! Get the page with squares, then have your child count the letters in his name! Each line has five squares, so if your child's name has more than five letters on it you can cut another line of squares and connect it!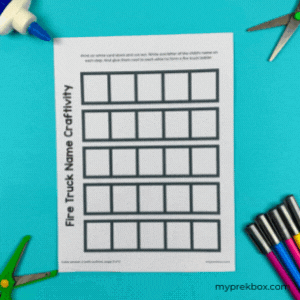 Step 7 Can your kid spell out her name on her own? This is the best part to practice it! Write a letter in each box to fill in the fire truck's ladder!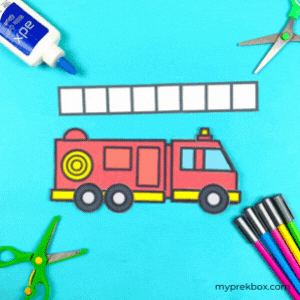 Step 8 Attach the ladder to the top of the fire truck. And there you have it, your very own Fire Truck Name Craft!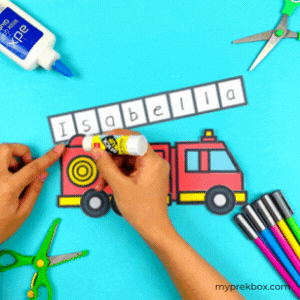 You can paste it on a carton box so your preschooler can play with it, or you can have it framed and displayed in his room! It will not only help your kid remember how to spell out their name but also remind him of how much fun they had while working on this craft with you!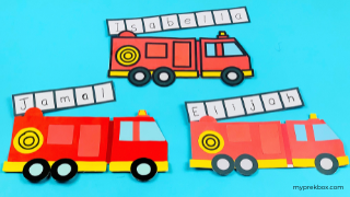 What will your child learn with our Firetruck Name Craft?
1 Spell out their name
Preschoolers need to have some fun spelling out their names so they remember them fast. And this craft is a good example! Don't worry if they misspell their name at first, gently correct them. Activities like this one will help them remember each letter and its arrangement.
2 Development of fine motor skills
All the cutting, pasting, and assembling of this craft will help preschoolers develop their fine motor skills. They might need some help with the smaller parts of the fire truck, but with practice, they will be able to do it on their own!
3 Following instructions
Your preschooler will surely love to do this fire truck name craft on his own, as it can be completed in a few steps. You can read the instructions to him and ask him what he should do, and guide him as he works on it! It shows he has good comprehension and is trying to be independent!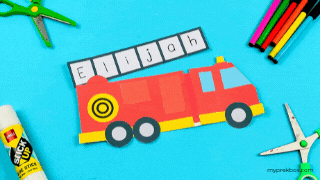 The Fire Truck Name Craft is just one of our many FREE craftivities and preschool fun packs, but if you want more crafts and learning activities that are no prep, as in literally - you will not print, download, buy or look for materials, just subscribe to My Pre-K Box! Our boxes are filled with play-based, hands-on, learning activities and crafts for preschoolers. Each month, we offer a new, fresh theme that excites kids! We cater to a lot of busy families who enjoy the convenience offered by My Pre-K Boxes, as it lets them enjoy their time with their kids and less time researching and preparing for hands-on activities!
Each box contains fun and engaging math activities, literacy games, thematic crafts, and sensory play! It even has a grown-up guide to help parents and caretakers assist preschoolers as they explore our fun games and learning activities. What's more, even the games are reusable, so their younger siblings can play with it in the future! You can also get duplicates of the craft for his/her siblings for only $3.25 a month. And if your child loves our thematic crafts, you can subscribe to our Craft Lovers Upgrade for more fun crafts and two additional arts and crafts activities. That's just $4.25 per child! So what are you waiting for? Subscribe now and help your kids have fun while learning - with My Pre-K Box!

Let's Connect
Tell us what you think of our Fire Truck Name Craft! Drop your comments and suggestions on our social media pages, and while you're at it don't forget to LIKE and FOLLOW us on Facebook and Instagram. You can also share photos of your little ones having fun with our crafts! Use the hashtag #myprekbox! See you there!
Haven't Tried My Pre-K Box Yet?
My Pre-K Box is the best subscription box for kids aged 3 to 5!

Everything you need to create, explore, play, laugh, and learn!