Get ready to celebrate the 4th of July with The USA Box! This exciting new product from My Pre-K Box contains the best patriotic-themed activities for kids and is designed to take your little ones on a thrilling adventure that embraces the spirit of patriotism. The USA Box is the perfect way to ignite their love for their country and spark their curiosity about American culture - join the journey as we explore the wonders of The USA Box!
My Pre-K Box: The Perfect Preschool Box for You!
Introducing My Pre-K Box, the ultimate educational subscription box for preschoolers aged 3-5! Get ready for loads of fun and learning all in one package! Each box has a cool theme and is packed with different activities to help your little ones with math and reading. They'll have a blast trying out new things, and you'll be happy knowing you're helping them get ready for kindergarten!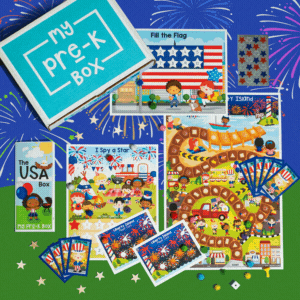 If you're already a subscriber, we hope you and your little ones have already received and enjoyed The USA Box! And if you haven't joined the My Pre-K Box family yet, it's high time you discover the incredible treasures hidden within this patriotic-themed treasure trove. You still have the chance to avail of The USA Box through our website store, while supplies last!
What's Inside The USA Box?
Inside The USA Box, your preschooler will find 3 enjoyable math games and 2 exciting literacy activities to have a blast with! We've also added a patriotic-themed craft to spark their creativity and a delightful sensory toy for a fun hands-on experience. To help you make the most of the box, we've included an easy-to-use Grownup Guide in it too.
Activities for Learning Math
1 I Spy a Star
Materials: I Spy a Star game mat, star stickers, wooden stars
Game mechanics: The kids on the I Spy a Star game mat are on a patriotic picnic and need help in finding hidden stars in the scene! Help your preschooler create a graph using star stickers, showing how many stars they found. First, spot the red star on the graph and find all the red stars in the picture. Cover each red star with a wooden star and count them together. Once you find all the red stars, graph them by placing red star stickers on the graph, one on each number until you reach the correct number. Repeat the process for the white and blue stars.
About the game: The I Spy a Star game helps kids learn and develop many skills like counting, color recognition, one-to-one correspondence, and cardinality. Moreover, it also assists in developing fine motor skills, graphing, following instructions, cognitive skills, patience, and focus. It's an engaging and educational way for children to have fun while learning essential skills.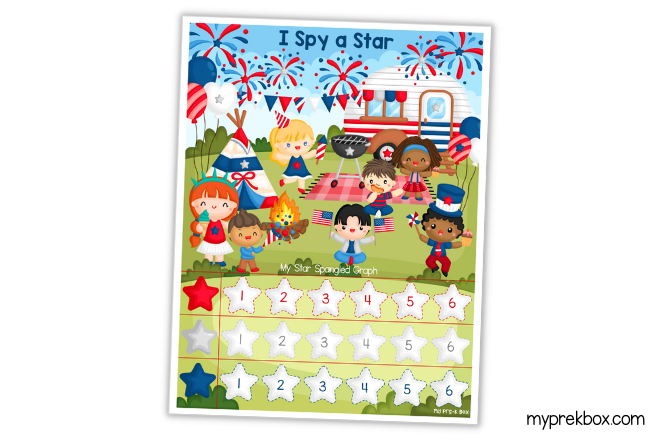 2 Race to Liberty Island
Materials: Race to Liberty Island game mat, Liberty Island Player Cards, die, 2 playing pieces, pom pom "fireworks"
Game mechanics: In this cooperative game, you and your partner work together to collect all the fireworks for Liberty Island. If even one player arrives without all the fireworks, the mission fails, and you must try again. Each player starts with a Player Card and places their playing piece on the start. Roll the die on your turn and move your piece accordingly. Follow the instructions on the space you land on. To win, both players must reach the end of the dock and reach Liberty Island with all the fireworks on their Player Cards. If one player reaches Liberty Island without all the fireworks, try again. Work together and have fun!
About the game: This cooperative game teaches kids about teamwork, cooperation, and strategic thinking as they work together to collect all the fireworks for Liberty Island. They will also develop counting and movement skills by rolling the die and moving their playing pieces on the board. The game encourages problem-solving as they navigate through the spaces and follow the instructions. Additionally, it reinforces the concept of achieving a goal together and the importance of persistence in trying again if they don't succeed on the first attempt!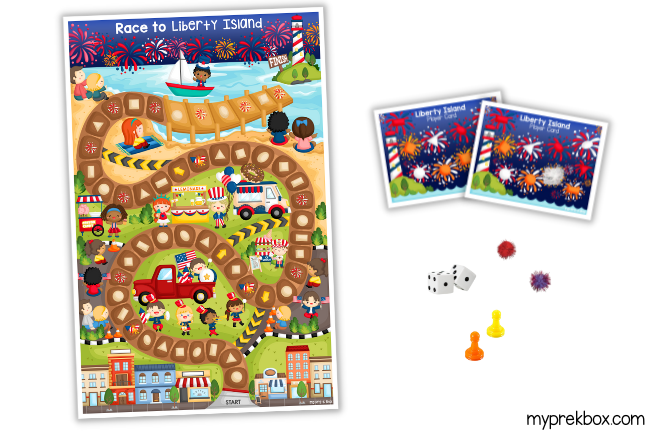 3 Fill the Flag
Materials: Fill the Flag game mat, Fill the Flag cards, and wooden stars
Game mechanics: In this game, we'll use the American flag as a ten frame with two rows of five stars. First, randomly pick a card and look at the number on it. Then, count and place that number of wooden stars on the ten-frame flag, starting from the top left and moving left to right. You can trace the number on the card with your finger and show it with your fingers too. For example, if the card shows 7, count 1, 2, 3, 4, 5, 6, and 7 stars and put them on the flag just like the number on the card. It's a fun way to learn numbers and practice counting!
About the game: The Fill the Flag game is a great activity for kids to develop essential math and cognitive skills. They will be able to practice counting and number recognition as they identify the numbers on the cards and count the corresponding stars to place on the ten-frame flag. By tracing the numbers and using their fingers to represent the numbers, they reinforce the visual and tactile understanding of each numeral. Additionally, the game helps them grasp the concept of a ten frame and the grouping of numbers in rows of five, enhancing their understanding of basic math concepts. Overall, the game fosters numeracy, visual-spatial skills, and fine motor coordination while having fun with the American flag theme.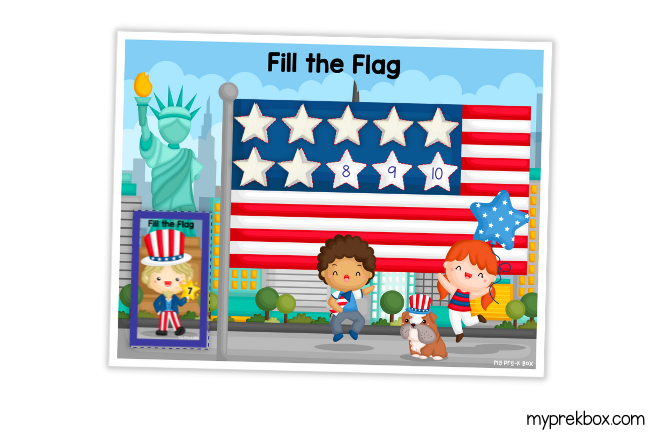 Literacy Activities
1 ABC Fireworks
Materials: ABC Fireworks cards, pom pom "fireworks"
Game mechanics: In this fun game, you'll explore letters and their different appearances while creating a sparkling fireworks display! Choose an ABC Fireworks card and say the letter on the flag. Look at the letters inside each firework and match them by placing pom pom "fireworks" on the correct letters. Get ready to light up the sky with beautiful letters and have a blast!
About the game: In the ABC Fireworks game, your preschoolers will learn about letters while enhancing their letter recognition skills. By matching letters on the ABC Fireworks cards and placing pom pom "fireworks" on the corresponding letters, they reinforce their knowledge of the alphabet. Additionally, the game promotes visual discrimination as they identify the letters in different fonts, helping them become more familiar with different letter shapes. Overall, the game supports letter learning, visual recognition, and fine motor skills in a fun and engaging way.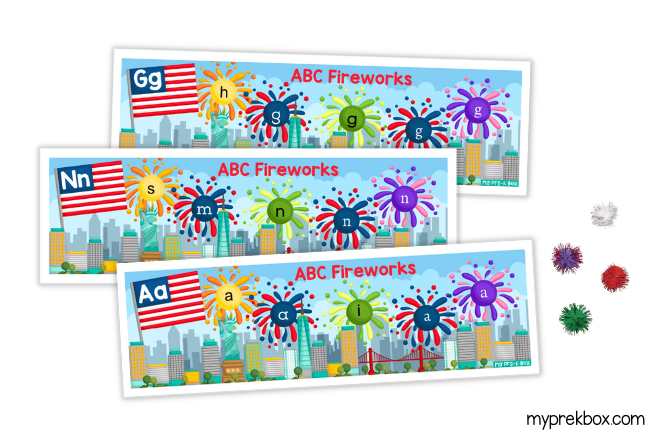 2 Grillin' it Up!
Materials: Grillin' it Up! game mat, Grillin' it Up! cards
Game mechanics: Get ready for a delicious summer barbecue! In this game, you'll use your letter knowledge to grill some food. First, identify the letters on the grill game mat and the sounds they make. Then, pick a hot dog card and find the matching capital letter on the grill to place the card. Keep going until all hot dog cards are on the grill. Next, choose a hamburger card, say the picture name, and identify its beginning sound. Find the letter that makes that sound and place the card on top of it. It's a fun way to practice letters and sounds while enjoying a summer barbecue!
About the game: Kids will get to practice letter recognition by identifying both lowercase and uppercase letters on the grill game mat and hot dog cards. Additionally, they will reinforce their understanding of letter sounds as they name the beginning sounds of the pictures on the hamburger cards and match them to the corresponding letters. The Grillin' it up! the game promotes phonics awareness and visual matching abilities while engaging them in a fun summer barbecue-themed activity.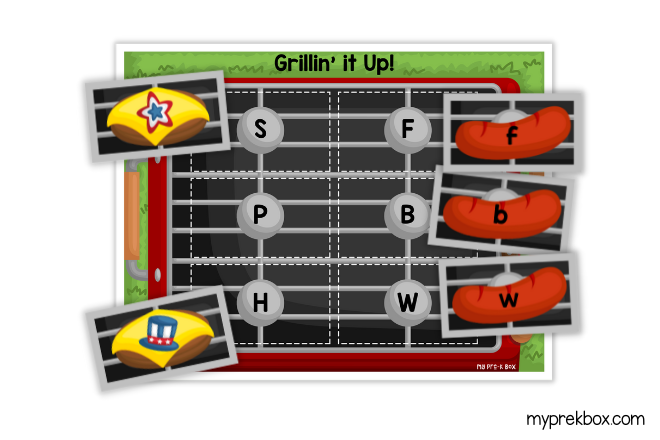 Sensory play and crafts
1 Patriotic Pets Magnet Craft Kit
This delightful crafting experience combines patriotism and adorable pets in one exciting package. The Patriotic Pets Magnet Craft Kit includes everything you need to create charming patriotic-themed pet magnets that you can proudly display on any magnetic surface. With pre-cut pieces and simple assembly instructions, crafting these cute critters is a breeze for kids!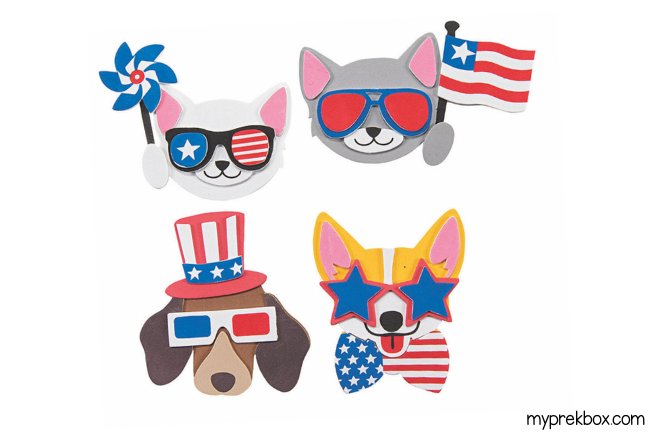 2 Patriotic Stuffed Eagle
This huggable and cuddly plush toy captures the majestic spirit of the American bald eagle in all its glory! With soft, plush feathers, this patriotic pal stimulates both the touch and sight senses. Whether it's cuddling up during storytime or using imaginative play, this stuffed eagle is the perfect companion for young learners!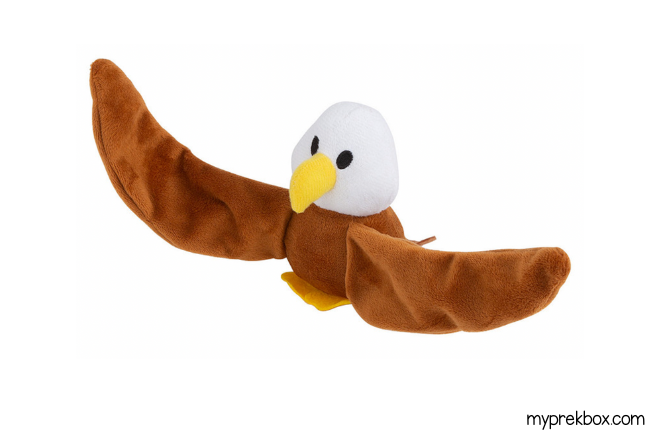 We're almost done!

Grab your last freebie for today!

Kids love coloring activities, and it gets even more exciting with a twist of coloring by numbers! For special patriotic occasions like the 4th of July, check out our Patriotic Color by Numbers pack designed for preschoolers. It's a delightful collection of patriotic-themed images with number guides to make coloring a breeze and loads of fun! Read more about our Patriotic Color by Numbers here, and be sure to grab a copy before you go.
Craft Lovers Upgrade
1 Patriotic Uncle Sam Handprint Sign Craft Kit
With easy-to-follow instructions and pre-cut materials, the craft revolves around making a handprint sign that resembles Uncle Sam's famous red, white, and blue hat and beard. The process involves tracing and cutting out the handprint, assembling the elements, and adding personalized touches with included stickers and craft materials.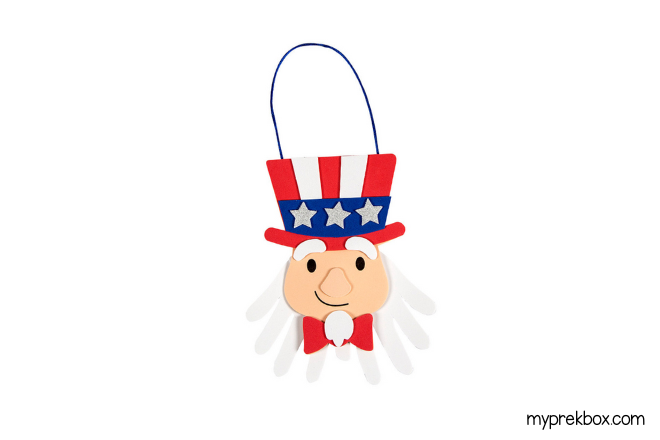 2 Foam USA Doorknob Hanger Craft Kit
Our Foam USA Doorknob Hanger Craft Kit is a fun and simple crafting experience that lets you showcase your patriotic spirit with pride. This all-in-one kit includes pre-cut foam pieces in vibrant blue, red, and white colors, allowing you to easily assemble a delightful doorknob hanger. Ideal for all ages, it's a wonderful way to add a touch of Americana to any door or space, making it perfect for celebrating national holidays or showing your love for the United States all year round.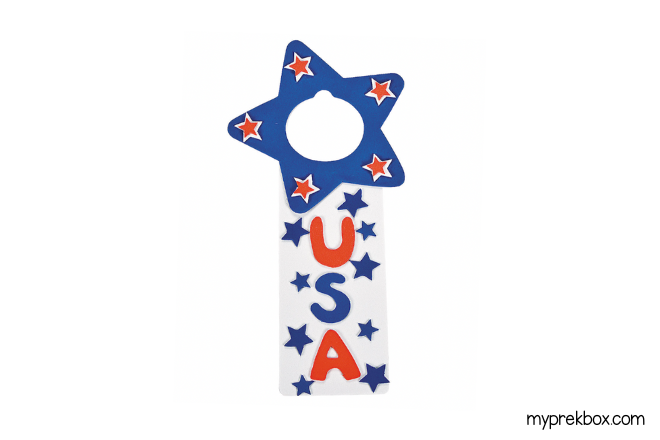 Grownup Guide
This adorable and thorough manual will be your reliable companion, offering step-by-step guides and useful tips to smoothly navigate through the games and activities inside The USA Box!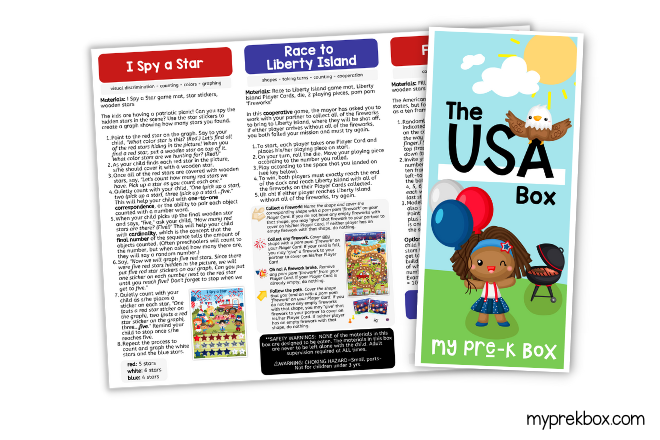 Hooray! We hope you had a fantastic patriotic adventure with The USA Box, unlocking a world of excitement, learning, and creativity. Subscribe now and embark on exciting journeys filled with American pride and endless possibilities. Get your box now, and let the patriotic adventures begin!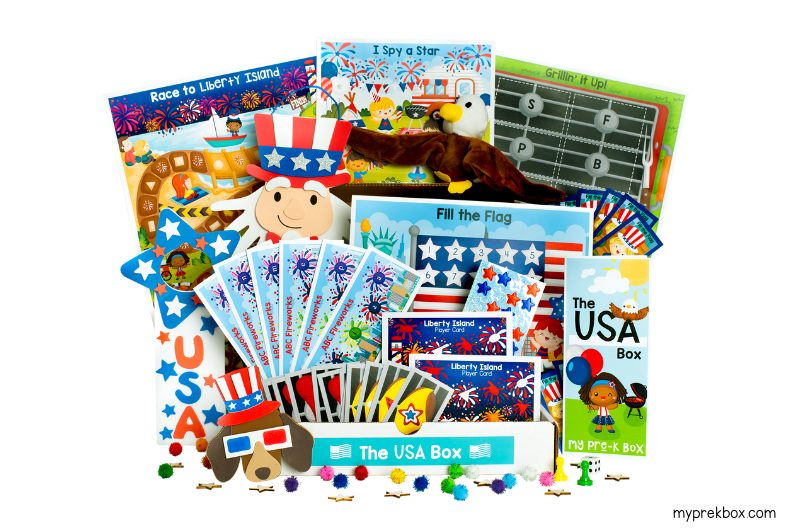 Did you have a blast exploring The USA Box? The adorable and educational games and activities are irresistible to kids! If you're not subscribed to My Pre-K Box and want to learn more about our other exciting boxes, be sure to check out our featured blog posts!
Why Choose My Pre-K Box?
1 Activities are play-based and learner-centered.
Every single activity is well-thought and child-friendly, and ensures learning while having fun!
2 Easy and effortless
Researching and preparing crafts on your own can be exhausting and time-consuming. However, by subscribing to My Pre-K Box, you'll receive hassle-free monthly deliveries right to your door. This way, you can save time and effort, leaving more room for enjoyable moments and precious family time!
3 Affordable prices
The monthly subscription plan costs $37.95 each month. Or you can save more by committing to a 6-month term ($32.95/month) or a 12-month term ($30.95/month). We also have regular promos and discounts! Check out our current promos here, or choose your plan now!
4 High-quality materials
All the contents of the box are carefully selected and are of top quality to ensure the safety of your kids! Most are also reusable, so your child can play it over and over again!
5 Great customer service
100% Happiness Guaranteed! We make sure to give you unparalleled customer satisfaction. If you have a problem, we will solve it. Because as you support our family business, we also treat you like family.
So, what are you waiting for? Subscribe now and start making learning fun for your kids!

Let's Connect
We would love to hear from you! If you have any questions, or suggestions, or just want to share your experiences with our products, feel free to reach out at hello@myprekbox.com or on our Facebook and Instagram pages. While you're at it, LIKE and FOLLOW us for more fun activities at home to do with your preschooler! See you there!
Haven't Tried My Pre-K Box Yet?
My Pre-K Box is the best subscription box for

kids 3-5 years of age!

Everything you need to play, create, explore,

learn, laugh, and enjoy!