Believe it or not Christmas is coming soon and as parents of young kids we know the best gifts are kid made Christmas gifts! Spend some quality time with your kids creating these adorable Salt Dough Handprints to give to loved ones during this holiday season. Not only will your friends and family love receiving child made gifts, but this is also a great sensory and fine motor activity to do with your children!
My Pre-K Box: The Best Monthly Subscription Box for Kids Ages 3-5
My Pre-K Box is an educational subscription box for preschoolers filled with different learning activities for math and literacy skills! Each box is based on a different theme and is focused on play based learning. Your kids will love exploring new activities each month while practising kindergarten readiness skills!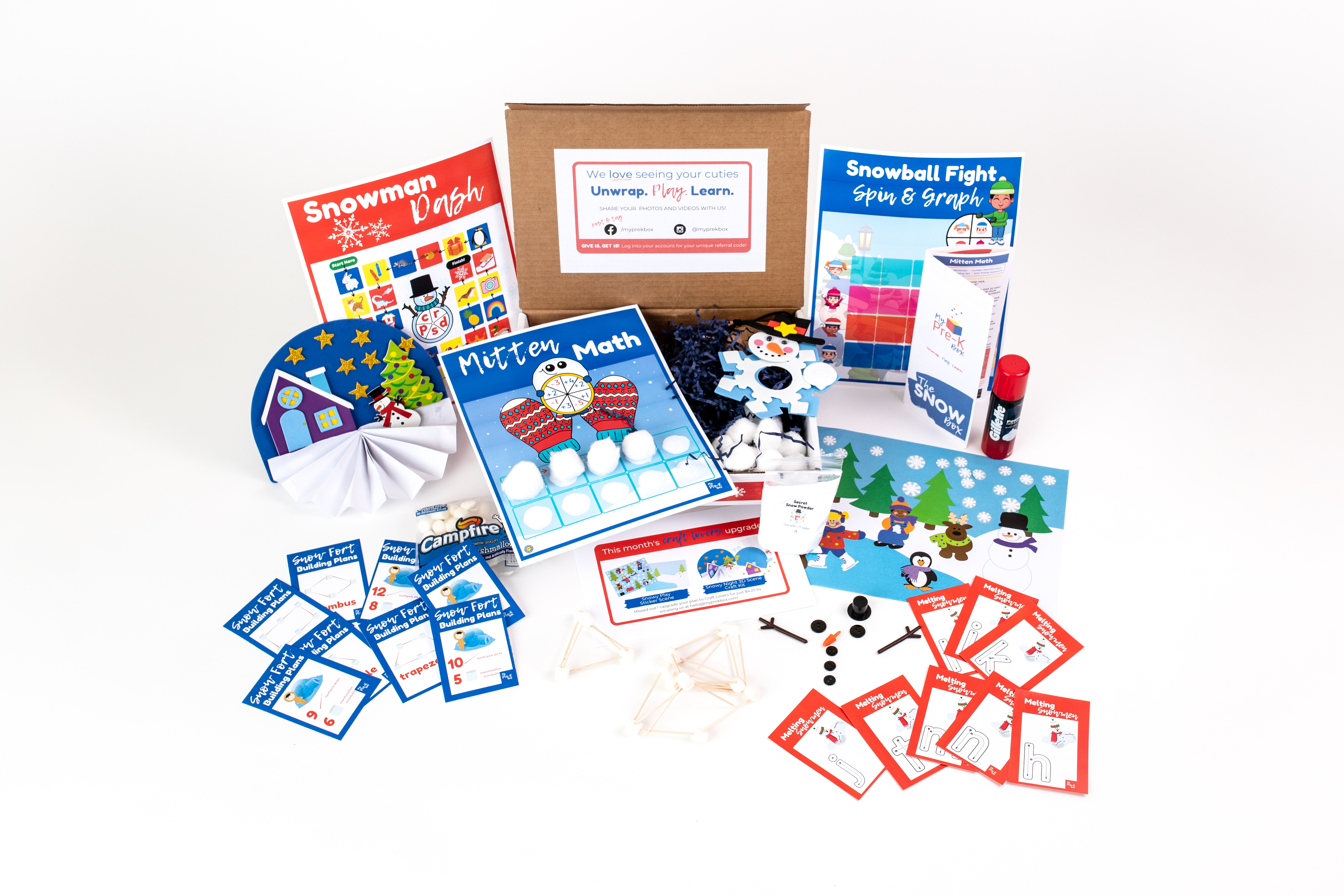 You May Also Like Our Free Snow Preschool Fun Pack!

Each of the worksheets in the Snow-themed Preschool Fun Pack covers skills that your preschooler should know in order to be prepared for Kindergarten such as counting, capital and lowercase letters, sorting, and more!

Included in the FREE Preschool Snow Worksheets:

Snowglobe Counting

Grouping Objects

Count and Compare

Snowy Letter Match

I Snow Beginning Sounds

Matching Snowmen

Snowgear Sorting

Winter Patterns
Creating the Salt Dough Ornaments
Materials
2 cups of flour

½ cup of salt

¾ to 1 cup of water

Parchment paper

Cookie sheet

Non-stick rolling pin

Straw

Knife

Ribbon

Paint brushes

Acrylic paint/paint pens
Instructions
Step 1 Set your oven to 200F.
Step 2 Mix the flour and salt together.
Step 3 Slowly add the water until the mixture is soft and mixed together well like a pizza dough.
Step 4 Use the dough hook attachment on your stand mixture or your hands to knead the mixture for 5-10 minutes.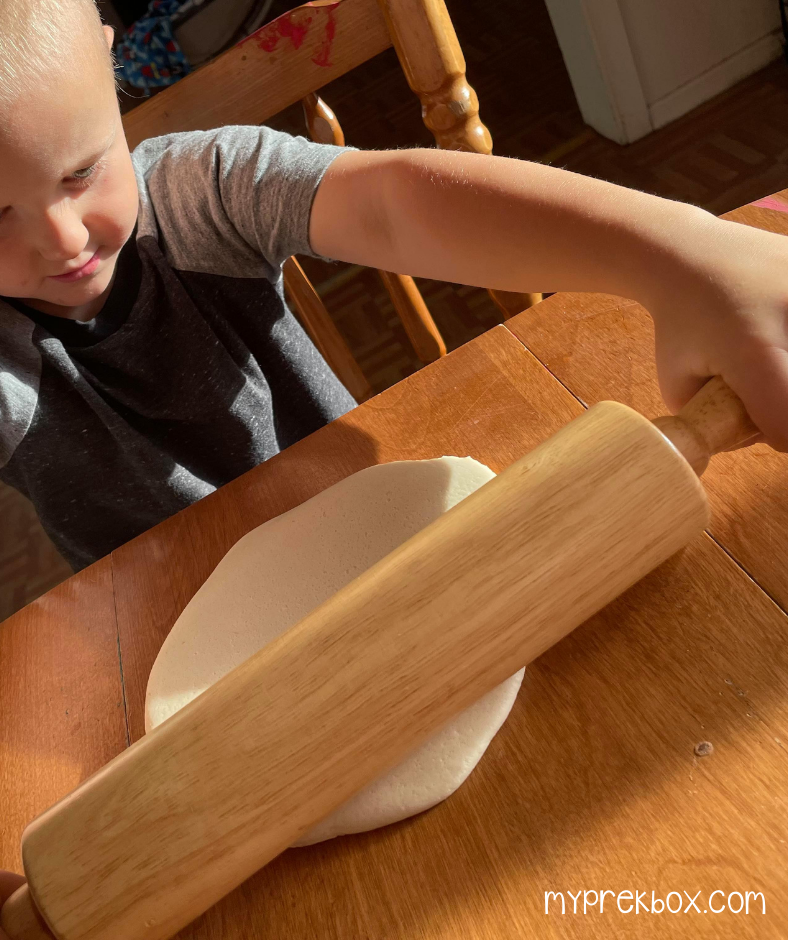 Step 5 Use the non-stick rolling pin or a rolling pin lightly coated in flour to roll your dough out to about ¼" thick.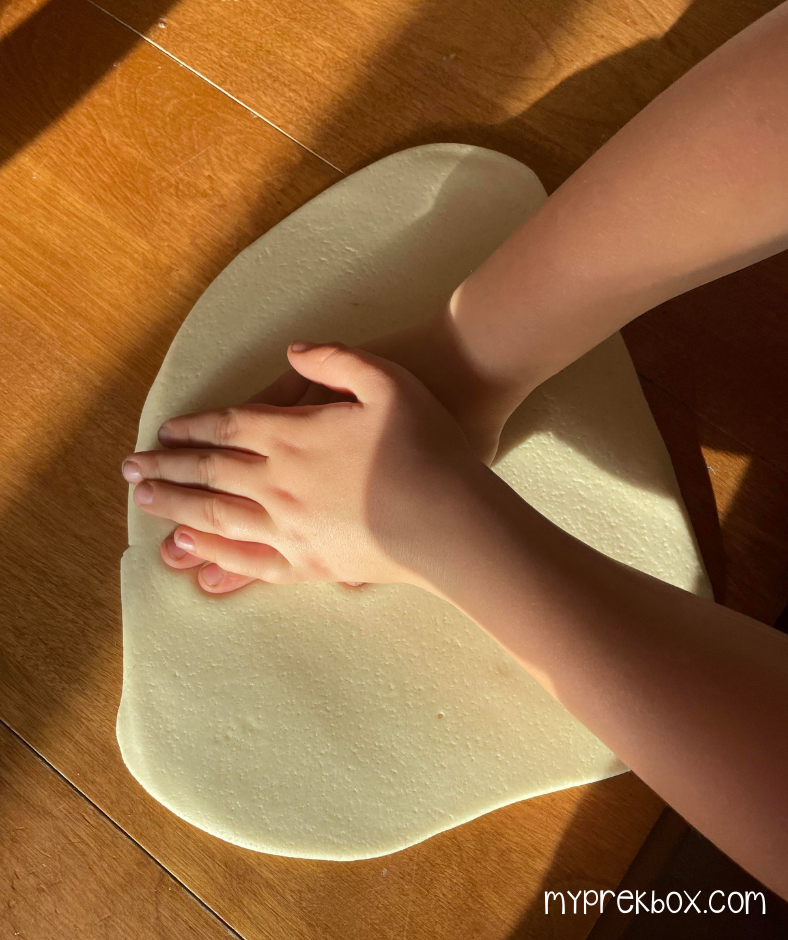 Step 6 Take your child's hand and firmly press it into the dough and then use the knife to cut around it.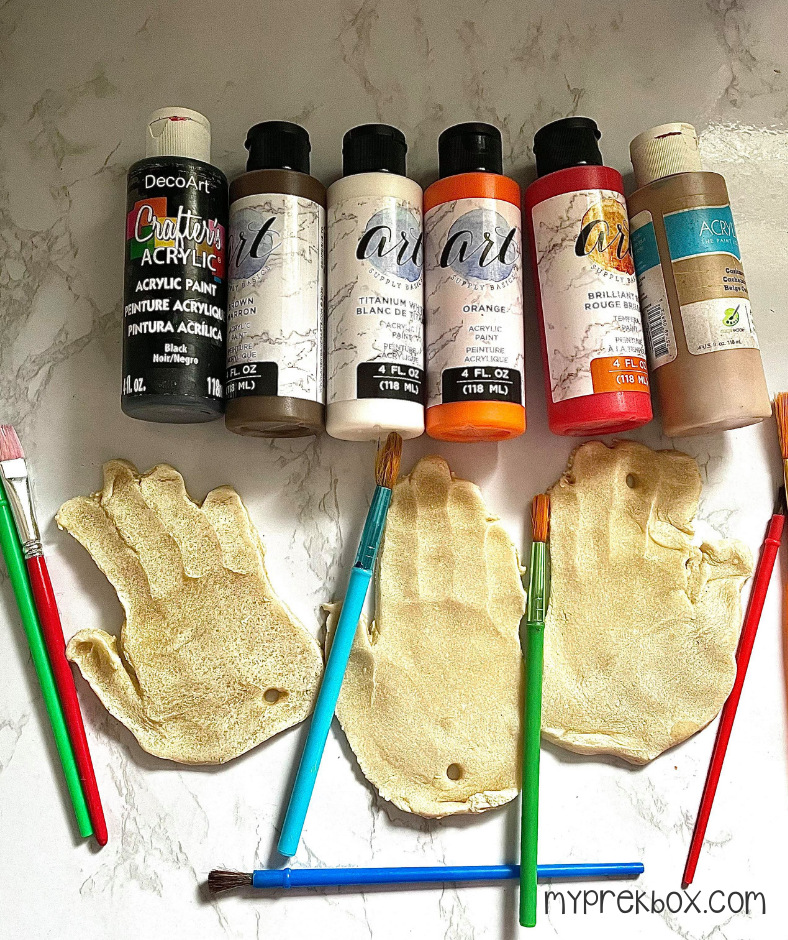 Step 7 Use the straw to poke a hole on the top of the middle finger for the reindeer and the bottom of the palm for the penguin and Santa so you can tie the ribbon to it when it's finished. (Please ignore the placement of the holes in my examples, I got a couple of them mixed up!)
Step 8 Place it on the parchment paper on your cookie sheet and bake 1-2 hours or until fully done (not doughy)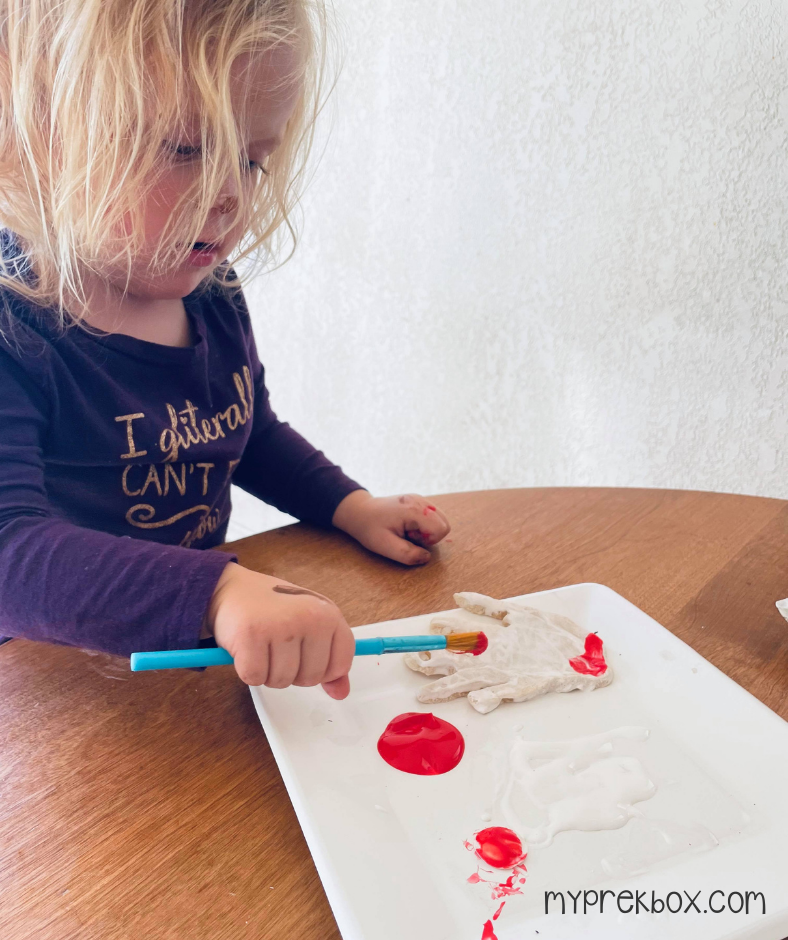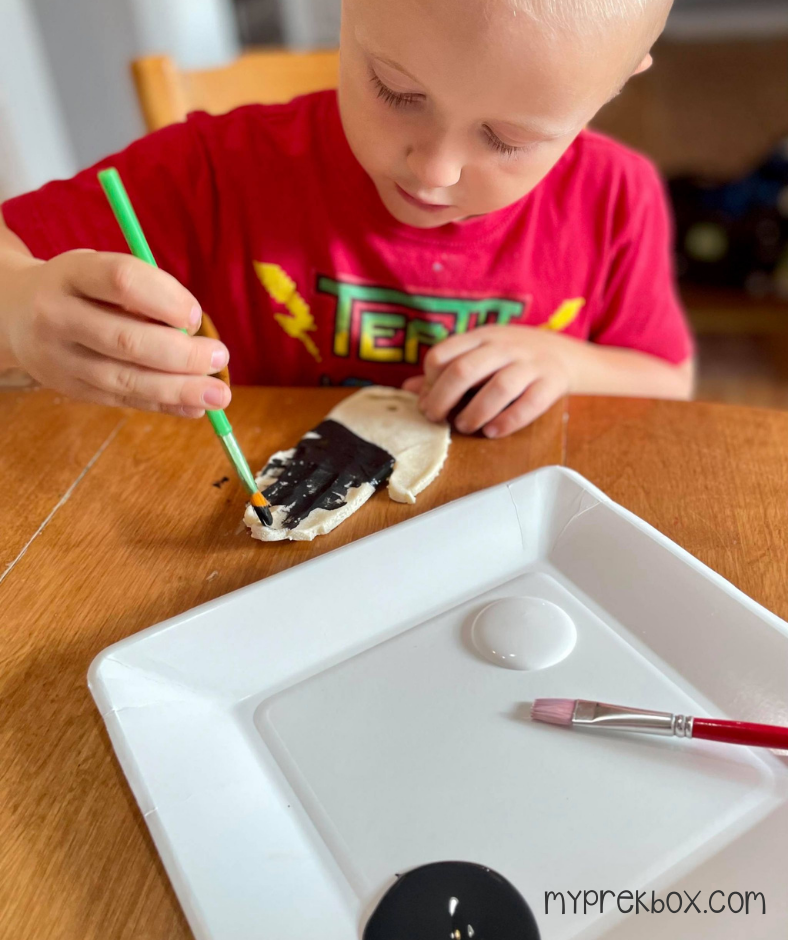 Step 9 Once the handprint is fully cooled it's time to decorate! I did three designs but you can pick and choose which designs you'd like to do. For the reindeer you will need light and dark brown, black, white, and red paint. For Santa you will need red, white, and black, and for the penguin you will need black white and orange paint.
Step 10 If you want to draw the design out for your kids to paint you can or you can just let them do it themselves and see how it turns out!
Reindeer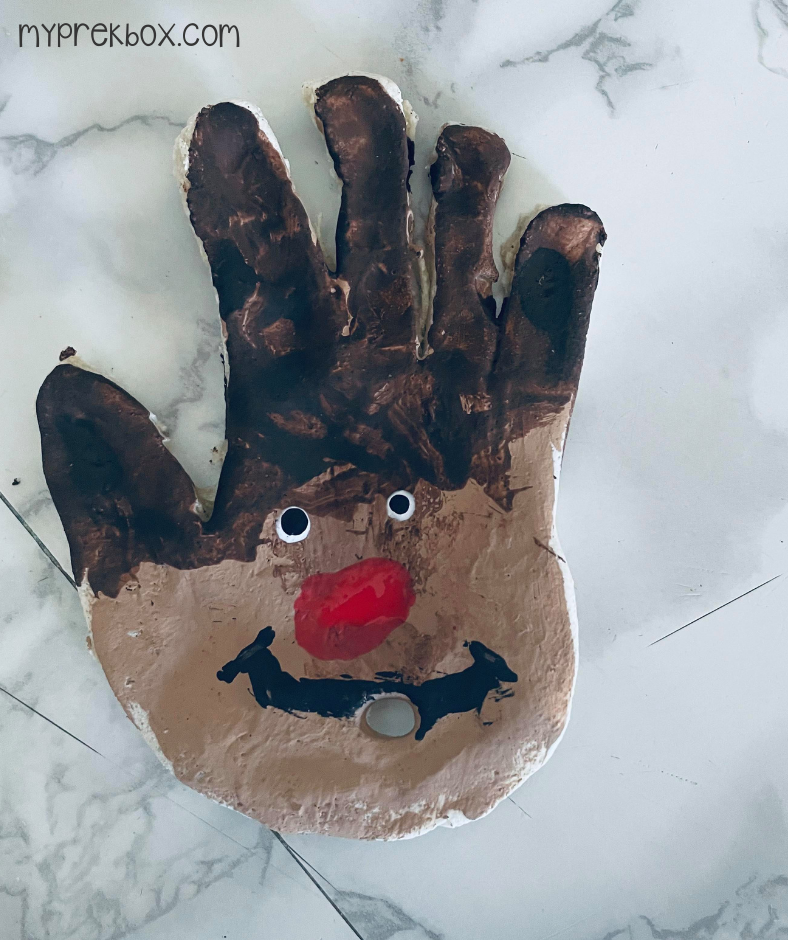 Paint the fingers dark brown and the palm light brown and let it dry. If you only have one shade of brown that's okay too. Once it's dried, paint a red oval for the nose, and two white ovals for the eyes and a black smile. Let that dry and finish off the eyes by adding two black circles inside the white ones.
Penguin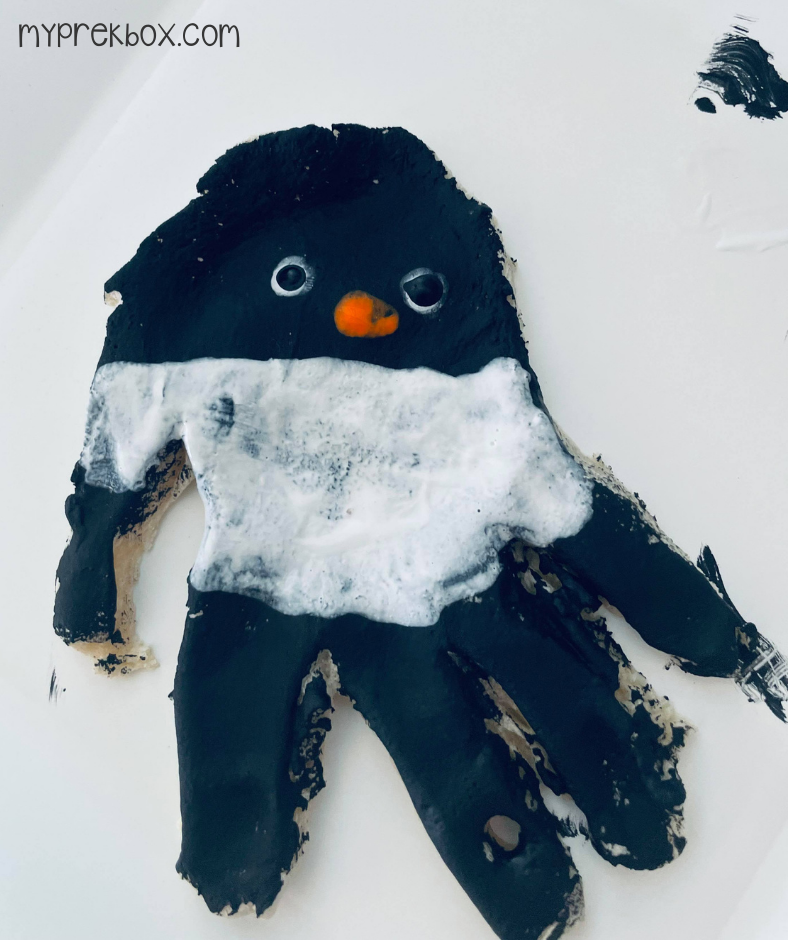 Paint the whole hand black and let it dry. Once it's dried, paint a white circle in the middle and add the eyes and an orange triangle for the beak.
Santa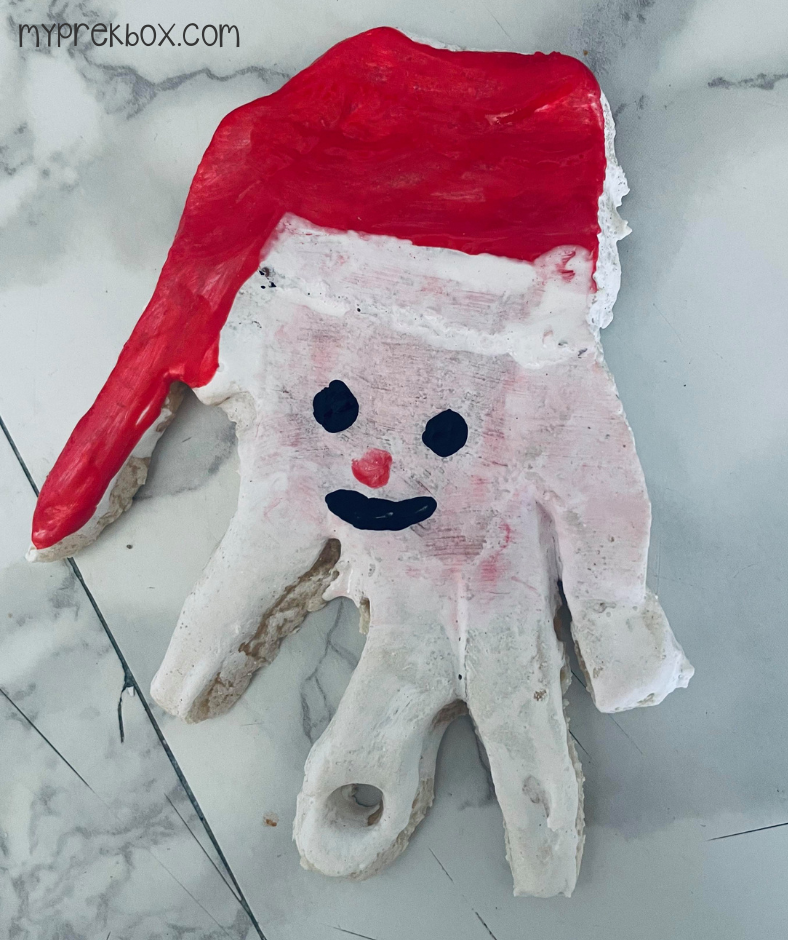 Paint the hand white and let it dry. Once it's dried, paint ¾ of the palm red, leave the bottom of the thumb white for the pom pom on Santa's hat. You can use a pencil or pen to outline the bottom part of the palm to resemble the fluff on Santa's hat. You can put a circle of light brown or pink for Santa's face or you can just add eyes and a mouth on the bottom.
Step 11 Add ribbon and your child's name and get them to give them to loved ones this holiday!
What skills will your child learn?
The idea of kid made Christmas gifts might make you think they need to look exactly like what they're supposed to, but keep in mind these are made by preschoolers and as long as they try their best they're learning! It might not look like a reindeer or Santa but it's the thought that counts. Your kids will have so much fun making handprints and painting them for their loved ones. Painting is a great way to practice fine motor skills and making handprints in the salt dough is a fantastic sensory experience.
This is also a fantastic opportunity to talk about Christmas and why kid made gifts might mean more to family and friends than something store bought.
Let's Connect!
We absolutely LOVE seeing your preschoolers learning through play! Please take photos and videos of your child's finished product or them making their salt dough handprints and share them with us on Facebook and Instagram!
Also, if you aren't already, be sure to follow us on Facebook and Instagram for more fun activities to do at home with your little ones!
Haven't yet tried My Pre-K Box?
My Pre-K Box is the best monthly subscription box for kids ages 3-5.

Everything you need to create, play, laugh, and learn!