Baby Shark, doo-doo, doo-doo
Baby Shark, doo-doo, doo-doo
Baby Shark, doo-doo, doo-doo
Baby Shark! 🦈
You sang, didn't you?! Well, good news - you're not the only one, lol. The Baby Shark song has been a worldwide craze since 2016 and its videos have gained millions of views already. It even has different versions now. And speaking of sharks, Shark Week is just around the corner! This most awaited annual shark-based program will be airing again this summer, and if you are looking for a fun and easy shark craft for kids that you can do on Shark Week, check out this DIY paper shark craft!
My Pre-K Box: The Perfect Preschool Box for You!
Do you love crafts and cute learning activities but find yourself spending more time looking for one and preparing them rather than actually doing the activities with your preschooler? We developed no prep learning kits for a busy parent like you! With our educational subscription box, each month we mail your preschooler a learning kit with a fresh new theme! Their package is packed full of fun, hands-on, play-based learning that preschoolers LOVE to do! You'll love how fun and easy it is!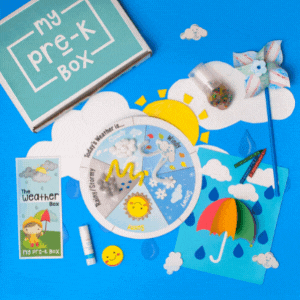 Looking for a fun and educational craft activity to do with your child during shark week? Making a paper shark craft is a great way to engage children in a hands-on activity that can help them develop their creativity, fine motor skills, and problem-solving abilities. Through this activity, children can learn about basic science concepts related to sharks and the ocean, expand their vocabulary, and practice following instructions. With just a few materials, you and your child can create your very own paper shark craft that is sure to make a splash!
Materials for the Paper Shark Craft:
colored markers

white paper

water

paintbrush

watercolor

gray colored paper

scissors

pencil

wiggly eyes

gluestick
Want more ocean-themed fun?

Grab this freebie now!

Get the Print & Go Mermaid Craft Pack for FREE today! This craft pack includes 8 beautiful mermaid crafts for your little ocean explorers. Crafting has never been so easy with our kid-friendly printable templates, just print and go - and your kids can just cut, glue, and assemble the parts! Learn more about the Print & Go Mermaid Craft Pack in this blog post, or download it now!
Procedure for making your very own Paper Shark Craft:
Step 1 Gather all the materials needed for the craft. For the background, use white paper and markers to create a watery scene. You can encourage your preschooler to choose other colors to mix with blue, such as green and purple, to create a more interesting background! Draw some lines using the markers, then wet it using a paintbrush and water. This will create a watercolor effect. On the other hand, you can also use watercolor paint to create the background. Let it dry before moving on to the next step.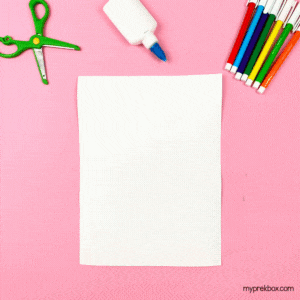 Step 2 Get the gray paper and trace a circle using a compass or other round object. Cut out the circle shape. This will be the body of the shark.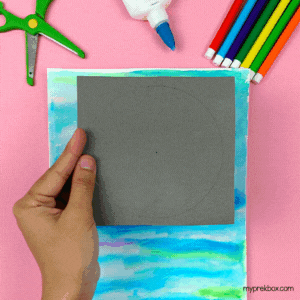 Step 3 Fold the circle in half. This will create a crease down the middle of the shark's body. Color the lower half of the folded circle with white watercolor paint. This represents the white underside of most sharks' bodies.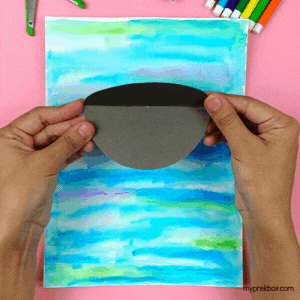 Step 4 Add the wiggly eyes. Attach the eyes to the top of the shark's body using a gluestick. Next, draw the shark's mouth and gills using a white marker or other coloring material. You can also help your preschooler add other details, such as teeth or spots, to make the shark more interesting!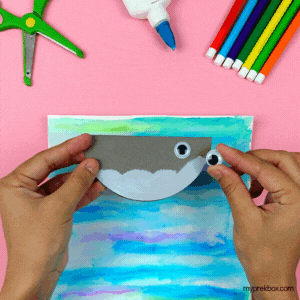 Step 5 Our shark is almost ready! Cut out triangular shapes for the shark's fins and tail. Use gray paper to create the fins and tail of the shark. You can cut out two fins for the sides, one fin for the top, and a tail. Attach them to the shark craft using a gluestick.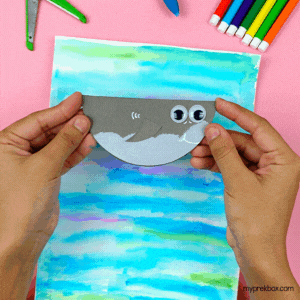 Step 6 Lastly, attach the shark to the background. Use a gluestick to attach the shark to the watery scene you created in step 1. Create more sharks and then place them all together in one frame! Now our DIY paper shark craft is complete!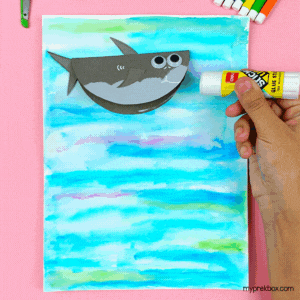 Summer is almost here!

Grab this Ocean-themed freebie now!

Don't let the summer keep kids from learning, but don't let learning make their summer boring! How? Try our new Ocean Preschool Fun Pack! This learning pack includes 8 ocean-themed worksheets that your kids will surely love. So, what are you waiting for? Get a copy now!
What will your child learn with the Paper Shark Craft?
As your kids work on this DIY paper shark craft, they can learn a lot of things and develop their skills! For instance, cutting, gluing, coloring, and manipulating small pieces of paper can help them develop their fine motor skills and hand-eye coordination. This shark craft activity also allows young children to use their imagination and creativity to create and design their own unique sharks! As you guide them in this activity, you can encourage them to experiment with different colors, shapes, and textures to make their craft stand out. They'll also learn to follow step-by-step instructions, develop their vocabulary and language skills (as you talk about the craft, sharks, and directions), and develop problem-solving skills as it will encourage them to think creatively to find a solution to any problem encountered as they work on the shark craft.
Want more fun summer activities for your preschooler? Check out these blog posts!
If your little one enjoyed making the DIY Paper Shark Craft, they sure have a talent for fun and exciting crafts! Why not keep the creativity flowing every month with My Pre-K Box? Our subscription boxes are filled with new surprises each month, featuring a variety of fun crafts and hands-on activities centered around a different theme. And this DIY Paper Shark Craft perfectly complements our upcoming box especially made for summer - The Ocean Box! Stay tuned for more details and watch out for the sneak peek about the ocean-themed games and activities in it, coming very soon!
My Pre-K Box is the best subscription box for preschoolers, with play-based learning tools targeting math and literacy skills, as well as sensory play, fun thematic crafts, and a grownup guide. Our games and activities are made with love and guaranteed to be of top quality, kid-and-adult-friendly, practical, and reusable!
For families with more than one child, My Pre-K Box is a practical choice, as the activities can be shared and reused. We also offer duplicates of the crafts, which are not reusable, for just $3.25 per month. Craft lovers can upgrade to our Craft Lovers Upgrade for $4.25 per child, which includes additional fun crafts and two extra arts and crafts activities.
With My Pre-K Box, your child will have so much fun they won't even realize how much they're learning! As parents, you won't have to worry about the hassle of researching, planning, and preparing activities, as everything will be conveniently delivered to your door. Simply guide and watch your child learn and grow with the help of My Pre-K Box.

We want to hear from you!
If you love this DIY Paper Shark Craft, LIKE and FOLLOW our Facebook and Instagram pages to get more DIY activities, art projects, fun crafts, and free printables! Be sure to tag us on photos of your kids doing this DIY Paper Shark Craft. Use the hashtag #myprekbox or send those adorable photos on our social media pages!
Want to try My Pre-K Box?
My Pre-K Box is the best subscription box for

kids 3-5 years of age!

Everything you need to play, create, explore,

learn, laugh, and enjoy!