Have you ever seen a real jellyfish? Well, they may not be very pretty creatures and can be harmful due to their sting, but kids are often curious about them because of their unique structure and gentle movements. While they can't be like Spongebob who can catch jellyfish in Bikini Bottom, they can still have a cute one by doing this fun Jellyfish Art Project!
Enjoy another exciting under-the-sea craft today with us at My Pre-K Box while learning some fun facts about jellyfish. Let's dive in!
My Pre-K Box: The ultimate subscription box for kids ages 3 to 5!
My Pre-K Box is an educational subscription box for preschoolers filled with different learning activities for math and literacy skills! With fresh new themes each month, your child will delight in all of the fun, play-based learning activities inside! Prepped and delivered straight to your door, My Pre-K Box is so much fun, your child won't even realize how much they're learning!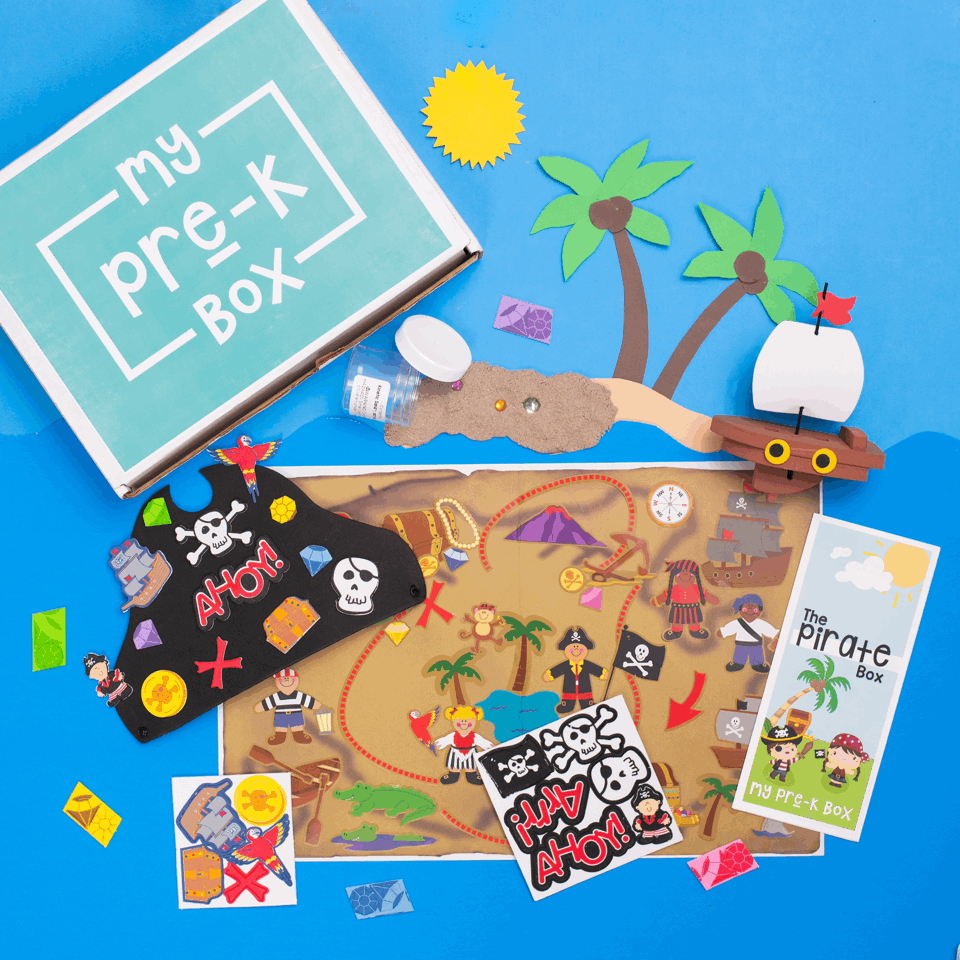 Jellyfish are sea animals characterized by their jelly-like form with umbrella-shaped heads and tentacles. Because they look quite different from other sea animals, many people (especially kids) are amazed and curious about them. So, we created this Jellyfish Art Project to help your little ones practice fine motor skills while crafting and satisfying their curiosity with jellyfish! Sounds interesting? Then get the materials ready and join us!
Materials for the Jellyfish Art Project:
paper

watercolor

acrylic paint

drinking straw

a piece of cardboard

glue

sponge

stick

wiggle eyes

marker

a pair of scissors
Fun Fact

Did you know?

Jellyfish don't have a brain, a heart, or even bones!

They are made up mostly of water, muscles, structural proteins, and nerve cells.
Procedure in creating your Jellyfish Art Project:
Step 1 Prepare a piece of paper, sponge, and acrylic paint. You may cut the sponge in half, and put several colors of acrylic paint on it.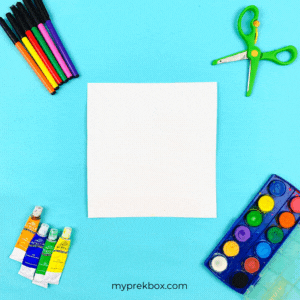 Step 2 Put it face down on the paper. Then use a stick to poke one end and keep it in place. Once it is secured, push the sponge carefully in a circular motion. You now have a rainbow-colored circle for the head of the jellyfish!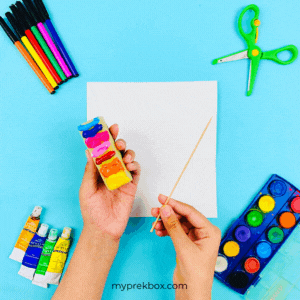 Step 3 Using a pair of scissors, cut out the rainbow-colored circle. Then cut it in half and make curved cuts on the straight side. Set this aside.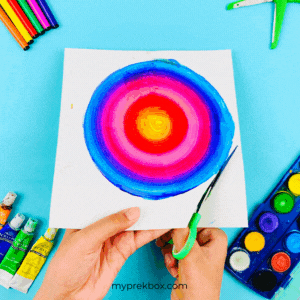 Step 4 Now let's get ready to paint! On another piece of white paper, paint several lines with varying colors. Add more water to make thicker consistency with a brighter color. Be sure to wash the brush before dipping it in another color.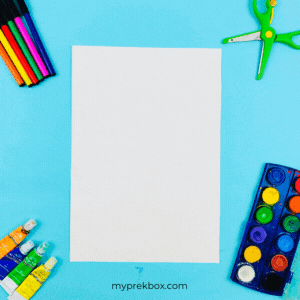 Fun Fact

Did you know?

About half of jellyfish species can glow in the dark!

If you have seen jellyfish tanks in oceanariums, they keep the area dark so visitors can see the jellyfish glow in colorful lights!
Step 5 You're probably wondering what the straw is for, right? We will use it to blow down the colors to make long, colorful tentacles for our jellyfish! To do this, point one end of the straw in one of the wet watercolor paint, then put the other end in your mouth and carefully blow. The excess paint mixture should create a long line of colors. Do this to the other colors until the tentacles are complete!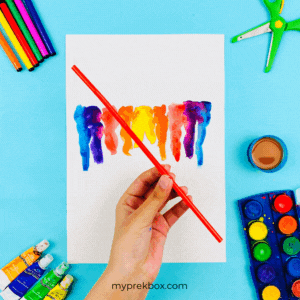 Step 6 Cut out the cardboard. It will support the head of the jellyfish, so measure it just a bit smaller than the head you made earlier. You can cut out a rectangle and cut the corners, so it won't be visible when you put the head later. Or cut it in a semi-circle shape to match the head of the jellyfish. Then paste it on top of the tentacles. Next, attach the head to it. Now it looks like a jellyfish already! Just some finishing touches and we're almost done!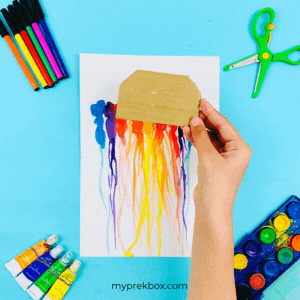 Up for another freebie?

If you joined us in making this Jellyfish Art Project, your kids are probably enjoying their watercolors now. Continue the watercolor fun with another unique painting activity in our FREE Spring Salt Painting printable! Learn more about our Print & Go Spring Salt Painting here and don't forget to download your FREE copy!
Step 7 Get the wiggle eyes and attach them to the top part of the jellyfish head. And lastly, use the marker to draw a smile! Awww, it's so cute!
See how pretty it is! Your little one surely had lots of fun with colors (and you probably will have a lot of mess to clean up later), but the result is worth it, isn't it? You can display it in his/her room or save this for future school art projects! Or let him play with it like Spongebob happily catching jellyfish. However you want to use it, we're glad you and your kids had a great time.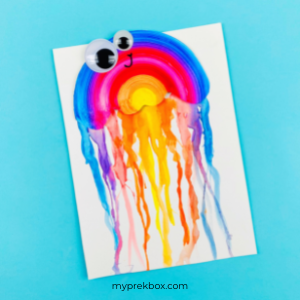 If your little sea explorer had fun with this Jellyfish Art Project and our Mermaid Craft Pack, he would absolutely love our box themed with sea rovers - The Pirate Box! This box is filled with pirate-themed activities and games, and you can get one for your kid by subscribing to My Pre-K Box!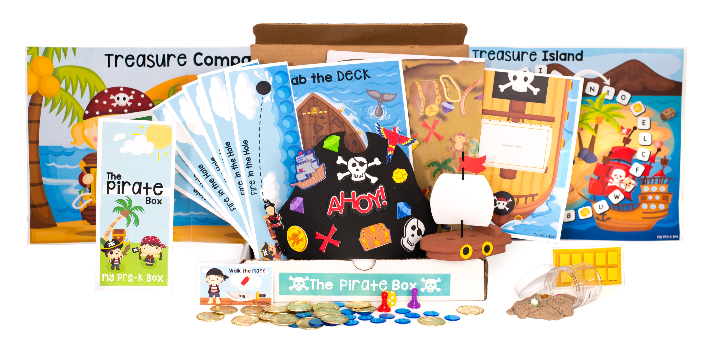 The Pirate Box is one of the monthly themed boxes we create and send to young children and busy parents each month. Each box contains play-based learning materials, a number of numeracy and literacy games, sensory play, enjoyable thematic crafts, and a grownup guide.
My Pre-K Box is practical, reusable, and user-friendly. If your kid has siblings, they may share and reuse it several times actually! For only $3.25 a month, you may purchase extra crafts for his siblings, since most of them are not reusable. For just $4.25 per kid, craft lovers may also sign up for our Craft Lovers Upgrade - it includes two more arts and crafts projects in addition to the regular crafts included in the box! Your child won't even be aware that he is learning a lot thanks to all the engaging and entertaining games in it. As parents, we wouldn't have to stress about organizing, creating, and researching the activities! We can just take pleasure in seeing them study as we readily lead them - with the help of My Pre-K Box!

Let's Connect
If you love this Jellyfish Art Project, LIKE and FOLLOW our Facebook and Instagram pages to get more DIY activities, art projects, fun crafts, and free printables! Be sure to tag us on photos of your kids doing this Jellyfish Art Project. Use the hashtag #myprekbox or send those amazing photos on our social media pages!
Want to try My Pre-K Box?
My Pre-K Box is the best subscription box for

kids 3-5 years of age!

Everything you need to play, create, explore,

learn, laugh, and enjoy!