The under-the-sea theme has been a constant favorite for kids' celebrations, costumes, room decor, and even learning activities! And of course, no under-the-sea theme would be complete without mermaids! These pretty mermaids seem to be the center of attraction in this theme, and little kids are so fascinated with them! So, we made a new FREE printable featuring these pretty mermaids - the Print & Go Mermaid Craft Pack!
My Pre-K Box: The ultimate subscription box for preschoolers!
My Pre-K Box is an educational subscription box for preschoolers filled with different learning activities for math and literacy skills! Each box is based on a different theme and is focused on play-based learning. Your kids will love exploring new activities each month while practicing kindergarten readiness skills!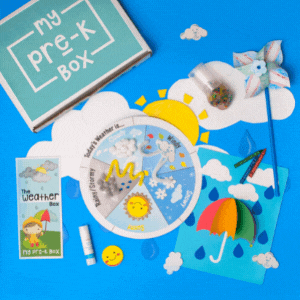 Mermaids are mythical creatures, which are half-human and half-fish. But their strange appearance doesn't seem to scare kids - instead, kids (and even adults) find them fascinating! And if your little one loves mermaid stuff, check out this FREE mermaid craft pack from My Pre-K Box! This free printable will make it easier for you and your little one to create lovely mermaids while developing important Kindergarten skills.
Time for some freebies!

Leprechauns, like mermaids, are mythical creatures too! They are often featured on St. Patrick's day, and if you want a cute leprechaun craft for your candies and treats, we got the right freebie for you!

Get this Leprechaun Treat Box Craft for FREE or read more about it in this blog post.
Materials for Mermaid Craft Pack:
glue

scissors

pencil

crayons (if you will use the black and white version)
What you'll get when you download the Print & Go Mermaid Craft Pack:

6 colored mermaid craft templates

2 black and white mermaid craft template
Procedure in making your own Mermaid Craft:
Step 1 Download the Print & Go Mermaid Craft Pack from My Pre-K Box. You can choose from the different colored versions, or print the black and white copy so your child can color the mermaid herself. Print it in cardstock to make it sturdy, then cut out the parts of the mermaid.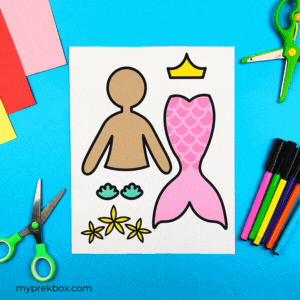 Step 2 Attach the upper body from the tail using glue. Then, attach the shells to the chest of the mermaid. Decorate the mermaid's tail with some flowers too!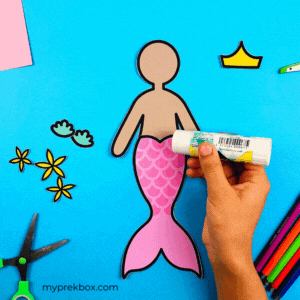 Step 3 Choose a color for your mermaid's hair. On colored paper, trace both of your child's hands with a pencil. Then cut them out using scissors.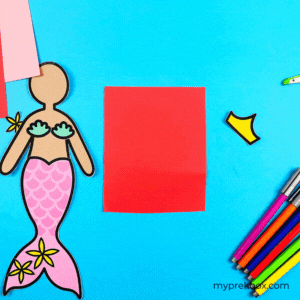 Step 4 Attach one of the cutout handprints to the back of the mermaid's head, with the fingers pointing slightly at the right side. Then carefully roll the fingers inward one by one to turn them into cute curls!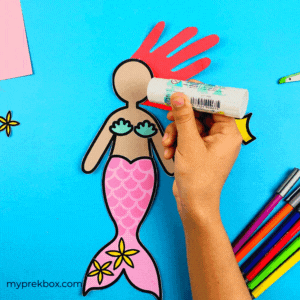 Let's stop for another freebie!

Like the pretty mermaids we are making right now, this movable monster is such a cutie - and not scary at all! If you want another fun craft featuring silly creatures, check out this FREE Build a Monster Craft here, or download it now for FREE!
Step 5 Get the other cutout handprint and paste it on the left side. Do the same to complete the mermaid's curly hair! You can also let your little one be creative and style the mermaid's hair on her own.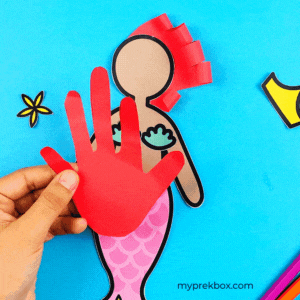 Step 6 Get the cutout crown and flowers. Attach the crown to the mermaid's forehead, and you can put a flower on the side. Now your mermaid is almost complete! Just one last step and you're almost ready to have some under-the-sea fun!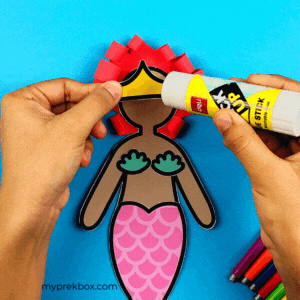 Step 7 Draw the mermaid's lovely face! And that's it! Your little mermaid is ready!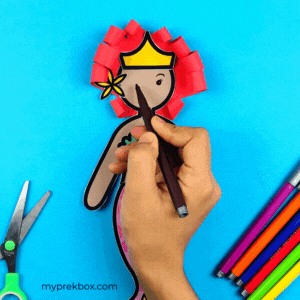 Make a lot of adorable mermaids with the free Mermaid Craft Pack! You can share it with your siblings, cousins, and friends! Or bring them on playdates for some under-the-sea adventure!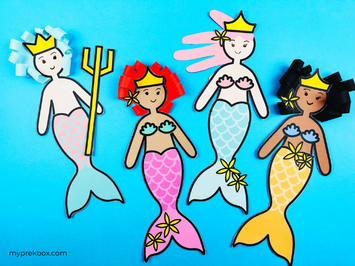 Kids love arts and crafts like this Mermaid craft because it allows them to explore their creativity - plus they really love this theme! And if your little one loved this Mermaid Craft that we just made, be sure to get him My Pre-K Box! Our boxes are packed with play-based, hands-on, educational activities for preschoolers. Each box is delivered monthly to busy families so they can enjoy the convenience and ease offered by our fun and engaging activities! Our play-based activities target math and literacy, and also include thematic crafts and sensory play! It even has a grown-up guide to help parents and caretakers assist kids as they explore our fun games.
Even the games are reusable, so their younger siblings can play with them in the future! Such a great value for money, right? You can also get duplicates of the craft for his/her siblings for only $3.25 a month! And if your child loves our thematic crafts, you can subscribe to our Craft Lovers Upgrade for more fun crafts and two additional arts and crafts activities. That's just $4.25 per child! Have some quality time with your kids and less time researching and preparing for hands-on activities - with the help of My Pre-K Box!

Let's Connect
Did you like our Free Mermaid Craft Pack? If so, LIKE and FOLLOW our Facebook and Instagram pages to get more freebies like this as well as updates on crafts, and DIY activities! Be sure to tag us on photos of your kids doing this mermaid craft. Use the hashtag #myprekbox or send those lovely photos on our social media pages!
Want to try My Pre-K Box?
My Pre-K Box is the best subscription box for

kids 3-5 years of age!

Everything you need to play, create, explore,

learn, laugh, and enjoy!