Today, we want to share our top recommendations for the best Thanksgiving activities, songs, fingerplays, and books for preschoolers. Thanksgiving is coming soon, and these fun things can help your little one prepare for a joyful celebration of this special holiday. They're not just entertaining but also teach about being thankful during Thanksgiving! We believe that these creative ideas will not only captivate your child's imagination but also instill in them the true spirit of gratitude that Thanksgiving symbolizes.
My Pre-K Box - No prep learning kits for your little ones!
My Pre-K Box is an educational subscription box for preschoolers filled with different learning activities for math and literacy skills! With fresh new themes each month, your child will delight in all of the fun, play-based learning activities inside! Prepped and delivered straight to your door, My Pre-K Box is so much fun, that your child won't even realize how much they're learning!
Fall box GIF
Thanksgiving is a special time when families come together to say thanks, enjoy delicious food, and have fun. It's more than just the turkey and pumpkin pie—it's a chance for everyone, big and small, to do things that show how much we care and why we're thankful. So whether we're making crafts, reading books, or singing songs that remind us to appreciate what we have, these simple activities can help your little ones learn about being grateful!
Top

10

Thanksgiving Books for Preschoolers
1

The Great Thanksgiving Escape

by Mark Fearing
This humorous book follows a group of kids as they try to escape the "kid's table" during Thanksgiving dinner. Their funny adventure, told from a child's point of view, will surely leave your kids giggling and laughing their hearts out! Plus, they'll be learning more about how Thanksgiving is celebrated, and you as a parent will be able to relate to how kids view this occasion.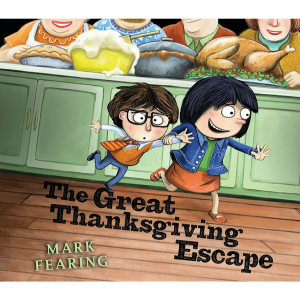 2

Turkey Trouble

by Wendi Silvano and Lee Harper
In this story, a turkey tries to disguise himself to avoid becoming Thanksgiving dinner! He tried to disguise himself as a horse but failed. He tried to be a rooster, a cow, a pig, and a sheep, but he is still recognizable. Will he end up on the dinner table instead? The wonderful watercolor illustrations pair naturally with the author's clever, storytelling, making it a great choice for a fun Thanksgiving reading activity with the kids!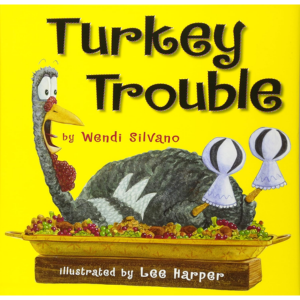 3

Thanksgiving Is for Giving Thanks

by Margaret Sutherland and Sonja Lamut
This book emphasizes the importance of gratitude and giving thanks during the Thanksgiving holiday. The simple text and colorful illustrations are great even for three-year-olds. Moreover, it gives examples of things that we should be thankful for, like family, pets, and even things as simple as a cup of hot cocoa. It helps our little ones appreciate and show gratitude for these simple things in life.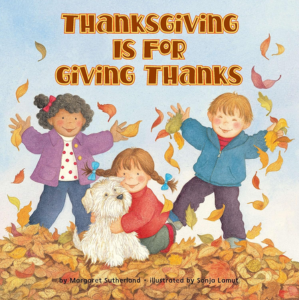 4

Bear Says Thanks

by Karma Wilson and Jane Chapman
Join Bear and his friends as they share a potluck feast and express gratitude for each other's contributions. However, Bear feels sad because he doesn't have anything to share. But his friends told him how much they cherish his stories, which they consider the most precious gift for the party! The illustrations are rich in detail, and the rhymes in the story are delightful to the ear too. This book is an excellent choice for sharing during storytime when discussing important themes like gratitude, sharing, or giving thanks.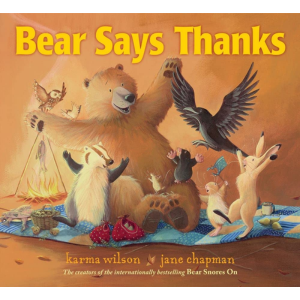 5

I Know an Old Lady Who Swallowed a Pie

by Alison Jackson and Judy Schachner
This Thanksgiving twist on the classic song "I Know an Old Lady Who Swallowed a Fly" will have kids laughing as they follow along with the silly yet clever story. It makes a fantastic gift for a child during Thanksgiving, as it explores all the items you might find on your Thanksgiving table and even wraps up with an exciting parade. The illustrations are bursting with lively colors, while the rhymes add to the entertainment as the story unfolds.
6

Pete the Cat: The First Thanksgiving

by James Dean and Kimberly Dean
If you're looking for a fun and educational book to show your little ones the history of the first Thanksgiving, this Pete the Cat book would be an excellent choice! It takes a trip back in time to the first Thanksgiving as Pete the Cat performs in school an adorable Thanksgiving play. This book may have a different tone compared to the other books in the Pete the Cat series, but that's because Thanksgiving is a unique and special occasion, and this book captures that specialness perfectly!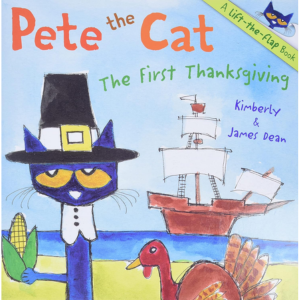 7

The Night Before Thanksgiving

by Natasha Wing and Tammie Lyon
This book is a playful take on the classic poem "The Night Before Christmas" with a Thanksgiving twist. A great book that can help kids learn about thankfulness and sharing. Perfect for extended families who celebrate this festive holiday together, this book illustrates not only the food and celebration but also the sharing and gratitude to each and every family member.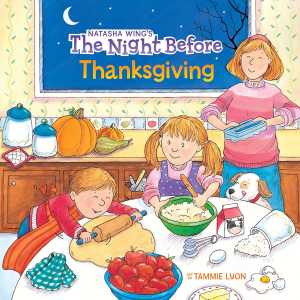 8

10 Fat Turkeys

b

y

Tony Johnston and Rich Deas
This counting book features silly turkeys who get into all sorts of humorous predicaments leading up to Thanksgiving. Kids will definitely have fun as they learn to count backwards, while also joining these wacky turkeys as they swing, strut, do a noodle dance, and more!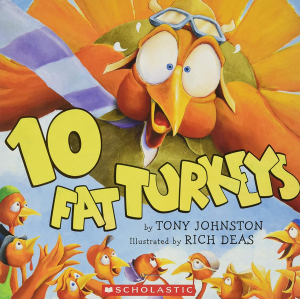 9

Thanksgiving Day

by Anne Rockwell and Lizzy Rockwell
This book explores the preparations and traditions of Thanksgiving Day through a school play in Mrs. Madoff's class. As each kid has their important roles (like the ship, the pilgrim, and the Chief Massasoit), they also learn the story of the first Thanksgiving, making it an excellent choice for teaching preschoolers about the holiday!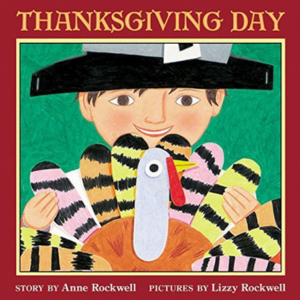 10

How to Catch a Turkey

by Adam Wallace and Andy Elkerton
Part of the best-selling How to Catch series, this festive tale is about a turkey on the loose just before a Thanksgiving play at a school. Kids will be delighted as they join the adventure and help catch the turkey! The students embark on a comical mission to capture the turkey, leading to an unexpected twist that ensures an exciting yet funny ending for its readers. Its amusing storyline and playful illustrations perfectly blend in STEAM concepts and creative traps, making it a perfect choice for beginning a fresh autumn family tradition this fall or as a thoughtful Thanksgiving gift for kids!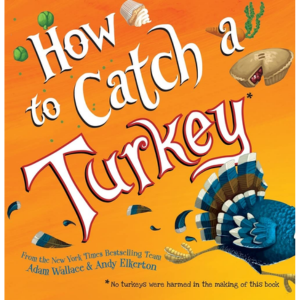 5

Thanksgiving-themed Songs and Fingerplays for Preschoolers
1

Five Little Turkeys

(to the tune of Five Little Monkeys)
Five little turkeys by the barn door, (hold up five fingers)
One waddled off, and then there were four. (wiggle one finger and put it behind your back)
Four little turkeys under a tree, (hold up four fingers)
One waddled off, and then there were three. (wiggle one finger and put it behind your back)
Three little turkeys with nothing to do, (hold up three fingers)
One waddled off, and then there were two. (wiggle one finger and put it behind your back)
Two little turkeys in the morning sun, (hold up two fingers)
One waddled off, and then there was one. (wiggle one finger and put it behind your back)
One little turkey better run away, (hold up one finger)
For soon it will be Thanksgiving Day. (clap your hands together)
2

Five Fat Turkeys

(to the tune of Ring Around the Rosies)
Five fat turkeys are we (hold up five fingers)
We spent all night in a tree (raise both hands together like a tree)
When the cook came around, (put hands on forehead as if looking around)
We couldn't be found, (shake your head to indicate no, or shrug shoulders)
And that's why we're here, you see. (point to yourself and others)
3

Mr. Turkey

(to the tune of Where is Thumbkin?)
Mr. Turkey, Mr. Turkey, (place hands side by side like a turkey's tail)
Run away, run away. (wiggle fingers like walking or running)
If you're not careful, (shake your finger as if warning the turkey)
You will be on our Thanksgiving table (lay hands down )
On Thanksgiving Day. (clap or put hands together)
4

Thanksgiving Day Song

(to the tune of Twinkle, Twinkle, Little Star)
Thanksgiving Day is here to say, (clap your hands together)
Let's be thankful in every way. (place your hand on your heart and nod)
We give thanks for food and friends, (pretend to eat with one hand then reach out to shake hands with the other)
For everything that never ends. (stretch your arms out to the sides)
Thanksgiving Day is here to say, (clap your hands together again)
Let's be thankful in every way. (place your hand on your heart and nod)
5

The Turkey Dance

(to the tune of The Hokey Pokey)
You put your right wing in, (extend your right arm like a wing)
You put your right wing out, (retract your right arm)
You put your right wing in, (extend your right arm again)
And you gobble all about. (make gobbling sounds while waving your right wing)
You do the turkey pokey (turn around in a circle)
And you turn yourself around, (continue turning around)
That's what it's all about! (clap your hands together)
These fingerplays and songs are not only entertaining but also provide opportunities for kids to engage with the holiday's themes and traditions. Have fun singing and acting them out with your preschoolers to make Thanksgiving even more enjoyable for them!
Other Fun and Educational Thanksgiving-themed Activities for Preschoolers
1

Thanksgiving Craft Time
Create Thanksgiving-themed crafts like handprint turkeys, paper plate pilgrims, or construction paper cornucopias. Crafts help develop kids' creativity and fine motor movements, and doing Thanksgiving-themed crafts also teaches them about this holiday and the values in line with it like thankfulness and sharing. If you have no time to search and prepare materials for a Thanksgiving craft, you can try our Print & Go Rocking Turkey! This free printable helps you to conveniently create a rocking and moving turkey, that's perfect for Thanksgiving. Learn more about the Rocking Turkey Craft here.
2

Cooking and Baking Together
Involving children in the kitchen during Thanksgiving is not just about preparing delicious dishes; it's a wonderful opportunity to foster a sense of togetherness and gratitude in young hearts! By encouraging them to assist with age-appropriate cooking and baking tasks, children not only gain valuable life skills but also contribute to the family's shared meal. As they help in preparing and making Thanksgiving treats, their vocabulary expands, and their communication skills improve through conversations about the cooking and baking procedures. Moreover, these experiences teach them the significance of Thanksgiving – gratitude, unity, and the importance of being thankful for the moments spent together.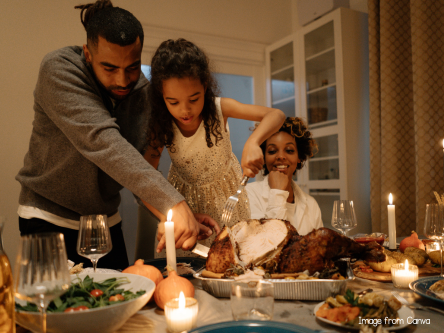 3

Gratitude Jar
A gratitude jar is a lovely Thanksgiving activity where each family member writes something they're thankful for on a piece of paper and puts it in the jar. During Thanksgiving dinner, everyone takes turns reading these notes aloud. It's a way for the family to share what makes them happy and grateful, bringing them closer and reminding them of the good things in life.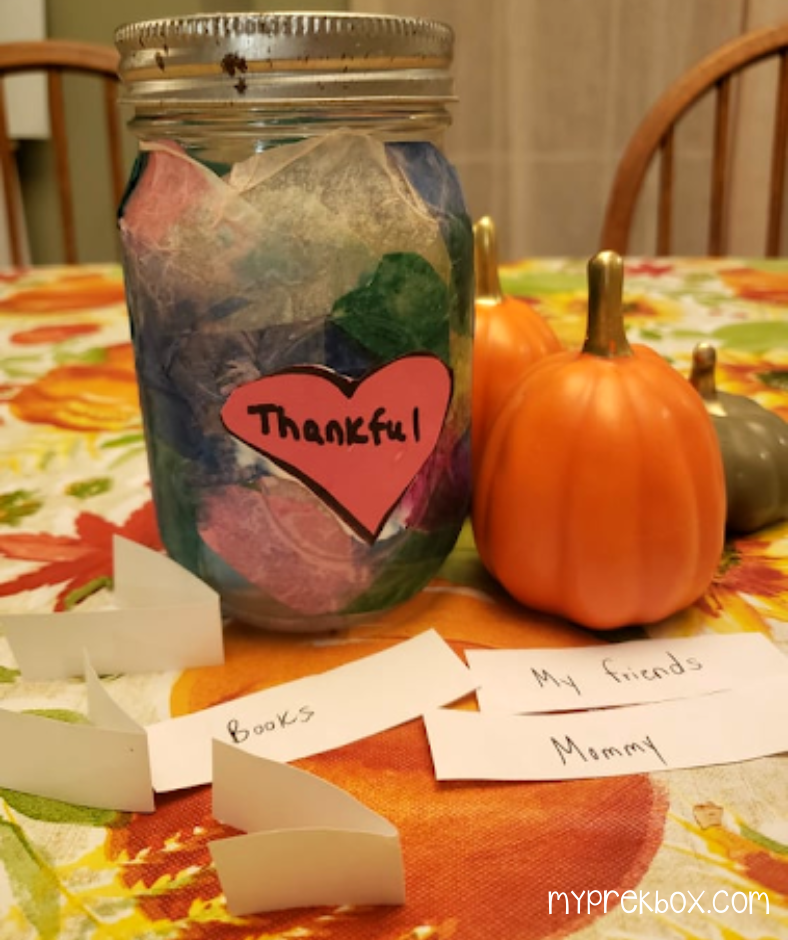 4

Volunteer as a Family
Volunteering during Thanksgiving teaches children about kindness and gratitude. When kids help at local shelters or food drives, they learn the joy of giving and helping others. These experiences show them the importance of caring for those in need and make Thanksgiving more meaningful for them.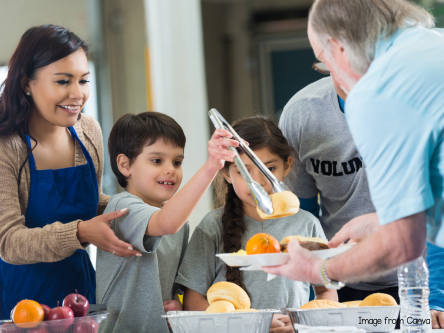 5

Craft a Family Thankful Tree
Creating a gratitude tree is a lovely Thanksgiving activity for kids. Each family member writes something they're thankful for on a leaf, which is then added to the tree as a decoration. This simple activity helps children express their gratitude and reminds them of the many things to be thankful for during the holiday season. It's a wonderful way to encourage reflection and appreciation on Thanksgiving Day.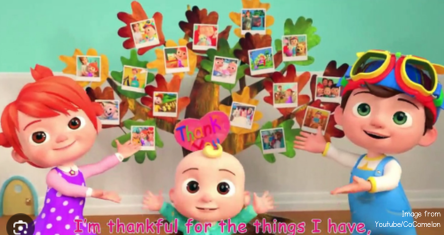 In the spirit of Thanksgiving, these books, songs, fingerplays, and activities offer families fun and educational ways to celebrate together. Whether through heartwarming stories, catchy tunes, or engaging crafts, they help children learn about gratitude and togetherness. These family-focused activities encourage bonding and kindness, making Thanksgiving a time for reflection, connection, and thankfulness. Enjoy these traditions with your loved ones, and have a joyful Thanksgiving!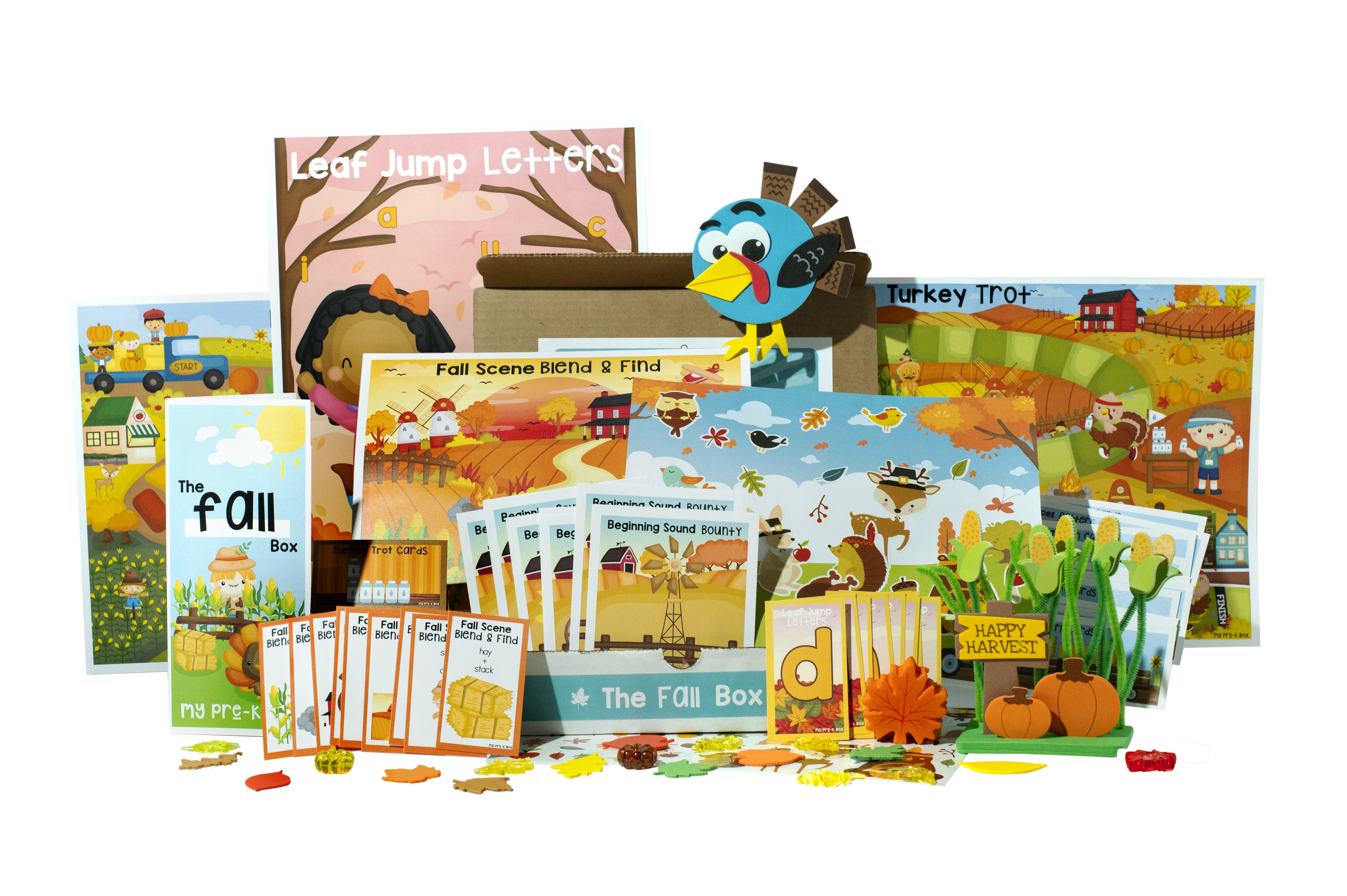 If you're a parent or caregiver seeking an engaging and educational way to support your preschooler's learning journey, you'll find a wealth of ideas online. However, we understand that not everyone has the time (or the energy) to sift through countless resources and prepare activities from scratch. That's where My Pre-K Box steps in to make life easier for you!
With My Pre-K Box, the hassle of researching and planning learning activities becomes a thing of the past. We offer a convenient solution by delivering a carefully made-with-love box to your doorstep each month. Inside, you'll discover different crafts and hands-on activities, all thoughtfully designed around a unique theme!
The best part? There's absolutely no prep required. You can say goodbye to the stress of scrambling for supplies or figuring out how to structure learning time. Plus, our games and activities are mostly reusable, making it budget-friendly and perfect for siblings to share. And, for craft enthusiasts, we offer a Craft Lovers Upgrade for just $7.95 per child!
We take care of everything, so you can focus on enjoying quality moments with your child.

Let's Connect
If you love these Thanksgiving-themed activities, books, and songs, be sure to LIKE and FOLLOW our Facebook and Instagram pages to get more themed ideas, DIY activities, art projects, fun crafts, and free printables! Don't forget to tag us on photos of your kids enjoying these Thanksgiving activities! Use the hashtag #myprekbox or send those amazing photos on our social media pages!
Haven't Tried My Pre-K Box Yet?
My Pre-K Box is the best subscription box for

kids 3-5 years of age!

Everything you need to play, create, explore,

learn, laugh, and enjoy!