Do you know that turkeys symbolize generosity and gratitude? Yes, they do - making it a perfect figure for Thanksgiving! And since Thanksgiving is just around the corner, we want to share with you a cute Rocking Turkey Craft! It is a fun activity you can do at home with your preschooler, using our easy-to-use printable.
My Pre-K Box: The ultimate subscription box for preschoolers!
Love searching for fun preschool activities but end up spending more time searching and preparing these activities? We developed no-prep learning kits for a busy parent like you! With our educational subscription box, each month we mail your preschooler a learning kit with a fresh new theme! Their package is packed full of fun, hands-on, play-based learning that preschoolers LOVE to do! You'll love how fun and easy it is!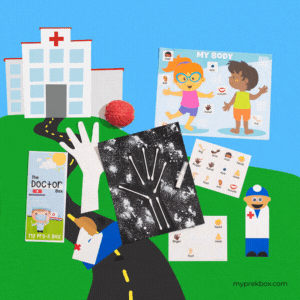 It was believed that turkeys were probably one of the first foods served during the first Thanksgiving. And though it was not specifically mentioned (as history records claim it was "wild fowl"), turkeys are abundant in America and a single turkey is good enough for the whole family, making it a prominent Thanksgiving icon since the 19th century.
So while waiting for that yummy, roasted turkey, you can make your own Rocking Turkey Craft with your preschooler on Thanksgiving!
Materials for making Rocking Turkey Craft:
printer

paper or cardstock

scissors

glue
Before we start…

Here is a welcome gift!

It's the harvest season once again, and if you need some fun indoor activities to teach your little ones math and literacy skills, this gift is perfect for you! Grab a copy of our Harvest Preschool Fun Pack now for FREE! It includes 8 harvest-themed worksheets your preschooler will surely enjoy.
Procedures for creating your very own Rocking Turkey Craft:
Step 1 Download our Print & Go Rocking Turkey Craft. Choose from the black and white and colored version, then print on white paper or cardstock.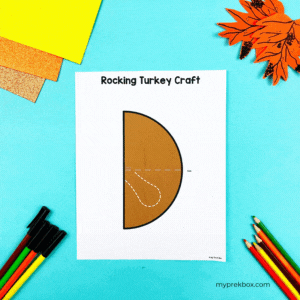 Step 2 Cut out the brown half-circle, then fold it in half following the broken lines as your guide. Glue the other end leaving the bottom part open.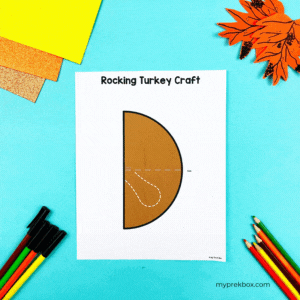 Step 3 Next, cut out the parts of the turkey's tail. The page contains four leaf-shaped objects, the turkey's wattle, beak, and snood. Keep these aside for assembling later.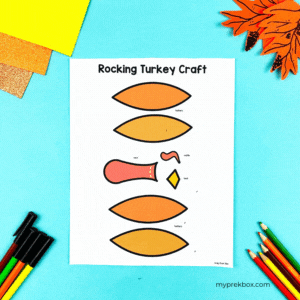 Step 4 Cut out the turkey's tail, head, eyes, and hat! Your preschooler may need some help since these are very small parts.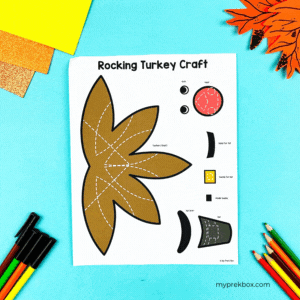 Step 5 Now let's start assembling the tail! Glue the leaf-like shapes. Follow the broken lines to achieve an alternating design of the turkey's tail.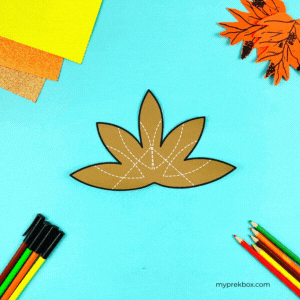 Step 6 Then, glue the folded half-circle you made earlier at the middle of the tail. This will become the turkey's body. Next, add the wattle and head. The wattle is the red bottle-shaped figure in the printable, which is actually the flap of skin under the turkey's throat. The red circle is the head, which will be glued above the wattle.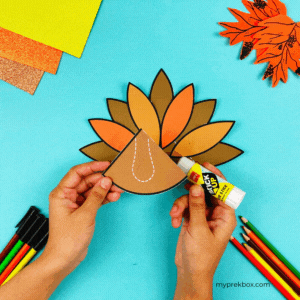 Step 7 Complete the turkey's head by adding the eyes, beak, and snood. The snood is the long, red, fleshy part of the turkey above its beak. Now the turkey is almost complete! Just a little bit more…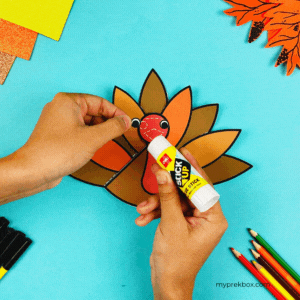 Step 8 Let's add a cute little Thanksgiving hat for the turkey! Start by gluing the crown of the hat, the brim, then the band and buckle. It looks so adorable, isn't it?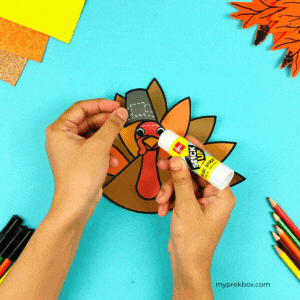 Step 9 Last, slightly open the bottom part of the turkey to keep it standing. Tap the sides and see it move!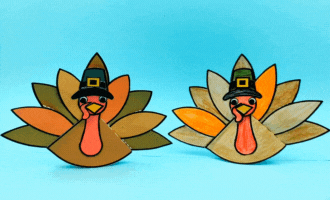 What will your child learn while working on the Rocking Turkey Craft?
The Rocking Turkey Craft is a fun Thanksgiving craft for preschoolers to help them practice their scissor skills. Though they might need your help cutting out the smaller parts, you can let them cut out the half-circle as it the lines are only straight and not too complicated. If they are independent enough, you can also let them cut out the tail. Also, assembling this craft is quite easy (and fun!) because of the guide, and your kids will be able to gain some fine motor practice while gluing the small parts together! If you choose the black and white template, they can also have some coloring practice too!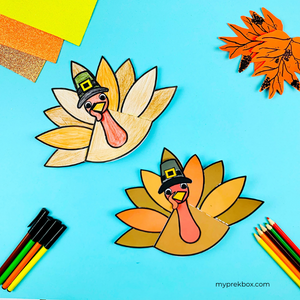 The Rocking Turkey Craft is just one of the many themed crafts we share with our subscribers. And if your child is enjoying our crafts and activities, you should definitely subscribe to My Pre-K Box to get monthly themed boxes filled with fun activities for your preschooler!
If you're wondering why many parents love My Pre-K Box, it's because we always make sure that the games and activities are safe for the kids and are of excellent quality! It is also very easy to use, incredibly practical, and reusable! It can be shared with his siblings and friends and can be used repeatedly! We also offer duplicate crafts for only $3.25 per month, so you can get a duplicate for his siblings! If your little one is a fan of our craft, you can also subscribe to our Craft Lovers Upgrade for $4.25 per child, which includes more fun crafts and two more arts and crafts activities.
With all of the interesting and enjoyable activities in My Pre-K Box, your child won't even realize he's learning so much! And as parents, we wouldn't have to bother researching, planning, and creating activities! We can simply assist and watch them while they learn in the comfort of our own homes, thanks to My Pre-K Box!

We want to hear from you!
For more fun activities to do at home, be sure to LIKE and FOLLOW us on Facebook and Instagram and use the hashtag #myprekbox! Send us cute photos of your kids enjoying the Rocking Turkey Craft, and we might feature you on our website and newsletter! See you there!
Haven't Tried My Pre-K Box Yet?
My Pre-K Box is the best subscription box for

kids 3-5 years of age!

Everything you need to play, create, explore,

learn, laugh, and enjoy!