🎶 I'm thankful for my family. I'm thankful for my friends. I'm thankful for the things I have. The thank yous never end! What are you thankful for? What are you thankful for? What are you thankful for? 🎶
Heard of this song before? This is Thank You Song from Cocomelon, and it's quite timely for Thanksgiving. It's a great way to teach kids about gratitude!
What are you thankful for? There are so many reasons to be thankful indeed! And to teach our little ones to appreciate these too may sound difficult, but with the help of some simple activities, it can be easy and fun! And today, we are going to share with you an activity where they can learn about thankfulness, just in time for Thanksgiving!
My Pre-K Box: The best subscription box for kids ages 3 to 5!
Each month My Pre-K Box creates an exciting, educational box for preschoolers with themed math and literacy activities! Preschoolers will love play-based learning and parents will love the easy, open-and-play format!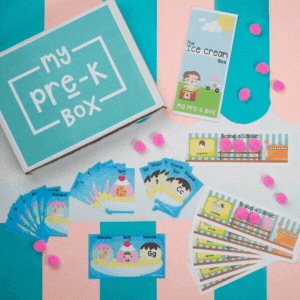 Create a really cute Thanksgiving Placemat with this printable template! Just print and color and your child will have a cute placemat perfect for Thanksgiving. This will help you teach them about gratitude while learning more Kindergarten skills, and still while having fun!
While waiting for your box…

Check out these FREE Harvest Worksheets!

These harvest-themed worksheets from the Fall Harvest Preschool Fun Pack are perfect for children aged 3-5! They target important preschool skills like counting, shapes, capital, and lowercase letters, rhyming words, sorting, and more!
Materials for the Thanksgiving Placemat:
paper or cardstock

printer

crayons
Creating your very own Thanksgiving Placemat with these simple steps!
Step 1 Download and print our Print & Go Thanksgiving Placemat template.
Step 2 Color the word THANKFUL. You can also ask your little ones to spell and color!
Step 3 Ask your little one about things or people he is thankful for. Draw these things on the turkey's tail, and color them!
Step 4 At the bottom of the printable are fall-themed objects. Instruct your child to find these things throughout the page and color them! You can mark or check the list at the bottom once your child found and colored them.
Step 5 Trace and draw. Trace the acorn on the right side of the page by following the correct number sequence. On the left side, draw a curved line on the pumpkin following the arrows.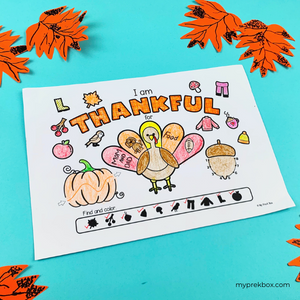 Now your Thanksgiving Placemat is done! It looks lovely and colorful, and reminds us of the things that we must be thankful for! You can now use this as a placemat while having your Thanksgiving meal. Have it laminated or pasted on a board and covered with plastic so you can reuse it every Thanksgiving!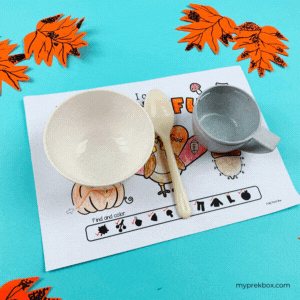 Get your Thanksgiving Placemat
Looking for more Thanksgiving activities?

Here's the perfect freebie for you!

Get a copy of our Print & Go Gratitude Activities! It is a simple tool to help parents like you in teaching kids about gratitude and being thankful for many things around us. This printable includes a Gratitude Scavenger Hunt list to help them with different things they must be grateful for and a Tree of Gratitude which includes a tree trunk to be filled with your child's handprint to complete the tree, where they will write things they are thankful for. For more Thanksgiving ideas, read our blog post about 5 Activities to Teach Your Child Gratitude here.
What will your child learn in creating his own Thanksgiving Placemat?
It's easy to teach kids to just say "thank you", but really meaning it and understanding why they are thankful is a different thing. And through this activity, they will be able to think and realize that simple things around them are worth being thankful too!
Aside from gratitude, they will also be able to practice their fine motor skills through coloring, tracing, and drawing lines. These will help them improve their pencil grip, in preparation for writing. It also includes some fall-themed objects, so you can also teach them the names of these objects. As they look for the same objects on the page, they learn to observe and compare which ones are similar and which are different.
If you find this activity enjoyable and useful, be sure to get a copy now before you go!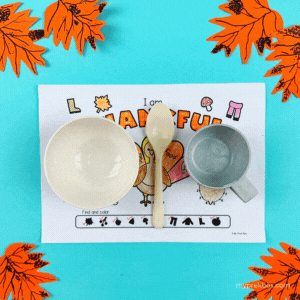 Download Thanksgiving Placemat
Each month My Pre-K Box creates an exciting, educational box for preschoolers with themed math and literacy activities! Preschoolers will love play-based learning and parents will love the easy, open-and-play format!
My Pre-K Box takes all the searching, prepping, and stress out of planning preschool activities for your 3-5-year-olds. Each month, we focus on a different set of Kindergarten readiness skills and provide all the materials and instructions you need right in the box. You'll never have to worry about what activity to do next or spend hours looking for ideas online again.

Let's Connect
What did your kids draw in the Thanksgiving Placemat? Share it with us - we'd love to see what your kids are thankful for! Use the hashtag #myprekbox when sharing it on your social media post, or send it over to our Facebook and Instagram page @myprekbox. Be sure to give us a LIKE and FOLLOW our social media pages for more updates and freebies!
Haven't Tried My Pre-K Box Yet?
My Pre-K Box is the best subscription box for

kids 3-5 years of age!

Everything you need to play, create, explore,

learn, laugh, and enjoy!