'Tis the season to express gratitude. So, how do we, as parents, help instill an attitude of gratitude in our young children? And honestly, what exactly IS gratitude? Gratitude isn't just feeling thankful; gratitude is the outward expression of that thankfulness. Every time we say, "thank you" to someone, we are expressing our gratitude. (And how often do we remind our little ones to do this each day?!).
Kids are never too young to begin learning how to express gratitude for everything and everyone that they are thankful for in their lives. Science is also on the side of beginning to teach gratitude skills at an early age. Research has shown that gratitude is linked to happiness in children by age 5. This means your Pre-K child is in the perfect window of opportunity to hone in on these skills to build happiness. Gratitude has been shown to increase both psychological and physical well-being. Grateful people live longer, happier lives. By showing gratitude for something, we are learning to be present and appreciative in the moment. It is a great way to build resilience for those times when life tries to get us down.
My Pre-K Box: The ultimate subscription box for preschoolers!
My Pre-K Box is an educational subscription box for preschoolers aged 3-5! We deliver the most fun play-based preschool learning available! Each box has its own unique theme and is filled with different learning activities to target math and literacy skills. Your kids will have fun exploring the new activities, and you will delight in the fact you are helping them with essential Kindergarten readiness skills!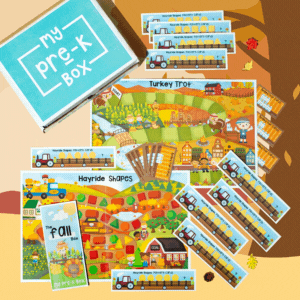 Can't wait for your box to get to you?

Check out these FREE Harvest Worksheets!

These harvest-themed worksheets are perfect for children aged 3-5! They target important preschool skills like counting, capital and lowercase letters, sorting, and more!

Included in the FREE Preschool Harvest Worksheets:

Autumn Count and Compare

Pre-Writing Harvest

Pumpkin Shapes

Tractor Pull Letter Match

Fruit and Veggie Sort

Fall Harvest Beginning Letters

Fall Decorations Count and Color

Leafy Rhymes Clean Up
So, now we know WHY teaching our kids gratitude is important. But, HOW do we do it? Here are a few tips below!
1

Praise prosocial behavior
Did you catch your child saying "thank you" without needing to be reminded? Let them know what a nice job they did. And be specific! "Nice job saying thank you when Grandma handed you that cookie! Those are great manners." Positive reinforcement is key to encouraging future occurrences of prosocial behaviors.
2

Express gratitude together
Carve time out each day to discuss 3 things you are each grateful for. This could be around the dinner table, in the car on the way to dance class, or even in bed before falling asleep. Speaking the gratitude out loud will strengthen those mental muscles that allow our children to be aware of things that make them happy.
3

Read books about gratitude with your children
Books are an easy, yet effective way to teach children all about the art of gratitude. Some great books for your Pre-K child include Giving Thanks with Max, An Awesome Book of Thanks, and Have You Filled a Bucket Today. But, don't give up right there. Type "gratitude" into the search engine of your library's page and fill up your queue with your findings!
Feeling a little more inspired? Check out these great activities to complete with your child to continue practicing gratitude!
1

Make a Gratitude Jar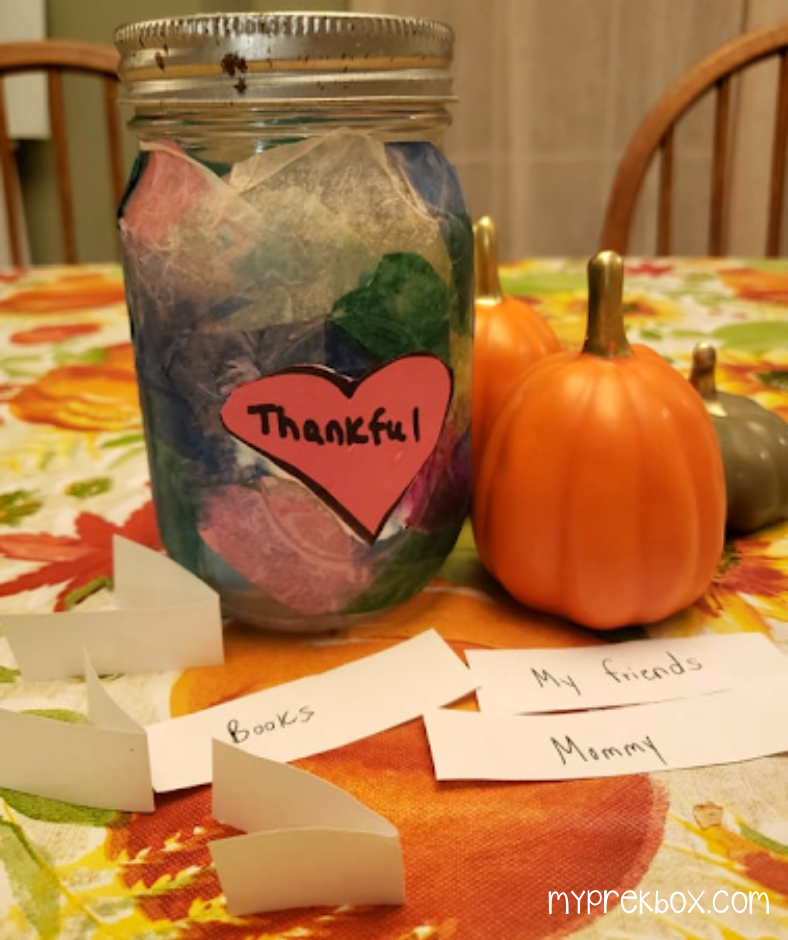 Decorate a jar or container in any way that your child likes! They can cut out pieces of tissue paper and glue them on there, cut out pictures and paste them, paint it - the sky's the limit! Each day, you can help your child put a slip of paper in with something they are grateful for. When kids are feeling especially down and need a quick pick-me-up, take a few notes out of the jar to remind them of who, and what is good in their life.
2

Handprint Tree of Gratitude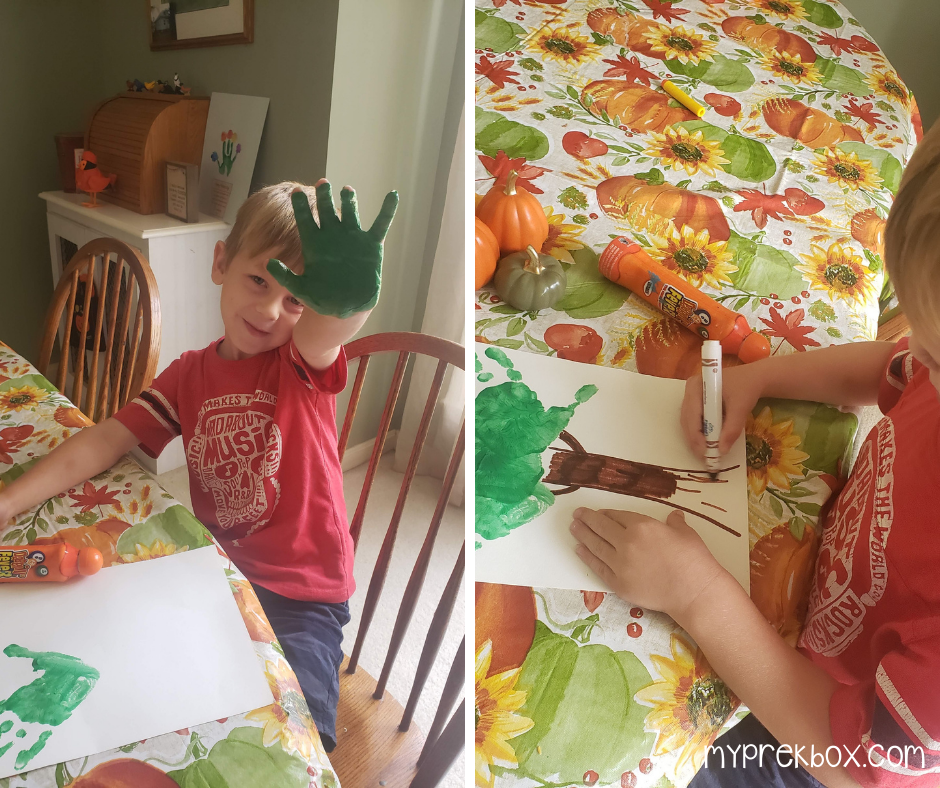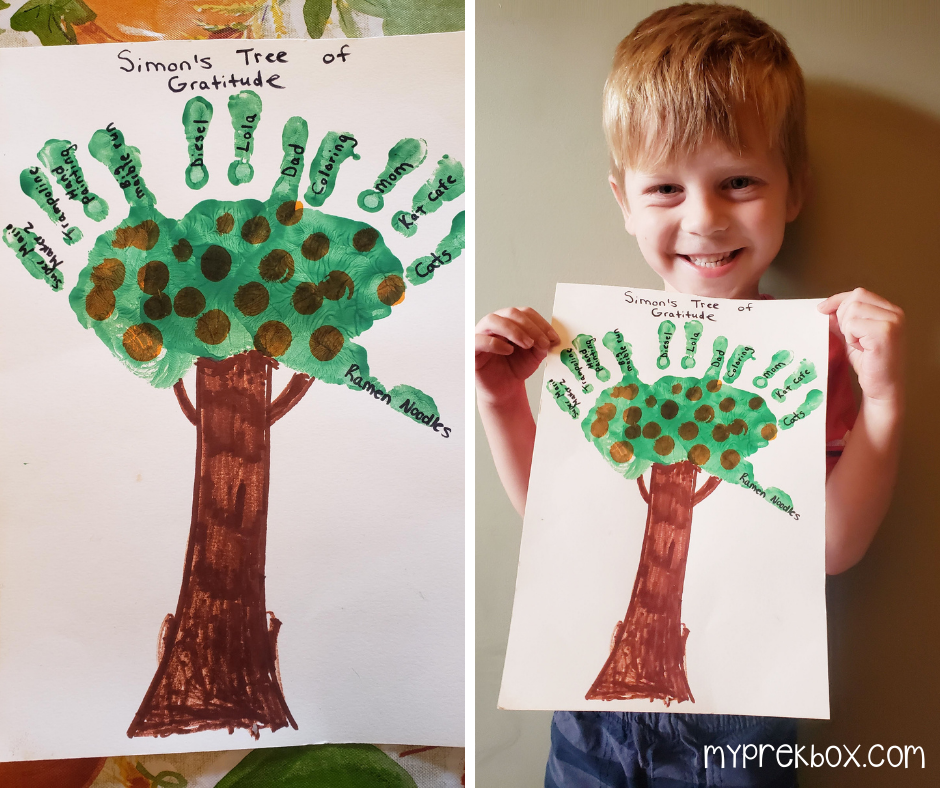 This cute craft also serves as a great decoration around the Thanksgiving holiday! Have a child make a tree with three overlapping handprints made with paint. On each tree branch (finger), help your child write something they are grateful for! Years from now, you will both be able to look back and remember a few of the things your child was grateful for when their hands were that small.
3

Gratitude Scavenger Hunt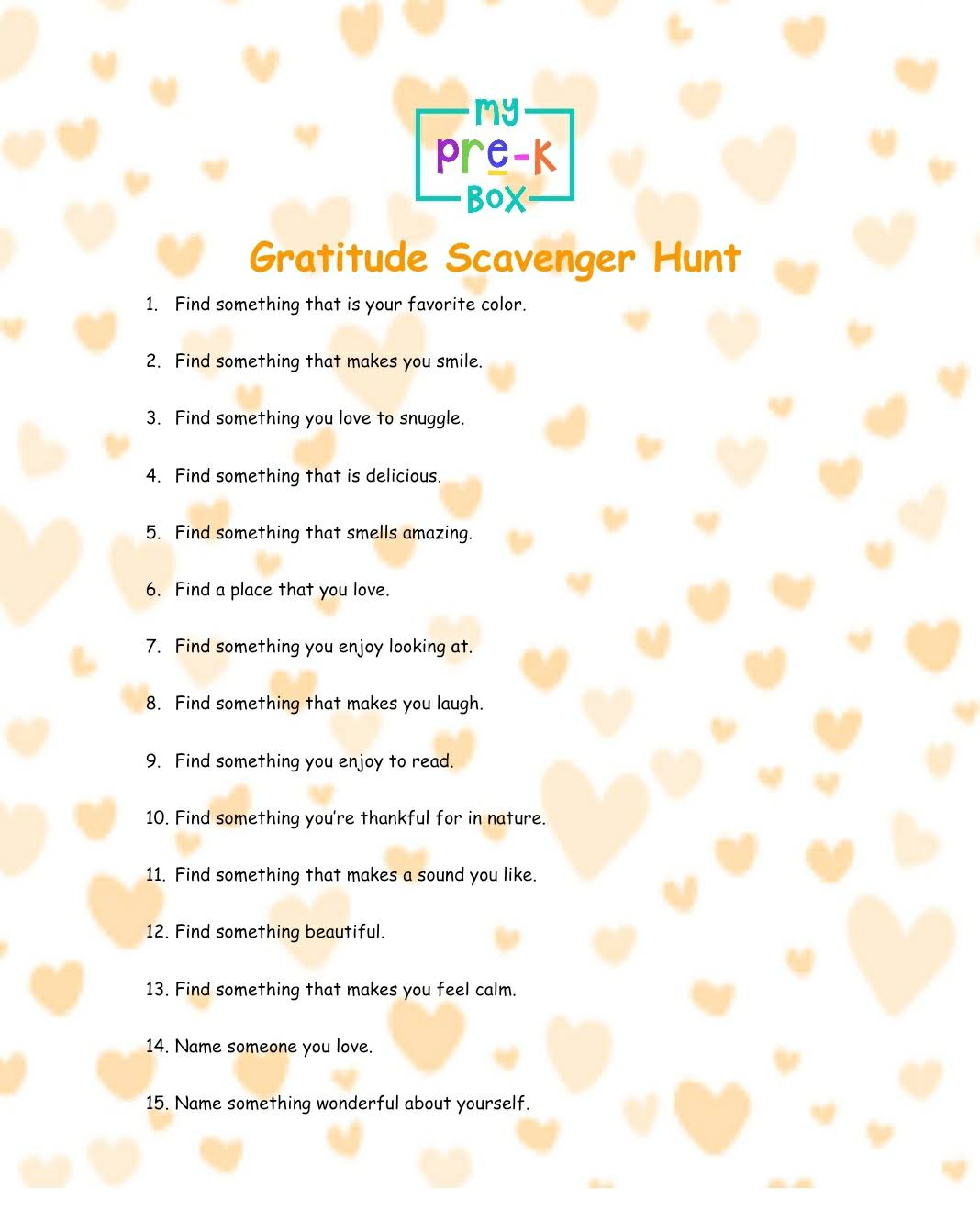 Get your child moving and noticing all of the wonderful things in their lives with a fun gratitude scavenger hunt. Create a list of scavenger hunt items for your child to find around the house or outside. An example could be, "Find something that makes you smile." Don't feel like coming up with your own? Check out our free scavenger hunt here! This activity will help your child think positively about all of the blessings in their life.
We can read books, praise prosocial behaviors, and complete activities with our kids, but the most important thing we can do to teach our kids gratitude is to model it for them. Grateful parents raise grateful children. Children pick up on it when we express gratitude for the big and little things in life. So, make sure you are adding gratitude as a daily practice in your life, too. And yes, while it sounds easy, it actually can take some time for this to become an organic part of your life. Like all things, it takes practice. But, if you continue to work on it, you and your little ones will be feeling more grateful (and even happier) in the near future.
Ready To Go Gratitude Activities

Love the ideas shared here but don't have enough time to prepare materials? Then try our ready-to-go Gratitude Activities! Grab a copy of our Print & Go Gratitude Activities, which are perfect for children aged 3-5! They will help your preschooler find and name things in their life that they are grateful and thankful for!


Included in the FREE Print & Go Gratitude Activities:

Gratitude Scavenger Hunt

Tree of Gratitude
Love our FREE gratitude activities? We hope you enjoyed it! It is a great add-on Thanksgiving activity to The Fall Box, one of our themed boxes specially made for the fall season! If your little one got The Fall Box already, be sure to get the Gratitude Activities for FREE for a more meaningful Thanksgiving! And if you haven't subscribed to My Pre-K Box yet, you can still try our Gratitude Activities for free today, and if your kids enjoyed it, you might want to get a monthly subscription to get exciting surprises every month! Learn more about The Fall Box here.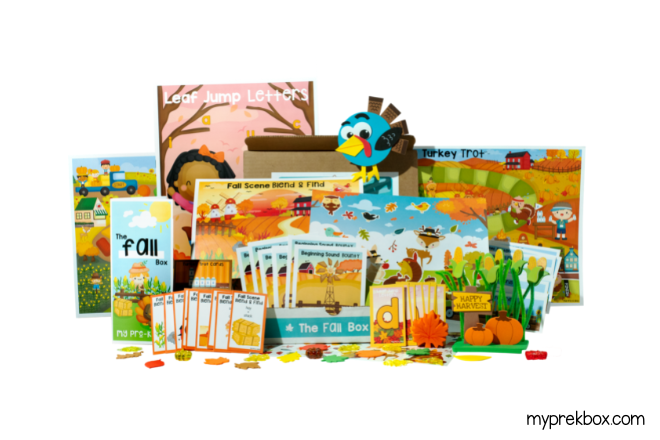 You'll surely love it too, because each box is filled with play-based, hands-on learning tools that target math and literacy skills. It also includes sensory play, fun thematic crafts, and a grownup guide to help you in guiding your little one! Plus, it is very practical and budget-friendly because the games and activities are mostly reusable! So, if your child has siblings, it can be shared and can be used again and again! We also offer duplicates of non-reusable crafts, while those who love our themed crafts can also subscribe to our Craft Lovers Upgrade.
The fun and exciting activities inside My Pre-K Box will help your child enjoy learning, and you won't have to worry about a thing - it will be all prepped and delivered to your door! No more researching, planning, and cramming to make the activities yourselves! My Pre-K Box will handle it all for you, while you can simply guide and watch them learn in the convenience of our home!

Let's Connect!
We absolutely LOVE seeing your preschoolers learning through play! Please take photos and videos of your child engaging in these Gratitude crafts and activities and share your photos with us on Facebook and Instagram! While you're at it, don't forget to LIKE and FOLLOW our social media pages.
Haven't tried My Pre-K Box yet?
My Pre-K Box is the best monthly subscription box

for kids ages 3-5!

Everything you need to create, play,

laugh, and learn!