Hop, hop, hop!
Look! The cute Easter bunny is here! If you want an Easter-themed craft like this, check out our Rocking Easter Bunny Craft. We will show you how to make one, and how you can get a copy of a printable template to make crafting much easier! Plus, you'll get more Easter and spring-themed freebies on the way! Ready? Hop on a new crafting adventure today with the Rocking Easter Bunny!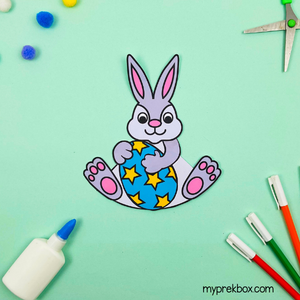 My Pre-K Box: The best subscription box for kids ages 3 to 5!
My Pre-K Box is an educational subscription box for preschoolers filled with different learning activities for math and literacy skills! With fresh new themes each month, your child will delight in all of the fun, play-based learning activities inside! Prepped and delivered straight to your door, My Pre-K Box is so much fun, your child won't even realize how much they're learning!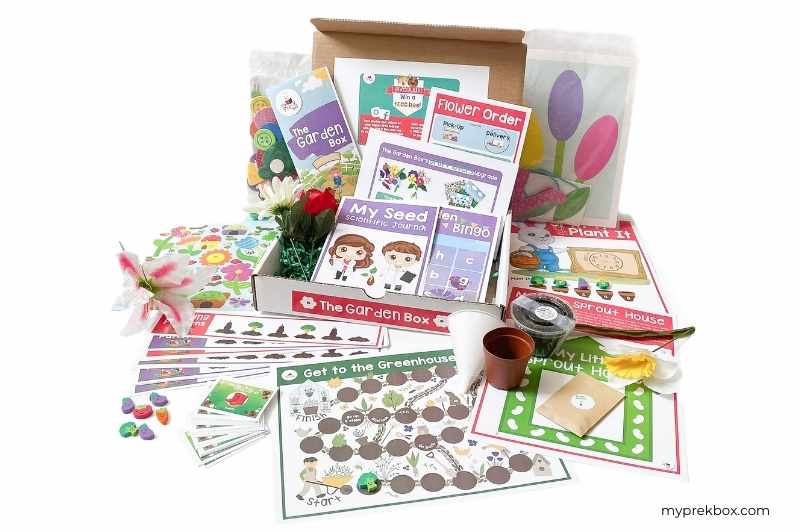 The Easter bunny has been part of our tradition and kids love the adorable bunny and the colorful Easter eggs that it hides for them to find. So if you want an Easter-themed craft for your preschoolers to enjoy after tiring themselves in the Easter egg hunt and Easter egg roll, the Rocking Easter Bunny Craft is a perfect choice! It's so easy to make, especially with our printable template - just print, cut, and assemble the Easter bunny! Here's what you need:
Materials for the Rocking Easter Bunny Craft:
paper or cardstock

printer

scissors

glue

crayons (if you will be using the black and white template)
Procedures for making your own Rocking Easter Bunny:
Step 1 Download the Print & Go Rocking Easter Bunny Craft. You can choose from the two versions included in the printable - it has a colored and a black and white version. Print out the template on white paper or cardstock. If you use the black-and-white version, color with crayons or markers before proceeding to the next step.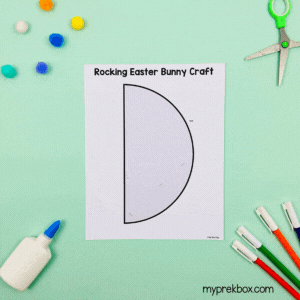 Step 2 Use a scissor to cut out the parts of the Easter Bunny! Follow the outline. Guide your kids when cutting out small parts or you may help them with it too.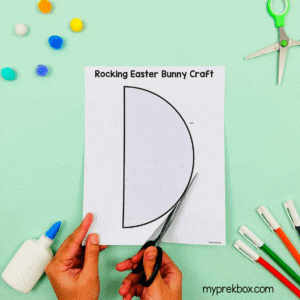 Step 3 Get the white half-circle and fold it in the middle, following the broken lines. Then, use glue to secure the left side, leaving the bottom part open. The side with broken lines should be in front.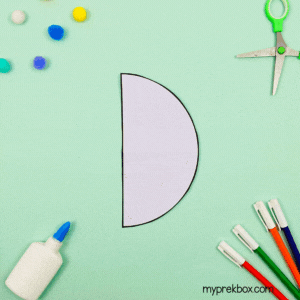 Step 4 Check the outlines on one side of the folded half-circle. Follow these broken lines in attaching the easter bunny parts. Start by attaching the blue egg. If you are using the black-and-white version, you can make the egg more colorful!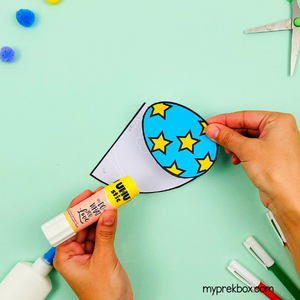 Step 5 Next, glue the arms of the Easter Bunny. Attach it on top of the egg, following the allotted space with the broken lines. Now your Easter Bunny is holding the easter egg!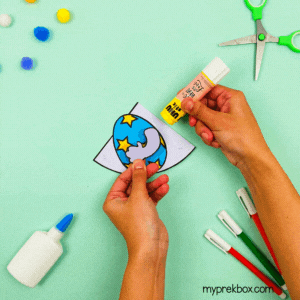 Step 6 Complete the Easter Bunny by attaching its head and feet. The head should be placed just above the egg, while the feet should be at the bottom on both sides. Use the broken lines to know where exactly to attach them.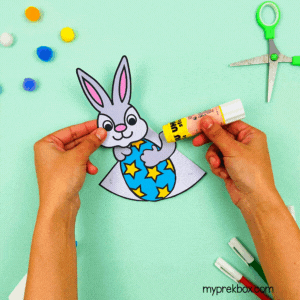 Now your rocking Easter Bunny is complete! Slightly open the bottom part to keep it standing and just tap the sides and it will begin rocking back and forth!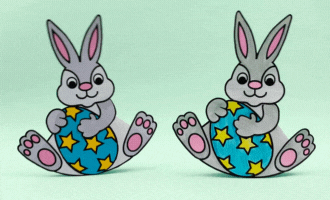 Get Rocking Easter Bunny Craft
Before you go…

Here's a spring-themed freebie for your kiddo!

Loving the blooming flowers of spring? Kids love the spring season after months of cold snow, and they'll love it more with these adorable learning worksheets! The Garden Preschool Fun Pack contains fun activities for math and literacy development. Learn more about the Garden Preschool Fun Pack here, and don't forget your free copy!
What will your child learn while making the Rocking Easter Bunny?
Crafts like the Rocking Easter Bunny Craft can help your preschooler improve their hand muscle strength by cutting, folding, picking up small parts, and assembling the easter bunny. You see, as their little hands and fingers move, the muscles in them get essential work out (like our bodies need exercise) to be stronger, which in turn improves their dexterity. And though working on this particular craft will not instantly make them good, with regular practice using our fun and enjoyable printables, they'll surely learn faster!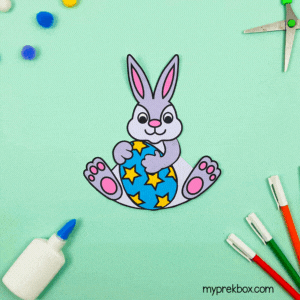 Get the Rocking Easter Bunny Craft
What do you think of the Rocking Easter Bunny Craft? We hope you love it! It is a matching activity with The Garden Box, one of our themed boxes specially made for the spring season! If your little one got The Garden Box already, download the Rocking Easter Bunny for FREE to match the spring-themed activities inside! And if you haven't subscribed to My Pre-K Box yet, you can still try our Rocking Easter Bunny for free today, and if your kids enjoyed it, you might want to get a monthly subscription to get exciting, no-prep surprises every month!
You'll surely love it too because each box is filled with play-based, hands-on learning tools that target math and literacy skills. It also includes sensory play, fun thematic crafts, and a grownup guide to help you in guiding your little one! Plus, it is very practical and budget-friendly because the games and activities are mostly reusable! So, if your child has siblings, it can be shared and can be used again and again! We also offer duplicates of non-reusable crafts and those who love our crafts can also subscribe to our Craft Lovers Upgrade.
The fun and exciting activities inside My Pre-K Box will help your child enjoy learning, and you won't have to worry about a thing - it will be all prepped and delivered to your door! No more researching, planning, and cramming to make the activities yourselves! Delivered each month to your front door, My Pre-K Box makes parents' lives super easy, and gets kids excited about learning!

Let's Connect
Be sure you're subscribed to My Pre-K Box to receive the best learning activities to do at home with your preschooler! LIKE and FOLLOW us on Facebook and Instagram @myprekbox or use the hashtag #myprekbox when sharing photos and videos of your little ones enjoying our fun crafts and printables. See you there!
Haven't Tried My Pre-K Box Yet?
My Pre-K Box is the best subscription box for

kids 3-5 years of age!

Everything you need to play, create, explore,

learn, laugh, and enjoy!