Ladies and gentlemen, boys and girls, children of all ages, welcome to The Circus Box! Witness the most fantastic show of play-based learning activities in town, where imagination and creativity take center stage. Step right up and join the excitement as we introduce you to this collection of amazing activities that bring the magic of learning right into your hands. Get ready and join us on a thrilling journey filled with crafting, laughter, and endless fun inside The Circus Box!
My Pre-K Box: The ultimate subscription box for preschoolers!
Introducing My Pre-K Box, the ultimate educational subscription box for preschoolers aged 3-5! Get ready for loads of fun and learning all in one package! Each box has a cool theme and is packed with different activities to help your little ones with math and literacy. They'll have a blast trying out new things, and you'll be happy knowing you're helping them get ready for kindergarten!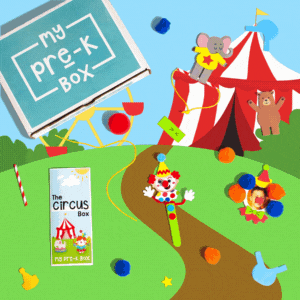 The Circus Box is our dazzling-themed box for the month of March! With kids enjoying their school break, this festive theme captures the lively spirit of the season. The Circus Box is your golden pass to an exciting and colorful journey! If you haven't snagged The Circus Box yet, don't worry – you can visit our website store and grab yours now! For now, join us to discover what's inside The Circus Box!
What's Inside The Circus Box?
The Circus Box is packed with 2 fun math games, 3 adorable literacy activities, a circus-themed craft for creativity, and a cute sensory toy. We've also added a guide for grown-ups to help you. Want more crafts? Check out our Craft Lovers Upgrade. Get ready for loads of fun and learning!
Activities for Learning Math
1 Clown Cannonball
Materials: Clown Cannonball cards, red Bingo chips
Game mechanics: Experience the excitement of the human cannonball act as the clown is shot out of the cannon! To play, choose a Clown Cannonball card and put red Bingo chips on the circles at the card's bottom. Begin at the cannon and move towards the clown, marking each circle you pass with a chip. The total number of chips you use reveals the distance the clown has traveled. Enjoy the fun of measuring the clown's epic journey!
About the game: The Clown Cannonball game enhances kids' counting skills while measuring the clown's distance using non-standard units (Bingo chips). By placing chips on the card and counting them, children grasp fundamental concepts of measurement and numerical awareness, while also practicing their fine motor skills in a playful setting, nurturing their math abilities in an enjoyable way!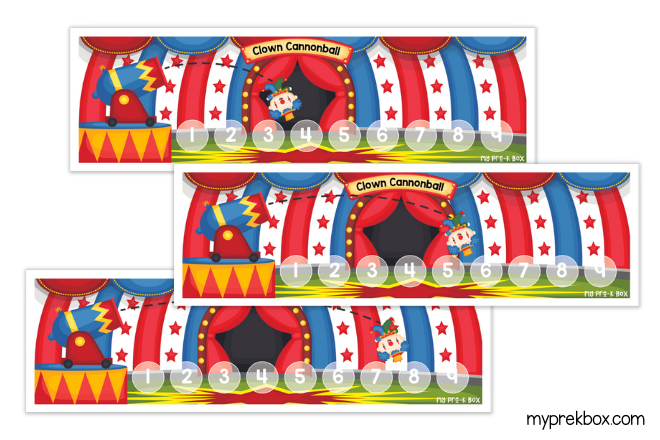 2 Circus Concessions Stand
Materials: Concessions game mat, Concessions cards, "dollar" coins
Game mechanics: Get ready to serve in the Concessions game! One player chooses a food order card, like asking for soda and peanuts. The other player looks at the menu on the game mat to know the prices (soda is $1, peanuts are $2). The first player places "dollar" coins on the mat for each item, like 1 coin for soda and 2 coins for peanuts. Then, they count the coins to see how much their order costs, practicing counting and money skills in a fun way!
About the game: In the Circus Concessions Stand game, your little ones will develop pre-reading abilities by interpreting food orders from cards. Through the game mat's menu, they'll learn number identification as they associate prices with the items. Counting skills will also be practiced as they place "dollar" coins and add up costs for different orders. This engaging activity nurtures counting, adding, and number recognition skills while fostering an early understanding of monetary concepts. It's great for dramatic play too!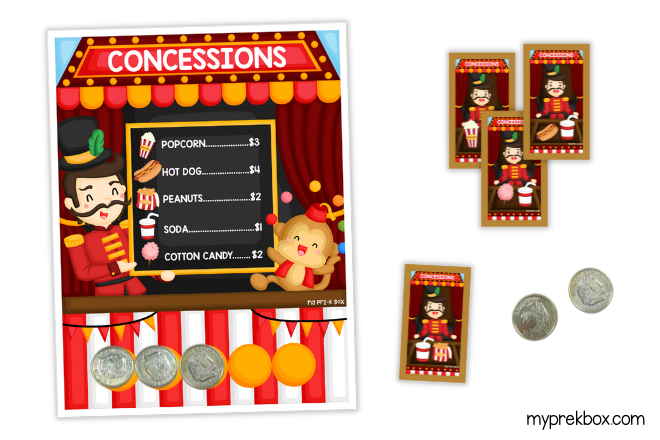 Ready for a surprise?

We've got a great back-to-school gift craft for you!

It's back-to-school season and if you're looking for a simple but cute craft for your little ones, our Print & Go Back Pack Card Craft is a great way to kickstart this school year! It includes a printable template of the backpack card craft which you can assemble together with your child. Learn more about the Print & Go Back Pack Card Craft here, and get your FREE copy now!
Literacy Activities
1 World's Strongest Man Match
Materials: World's Strongest Man Match cards
Game mechanics: Engage in the strength show with the World's Strongest Man matching game and explore letter sounds! Split the cards into two groups: one with letters and another with pictures. Choose a letter card, like "B," and tell your child its sound, "/b/." Ask them to find a picture that begins with the same sound. For instance, does "monkey" start with the /b/ sound? No, but "balloons" does! Put together the matching cards to complete the picture, making learning about letter sounds exciting and interactive.
About the game: This game helps develop vital skills such as letter recognition, understanding letter sounds, and identifying the beginning sounds of words. Through engaging in matching activities, children will strengthen their ability to associate letters with their sounds and to identify words that share the same initial sound. This playful exploration of letter-sound relationships will foster early reading readiness and phonemic awareness in an enjoyable and interactive way.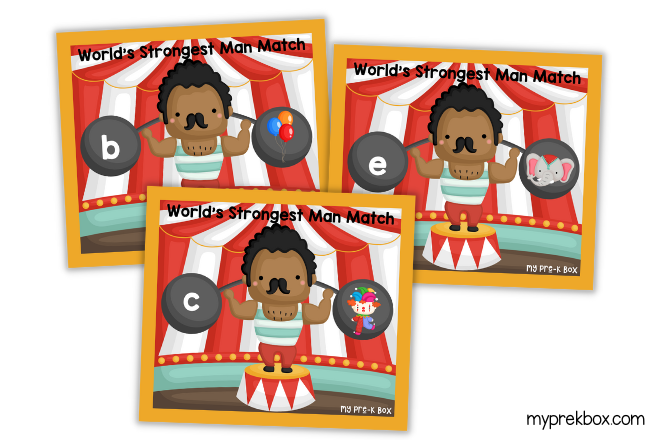 2 Tickets, Please!
Materials: Tickets game mats, ticket cards, scissors
Game mechanics: Prepare for the big show at the ticket booths! Discover syllables as you decide which booth to hand your ticket to. Cut slots on the Tickets game mats for ticket collection. Fold the flaps to stand up the 3 booths. Identify 1, 2, and 3 syllable booths. Pick a ticket card, like "magician." Break the word into syllables, clapping for each [(ma- (clap) -gi- (clap) -cian (clap)]. Your child repeats and raises fingers for each clap. Count the syllables based on fingers raised (3 for "magician"). Then, slip the card into the matching booth. Continue until you have sorted all the tickets!
About the game: The Tickets, Please! The game offers an engaging way for kids to develop phonological awareness by learning to segment words into syllables through clapping. They will also make use of their counting and sorting abilities as they identify the number of syllables and place the ticket cards in the correct booths. This game activity assists in developing early reading readiness, and phonemic awareness, and encourages effective sorting and categorization skills.
3 Traveling Circus Board Game
Materials: Traveling Circus game mat, circus erasers, two playing pieces, spinner arrow, spinner base
Game mechanics: Get ready for circus fun! The traveling circus is packed up, and you can win by being the first to collect four erasers and reach the circus truck at the finish line. Begin by placing your piece at the ticket booth. Spin the spinner on your turn, and move your piece to the next spot with the spun letter. If you land on a circus station like the Souvenirs Shop or Performers' Tent, grab its eraser. Everyone gets an eraser at a circus station. The first to collect all four erasers and reach the circus truck wins! Enjoy this exciting game of collecting and moving to victory!
About the game: The Traveling Circus Board Game offers a fun way for kids to learn letter identification and letter sound recognition as they spin the spinner and move their piece based on the letter landed on. It also involves taking turns, which fosters social skills and patience. Through playful gameplay, children improve their ability to associate letters with their sounds and practice cooperative interaction.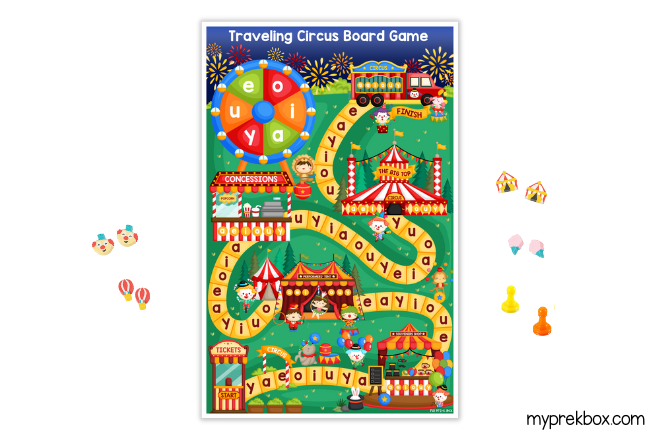 Sensory play and crafts
1 Hanging Trapeze Animal Craft Kit
Create your own thrilling circus scene with the Hanging Trapeze Animal Craft Kit! Craft an adorable elephant, attach them to mini trapeze bars, and hang them up for a gravity-defying display.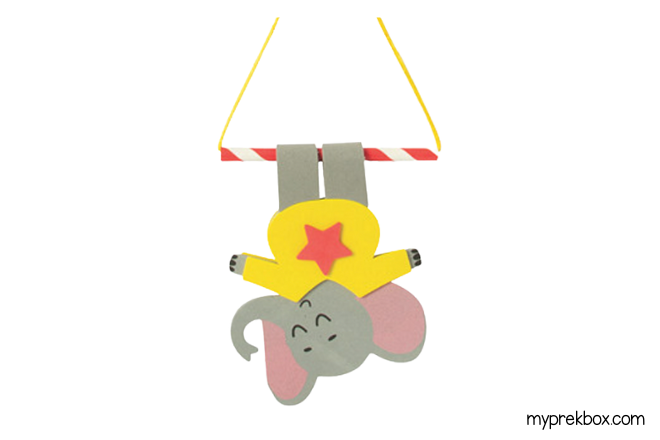 2 Clown Nose
Experience giggles and sensory delight with the Clown Nose! This squishy and soft toy engages tactile senses, offering a playful way to explore textures and have endless fun. Whether you're squeezing, squishing, or simply wearing it for a hilarious look, the Clown Nose is a whimsical and entertaining addition to sensory playtime.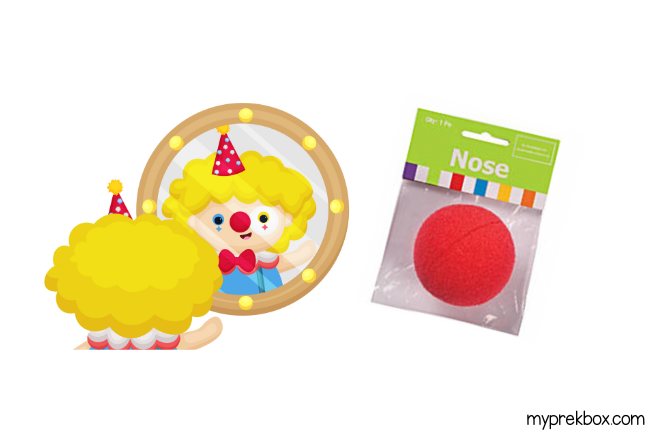 Craft Lovers Upgrade
If your preschooler loves our crafts, subscribe to our Craft Lovers upgrade now to receive even more exciting crafts that enhance your child's creativity, turning every month into a journey of discovery through their artistic talents!
1 Clown Face Picture Frame Magnet Craft Kit
Craft smiles and memories with the Clown Face Picture Frame Magnet Craft Kit! Design and decorate your own cheerful clown face picture frame magnet. Add a touch of whimsy to your fridge or any magnetic surface while showcasing your favorite photos.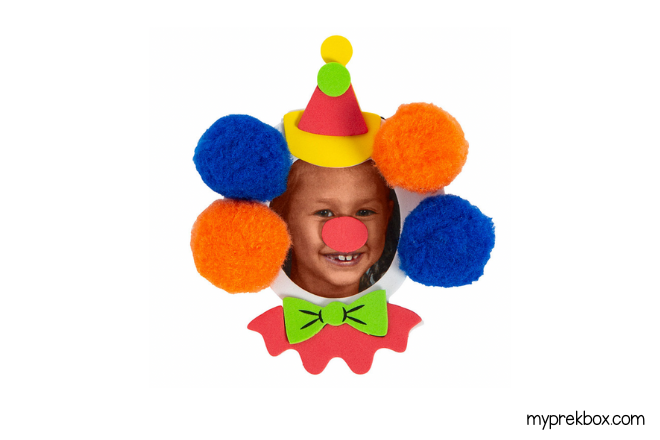 2 Clown Craft Stick Craft Kit
Transform ordinary craft sticks into a lively and lovable clown character. This hands-on craft kit sparks creativity and guarantees endless smiles as you bring these charming clowns to life.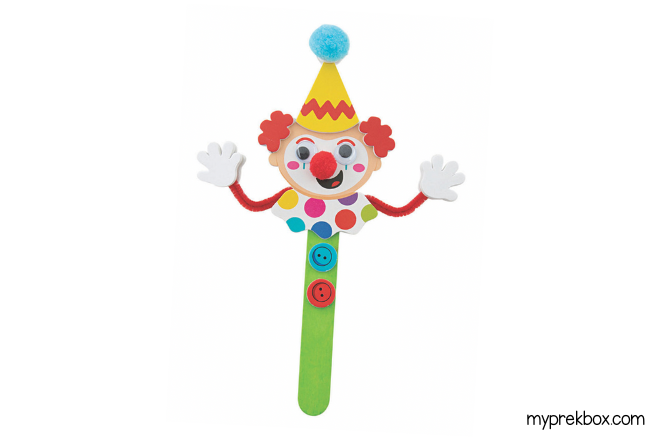 Grownup Guide
This Grownup Guide will be your essential companion to navigate the world of My Pre-K Box! This handy manual empowers grownups to effortlessly guide kids through the games and activities, ensuring a smooth and enjoyable learning experience!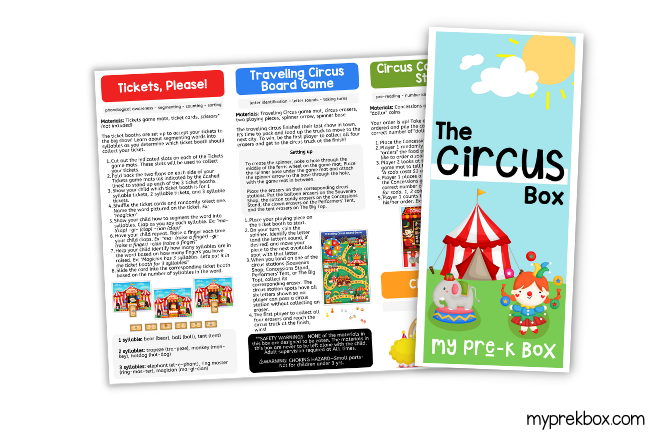 Incorporating these delightful circus-themed activities into your day is a surefire way to spark joy and imagination in both children and adults alike. From crafting your own clown face picture frame magnet to exploring math games, each activity offers a unique opportunity for bonding, learning, and laughter!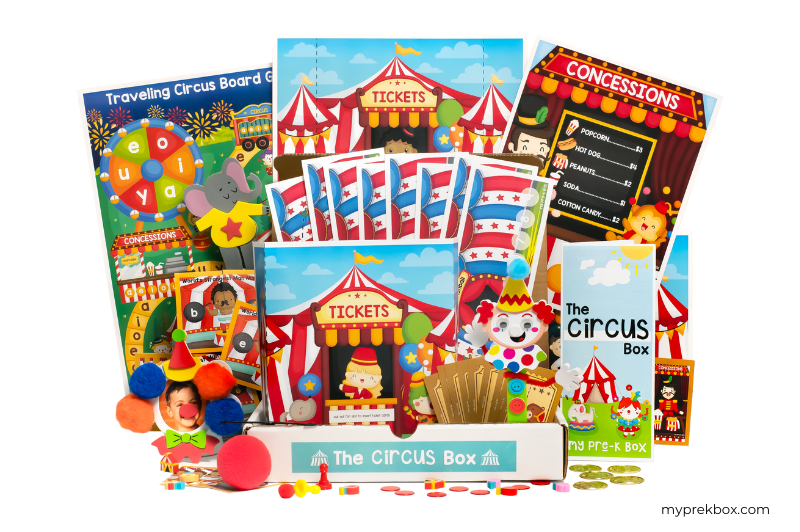 We hope you had fun with our tour inside The Circus Box! The games and activities are adorable and educational, making them irresistible to kids! If you're not yet subscribed to My Pre-K Box and want to learn about more of our featured My Pre-K Boxes, take a look at our highlighted blog posts!
Why Choose My Pre-K Box?
1 Activities are play-based and learner-centered.
Every single activity is well-thought and child-friendly, and ensures learning while having fun!
2 Easy and effortless
If you would be the one to research and prepare the crafts yourself, it would be too tiring and time-consuming. But if you subscribe to My Pre-K Box, it will be delivered to your door every month, hassle-free and easy right? You can have more time for fun and quality family time!
3 Affordable prices
The monthly subscription plan costs $37.95 each month. Or you can save more by committing to a 6-month term ($32.95/month) or a 12-month term ($30.95/month). We also have regular promos and discounts! Check out our current promos here, or choose your plan now!
4 High-quality materials
All the contents of the box are carefully selected and are of top quality to ensure the safety of your kids! Most are also reusable, so your child can play it over and over again!
5 Great customer service
100% Happiness Guaranteed! We make sure to give you unparalleled customer satisfaction. If you have a problem, we will solve it. Because as you support our family business, we also treat you like family.
Don't miss out! Subscribe now and kickstart a fun learning adventure for your kids!

Let's Connect
How was your experience with The Circus Box? Share the adorable photos and your experiences by tagging us @myprekbox or using the hashtag #myprekbox! And while you're at it, leave us a LIKE and FOLLOW us on our Facebook and Instagram pages! See you there!
Haven't Tried My Pre-K Box Yet?
My Pre-K Box is the best subscription box for

kids 3-5 years of age!

Everything you need to play, create, explore,

learn, laugh, and enjoy!