Christmas is indeed the merriest, yet the busiest season of all! But even as busy parents, we want our children to feel the spirit of Christmas. So aside from decorating the Christmas tree and wrapping up some gifts with them, you are probably thinking of a fun activity that would keep them excited till Christmas day, like The Elf on the Shelf! But then, you're too busy to set up one every day. If that's the case, our Instant Antics Elf Kit is the best solution! Read on to find out more about this adorable Christmas treat we have in store for you and your little ones.
My Pre-K Box: The number

1

subscription box for preschoolers!
Do you love crafts and cute learning activities but find yourself spending more time looking and preparing them rather than actually doing the activities with your preschooler? We developed no prep learning kits for a busy parent like you! With our educational subscription box, each month we mail your preschooler a learning kit with a fresh new theme! Their package is packed full of fun, hands-on, play-based learning that preschoolers LOVE to do! You'll love how fun and easy it is!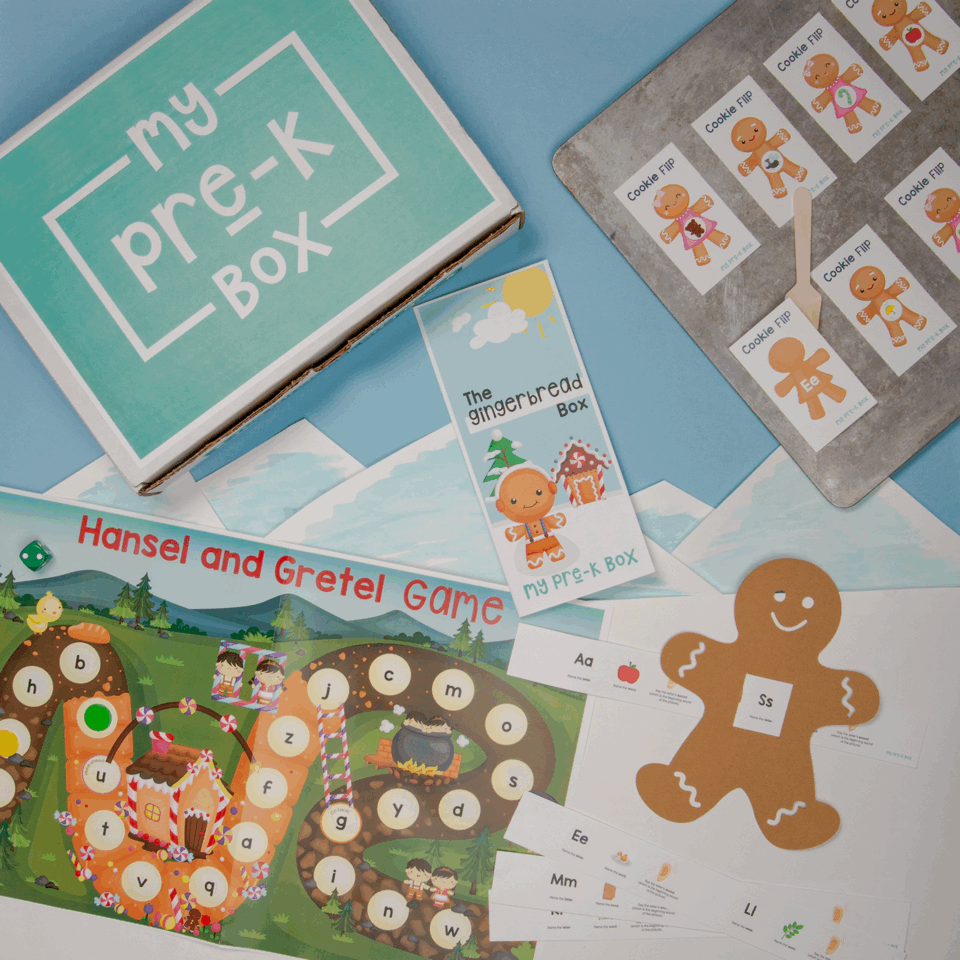 We love helping out busy families through our no-prep hands-on activities at My Pre-K Box. And this Christmas season, we want to help you too in keeping the Christmas spirit alive by bringing you our version of the Elf on the Shelf - but an easier and more convenient one, the Instant Antics Elf Kit!
What is the Instant Antics Elf Kit?
Our Instant Antics Elf Kit is a done-for-you elf kit that you can use to keep the elf on the shelf tradition alive while keeping your kids entertained too! It started with the belief that a scout elf visits our home every day and goes back to the North Pole every night for 24 days to report to Santa about the child's behavior. Every morning, kids find it in a different spot in a new pose, making them think that the elf really moved and came back! And though it is not real, it has been part of the tradition and it keeps kids well-behaved believing that the scout elf really reports to Santa!
With our Instant Antics Elf Kit, you can have less effort but more fun! Because instead of planning, researching, and finding stuff to set up a scout elf yourself every night, we prepared fun-filled scenes and adventures for him!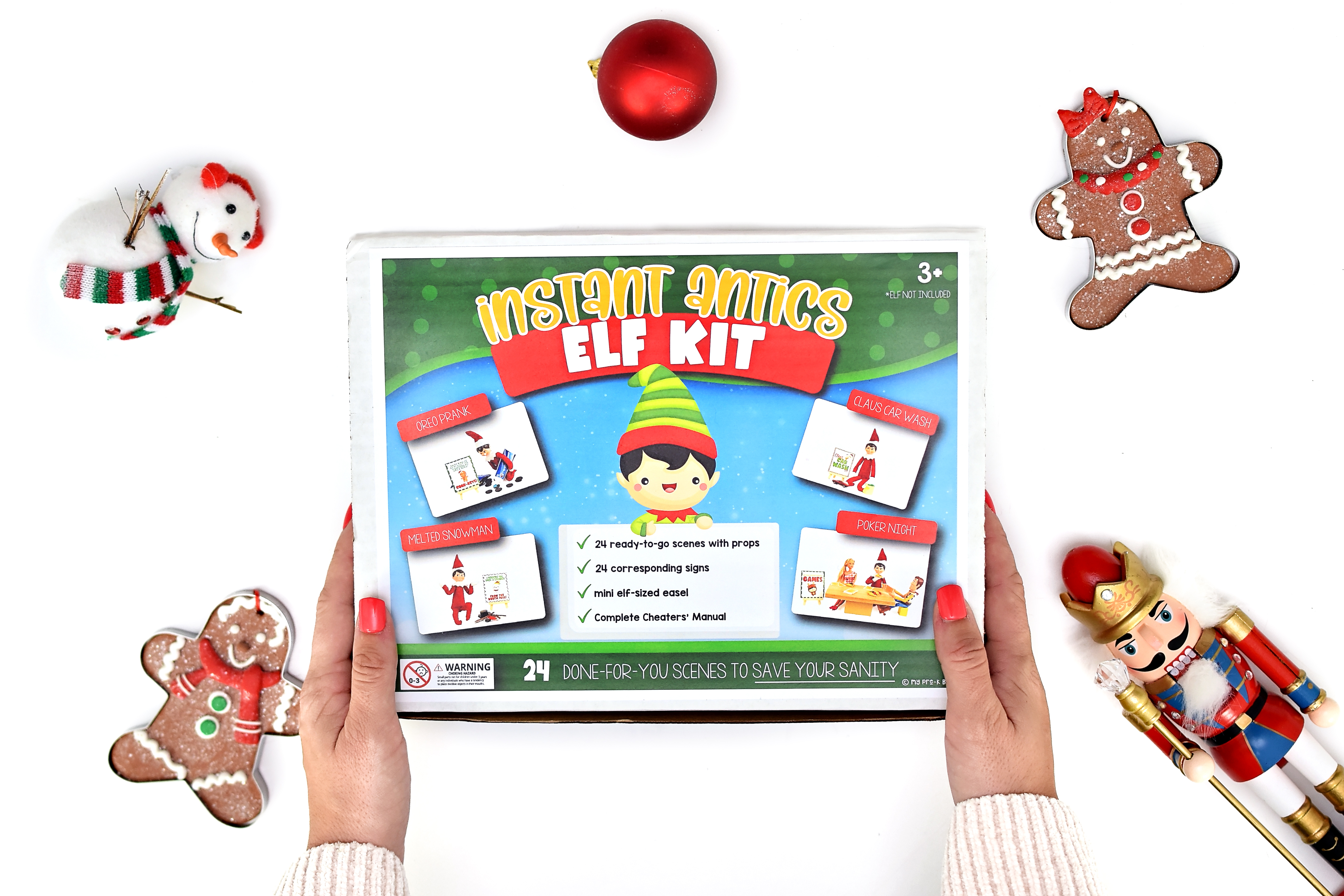 What does the Instant Antics Elf Kit include?
The Instant Antics Elf Kit includes 24 hilarious premade elf adventures for your kids to wake up to each morning! The 24 done-for-you scenes is included in the Complete Cheaters Manual with both visual and written instructions! Our Instant Antics Elf Kit also includes:
Adorable props

An elf easel

24 corresponding signs

Official Elf Report on child's behavior

Month-at-a glance overview

Simple instructions for each day

Photographs of each set-up

Includes over 75 pieces

*Note: Elf and dolls not included
Check out some of the fun and adorable setups using the Instant Antics Elf Kit!

Reserve my Instant Antics Elf Kit
Why should you get our Instant Antics Elf Kit?
Okay, so why should you buy something that you can make yourself? If you are a subscriber of My Pre-K Box, you already know the convenience it brings to busy parents as it includes play-based, no-prep learning activities. The same goes with the Instant Antics Elf Kit! Here's why:
1 Save time
With the Instant Antics Elf Kit, you will not have to busy yourself in thinking, researching, and planning for ideas for the Elf on the Shelf! We got everything prepared for you. All you have to do is set it up according to our Cheaters Manual at night, and you can have a good night sleep!
2 Reduce stress
You have a great idea for the Elf on the Shelf, but now you're stressed out trying to find the props needed for it! You tried to make DIYs but it failed or you're maybe too tired to make one. But if you get the Instant Antics Elf Kit, it will surely reduce your stress because almost everything is already included in the kit! Even the Complete Cheaters Manual is so easy to use - it has both written instructions and pictures. No complicated and confusing details!
3 Make memories
When you are well-rested and stress-free, you can make fun memories with your kids as they wonder each morning about the scout elf's adventures! Talk about the scenes the elf is in or explain the humor behind it. Use their favorite toys on scenes that require extra props to make them more engaged! They'll surely never forget that their favorite toy played with Santa's elf!
4 Create magic
Keep kids motivated to behave with the Official Elf Report on child's behavior included in the kit! And hopefully, they can keep up the good deeds all throughout the year even without the scout elf looking at them! You can definitely create magic with The Instant Antics Elf Kit as it help you keep the Christmas spirit alive in the simplest and most convenient way.
Get the Instant Antics Elf Kit
Is the Instant Antics Elf Kit affordable?
Yes! With over 75 pieces included in the kit, free shipping, plus the convenience it brings you for 24 days (and helps keep your sanity intact!), this is affordable and worth your money. And if you get your Instant Antics Elf Kit now, you can get a $20 discount!

Just use the code ELFKIT20 when you check out!
Thanks for reading up to this part!

Here's another freebie for you!

If you enjoyed crafting with the Christmas Craft Pack, add this Snow Globe Craft to your crafting to-do-list for more Christmas and winter feels! Use it to as a Christmas decor or hang it on your Christmas tree. Or let your kids do this as gift for family and relatives! Learn more about the Print & Go Snow Globe Craft in this blog post, or download a copy here.
You see, Christmas season can be the busiest time, but it doesn't have to be stressful for you and your kids! Try the Instant Antics Elf Kit today to create magic and Christmas memories with your family. So what are you waiting for? Get your Instant Antics Elf Kit while supplies last!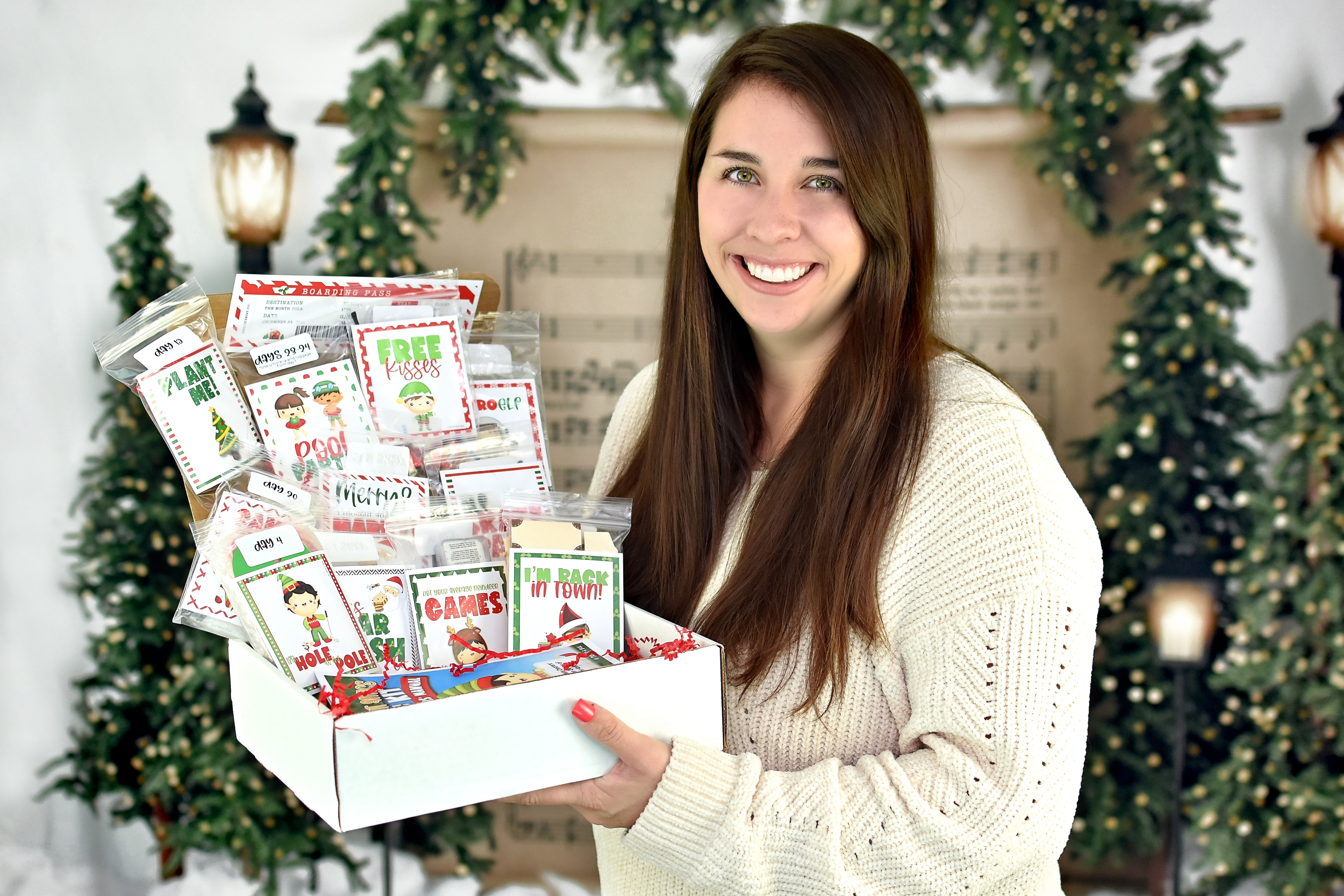 Let's Connect
We'd love to hear from you! Send us your feedback, comments, questions, and suggestions at hello@myprekbox.com on our social media pages. While you're at it, please LIKE and FOLLOW us on Facebook and Instagram for more updates, promos, and fun activities to do at home with your little ones! See you there!
Haven't Tried My Pre-K Box Yet?
My Pre-K Box is the best subscription box for

kids 3-5 years of age!

Everything you need to play, create, explore,

learn, laugh, and enjoy!