There are lots of cute snow globe crafts online, and if you're looking for an easy, less messy, and personalized option, try our simple version made much easier with a printable template! Wanna learn how to make one? Check out this blog post for a step-by-step guide, learn how to get the template, and get more freebies along the way!
My Pre-K Box: The Perfect Preschool Box for You!
My Pre-K Box is an educational subscription box for preschoolers filled with different learning activities for math and literacy skills! With fresh new themes each month, your child will delight in all of the fun, play-based learning activities inside! Prepped and delivered straight to your door, My Pre-K Box is so much fun, your child won't even realize how much they're learning!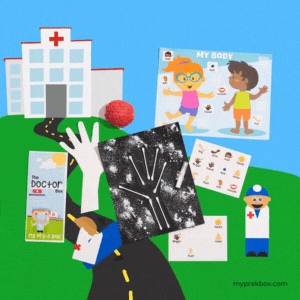 Got no time to look for supplies, bottles, cups, or whatever you can use for the snow globe? This version of snow globe craft might just be perfect for you! It requires just a few materials and the printable template just made it more convenient! And your little one will surely love it because it features his very own photo on it!
Materials for the Snow Globe Craft:
printer

paper or cardstock

colored markers

scissors

plastic sheet

paintbrush

white acrylic paint

(your) child's picture
Wait up!
Here's your welcome gift!
Grab these cute winter-themed worksheets for FREE today! The Snow Preschool Fun Pack includes 8 activity sheets for preschool kids that will help them practice and develop literacy and math skills. They can be Kindergarten-ready with this learning pack while still having lots of fun! Read more about the Snow Preschool Fun Pack here.
Included in the FREE Preschool Snow Worksheets:

Snowglobe Counting

Grouping Objects

Count and Compare

Snowy Letter Match

I Snow Beginning Sounds

Matching Snowmen

Snow Gear Sorting

Winter Patterns
How to make your own Snow Globe Craft:
Step 1 Download and print our Print & Go Snow Globe Craft template. It includes two versions - a black and white and a colored version.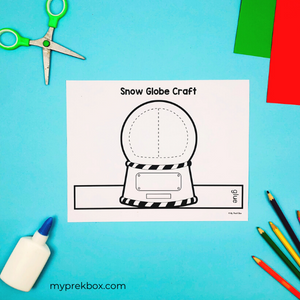 Step 2 If you prefer the black and white version, use the markers to color the snow globe. Skip this step if you will be using the colored version.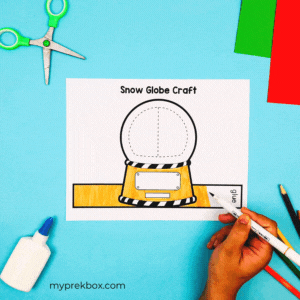 Step 3 Cut out the inner circle of the snow globe. Just follow the broken lines to create a hole in the middle.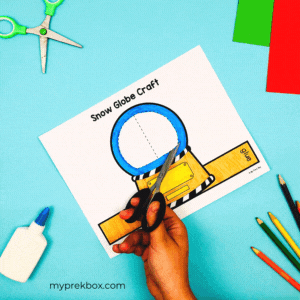 Step 4 Attach the plastic sheet at the back of the snow globe.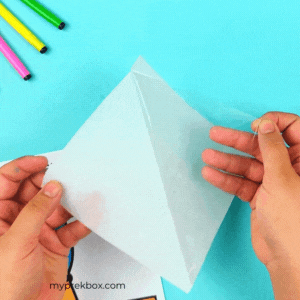 Step 5 Paint a snowy scene! Use the paintbrush and white acrylic paint to create a little winter-themed background. Then cut out and paste your child's picture on it. You can also place another plastic sheet on top of it to make it sturdy.
Step 6 You're almost done! Cut out the snow globe craft and write your child's name in the space below the globe. You can also let them write their name on it if they can do it themselves.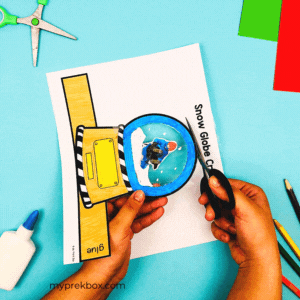 Step 7 Glue the ends of the bottom part of the snow globe to make it stand. Now your snow globe craft is complete!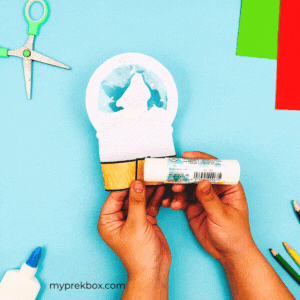 That was so much fun! You can now use it as standing holiday decor, or hang it on your Christmas tree! You can even make more for each of your family members, or help your preschooler to give it away as Christmas gifts for everyone!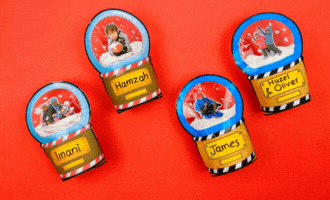 Enjoying the Snow Globe Craft?

Here's your prize for a job well done!

Most penguins love the snow, so this coming winter why not try this Penguin Origami craft? Origami is the Japanese art of paper folding, and it is a fun and creative way to help kids improve their fine motor skills. Try making a Penguin Origami craft with this printable guide! Read about it in this blog post, and grab your free copy now!
What will your child learn while making the Snow Globe Craft?
The Snow Globe Craft is a simple way to practice their fine motor skills. Because as they color, cut, paint, and assemble it, their tiny fingers and hand muscles do the work! This strengthens their hand muscles and helps make their movements smoother and more precise. Soon, and with more practice through our fun crafts and activities, they'll be Kindergarten-ready before you know it!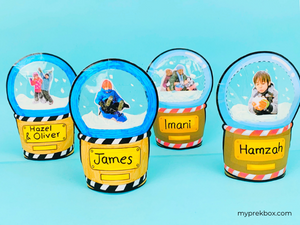 If your little one loves making this Snow Globe Craft, he surely has a knack for fun and exciting crafts! Surprise him EVERY MONTH with educational learning tools from My Pre-K Box – the best subscription box for preschoolers! Our boxes are filled with fun crafts and lots of exciting hands-on activities! Each month features a new theme, which lots of kids look forward to. My Pre-K Boxes are all play-based while targeting math and literacy skills. It also includes sensory play, fun thematic crafts, and a grownup guide.
The games and activities in My Pre-K Boxes are made with love and guaranteed to be of top quality. It is also kid-and-adult-friendly, very practical, and reusable! If your child has siblings, it can be shared and can be used again and again! We also offer duplicates of the crafts, since these are mostly not reusable. You can get a duplicate for his/her siblings for only $3.25 a month! Craft lovers can also subscribe to our Craft Lovers Upgrade, which comes with more fun crafts and two additional arts and crafts activities for just $4.25 per child.
With all the fun and exciting activities inside My Pre-K Box, your child won't even notice he's learning a lot! And as parents, we wouldn't have to worry about the hassle of searching, planning, and making the activities! We can simply guide and watch them learn in the convenience of our home - with the help of My Pre-K Box!

Let's Connect
We'd love to see the Snow Globe Craft you and your child made! Share it through a social media post, and don't forget to tag us @myprekbox or use the hashtag #myprekbox! And if you haven't followed our sites just yet, leave us a LIKE and FOLLOW us on Facebook and Instagram! See you there!
Haven't Tried My Pre-K Box Yet?
My Pre-K Box is the best subscription box for

kids 3-5 years of age!

Everything you need to play, create, explore,

learn, laugh, and enjoy!