One of my absolute favorite childhood memories was making s'mores around a campfire during the summer months. This is a tradition my family and I do every summer now, and I love seeing them enjoy it as much as I did growing up. I mean, what's not to love about a s'more? Today I am sharing with you a fun spin on traditional s'mores making - solar oven s'mores!!
My Pre-K Box: The Best Educational Subscription Box for Preschoolers
My Pre-K Box is an educational subscription box for preschoolers aged 3-5! We deliver the most fun play-based preschool learning available! Each box has its own unique theme and is filled with different learning activities to target math and literacy skills. Your kids will have fun exploring the new activities, and you will delight in the fact you are helping them with essential Kindergarten readiness skills!
Looking for More Summer Preschool Acitivites?
Check out our FREE camping-themed preschool worksheets! These camping-themed worksheets are the perfect compliment to your Fireworks in a Jar experiment and teach your preschooler important skills like:

Letter matching

Size comparisons

Counting

Sorting

Patterns

Sound matching

Map concepts

...and more!!
Download your FREE Camping Preschool Fun Pack!
Solar Oven S'Mores
Do your kids love to play outside during the summer? My boys do! So much so that sometimes bringing them inside for activities can be challenging. But guess what, that is A-okay with me because there are SO many fun, engaging learning experiences that can be done outside!! Just like this activity I'm sharing with you all today - solar oven s'mores. I am certain this experiment will easily become a favorite for your children too!
Materials:
Empty pizza box

Craft knife or scissors

Aluminum foil

Graham crackers

Marshmallows

Chocolate bars

Plastic wrap

Tape

Stick or wooden dowel
How to Make Solar Oven S'Mores
Step 1 Use a craft knife (or scissors) to cut the "oven door" in the top of the pizza box. *cut down, over, and up but not across the top!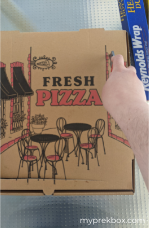 Step 2 Put aluminum foil on the inside of the box.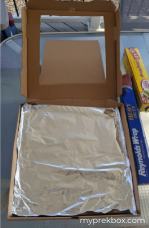 Step 3 Cover the inside of the "oven door" with foil.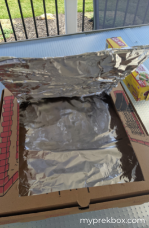 Step 4 Place a graham cracker, marshmallow, and chocolate inside the solar oven on top of the foil!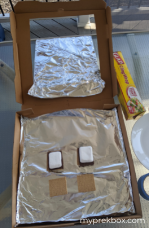 Step 5 Wrap the base of the oven, over top of the s'mores, with plastic wrap.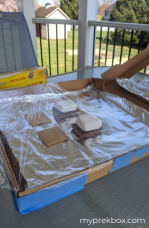 Step 6 Place your oven outside in direct sunlight. *Use a stick or wooden dowel to hold the top open at an angle.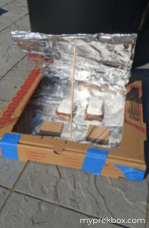 Step 7 Watch and you will start to see the chocolate melting and the marshmallows puffing up from the heat. The time it takes to cook will depend on the temperature outside.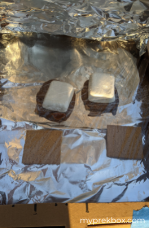 Step 8 Open the top and unwrap the plastic wrap.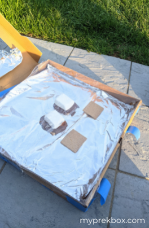 Step 9 Assemble your s'mores and ENJOY!!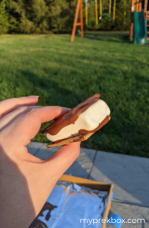 Step 10 Discuss with your child the science behind the solar oven!!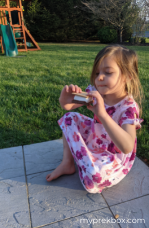 The Science Behind Solar Oven S'Mores
There are a variety of different STEM-based principles that you and your child can discuss either as you are enjoying your s'mores! We talked about how the sun is the heat source and other sources of heat that are used for cooking (oven, stove, fire, microwave, etc.) We also discussed the purpose of both the foil and plastic wrap. The foil helps to reflect the light from the sun and maximize the light coming into the oven. Then the plastic wrap traps the light particles, called photons, to generate heat. Lasty, we talked about how different weather conditions would affect the result, for example if it was cloudy or cold.
Let's Connect!
We absolutely LOVE seeing your preschoolers learning through play! Please take photos and videos of this delightful preschool science experiment and share your photos of your Solar Oven S'mores with us on Facebook and Instagram!!
Also, if you aren't already, be sure to follow us on Facebook and Instagram for more fun activities to do at home with your little ones!
Haven't yet tried My Pre-K Box?
My Pre-K Box is the best monthly subscription box for kids ages 3-5.

Everything you need to create, play, laugh, and learn!