STEM skills sound like a big deal, but they don't have to be difficult. In fact, implementing STEM learning in your own home can be extremely simple. Below, we'll look into an entertaining and easy way to bring science, technology, engineering, and math topics into your home — robot style.
My Pre-K Box: The Best Educational Subscription Box for Preschoolers
My Pre-K Box is an educational subscription box for preschoolers aged 3-5! We deliver the most fun play-based preschool learning available! Each box has its own unique theme and is filled with different learning activities to target math and literacy skills. Your kids will have fun exploring the new activities, and you will delight in the fact you are helping them with essential Kindergarten readiness skills! This activity pairs perfectly with The Robot Box.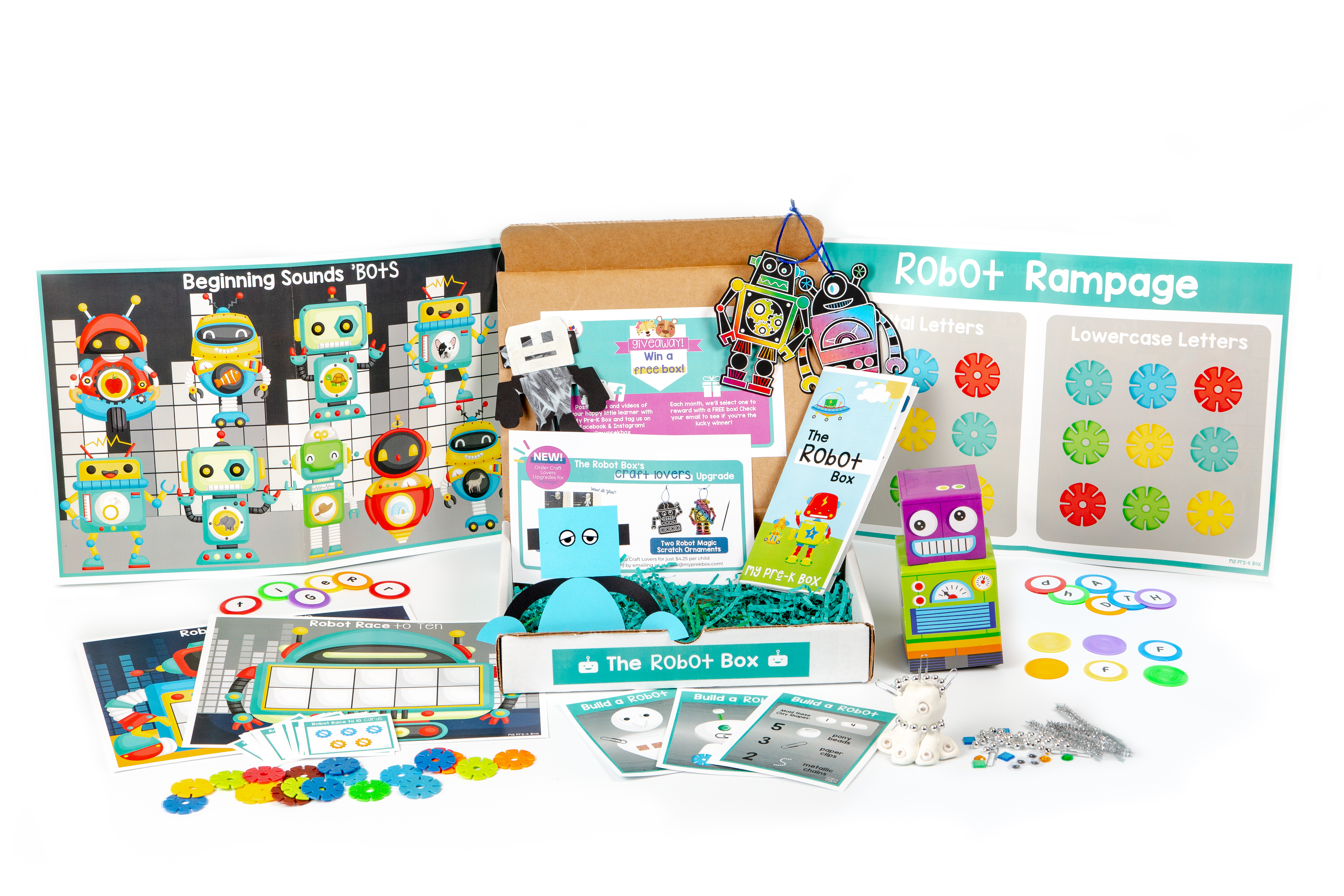 Looking for More STEM Preschool Acitivites?
Check out our FREE Preschool Science Fun Pack! These activities are great for teaching your preschooler important concepts like:

Labeling parts of a plant

Weight of different objects

Taste

Animal habitats

Seasons

Weather

Sorting trash, recycling, and compost

...and more!!
FREE Preschool Science Fun Pack
Robot Stacking
This easy STEM activity for preschoolers is just plain fun on multiple levels. First, it lets kids create something from their imagination. What do robots look like in their minds? It's time to let that vision come to life!
The project involves creativity, decoration, planning, and building. It can be made simpler or more difficult to suit your child's age and ability levels, too.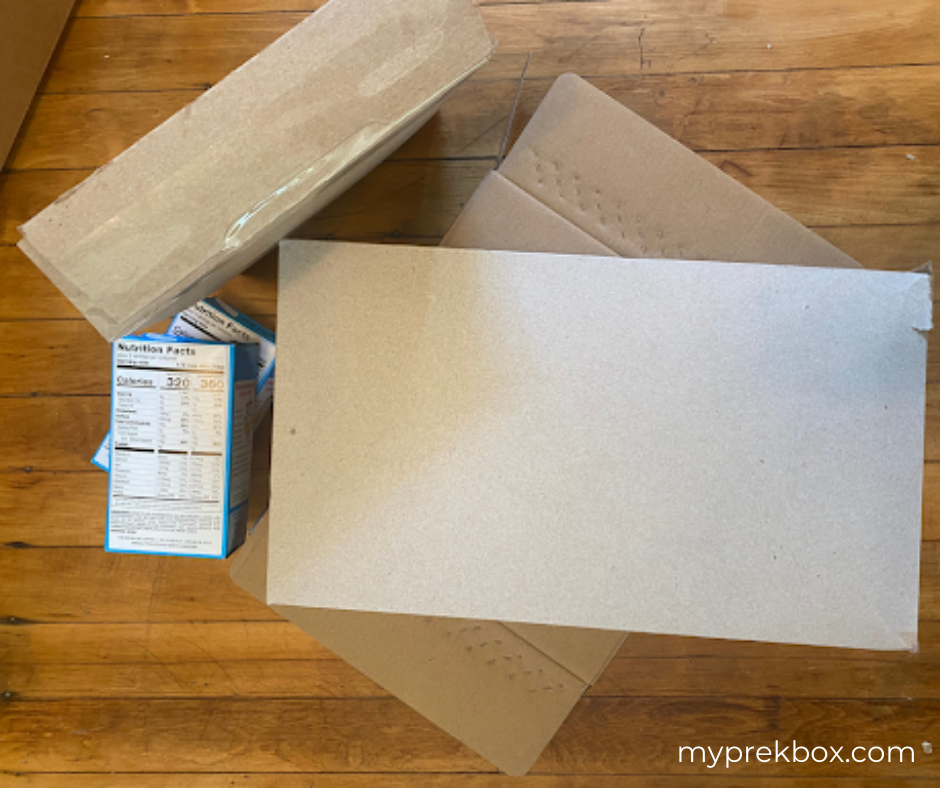 Materials:
6-10 cardboard boxes in various shapes and sizes (If you're short on boxes, use a few paper towel or toilet paper rolls, too)

Arts and crafts supplies of your choosing (paint, glue, pipe cleaners, googly eyes, construction paper, tin foil, etc.)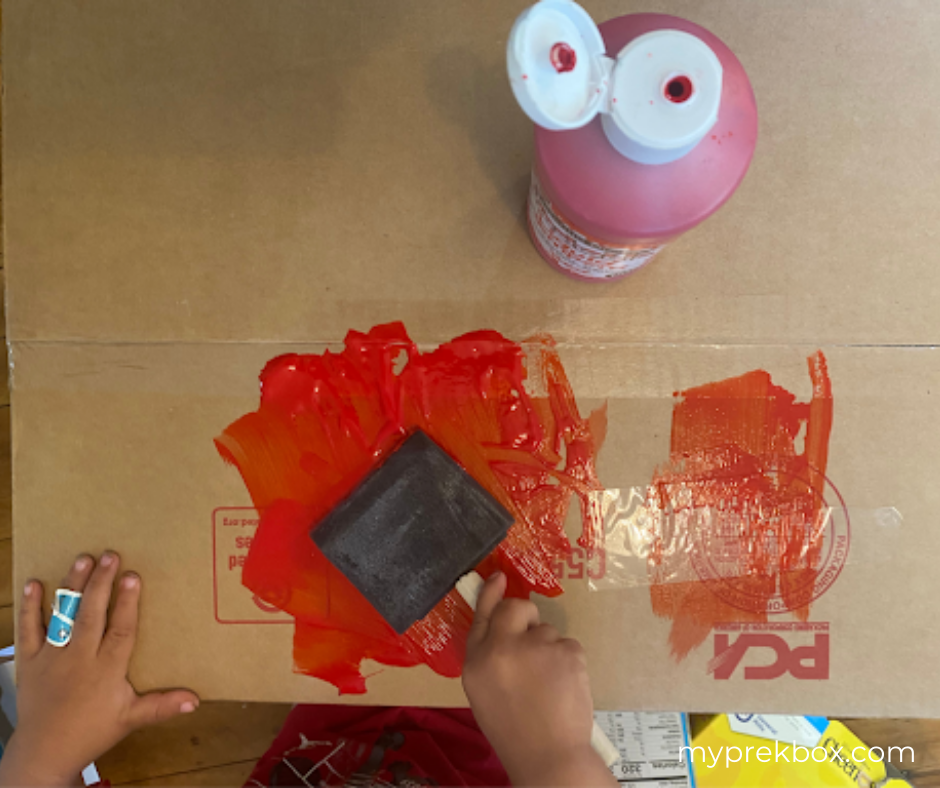 Instructions:
Step

1

Lay out your project supplies and make a plan with your child. Which box will be the head? Which will be the body?
Step

2
Decorate your pieces! Give your robot a creative personality to make things more fun. What does your robot do? Where does it live. These make-believe questions keep kids engaged while encouraging them to create something of their very own, too.
Step

3
It's time to stack. Gear up those STEM skills and put your robot together. Balance the boxes on top of one another to make them look like a real-life robot. Is the robot tipping over? How can you make it stronger? What can you use to hold the arms in place? Your inquisitive little one will need plenty of scientific, mathematical, and engineering skills to complete this fun task.
Check out our robot tower creation!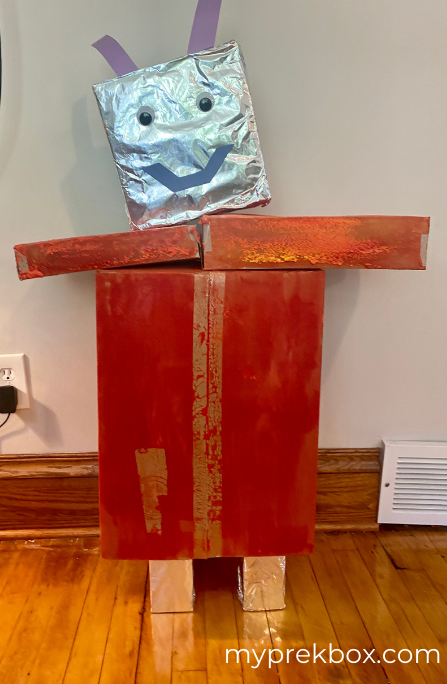 What will you learn while you stack your robot? We discovered that the feet needed to be the same height in order for the perfect balance to be achieved!
What STEM Skills Does This Robot Tower Teach?
At first glance, this easy STEM activity for preschoolers may just look like another craft. However, it's actually filled with all sorts of skills. To explain exactly what these are, we'll look into the science, technology, engineering, and math practices that come along with block play:
Early Math Skills — For the youngest explorers, each block (or box, in this case) used can be counted as it's set into place. This number practice builds on the early math skills our kids need before they enter kindergarten.
Fine Motor Skills — Fine motor skills are essential as kids attempt to set blocks down in the perfect place. They also support the ability to use hands for creation — a skill that's essential in engineering tasks down the line.
Balance and Symmetry — Why do blocks fall when they're placed in a certain way? Why do they stand strong when they're done differently? This balance practice teaches young minds all about stability and why it's so necessary in engineering today.
Spatial Reasoning — Spatial reasoning is the ability to use and think about three-dimensional objects. It's absolutely essential in not only math, but everyday life as well. Touching blocks and setting them together with pieces in similar and different shapes is one of the best ways to strengthen this skill.
So, even though this is an easy STEM activity for preschoolers, it's an activity that's sure to engage your children while teaching them all about science, technology, engineering, and math along the way. For more fun and simple STEM activities to complete with your child at home, check out My Pre-K Box. Our subscription service is filled with projects, crafts, lessons, and more to get your child learning and growing from the comfort of your own home.
Let's Connect!
We absolutely LOVE seeing your preschoolers learning through play! Please take photos and videos of your child's robot stacking tower creations and share your photos with us on Facebook and Instagram!
Also, if you aren't already, be sure to follow us on Facebook and Instagram for more fun activities to do at home with your little ones!
Haven't yet tried My Pre-K Box?
My Pre-K Box is the best monthly subscription box for kids ages 3-5.

Everything you need to create, play, laugh, and learn!