On your marks, get set, GO! 🏃‍♂️ 🏁
You've probably heard this phrase at every sports event you've attended. And today, we want you to get ready as we share with you a "sporty" way to enjoy learning, even indoors! Read on to learn more about our new sports-themed worksheets, and how you can get them for FREE!
My Pre-K Box - No prep learning kits for your little ones!
My Pre-K Box is an educational subscription box for preschoolers filled with different learning activities for math and literacy skills! With fresh new themes each month, your child will delight in all of the fun, play-based learning activities inside! Prepped and delivered straight to your door, My Pre-K Box is so much fun, your child won't even realize how much they're learning!
Let's get ready to rumble! 📣📣📣
Nah, just kidding! I mean, let's get ready to LEARN! Yes, your little sports enthusiast will surely enjoy learning with our sports-theme worksheets. It will absolutely catch their attention as they'll see all sorts of balls and other sports-related equipment on each page! They probably wouldn't even notice that they are practicing counting, letters, sounds, cutting, colors, and more! Come and let's see what's included in this adorable Sports Preschool Fun Pack.
How to Use the Sports Preschool Fun Pack
Simply download the Sports Preschool Fun Pack, print it on white paper, prepare other needed materials, and start having sports-themed fun while learning! You can also use one worksheet at a time and then play your kids' favorite sport together!
What's included in the Sports Preschool Fun Pack?
Count and Bounce

Sporty Patterns

I am a Champion!

Matching Sports

Graph, Count, and Play!

Bowling Letters

Alphabet Dribble

Striking Sounds
Materials:

My Pre-K Box's Sports Preschool Fun Pack

printer

paper

pencil

crayons or markers

scissors

glue
Check out the

8

worksheets included in the Sports Preschool Fun Pack!
1

Count and Bounce
The Count and Bounce worksheet will help your preschoolers practice counting and number recognition as they count and choose the correct number of balls in each set. And they'll enjoy the different kinds of bouncy balls from different sports! You can talk to them about which kind of ball or sport they like the most as they color it too.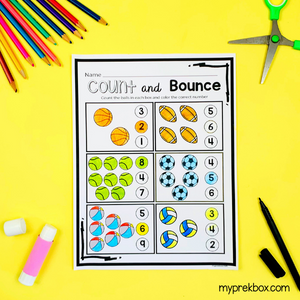 2

Sporty Patterns
Can your child tell what comes next in a sequence of objects? Pattern recognition is the primary skill developed in the Sporty Patterns worksheet! It has four sets of different sports-themed objects arranged to form a pattern, and they have to complete the set by choosing the correct object from the choices. They will also practice their fine motor skills here by cutting out the object, pasting it on the box, and coloring the set!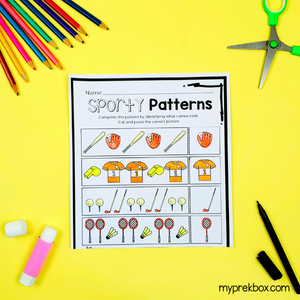 3

I am a Champion!
Kids love to color, they love sports, and they love winning in games too! So in the I am a Champion worksheet, they can have it all! It features a happy kid who won a game, wearing his medal and standing beside a trophy. They have to color it using the numbers and the guide at the bottom of the page. It will help improve their number and color recognition, as well as their fine motor skills through this color-by-numbers activity.
4

Matching Sports
The Matching Sports worksheet can help preschoolers practice tracing lines and develop correct pencil grip, while also getting familiar with different sports equipment. It has five sets of line tracing activities wherein they need to connect and match the sports objects by tracing the different lines.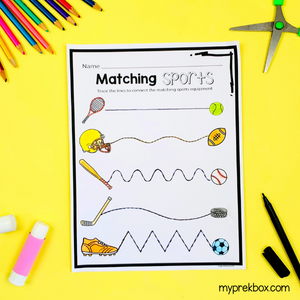 5

Graph, Count, and Play!
Your child will surely understand the basic concepts of graphing in the Graph, Count, and Play worksheet. It features a picture of a players' locker room and they have to find and count the objects below the graph. Then they have to count them too and color the number of blocks or squares to complete the graph. It will help them develop a lot of Kindergarten skills like counting, graphing, coloring, observing, and following instructions. You can also do follow-up questions or help them understand and interpret the graph.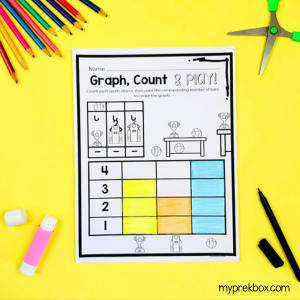 6

Bowling Letters
If your kid needs practice with uppercase and lowercase letters, this is a fun way to help him learn this skill! The Bowling Letters worksheet has eight sets of bowling balls and pins. The bowling balls have an uppercase letter on it while the bowling pins have lowercase letters. They have to color the matching bowling pin with the correct lowercase letter to the uppercase letter on the bowling ball. If they get all the answers correct, then it's a strike - and they deserve a prize!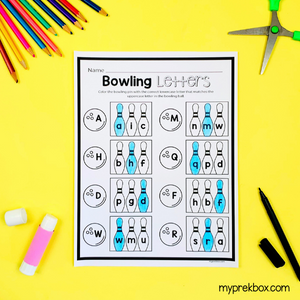 7

Alphabet Dribble
To help your little ones master the letters of the alphabet in the correct order, we created the Alphabet Dribble worksheet! Help them dribble and shoot the balls to the basket by writing the missing letters of the alphabet. They can also color it, or use it to learn and practice the sounds of the letters.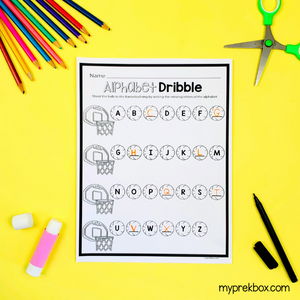 8

Striking Sounds
Strike the correct ping pong balls by identifying the matching beginning sound! The Striking Sounds worksheet is focused on helping preschoolers practice identifying beginning sounds. It also helps in picture recognition and vocabulary development as they learn new words and images and identify their beginning sounds. To answer it, they have to identify the pictures first then you can ask them to color the ping pong ball with the object that has the same beginning sound as the object in the ping pong racket.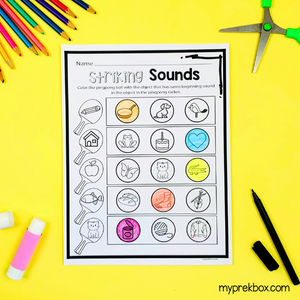 Did you enjoy the Sports Preschool Fun Pack? We're glad to hear that! It's the perfect way to continue the fun after experiencing The Sports Box, one of our themed boxes designed especially for young sports enthusiasts. If your child has already received The Sports Box, be sure to get the Sports Preschool Fun Pack for FREE to keep the excitement going. If you haven't subscribed to My Pre-K Box yet, why not try our Sports Preschool Fun Pack for free today? If your little ones love it, you might consider signing up for a monthly subscription to receive even more exciting surprises each month.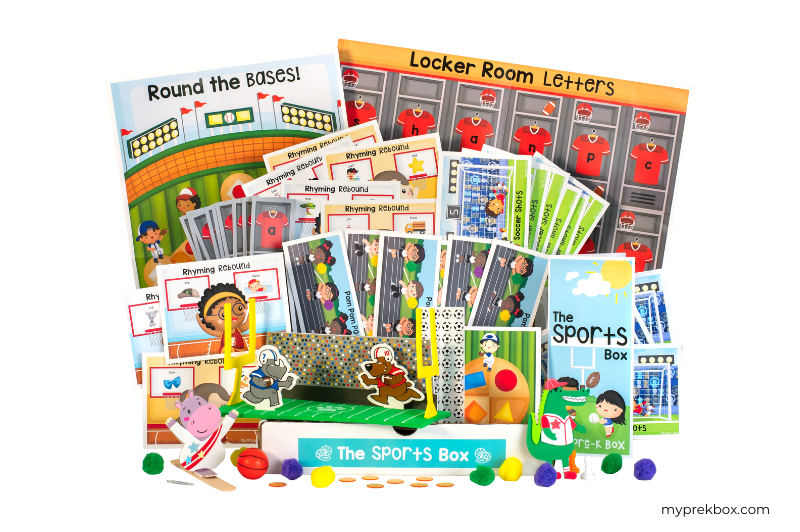 You're going to love My Pre-K Box! Each box is packed with play-based, hands-on learning tools that target math and literacy skills, as well as sensory play and fun thematic crafts. We also provide a grownup guide to assist you in guiding your child through the activities. And the best part? Our games and activities are mostly reusable, making them practical and budget-friendly. If your child has siblings, they can share the box and enjoy it together again and again!
For non-reusable crafts, we offer duplicates so you can get one for their sibling. And if your child is a craft lover, you can upgrade to our Craft Lovers subscription for just $4.25 per child.
With My Pre-K Box, your child can have fun while learning, and you won't have to worry about a thing - we'll handle everything for you! No more researching, planning, or scrambling to put together activities. Our box will be prepped and delivered straight to your doorstep, allowing you to simply guide and watch your child learn in the comfort of your home.

Let's Connect
Your feedback matters! Send us your comments, suggestions, or even questions about our products at hello@myprekbox.com or through our social media pages on Facebook and Instagram. Be sure to leave us a LIKE and FOLLOW us if you love our content and products to learn more fun activities to do at home with your little ones.
Haven't Tried My Pre-K Box Yet?
My Pre-K Box is the best subscription box for

kids 3-5 years of age!

Everything you need to play, create, explore,

learn, laugh, and enjoy!