Summer will be ending soon (whether we like it or not!), and parents will be busy with the opening of the new season. Yep, it is what you think it is - it's back-to-school season again! And aside from preparing your kids' school supplies, you might be thinking of a back-to-school gift for their teacher, right? Not sure what to get for her? Then our Teacher Faves Printable Surveys might be of help! Learn more about how it works and how to get it for free in this article.
My Pre-K Box: The ultimate subscription box for preschoolers!
My Pre-K Box takes all the searching, prepping, and stress out of planning preschool activities for your 3-5-year-olds. Each month, we focus on a different set of Kindergarten readiness skills and provide all the materials and instructions you need right in the box! You'll never have to worry about what activity to do next or spend hours looking for ideas online again.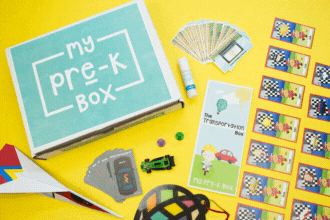 Getting a gift for a friend or a family member can be a daunting task. But getting one for your child's teacher is a bit more difficult! For sure, you do not know her likes and dislikes yet, what she needs in her classroom, or whatever else you need to consider in choosing gifts for her. If you do not know any of these things, how can you pick the right gift? That is why we created a tool that can help you out with this problem - the Teacher Faves Printable Surveys! It is a simple questionnaire that will help you get to know your child's teacher.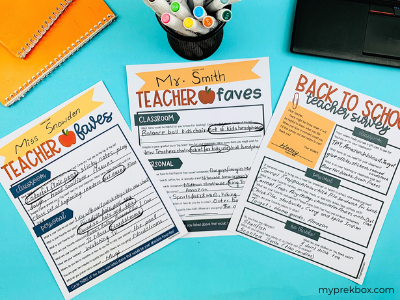 Get Teacher Faves Printable Surveys
What's Inside the Teacher Faves Printable Surveys?

Download our Teacher Faves Printable Surveys and get 3 cute questionnaires to help you pick out her favorites!

Choose which of the questionnaires suits her, print it out, and have her answer it!
Teacher Faves Survey #1
This one is best for female teachers. The questionnaire is divided into two parts: the first part asks for things that might be needed in her classroom, while the questions in the second part are more about the teacher's personal preferences. Questions include her favorite nail/hair salon, spa, restaurant, even her hobbies, and things she doesn't prefer to receive. I bet she didn't expect these questions coming! Plus, the blue and red layout is absolutely cute and stylish!
At the bottom part of the questionnaire is an instruction to circle 3 of her top favorites listed, so if you really want an extra special gift for her, you now have a clue!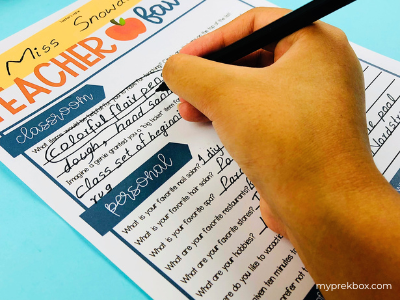 Want a freebie from us?

You got it! Here is a FREE Print & Go Summer Pom Pom Mats!

If you haven't had enough summer fun with your little one (but wants a quieter one), it's not too late! Help her practice fine motor skills, counting, and color and pattern recognition in one exciting activity - the Summer Pom Pom Mats! Try it now, it's FREE!
Now, what if your child's teacher is male? What if you aren't sure yet if it's a he or she? Or if she isn't the girly type who will enjoy salons? I think the favorite salon questions in the first survey wouldn't do! If that's the case, use the second Teacher Faves Survey!
Teacher Faves Survey #2
This one has the same format as Teacher Faves Survey #1, but the questions are less gender-based. So, you can use it for male teachers, or if you do not know the teacher's gender yet! Some of the questions include favorite fast foods, restaurants, drinks, stores, and hobbies. It also asks if he prefers coffee or tea or any specialty drink, so you'll know what to bring too! The green-blue-red layout looks really cool that he/she can't resist answering it!
Teacher Faves Survey #3
This one is a more general kind of survey and is also perfect for back-to-school gift ideas! It is also slightly different in format - this one is divided into 4 parts: a cute note for the teacher, one for classroom needs, one for her personal preferences, and a no-thanks section.
Here's what to expect from each section of the

Teacher Faves Survey: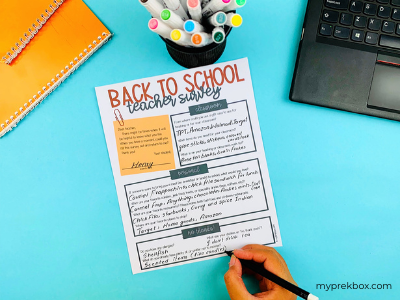 Note for the teacher This is just a simple note for the teacher explaining what the survey is for and who sent it.
Classroom This portion has questions for the things NEEDED in the classroom and things that the teacher WISHES for the classroom to have. It could be something a bit costly (like a projector, printer, or books, probably), so if you happen to have a PTA or parent's group, you can suggest "granting this wish" by sharing! Just think your kids will benefit a lot from it too!
Personal If you want to prepare a gift for Teacher Appreciation Week, it should be something the teacher personally wants! It could be a gift card to her favorite salon or a cup of her favorite coffee! Or maybe something from her favorite shop, or stuff she can use in her hobbies! These are all asked in this part of our Teacher Faves Survey.
No thanks You wouldn't know if the teacher has allergies, an abundance of some stuff, or just have things she doesn't prefer to receive. This part of the survey will help you know these things!
Before we wrap things up…

Here's one last freebie for today!

Summer is the best time for camping.

If your kids have gone camping already or just planning on one, you might want to include this Camping Preschool Fun Pack to extend their learning and camping experiences at home!

Learn more about the Camping Preschool Fun Pack here, or get a free copy for your preschooler now!
See how cute these printable surveys are? It'll make it easier for you to gift teachers now that you can just print out these surveys! And you can use it on any occasion too! Whether it is back-to-school, Teachers Appreciation Week, Christmas day, Valentine's day, or Year-end celebration, you'll never go wrong with your gifts because of these fun questionnaires.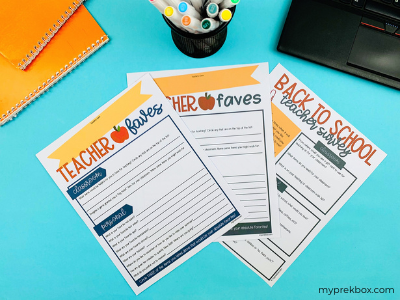 By the way, you're here reading this blog most likely because you have a preschooler, right? If so, I would like to introduce to you our My Pre-K Boxes - the best subscription box for kids ages 3 to 5! Our boxes are filled with fun crafts and lots of exciting hands-on activities. Each month, we have a new theme, which lots of kids look forward to. Our hands-on learning tools included in the box are play-based, targeting math and literacy skills. It also includes sensory play, fun thematic crafts, and a grownup guide.
The games and activities in My Pre-K Boxes are guaranteed to be of top quality. In fact, it can be shared and can be used again and again! It is also kid-and-adult-friendly, very practical, and reusable! We also offer duplicates of the crafts, which you can get for his/her siblings for only $3.25 a month! Craft lovers can also subscribe to our Craft Lovers Upgrade, which comes with more fun crafts and two additional arts and crafts activities for just $4.25 per child. So, be sure you're subscribed to My Pre-K Box to receive the best learning activities to do at home with your preschooler! Delivered each month to your front door, My Pre-K Box makes parents' lives super easy and gets kids excited about learning!

Let's Connect
Got your copy of Teacher Faves Printable Surveys? We hope you find it useful this back-to-school season! For more freebies, fun crafts, worksheets, and printables, LIKE and FOLLOW our Facebook and Instagram pages. Use the hashtag #myprekbox or send us your best My Pre-K Box moments on our social media pages!
Want to try My Pre-K Box?
My Pre-K Box is the best subscription box for

kids 3-5 years of age!

Everything you need to play, create, explore,

learn, laugh, and enjoy!