There are tons of Christmas crafts you'll find online and you probably find it hard to choose which ones you can do with your kids. So today, we're going to share with you a very simple, DIY Christmas Angel Craft. It's so easy, even your preschooler can do it! Plus, the materials are also readily available in your house - no need to shop for craft supplies! Sounds interesting? Gather the materials and join us in making a Christmas Angel Craft!
My Pre-K Box - No prep learning kits for your little ones!
My Pre-K Box is an educational subscription box for preschoolers filled with different learning activities for math and literacy skills! With fresh new themes each month, your child will delight in all of the fun, play-based learning activities inside! Prepped and delivered straight to your door, My Pre-K Box is so much fun, your child won't even realize how much they're learning!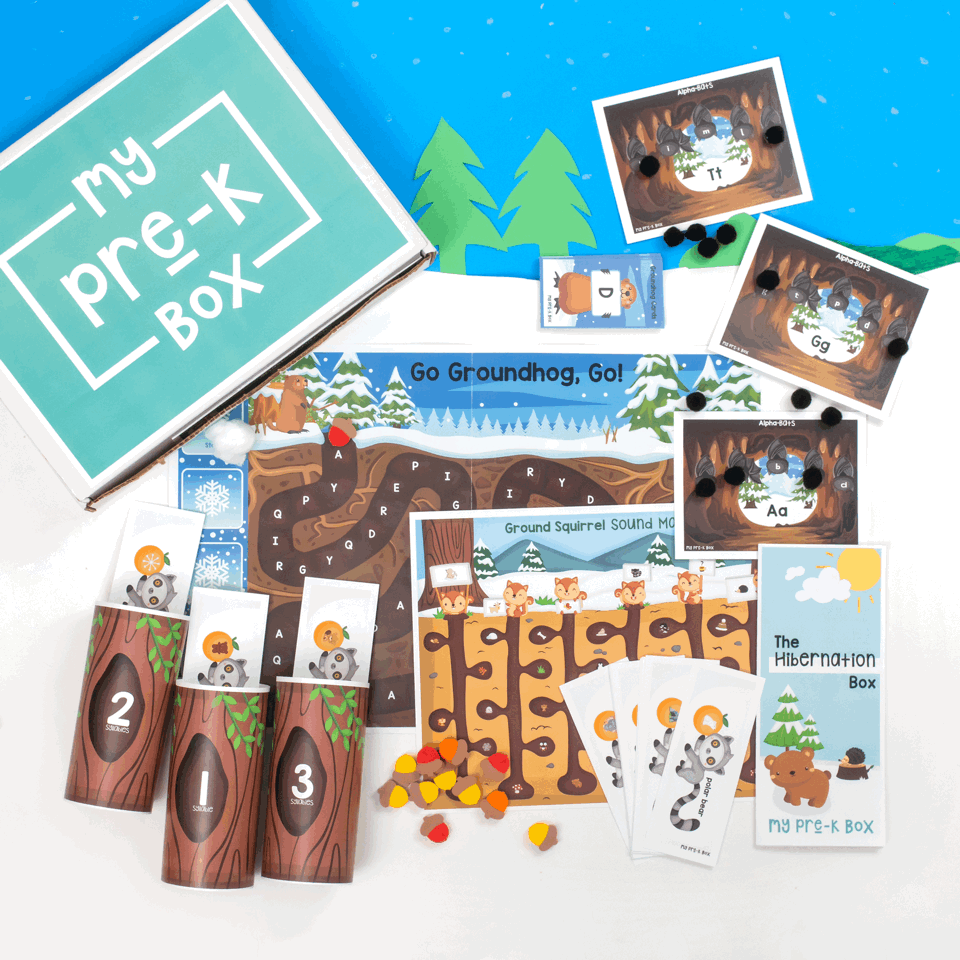 Christmas angels are popular ornaments this season and with a little creativity, you can make your own instead of buying! You can save money and have fun bonding moments with your kids as they help out creating Christmas crafts. As they do, they will also be practicing important Kindergarten skills! You can make more than one (or different sizes!) and use it to decorate your Christmas tree or simply hang it on the windows!
Materials for creating the Christmas Angel Craft:
empty tissue roll core

glue

colored papers

white paper

markers

Christmas pipe cleaners
'Tis the season for giving, so…

Here's a welcome gift!

Enjoy the Christmas holidays while making some fun crafts and learning math and literacy skills with our Print & Go Rudolph Craftivity! To read more about the Rudolph Craftivity, check out this blog post and get it for FREE today!
Make your own Christmas Angel Craft in 5 easy steps!
Step 1 Cover the empty tissue roll core with colored paper. I chose light blue which I think suits an angel and matches the color of the sky too. You can choose other light or pastel colors too. Secure it in place using glue.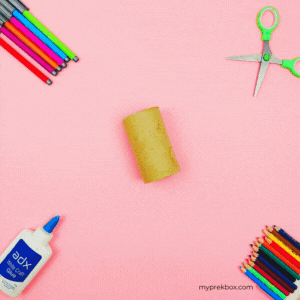 Step 2 Get a white paper or bond paper and fold it alternating left and right resulting to an accordion. Then, fold it in half. Hold the middle part while slightly opening the folds on both sides. This will become the angel's wings!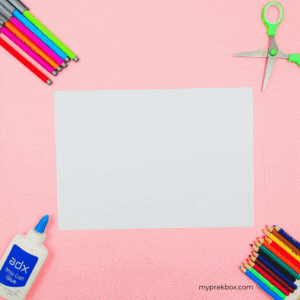 Step 3 Using glue, attach the wings to the tissue roll core you covered with colored paper earlier. Glue the middle part of the wing (the part you were holding earlier) to the upper part of the tissue roll, which now serves as the angel's body.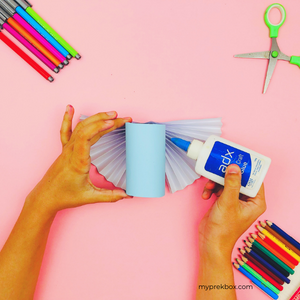 Step 4 Let's make a halo for the angel! Bend the upper part of the Christmas pipe cleaner, then shape it into a circle. Attach the lower part to the body of the angel, behind the wings.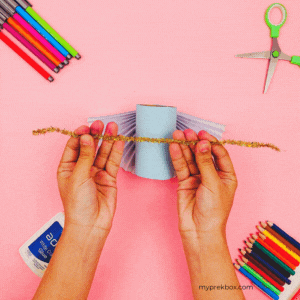 Step 5 Use the marker to draw an angel's smiling face. It is so cute! And it looks perfect on our Christmas tree!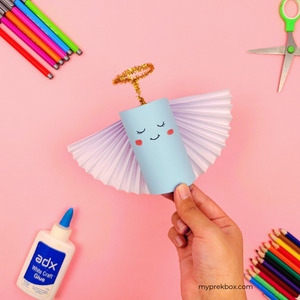 What will your child learn in making a Christmas Angel Craft?
The Christmas Angel Craft is a simple yet engaging Christmas craft for kids! While creating it, your little one will be able to practice his fine motor skills and improve hand and finger muscle strength through assembling the Christmas angel as well as folding the paper for the wings. You can also encourage your child's creativity by allowing him to create other crafts using the same materials (this is known as process art). You can also share fun Christmas trivia while making it or just talk about your plans for Christmas celebrations and memories of previous Christmas holidays! This will help improve their communication skills too!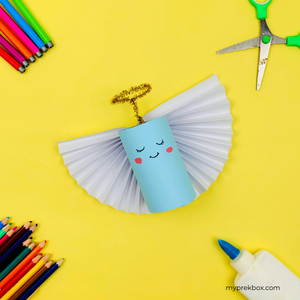 If your little one enjoyed making this DIY Christmas Angel Craft, he surely has an interest in fun and exciting crafts! Why not delight him EVERY MONTH with new surprises from My Pre-K Box?! Our boxes are filled with fun crafts and lots of exciting hands-on activities! Each month features a new theme, which lots of kids look forward to. You can get one by subscribing to My Pre-K Box - the best subscription box for preschoolers! Our hands-on learning tools are play-based, targeting math and literacy skills. It also includes sensory play, fun thematic crafts, and a grownup guide.
The games and activities in My Pre-K Boxes are made with love and guaranteed to be of top quality. It is also kid-and-adult-friendly, very practical, and reusable! If your child has siblings, it can be shared and can be used again and again! We also offer duplicates of the crafts, since these are mostly not reusable. You can get a duplicate for his/her siblings for only $3.25 a month! Craft lovers can also subscribe to our Craft Lovers Upgrade, which comes with more fun crafts and two additional arts and crafts activities for just $4.25 per child.
With all the fun and exciting activities inside My Pre-K Box, your child won't even notice he's learning a lot! And as parents, we wouldn't have to worry about the hassle of researching, planning, and making the activities! We can simply guide and watch them learn in the convenience of our home - with the help of My Pre-K Box!

Let's Connect
If you love this Christmas Angel Craft, LIKE and FOLLOW our Facebook and Instagram pages to get more DIY activities, art projects, fun crafts, and free printables! Be sure to tag us on photos of your kids doing this Christmas Angel Craft. Use the hashtag #myprekbox or send those amazing photos on our social media pages!
Haven't Tried My Pre-K Box Yet?
My Pre-K Box is the best subscription box for

kids 3-5 years of age!

Everything you need to play, create, explore,

learn, laugh, and enjoy!