Let's make teacher's day extra special with our All About My Teacher Coloring Card! This unique gift lets you show your thanks and appreciation for teachers in a fun and creative way. It's simple and easy to do – just follow four steps to make a pretty card with cute drawings and thoughtful answers from your little one. This card is one-of-a-kind and will make your child's teacher feel really happy. Read on to know more about our All About Teacher Coloring Card, how to use it, and how to get a free copy! Let's make teacher's day amazing with our All About Teacher Card.
My Pre-K Box: The Perfect Preschool Box for You!
My Pre-K Box is an educational subscription box for preschoolers aged 3-5! We deliver the most fun play-based preschool learning available! Each box has its own unique theme and is filled with different learning activities to target math and literacy skills. Your kids will have fun exploring the new activities, and you will delight in the fact you are helping them with essential Kindergarten readiness skills!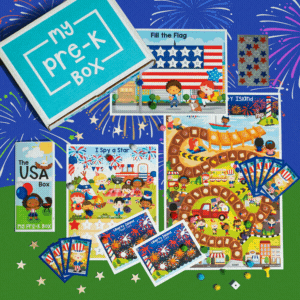 Today, we are happy to share with you a creative way to make a Teacher's Day card using our All About My Teacher Coloring Card! We want to make Teacher Appreciation Day extra special and super fun for your little learners and their teachers with this unique gift. Help your child express their appreciation using colors, genuine and funny answers, and personal touches! Celebrate each teacher's uniqueness and create a special gift for them. Get ready to make them feel appreciated with our All About My Teacher Coloring Card – the perfect gift for Teacher's Day and a great way to start and end the school year!
Materials for the All About My Teacher Coloring Card
crayons or other coloring materials

markers
Make your own All About My Teacher Coloring Card in

4

easy steps!
Step 1 Download and print the All About My Teacher Coloring Card. Make sure to print it on both sides of the paper.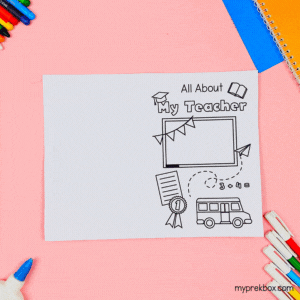 Step 2 Fold the printed template in half, matching the edges carefully. Press along the folded line to create a neat crease. Open the card and find the front cover. Use your favorite coloring tools like crayons, colored pencils, or markers to add color.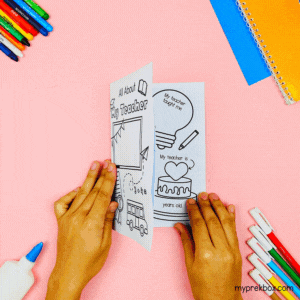 Step 3 With the cover done, let's now work on the inside of the card! There are different parts to fill out about your child's teacher like the things she always say, things she taught the kids, and her age. There's also a frame for his/her picture on the lower left part of the page. You can paste a picture of their teacher there or your child can also try to draw. Assist your little one in using coloring tools to add color to these sections. Go back to the front cover to help your child write his/her teacher's name on the blackboard!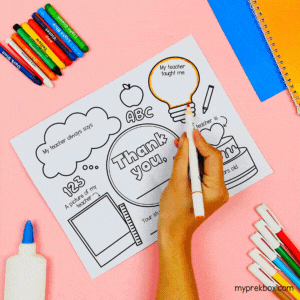 Step 4 Time to answer the questions! Read the sample questions to your child and let them answer on their own. You can help them write or guide them with spelling. The questions are easy, and kids often come up with funny answers! Feel free to add extra decorations to make the card special. Once the questions are answered and the card is personalized, your All About My Teacher Coloring Card is ready!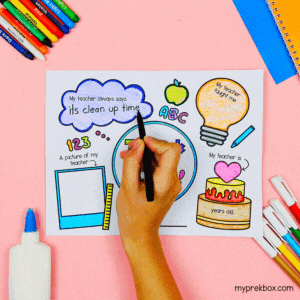 Your kids will surely have fun while enhancing their creativity as they make the card for their teacher. He/she will surely appreciate the effort and thought your kids put into it!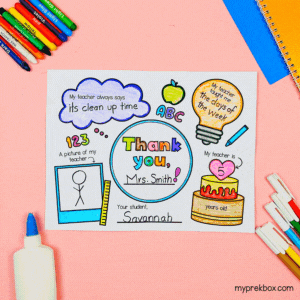 Get All About My Teacher Coloring Card
Let's stop for a while for…

Freebie Time!

Not sure what gift you can give for Teacher Appreciation aside from our All About My Teacher Coloring Card? If you want to give something that the teacher would personally love, try using our Print & Go Teacher Faves Printable Surveys! It is a FREE printable survey that you can use to know what your child's teacher loves and prepare appropriate gifts. Read more about the Teacher Faves Printable Surveys in this blog post, and download a copy now!


What will your child learn by doing this All About My Teacher Coloring Card?
Working on the All About My Teacher Coloring Card may seem simple and easy but it benefits your child in many ways too! It helps boost their creativity and improves their fine motor skills as they do tasks like coloring, folding the card, and writing responses. Aside from the involvement of fine motor skills, it also helps in enhancing hand-eye coordination, dexterity, and control over small movements. Moreover, it helps them express themselves while nurturing gratitude and appreciation for their educators. With coloring and personal touches, kids can showcase their artistic talents.
As they answer the questions in the card, it makes kids think about their teacher and they get to put their thoughts into words. It's a chance to share feelings, improve communication skills, and celebrate what makes their teacher special. This also plays a role in their emotional and social growth, making this card a wonderful back-to-school gift or teacher appreciation token.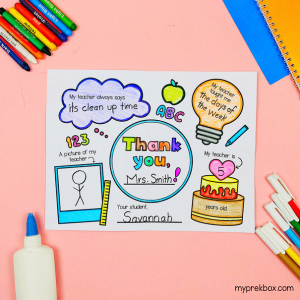 Download the All About My Teacher Coloring Card
We want our customers to be happy and satisfied, so aside from making these free printables like the All About My Teacher Coloring Card, we always make sure that all the games and activities inside My Pre-K Box are safe and of excellent quality. It is also very kid-friendly, incredibly practical, and reusable! It can be shared with his siblings and friends and can be used repeatedly! We also sell duplicate crafts for only $3.25 per month, so you can get a duplicate for his siblings! If your little one is a fan of our craft, you can also subscribe to our Craft Lovers Upgrade for $7.95 per child, which includes more fun crafts and two more arts and crafts activities.
Be sure you're subscribed to My Pre-K Box to receive the best learning activities to do at home with your preschooler! Delivered each month to your front door, My Pre-K Box makes parents' lives super easy, and gets kids excited about learning!

Let's Connect
If you love this All About My Teacher Questionnaire Coloring Card, please LIKE and FOLLOW our Facebook and Instagram pages. By doing that, you'll get more DIY activities, art projects, fun crafts, and free printables! Remember to tag us in the photos of your kids doing this craft and use the hashtag #myprekbox. You can also send us those cute photos through our social media pages. We can't wait to see them!
Haven't Tried My Pre-K Box Yet?

My Pre-K Box is the best subscription box for

kids 3-5 years of age!

Everything you need to play, create, explore,

learn, laugh, and enjoy!