Christmas is coming and it's a great opportunity to create some homemade gifts with your kids! We made some salt dough ornaments and cards to complement them, now let's complete the gifts with some homemade wrapping paper! Getting your kids to make some homemade wrapping paper is a great way to get them involved with each gifting process. You can let them know how special their gifts are because they spent their time making each part.
My Pre-K Box: The best monthly subscription box for kids ages 3-5
My Pre-K Box is an educational subscription box for preschoolers filled with different learning activities for math and literacy skills! Each box is based on a different theme and is focused on play-based learning. Your kids will love exploring new activities each month while practicing kindergarten readiness skills!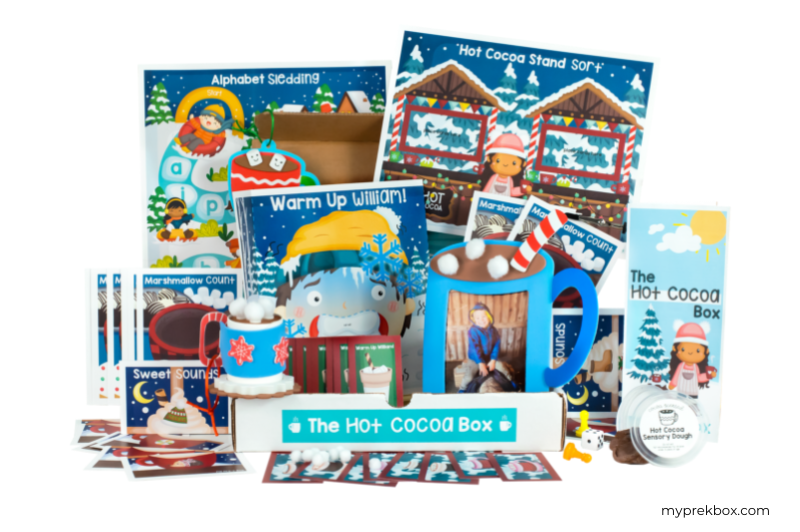 You May Also Like Our Free Snow Preschool Fun Pack!
Each of the worksheets in the Snow-themed Preschool Fun Pack covers skills that your preschooler should know in order to be prepared for Kindergarten such as counting, capital and lowercase letters, sorting, and more!

Included in the FREE Preschool Snow Worksheets:

Snowglobe Counting

Grouping Objects

Count and Compare

Snowy Letter Match

I Snow Beginning Sounds

Matching Snowmen

Snowgear Sorting

Winter Patterns
Download Your Free Snow-Themed Worksheets Here!
Making the wrapping paper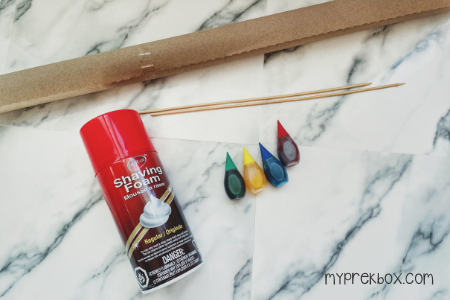 Materials
Roll of brown kraft paper or packing paper

Scissors

*Foam* shaving cream (gel will not work)

Liquid watercolor or food coloring

Wax or parchment paper

Baking sheet

Skewer for mixing Old credit card or something similar for scraping
Instructions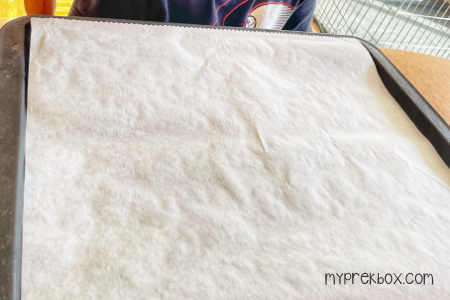 Step 1 Cut a piece of kraft paper to the size you need, try to cut a piece of parchment paper as close to the same size as you can. Place the parchment paper on the baking sheet. This helps to keep the shaving cream contained to the parchment paper.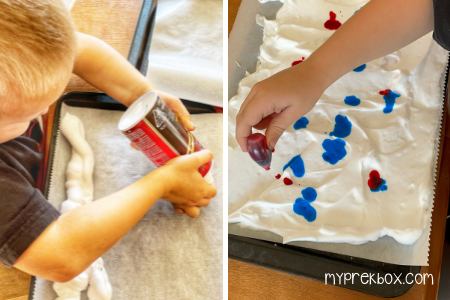 Step 2 Take your shaving cream and make a thick layer on top of the parchment paper. Drop some liquid watercolor or food coloring in different areas of the shaving cream (in this case we used food coloring).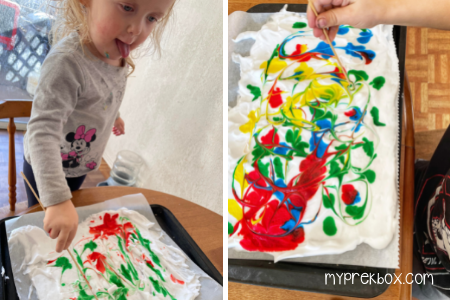 Step 3 Use a skewer to marble the shaving cream and color together. You can swirl it around until it looks the way you like it.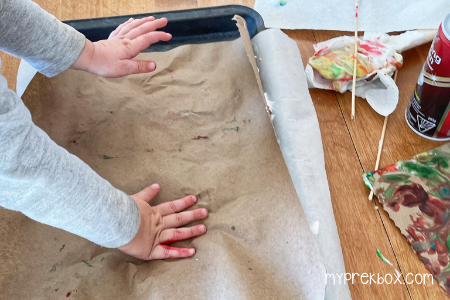 Step 4 Remove the parchment paper from the baking sheet and place it on a flat surface. Press your homemade wrapping paper on top of the shaving cream and then place it back onto the table. Use the credit card or scraper to scrape the excess shaving cream off the paper. You can add the excess back to the parchment with the rest of the shaving cream and re-swirl it!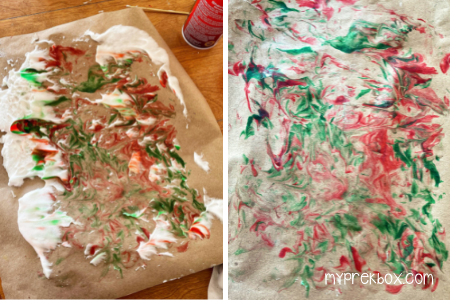 Step 5 Swirl the shaving cream again to make different designs and repeat the process until you have enough kid made wrapping paper!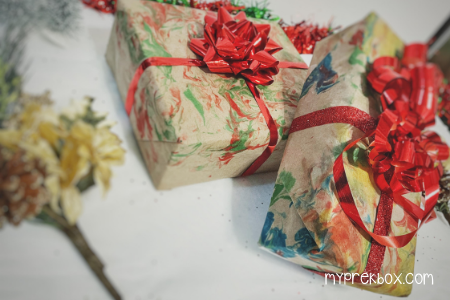 What skills will your child learn?
Some of the colors may mix together and this is a really great opportunity to teach your children about mixing colors and what different colors they can create! Place red and blue or red and yellow together and when it swirls into purple or orange show them and let them know how it happened.
Fine Motor
Swirling the shaving cream around helps develop fine motor skills which are the ability to move the muscles in their hands and wrists.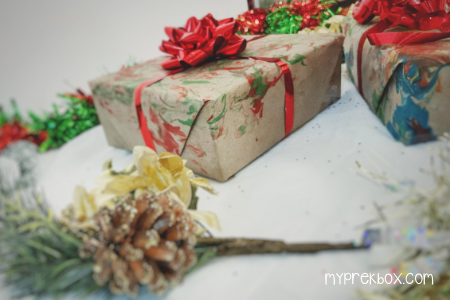 Does Your Preschooler Love Crafts? Grab this FREE Print & Go Christmas Craft Pack!
This FREE Print & Go Christmas Craft Pack will have your preschooler practicing fine motor skills as they cut, color, and paste together adorable Christmas characters! Simply print and you will have a whole afternoon of crafting ready to go!




Included in the FREE Christmas Craft Pack:


Build an Elf

Build a Reindeer

Build a Snowman

Build a Santa

Decorate a Christmas Tree

Decorate a Wreath
Let's Connect!
We absolutely LOVE seeing your preschoolers learning through play! Please take photos and videos of your child's finished product or them making their wrapping paper and share them with us on Facebook and Instagram!
Also, if you aren't already, be sure to follow us on Facebook and Instagram for more fun activities to do at home with your little ones!
Haven't yet tried My Pre-K Box?
My Pre-K Box is the best monthly subscription box

for kids ages 3-5.

Everything you need to create, play, laugh, and learn!
Get your FREE Christmas Craft PackGet your FREE Christmas Craft PackGet your FREE Christmas Craft Pack