Rainbows are a common beautiful sight in springtime. Brought by the light rain showers of spring, rainbows can put anyone in a great mood! But do you know that you can grow your own rainbow at home? Well, it wouldn't soar up high in the sky, but your child will surely be amazed at this fun activity! Learn the science behind the Grow a Rainbow experiment and enjoy while learning!
My Pre-K Box: The best monthly subscription box for kids ages 3-5
My Pre-K Box is an educational monthly subscription box for kids 3 to 5 years old. A new and exciting theme awaits you each month, all packed in a fun-filled box and is delivered straight into your home! It comes with everything you need for learning math and developing literacy along with thematic crafts and sensory play! Your kids will absolutely love all of the creative, fun-packed activities inside! Make learning at home easy, hassle-free and more fun with My Pre-K Box!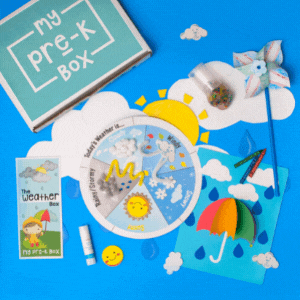 The Grow a Rainbow science experiment is a perfect activity for preschoolers because it is very simple and easy! The kids are also amazed by the process, as they think it's some sort of magic! But with proper explanation, they'll learn some basic science out of it.
Materials for Grow a Rainbow Science Experiment
paper towel

washable markers

water

2 small cups or glasses
Looking for more Spring activities for your preschoolers?

Add your colorful rainbows to these Leprechaun Treat Box to make fun decorations on St. Patrick's Day! Read more about the Leprechaun Treat Box here. Grab a copy now, it's FREE!
Steps to Grow a Rainbow
Step 1 Prepare the materials. Use washable markers for each color of the rainbow. While checking for the colors, ask your kid to name the colors of the rainbow too!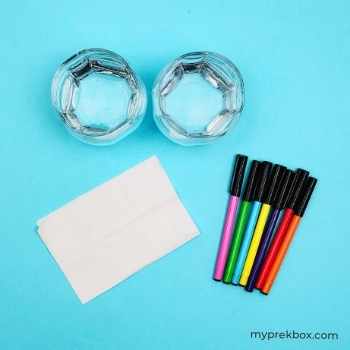 Step 2 Fold the paper towel in half. It should be about 1 ½ to 2 inches in height and less than 7 inches in width. You may cut it with scissors if the paper towel is too big. The rainbow may not completely connect if the paper towel is too long.
Step 3 Using the washable markers, draw rectangles on each side of the paper towel. A rainbow is typically made using red, orange, yellow, green, blue, indigo, violet. The maker will be the base of the rainbow, so use a fair amount of marker and color up high enough! The rainbow might not grow well if there is not enough marker colored on it.
Step 4 Get the glasses and put about ¾ water in each glass. Then, place the colored ends of the paper towel in each cup of water. You'll just want to put the edges of the rectangles in the water, not completly submerge them.
Step 5 Wait for about 10 minutes until the color starts to move upward! This is the part that kids love the most - the rainbow is finally growing! It is so cool and fantastic to watch as the color from each side meet and connect.
Finally, the rainbow is done! Explain the science behind it to turn this activity from fun to educational!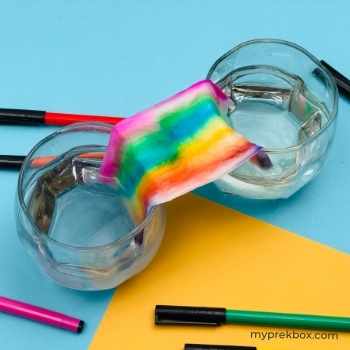 So How Did the Rainbow Grow?
If you have seen ink spread across the paper in streaks after getting wet, the same principle applies in this experiment. It is because of capillary action, which happens when water spread across the paper, usually in an upward motion, and the ink disperses with it. It is a very important process of chromatography - the separation of components of a mixture (ink from the washable markers) by passing it in a solution (water) through a medium (paper towel). As the water travels up the paper towel, it carries particles of washable ink with it. It continues to travel upward until both ends meet in the middle, forming a rainbow!
Was the Grow a Rainbow science experiment fun?

If your child enjoyed the Grow a Rainbow Science Experiment, he will love our Science Preschool Fun Pack! Get a FREE copy of this PDF printable now!
Let's Connect!
For more enjoyable science experiments like this Grow a Rainbow, like and follow us on Facebook and Instagram! Don't forget to snap a photo of your child's best My Pre-K Box moment, and tag us or use the hashtag #myprekbox! You can also get more creative crafting ideas at My Pre-K Box Blog.
Want to try My Pre-K Box?
My Pre-K Box is the best educational monthly subscription box for kids 3 to 5 years old!

Make learning at home easy, engaging, and more fun!