Are you looking for an educational activity for your pet-loving child? Look no further than our new set of pet-themed worksheets! Our Pet Preschool Fun Pack is designed to help your child develop key skills while learning about their favorite furry friends. Read on to learn more about how to get your hands on the Pets Preschool Fun Pack today!
My Pre-K Box - No prep learning kits for your little ones!
My Pre-K Box is an educational subscription box for preschoolers filled with different learning activities for math and literacy skills! With fresh new themes each month, your child will delight in all of the fun, play-based learning activities inside! Prepped and delivered straight to your door, My Pre-K Box is so much fun, your child won't even realize how much they're learning!
Pets can be wonderful companions and playmates for children, providing them with love, support, and opportunities to learn new things. And as some kids can't get enough of their pets, we created a set of worksheets to help you catch their attention - the Pets Preschool Fun Pack! It consists of 8 pet-themed worksheets to help them develop their math and literacy skills. Your little ones will practice counting, and recognizing sounds, as well as letters, numbers, and patterns, while enjoying all the pet-themed stuff in it! You can also prepare animal-shaped "treats" for them as a reward for every completed worksheet!
How to Use the Pets Preschool Fun Pack
Simply download the Pets Preschool Fun Pack, print it on white paper, prepare other needed materials, and start having pet-themed fun while learning!
What's included in the Pets Preschool Fun Pack?
Cat Whisker Count and Draw

Amazing Animal Sort

Paw Print Letter Sounds

Pet Homes Match

Feed the Dog Shapes

Measuring Pets

Lost Pet Letter Match

Rhyming Dog Families
Materials:
printer

paper

pencil

crayons or markers

scissors

glue
Arf, arf! 🐕

Look, this cute dog brought you a gift!

Kids love to play pretend, and that is good because it helps develop a lot of skills. And because they love pets, we know they love pretending as vets too! So, here's a FREE copy of our Print & Go Vet Dramatic Play Checklist - a cute checklist for your little veterinarian! Just download it and print, then you can participate in their simple game by bringing in a real pet for a check-up!
Check out the 8 worksheets included in the Pets Preschool Fun Pack!
1

Cat Whisker Count and Draw
In the Cat Whisker Count and Draw, your child will need to identify the number on the cat's bow and draw the number of whiskers to the cat as indicated. It will help practice their number recognition skills, counting, and drawing lines, all in one worksheet! They can even color the cats after!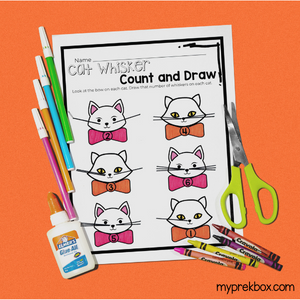 2

Amazing Animal Sort
Can your child tell if an animal is a pet or zoo animal? This worksheet will help you test them, or teach this concept! In the Amazing Animal Sort, kids will have to cut out pictures of animals and place them in the correct spot to classify them as pets or zoo animals. And aside from knowing this, they'll also be able to practice their fine motor skills as they cut, paste, and color the animals!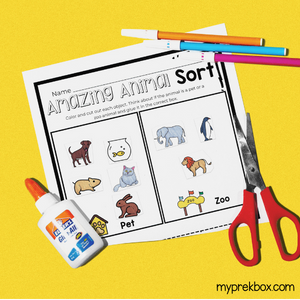 3

Paw Print Letter Sounds
Recognizing beginning sounds is a very important skill to develop for preschoolers before they learn to read. And in the Paw Print Letter Sounds worksheet, they will be able to practice and learn beginning sounds! They have to color the print with the correct beginning letter sound to match each picture on the paw. So they will get to develop sound and picture recognition, and practice coloring at the same time!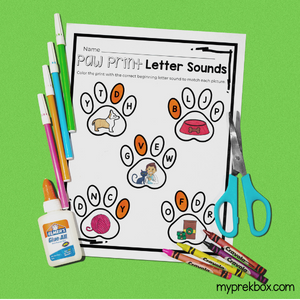 4

Pet Homes Match
Help our lovely pets find their home! In the Pet Homes Match worksheet, kids have to color and cut out the pets and glue them next to the correct home. And aside from understanding this concept, this will also help in developing their fine motor skills since it is a cut-and-paste activity.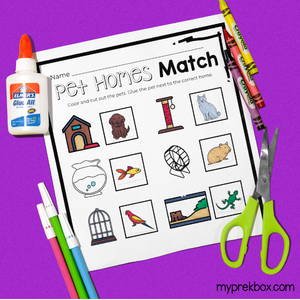 5

Feed the Dog Shapes
In the Feed the Dog Shapes, they will learn to match and group together same shapes. First, they have to cut out the dog bones. Then, they'll have to match the shape on the dog bone to the shape on the dog bowl by gluing the bones into the correct box. It's a great way to learn and master shapes!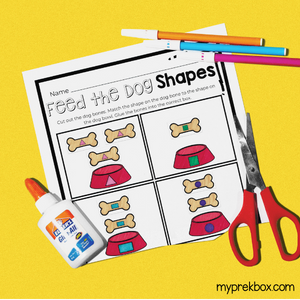 Hop, hop, hop! Look it's a cute bunny!

The Easter Bunny brought you a freebie!

Easter is just around the corner, and the Easter Bunny brought you a gift! Since we're talking about pets, does your child want a cute bunny rabbit as a pet? We're not giving out a real one though, instead, we will give this Rocking Easter Bunny Craft for FREE today! It's a moving and rocking bunny craft, and it's just in time for Easter! Read more about the Print & Go Rocking Easter Bunny Craft here, and be sure to get a copy!
6

Measuring Pets
Teach your little ones the concept of measurement through the Measuring Pets worksheet! In this worksheet, they have to measure how tall each pet is by using cutout paw prints. Then, they have to write the number of paws too. It will help them grasp the concept of measurement, and practice counting and writing numbers too!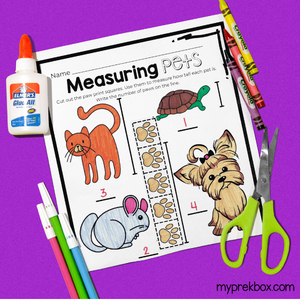 7

Lost Pet Letter Match
Help the owner find their lost pet! In the Lost Pet Letter Match worksheet, kids need to draw a line from the owner to the pet by finding the matching lowercase letter. It's a fun way for preschoolers to practice lowercase recognition skills and line drawing!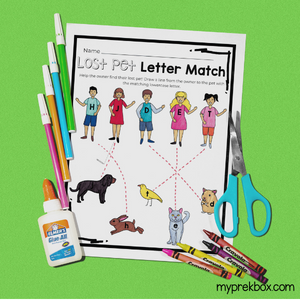 8

Rhyming Dog Families
Kids will have fun practicing rhyming words in the Rhyming Dog Families worksheet! To answer this worksheet, they have to color and cut out the puppies first and identify the objects in each puppy. Then, they have to glue them in the box with the matching word family. Understanding ending sounds and rhyming words is important in phonemic awareness.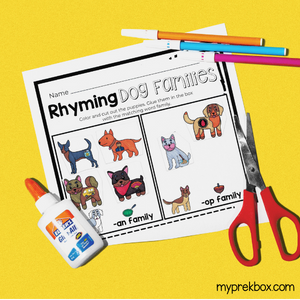 What do you think of the Pets Preschool Fun Pack? We hope you enjoyed it! It is a great follow-up activity after The Pet Box, one of our themed boxes specially made for little pet lovers! If your little one got The Pet Box already, be sure to grab a copy of the Pets Preschool Fun Pack for FREE for more pet-theme learning! And if you haven't subscribed to My Pre-K Box yet, you can still try our Pets Preschool Fun Pack for free today, and if your kids enjoyed it, you might want to consider getting a monthly subscription to get exciting surprises delivered to you every month!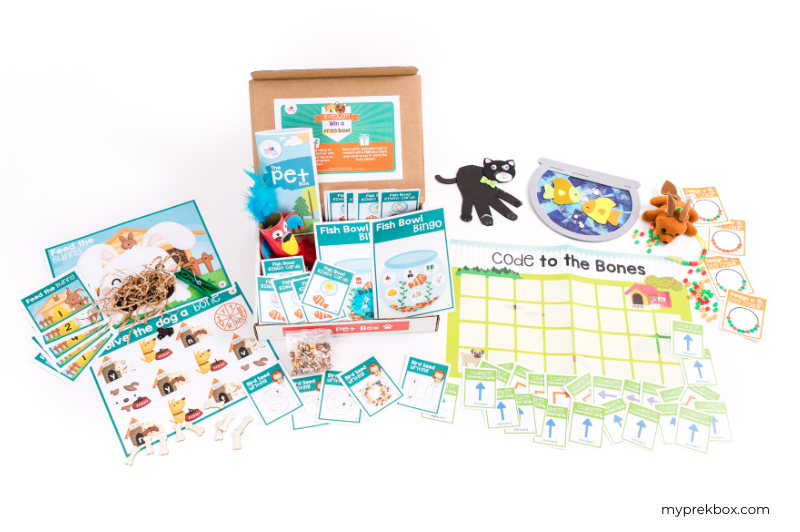 You'll surely love it too because each box is filled with play-based, hands-on learning tools that target math and literacy skills. It also includes sensory play, fun thematic crafts, and a grownup guide to help you in guiding your little one! Plus, it is very practical and budget-friendly because the games and activities are mostly reusable! So, if your child has siblings, it can be shared and can be used again and again! We also offer duplicates of the non-reusable crafts and those who love our crafts can also subscribe to our Craft Lovers Upgrade for just $4.25 per child.
The fun and exciting activities inside My Pre-K Box will help your child enjoy learning, and you won't have to worry about a thing - it will be all prepped and delivered to your door! No more researching, planning, and cramming to make the activities yourselves! My Pre-K Box will handle it all for you, while you can simply guide and watch them learn in the convenience of our home!

Let's Connect
Got a copy of the Pets Preschool Fun Pack for your preschooler? LIKE and FOLLOW our Facebook and Instagram pages for more free printables and worksheets! We'd love to see photos of your kids enjoying the activities in the Pets Preschool Fun Pack - so don't forget to tag us and use the hashtag #myprekbox! You can also send those adorable photos on our social media pages!
Haven't Tried My Pre-K Box Yet?
My Pre-K Box is the best subscription box for

kids 3-5 years of age!

Everything you need to play, create, explore,

learn, laugh, and enjoy!