OLD MCDONALD HAD A FARM, E-I-E-I-OH!
I bet you sing along with that, didn't you? Well, we all love old McDonald, the animals, and his farm! And speaking of farms, we are glad to introduce to you another set of FREE preschool fun packs. Our new farm-themed worksheets… the Farm Preschool Fun Pack!
My Pre-K Box: The best monthly subscription box for kids ages 3-5
My Pre-K Box is the ultimate monthly subscription box for kids 3 to 5 years old. New and exciting themes await you each month, all packed in an educational, fun-filled box and delivered to your home! It comes with everything you need for learning math and developing literacy along with thematic crafts and sensory play! From cooperative games to hands-on activities, along with thematic, crafts, kids will love all of the creative, fun-packed activities inside! Make learning at home engaging, easy, and more fun with My Pre-K Box!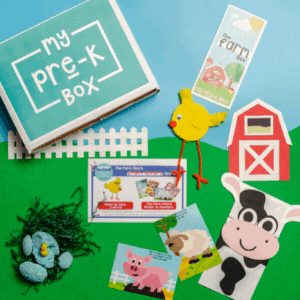 Life on the farm seems so peaceful yet exciting - and most kids do not have an idea of it or have had the chance to experience it. So we created the Farm Preschool Fun Pack to get them closer to farm life, while still learning Kindergarten skills! In this set of farm-themed worksheets, they will be able to practice and improve their coloring and scissor skills. They will also enjoy sorting, measuring, matching letters, learning sounds, and a whole lot more!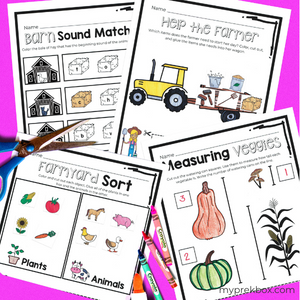 How to Use the Farm Preschool Fun Pack
Simply download My Pre-K Box's Farm Preschool Fun Pack and print on paper, gather the materials needed, and you're good to go! Just follow the instructions on the top of the page, below the name of the worksheet. We made it simple and easy to follow for you and your child to enjoy!
Materials:
printer

paper

crayons

scissors

glue
Check out all the 8 worksheets included in the Farm Preschool Fun Pack!
1 Color and Count on the Farm
Your preschooler will surely have fun coloring the cute farm animals in this worksheet! After coloring, ask them to count each group of animals. It will be a great way to practice counting and writing numbers! You can also challenge them to name the farm animals on the worksheet. and the sounds they make.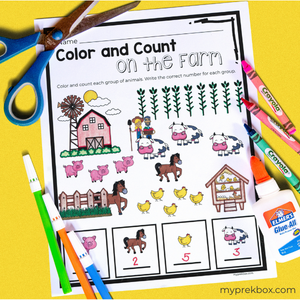 2

Baby Animal Match
In the Baby Animal Match Worksheet, they have to help the baby farm animals find their parents by drawing a line to the matching adult animal. As they work on it, you can also teach them the names of the baby farm animals too! See how they'd react if they heard that a baby goat is called a kid - just like them!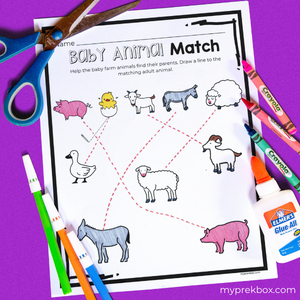 3

Barn Sound Matching
Identifying initial sounds is one of the most important Kindergarten skills you can teach your child. And our Barn Sound Matching Worksheet is a perfect activity for that! Ask your preschooler to name the animal on the barn and color the bale of hay that has its beginning sound. If they are having difficulty, guide them by saying the name of the animal and focusing on its beginning sound, like saying "D-D-D-d-duck".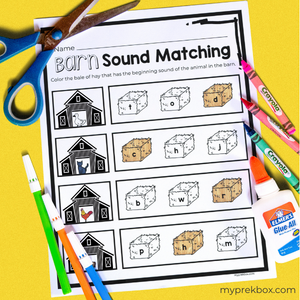 4

Farmyard Sort
Sorting activities are helpful for preschoolers because they learn to see the similarities and differences of various objects. In our Farmyard Sort Worksheet, they will learn to sort animals from plants. You can also ask them how plants and animals differ from one another, or how plants and animals are the same as others in the group. They'll also be developing their fine motor skills as they work on this activity through cutting, coloring, and pasting the plants and animals!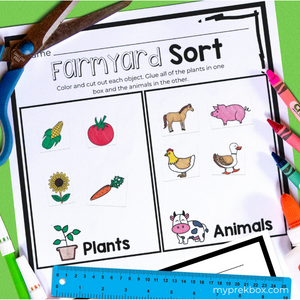 5

Measuring Veggies
You might be thinking they're still too young to measure stuff, but our Measuring Veggies Worksheet offers a kid-friendly way to teach basic concepts of measurement to preschoolers! They will surely enjoy cutting out the watering cans and placing them in line to measure the vegetables.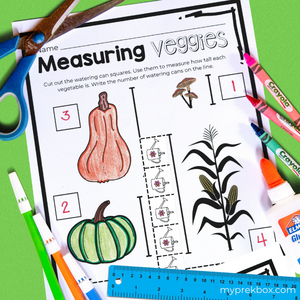 6

Tractor Letter Match
Can your child identify matching big and small letters? Our Tractor Letter Match Worksheet is a great way to practice this skill! They just connect the tractor with the uppercase letter to the wagon with the matching lowercase letter to hitch them up.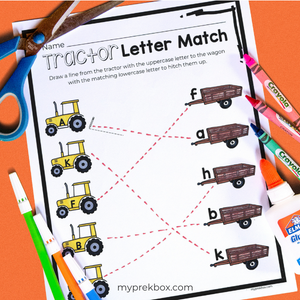 7

Rhyming on the Farm
Rhyming words are often incorporated in nursery rhymes, making it easier for kids to learn them easily. As they are also familiar with alphabet sounds, it will be easier to explain to them that words with the same ending sound rhyme. They can practice it in our Rhyming on the Farm Worksheet, where they will color the object that rhymes with the given farm-themed item!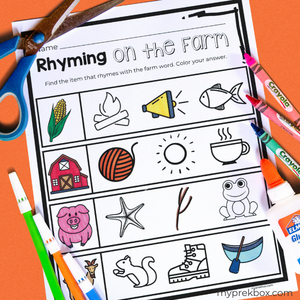 8

Help the Farmer
Which items does the farmer need to start her day? Ask your preschooler to help the farmer put the correct items into her wagon! They will enjoy naming, coloring, cutting out, and gluing the items she needs, without noticing that they are learning farming tools and improving fine motor skills!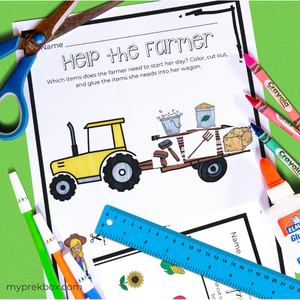 Try to visit a farm this weekend with your kids after working on these worksheets. Your kids can extend the fun and learnings they had when they actually see the farm! Go over naming farm animals, counting them, matching the baby animals to their parent, measuring veggies, and everything else they did on the worksheets - this time, on the real farm! It will be a great weekend treat for the kids!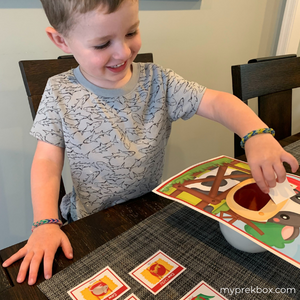 Get the Farm Preschool Farm Pack now!
Did your kid love the Farm Preschool Fun Pack? If so, he will definitely enjoy The Farm Box! It is one of our monthly themed boxes in My Pre-K Box, where kids get to enjoy hands-on, play-based learning activities. The Farm Box contains hands-on learning tools, sensory play, fun thematic crafts, several math activities, literacy games, and a grownup guide. The games are reusable, so their younger siblings can play with it in the future! You can also get duplicates of the craft for his/her siblings for only $3.25 a month! And if your child loves our thematic crafts, you can subscribe to our Craft Lovers Upgrade, which comes with more fun crafts and two additional arts and crafts activities for just $4.25 per child! Enjoy more time with your kids and less time preparing for learning activities with My Pre-K Box!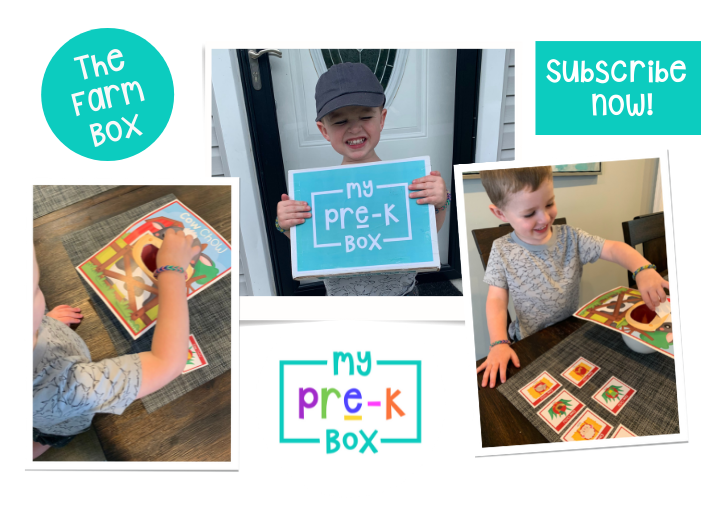 Let's Connect
Share with us your fun, bonding moments while enjoying our Farm Preschool Fun Pack up to your real farm visit! We'd love to see your kids enjoy learning! Don't forget to use the hashtag #myprekbox or send your photos on our social media pages.
Like and Follow us on Facebook and Instagram! See you there!
Haven't Tried My Pre-K Box Yet?
My Pre-K Box is the best educational monthly subscription box for

kids 3 to 5 years old!

Make learning at home engaging, easy, and more fun!