September is a time of change for many families: it indicates an advancing school year, the changing of a season, and a NEW My Pre-K Box. This month's subscription box was overflowing with preschool farm theme activities.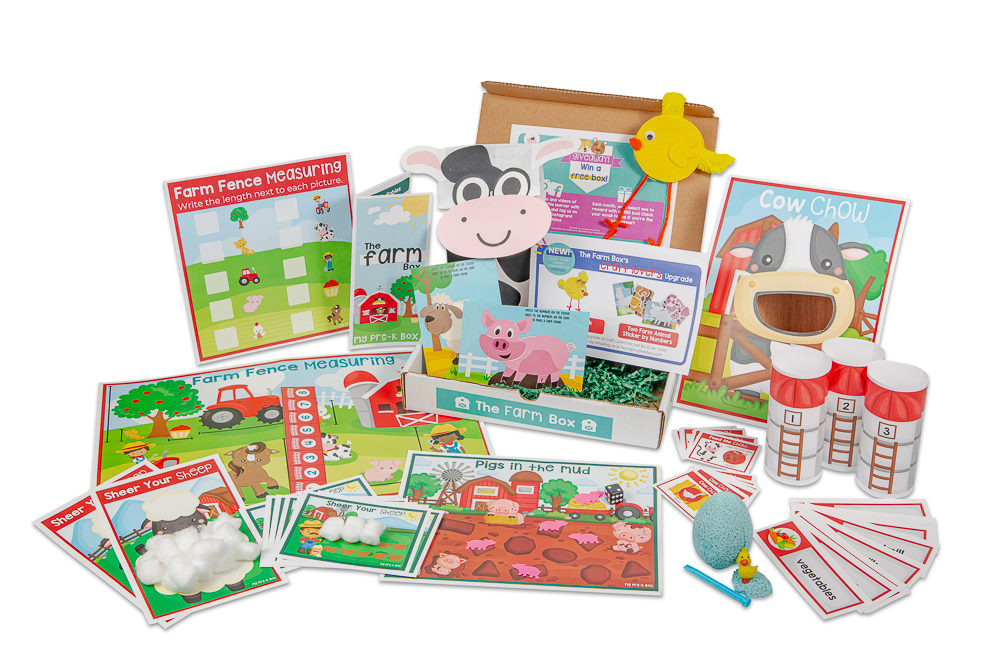 As a parent, I was excited to pore through the contents of the subscription box for a preview of the skills and techniques my son would be introduced to. From rhyming to counting and even learning about syllables, this My Pre-K Box had it all. He, of course, was eager to explore the games and crafts and to find out what was inside that elusive egg (more on that below).
What can you expect from My Pre-K Box?
With every new subscription box and theme that arrives at our door, I am increasingly impressed with My Pre-K Box. It is a weight off every parent's shoulders to be able to turn to one place and know there are days worth of educational activities for preschoolers to spark creativity, reinforce skills, provide tools for school, and create lasting memories. One of the goals of My Pre-K Box is to spend more time playing and learning, and less time prepping … and they deliver.
Best of all, every educational activity is FUN! Flashcards and memorization have their place, but it has been proven time and time again that children, especially those between the ages of 3 and 5, absorb new information when it is part of play. Each aspect of September's Farm Theme subscription box memorably introduces educational components.
Looking for More Preschool Acitivites & Crafts?
Check out our FREE Farm themed preschool worksheets! These farm themed worksheets are perfect for children aged 3-5! They target important preschool skills like counting, capital and lowercase letters, sorting, and more

Included in the FREE Preschool Farm Worksheets:

Color and Count on the Farm

Baby Animal Match

Barn Sound Matching

Farmyard Sort

Measuring Veggies

Tractor Letter Match

Rhyming on the Farm

Help the Farmer
Get your Farm-Themed Preschool Fun Pack
Let's look inside the farm themed box!
COW CHOW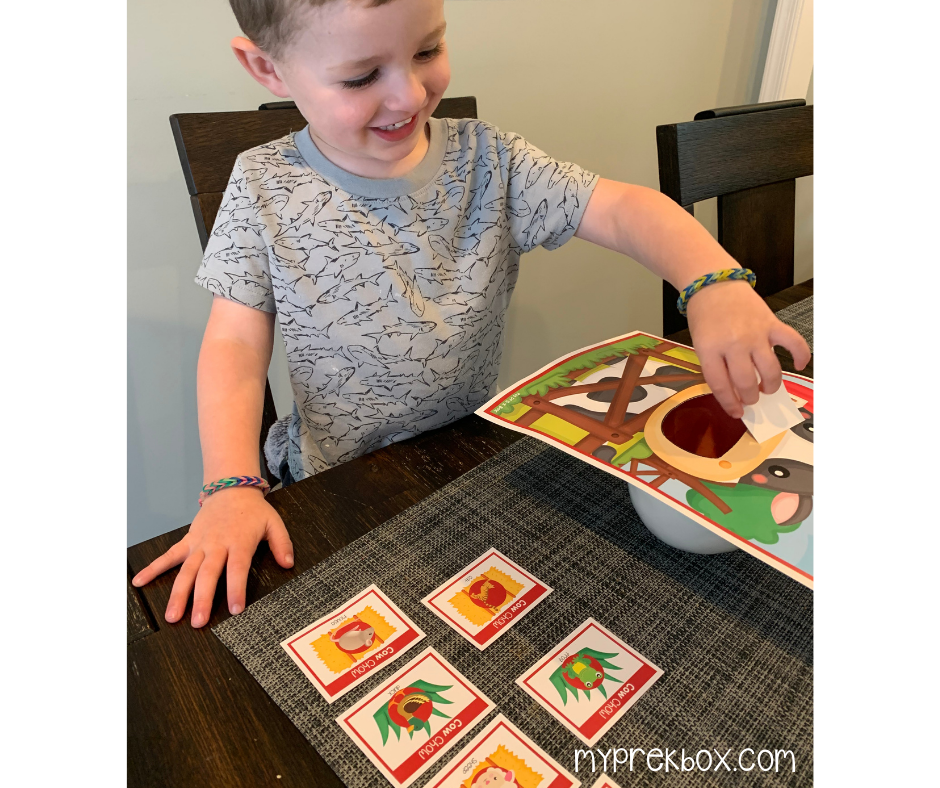 Finding opportunities to incorporate dramatic play into learning activities is essential to a child's development. Research has shown that dramatic play engages the imagination, builds confidence, and prepares young learners to tackle real-life situations. Feeding the cow its chow was the obvious draw for my preschooler, and in the process, he was exposed to the concept of rhyming uniquely and excitingly.
This is another My Pre-K Box activity with skills that can be reinforced throughout the day. For example, as you walk around the house, prompt your child to find household items that rhyme, or as you are driving in the car, challenge one another to see who can keep a rhyming sequence going the longest.
Skills practiced: rhyming, following directions, fine motor skills, dramatic play
Materials:
Cow Chow game mat

Cow Chow cards

Cup or bowl (not included)

Tape (note included)

Scissors (not included)
Instructions:
Step 1 Cut out the cow's mouth. Attach the cow's mouth to a small box (such as an empty tissue paper box), cup, or bowl.
Step 2 Separate the "Feed Me Chow" cards from the "Cow Chow" cards.
Step 3 Shuffle the "Feed Me Chow" cards and place them upside down. Spread out the "Cow Chow" cards.
Step 4 Your cow is hungry! Select a "Feed Me Chow" card to see what your cow wants to eat.
Step 5 Read the directions on the card. For example, your child selects a card that says "Feed Me Chow...that rhymes with pen."
Step 6 Find the matching "Cow Chow" card and feed it to your cow! In this example, the child feeds the cow the hen card.
COW PUPPET CRAFT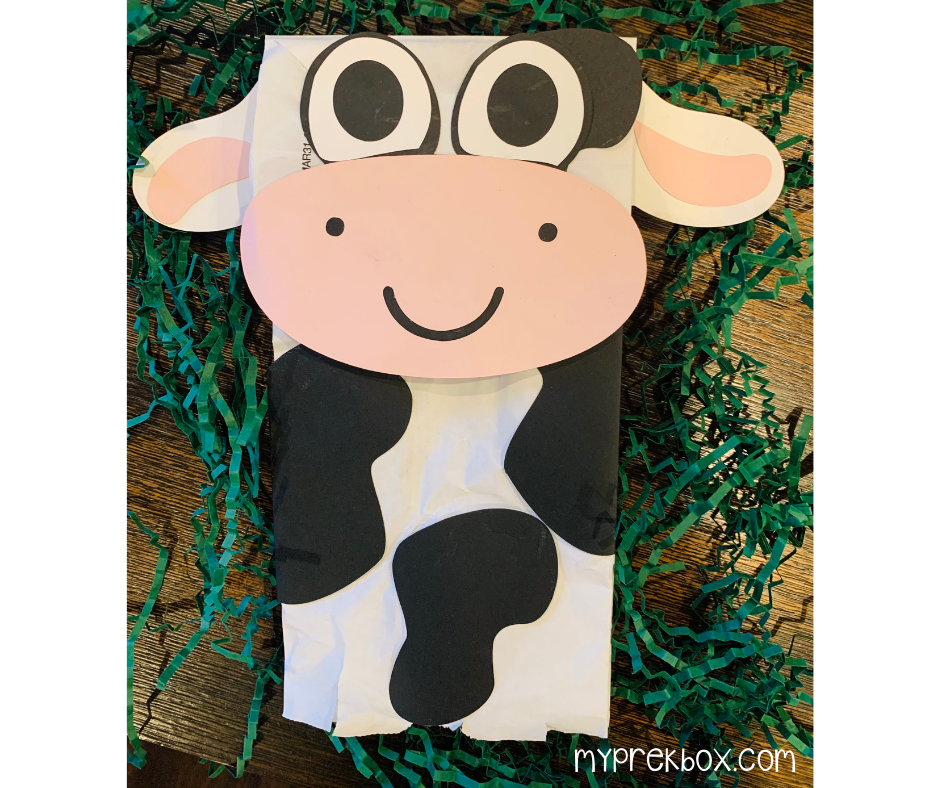 Watch your child's eyes light up as they complete each step in creating this adorable cow puppet. Once constructed, encourage your child to use the puppet to act out some of a cow's daily activities (like eating the shredded paper grass provided in the box), make the cow sing Old MacDonald Had a Farm, or deliver their best Moooooo.
Skills practiced: fine motor skills, following directions
Materials:
Cut-outs

White paper bag

Green paper shred

Glue (not included)
Instructions:
Step 1 Place the bag with the flap at the top. Glue the pink inner ears onto the white outer ears. Put a strip of glue along the edge of each ear and glue to either side of the bag's flap.
Step 2 Glue one small spot on the top of the cow's head by its ear.
Step 3 Glue the black face frame onto the bag's flap. Part of the face frame will hang over the bag's flap.
Step 4 Glue the two eye outlines overtop of the face frame.
Step 5 Glue the pink face onto the face frame.
Step 6 Glue the two large spots and one remaining small spot onto the bag. Part of the spots may overhang the bag.
Step 7 Fold over any overhanging spots and glue down.
Step 8 Glue green paper shred under the bag flap to feed your cow grass!
FARM FENCE MEASURING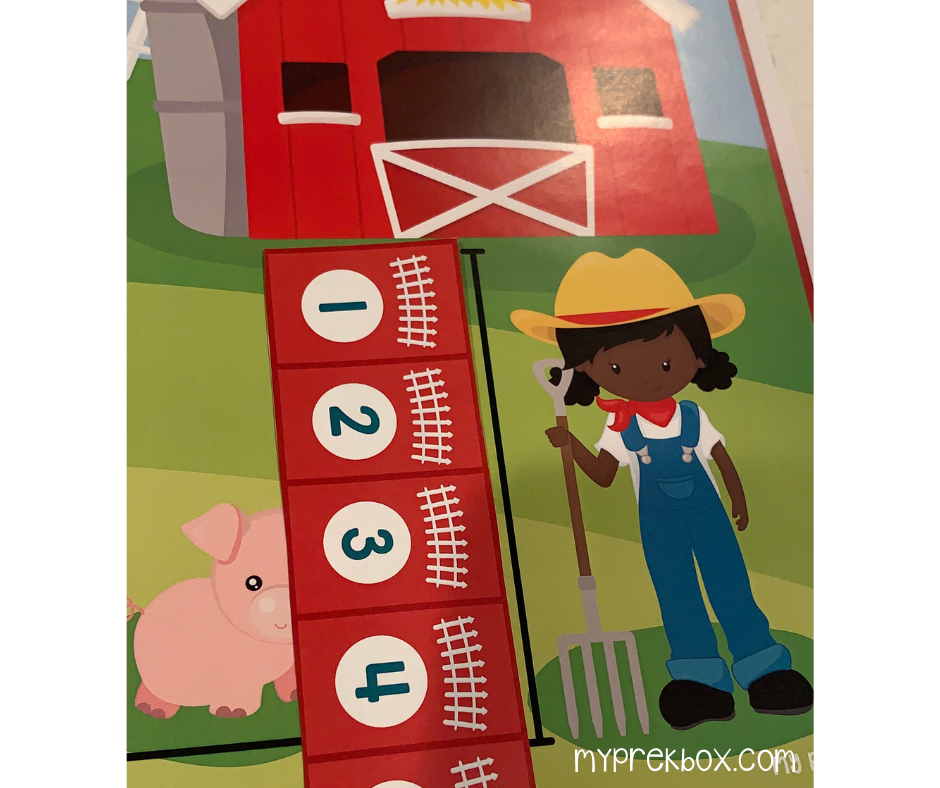 Measuring is an important life skill ingrained with counting, math, and fine motor skills. Yet, it is likely not something that most adults would think to teach their children. This farm-themed game is the perfect opportunity to introduce the concept of measuring to preschoolers in a way that is both engaging and easy to master.
Skills practiced: counting and number order, fine motor skills, scissors skills, measuring, writing numbers
Materials:
Farm Fence Measuring mat

Farm Fence Measuring recording paper

Scissors (not included)

Pencil (not included)
Instructions:
Step 1 Cut the fence measuring stick off the bottom of the recording paper.
Step 2 Pick one of the images on the mat to measure using the fence measuring stick.
Step 3 Lay your measuring stick beside the picture's guideline. Be sure to start measuring, beginning with 1.
Step 4 Count the number of fence pieces it takes to get to the end of the guideline.
Step 5 Help your child write that number on the recording sheet.
Step 6 Continue until all of the pictures are measured.
Step 7 Ask questions like: Which image is the tallest? Which image is the shortest? Are there any images that are the same length?
HATCH A CHICK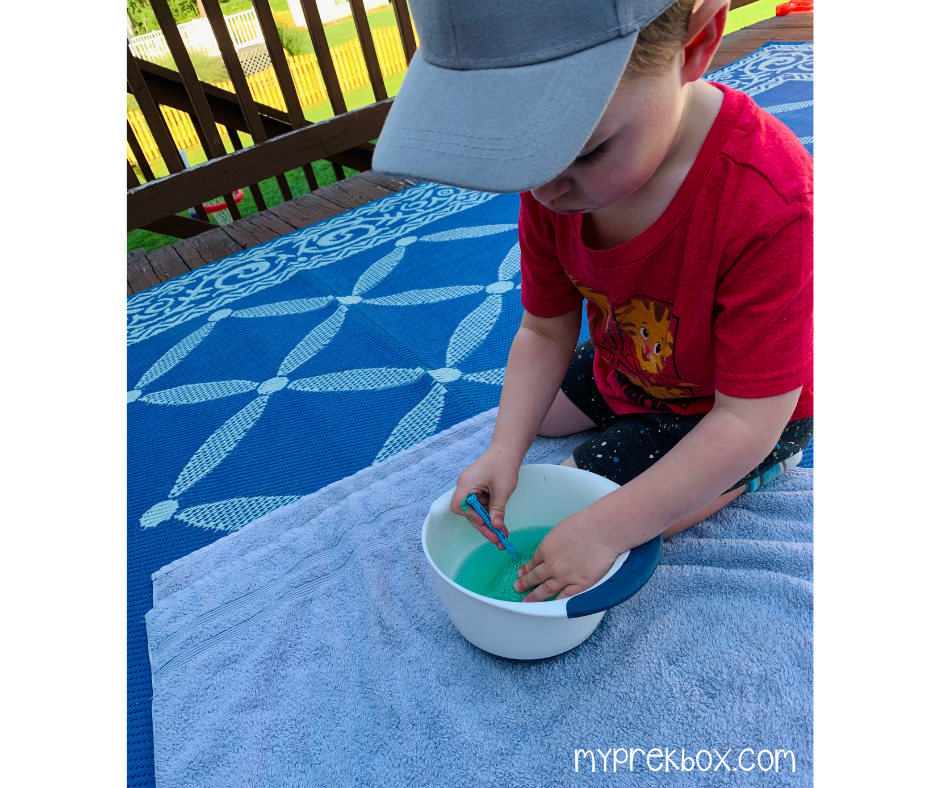 Sensory play is another vital component of a child's brain development. However, there is no need to rush to the craft store for sand, bins, and buttons or to scour Pinterest for hours. Don't worry; My Pre-K Box has you covered. The vibrant hue of the egg, the mystery of what was inside, and the prospect of getting a little messy will have your child's senses firing on all cylinders.
Before letting your little one use the chisel on the egg, talk to them about what they experience with each step. What is the texture of the egg when it is dry? Is it soft or hard? What happens to the egg when placed in water? There are myriad ways to keep the conversation going while your preschooler plays archaeologist.
**Bonus: The eggshell can be used as sidewalk chalk once the chick is hatched!
Skills practiced: sensory play, fine motor skills, following directions
Materials:
Hatch a Chick egg

Chisel

Bowl (not included)

Water (not included)

Towel (not included)
Instructions:
Step 1 Pick a place to hatch your chick. These can be messy, so outside might be best.
Step 2 Remove the egg from its packaging and place the egg in a bowl of water to soften.
Step 3 Then, use the chisel tool to break the egg until the chick hatches.
PIGS IN THE MUD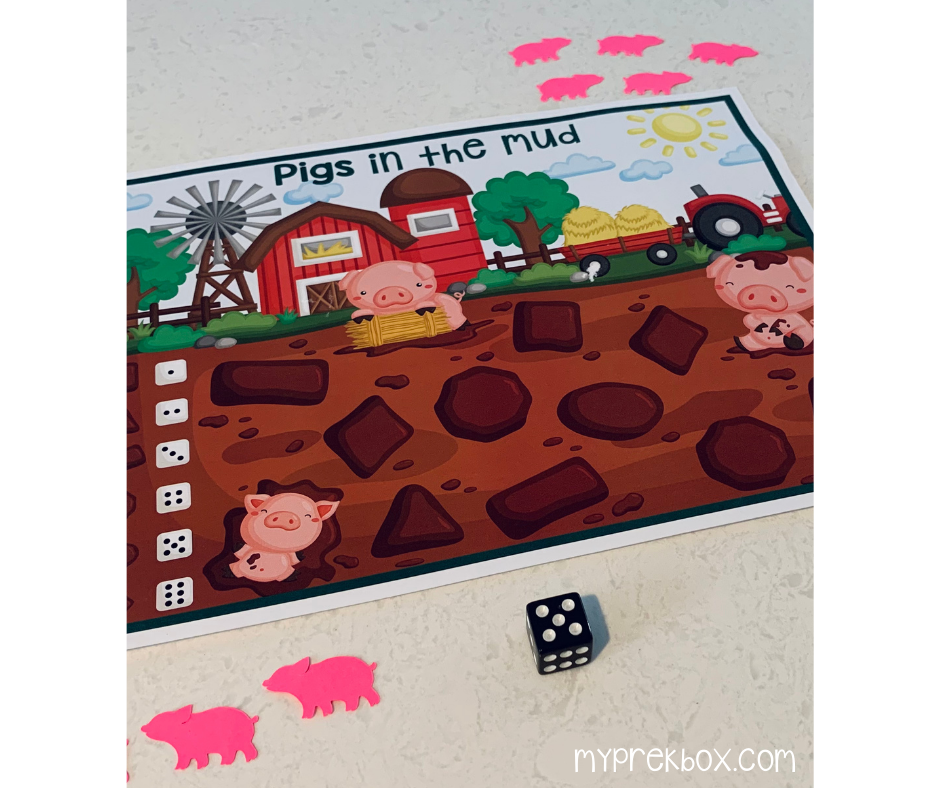 You've done it again, My Pre-K Box! This farm animal activity proved to be a clever way to reinforce shape and number recognition—2 important skills for children ages 3 to 5. For starters, the pink pigs included in this month's subscription box were adorable and immediately elicited an excited response from my preschooler. He couldn't wait to play. His level of excitement lasted throughout the entire game as we rolled the die, shouted out numbers, looked up the corresponding shapes, and realized whether or not a pig was already in that area of mud.
Skills practiced: fine motor skills, shape and number recognition, matching
Materials:
Pigs in the Mud game mat

Die

Pigs
Instructions:
Step 1 Roll the die. Use the key to match the number rolled with a mud shape.
Step 2 Find the corresponding mud shape on the game mat.
Step 3 Put a pig on the matching mud shape.
Step 4 Continue rolling the die until all the pigs are in the mud!
SHEER YOUR SHEEP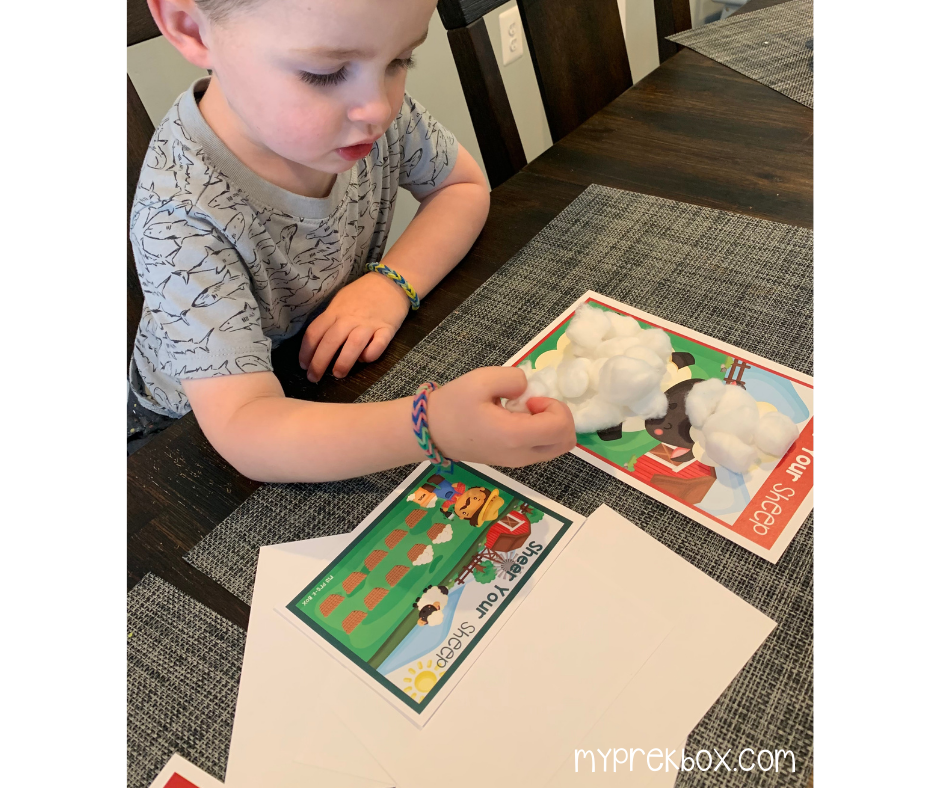 Your little farmer will love the chance to sheer their sheep in this interactive and educational activity. As the game progresses, you may start to notice your child can subitize more easily. To subitize is to identify the number of items in a set simply by quickly looking at them rather than counting one by one. The Sheer Your Sheep cards are also designed to be 10 frames; two rows of five baskets to help your child see numbers in relation to five and 10.
Skills practiced: subitizing, following directions, dramatic play
Materials:
2 Sheer Your Sheep game mats

Sheer Your Sheep cards

Cotton balls
Instructions:
Step 1 Each player selects a Sheer Your Sheep game mat. Place 20 cotton balls on your sheep to start.
Step 2 The object of the game is to completely sheer your sheep of all the cotton balls.
Step 3 Shuffle the Sheer Your Sheep cards and place them upside down.
Step 4 Players take turns selecting a card, identifying the number on the card, and sheering that many cotton balls off their sheep.
Step 5 The first player to completely sheer their sheep wins!
SILO SYLLABLES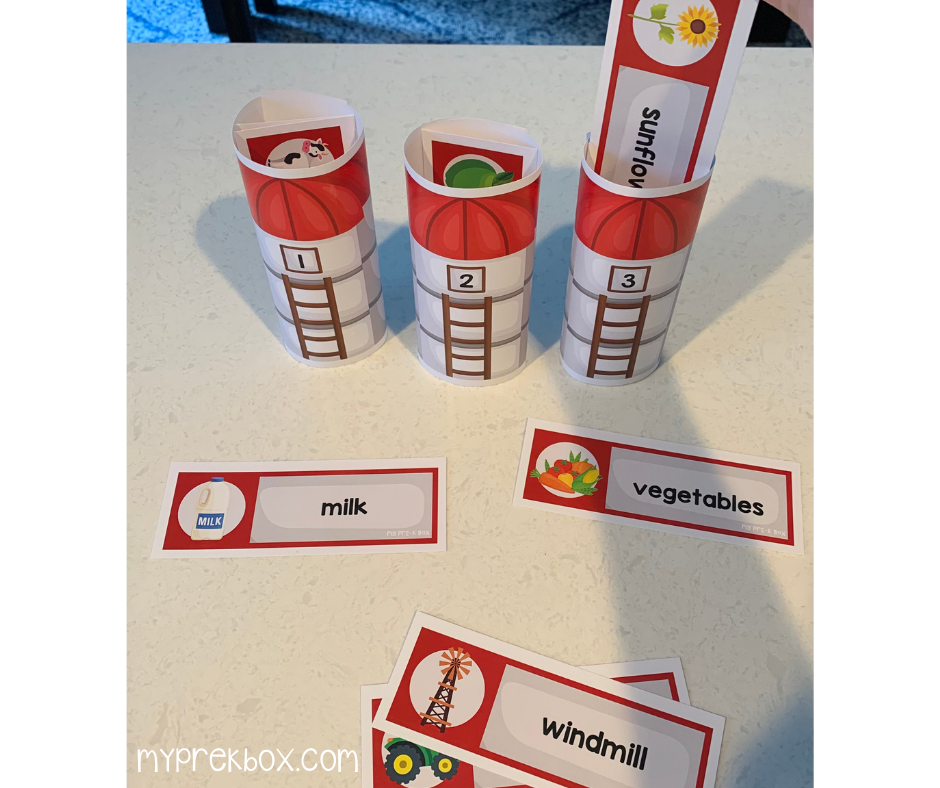 Oh no! All of the farmer's belongings are out of place! To help the farmer put her things back into the correct silo, you'll work with your child to identify the images on the cards and segment the syllables. If identifying syllables is new to your child, take it slow, get excited, and play this farm-themed activity more than once to emphasize the skill.
Skills practiced: phonemic awareness, syllables, sorting, vocabulary
Materials:
Syllabe Silos

Silo Syllable word cards

Tape (not included)
Instructions:
Step 1 Roll the Syllable Silos into a cylinder and tape to secure the edges.
Step 2 Stand the Syllable Silos up. Each silo has a number 1 to 3 on it to represent how many syllables are in a word.
Step 3 Shuffle the word cards and have your child randomly select one.
Step 4 Identify the picture on the card. Example: honeybee
Step 5 Model segmenting the word into syllables for your child. Example: hon-ey-bee
Step 6 Invite your child to join you in segmenting the word into syllables again, this time clapping as you say each syllable. Example: hon- (clap), -ey- (clap), -bee (clap).
Step 7 Identify how many syllables are in the word. If your child knows you clapped three times (without counting) this is a great skill! If they aren't sure, segment the word again into syllables. This time, hold up a finder for each new syllable.
Step 8 Sort the word card into the correct silo.
CRAFT LOVERS UPGRADE
The Craft Lovers Upgrade always includes activities that spark imagination and keep little hands busy. And additional quantities can be ordered for siblings so they can join in on the fun!
Stand Up Chick Craft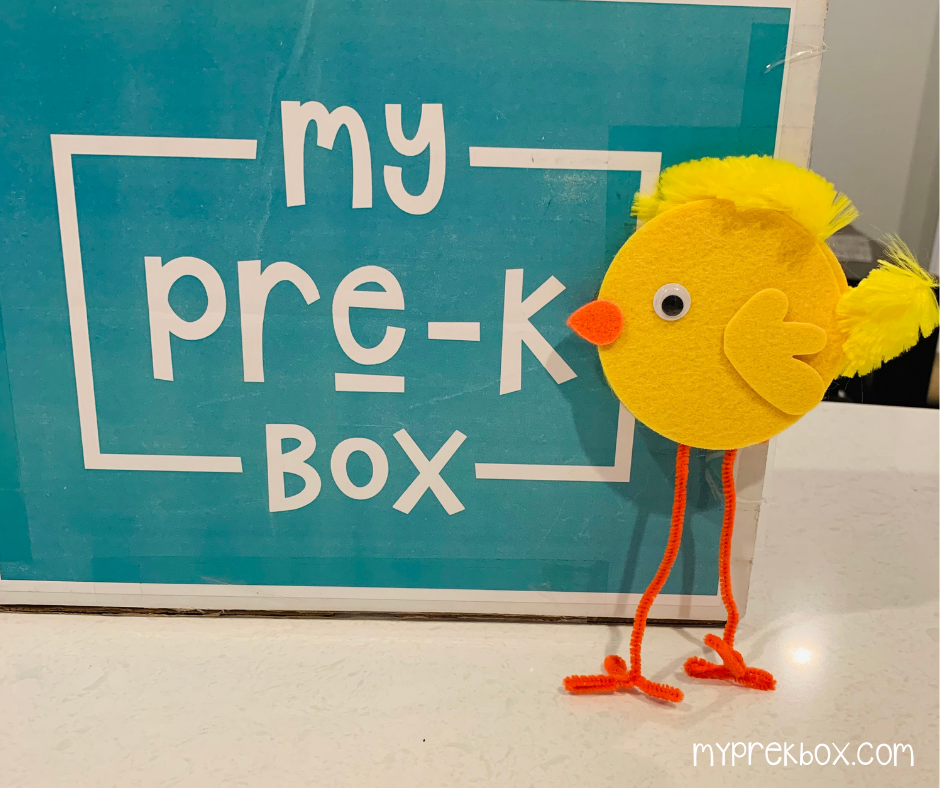 Fine motor skills and the ability to follow directions are revisited as your little one constructs a vibrant yellow chick (complete with googly eyes) that can stand on its own!
Farm Animal Stick by Numbers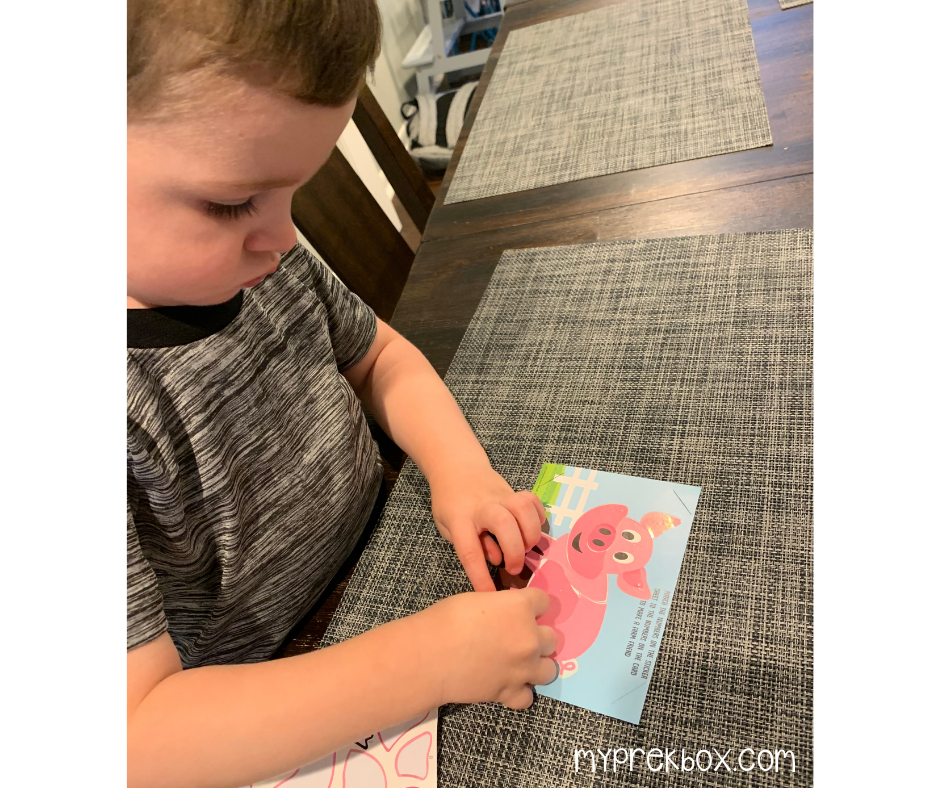 This upgrade combined two of my preschooler's favorite things: stickers and puzzles. In order to successfully complete this activity, your child will need to follow the number sequence and place the stickers within the guides to reveal the farm animal image.
Let's Connect!
We absolutely LOVE seeing your preschoolers learning through play! Please take photos and videos of your child engaging in harvest themed STEM-based, sensory, and arts and crafts activities and share your photos with us on Facebook and Instagram!
Also, if you aren't already, be sure to follow us on Facebook and Instagram for more fun activities to do at home with your little ones!
Haven't yet tried My Pre-K Box?
My Pre-K Box is the best monthly subscription box for kids ages 3-5.

Everything you need to create, play, laugh, and learn!