Oh my gourd! You're going to love using this easily adaptable activity to do a quick check in with your preschooler all while enjoying a little fun this season! This fun pumpkin activity is such a great activity using materials you most likely have in your house already. It can easily be leveled up and used for math skills or writing skills.
My Pre-K Box: The Best Educational Subscription Box for Preschoolers
My Pre-K Box is an educational subscription box for preschoolers aged 3-5! We deliver the most fun play-based preschool learning available! Each box has its own unique theme and is filled with different learning activities to target math and literacy skills. Your kids will have fun exploring the new activities, and you will delight in the fact you are helping them with essential Kindergarten readiness skills! These kits are delivered straight to your door and are sure to get your child into the spirit of the holiday AND learning.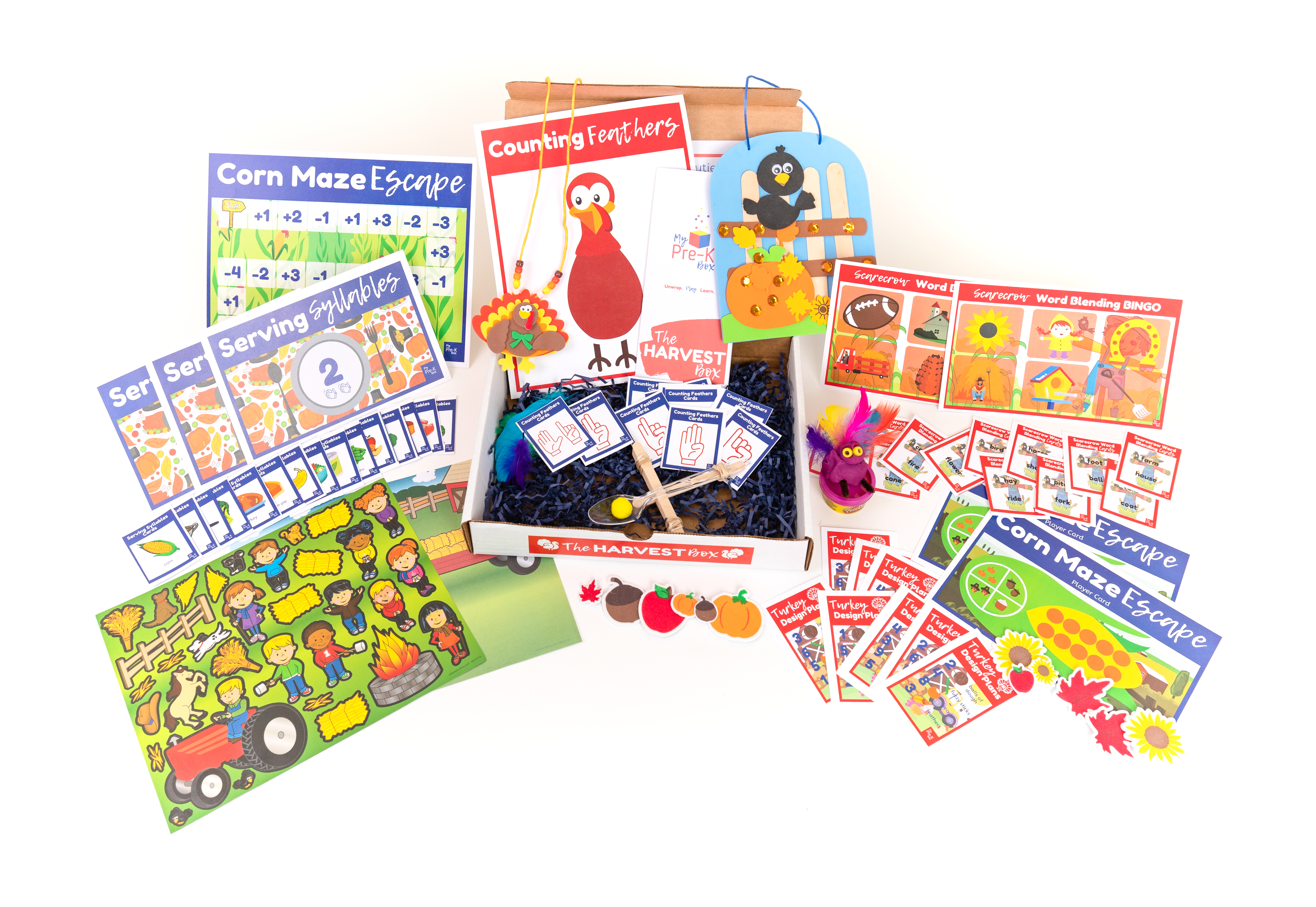 Get your FREE Fall Harvest Worksheets!

Check out our FREE harvest themed preschool worksheets! These harvest themed worksheets are perfect for children aged 3-5! They target important preschool skills like counting, capital and lowercase letters, sorting, and more


Included in the FREE Preschool Harvest Worksheets:

Autumn Count and Compare

Pre-Writing Harvest

Pumpkin Shapes

Tractor Pull Letter Match

Fruit and Veggie Sort

Fall Harvest Beginning Letters

Fall Decorations Count and Color

Leafy Rhymes Clean Up
Get your Harvest-Themed Preschool Fun Pack
Pumpkins on a Vine
Patterns are one of the foundational skills preschoolers learn and show up in various different ways throughout their learning. For this activity, you'll notice the example uses counting patterns with numbers and not only focuses on the pattern itself, but also on filling in the missing number within the pattern. Plus, it's a great number recognition activity.
Materials
a piece of plain white paper

orange and green markers

orange dot circles
Directions
Step 1 With your orange and green markers, draw circle pumpkins on vines. I recommend making at least 3 to 4 sets. This will allow your preschooler adequate practice with finding the missing number.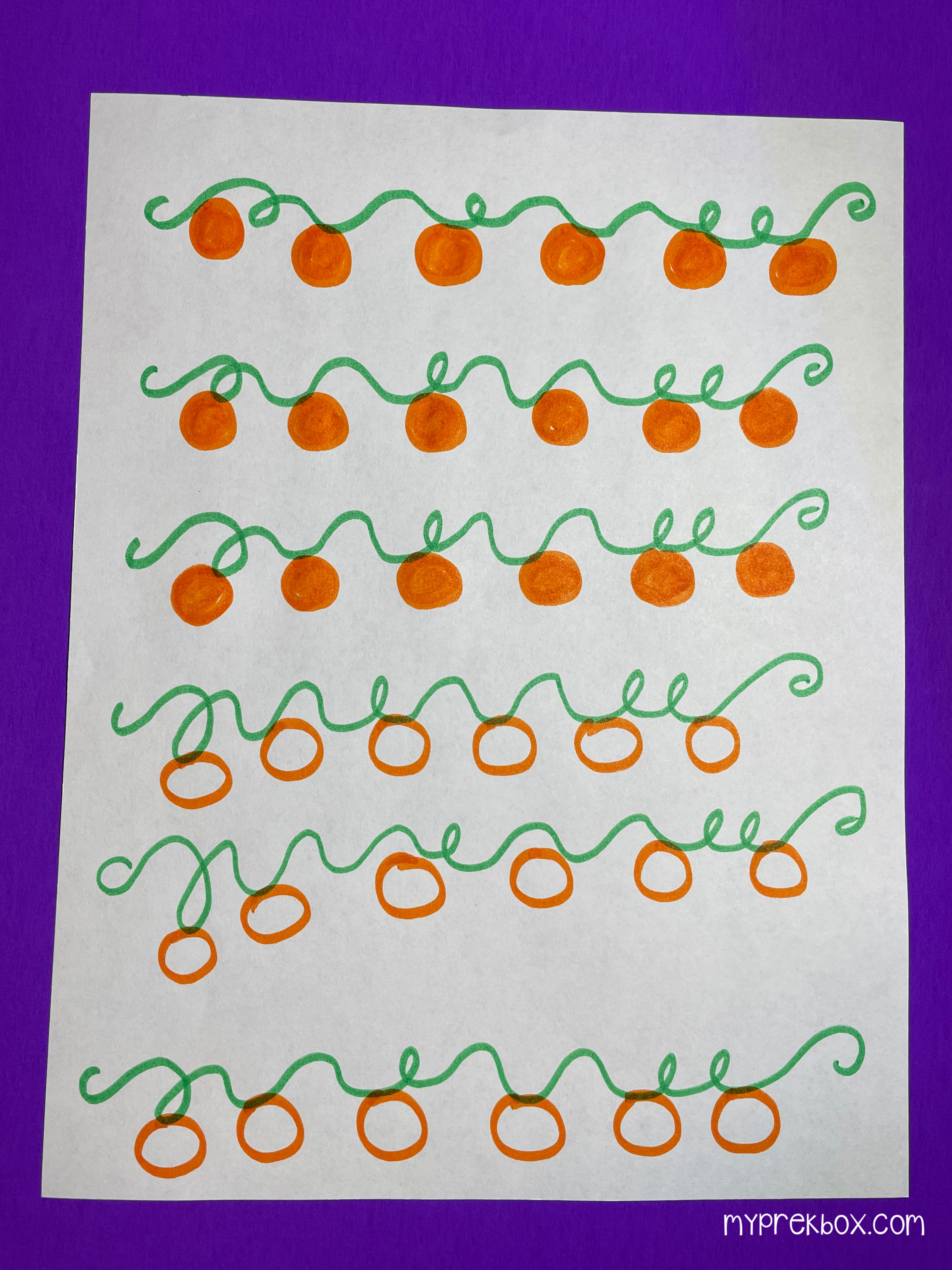 Step 2 Label your pumpkins in numerical order. You can keep the numbers within 1-10 or you can make it more challenging by going into the 30's, 40's, or 50s! Make sure you leave a few in each row blank for your child to label. (Example: 8, 9, __, 11, __, 13)
Step 3 Label the dot stickers with the missing numbers from the number sequences. (Example: 10 and 12 will fill the missing sequence above.)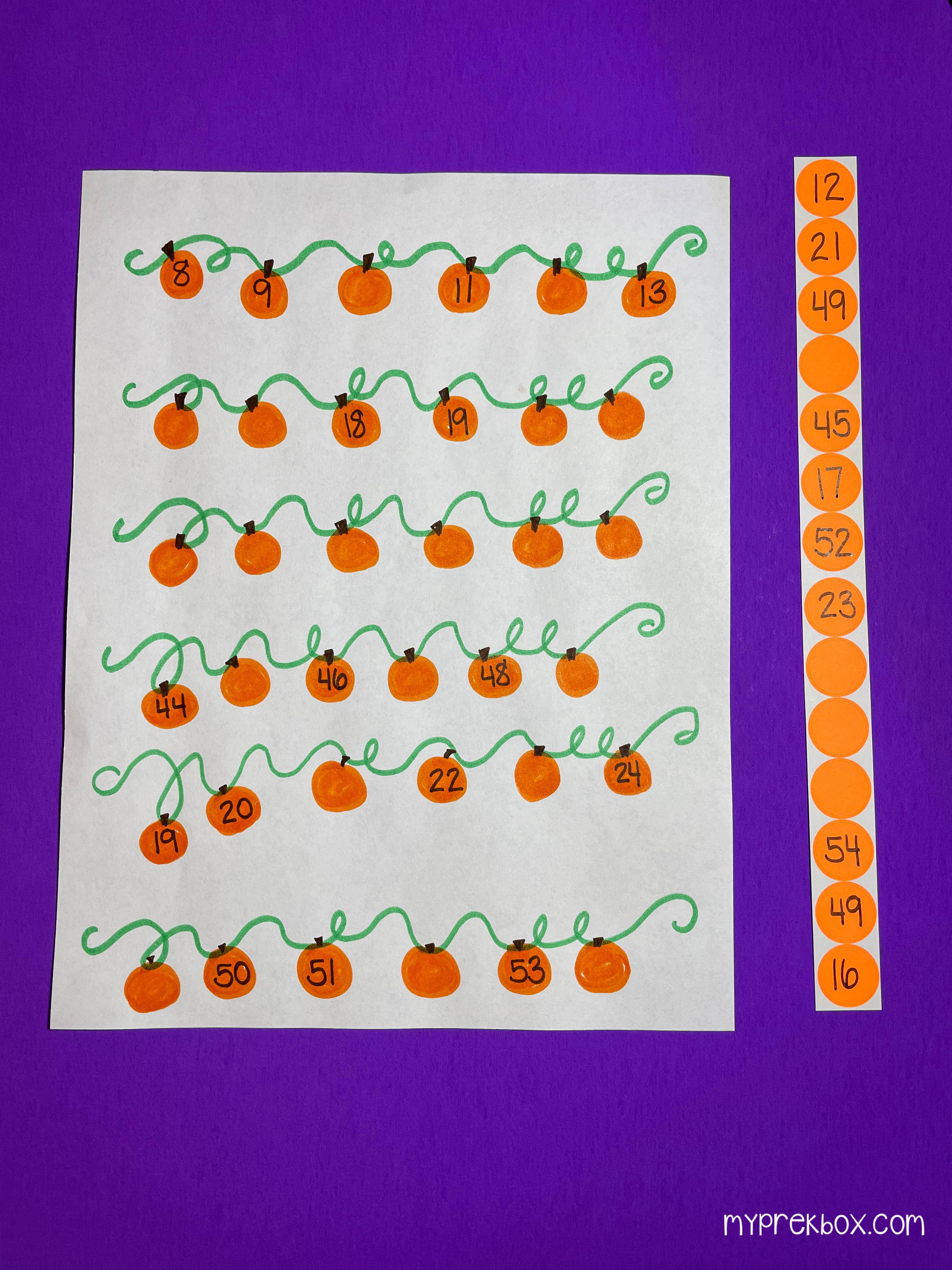 Step 4 Model selecting the correct numbered pumpkin to complete the sequence and then invite your child to try!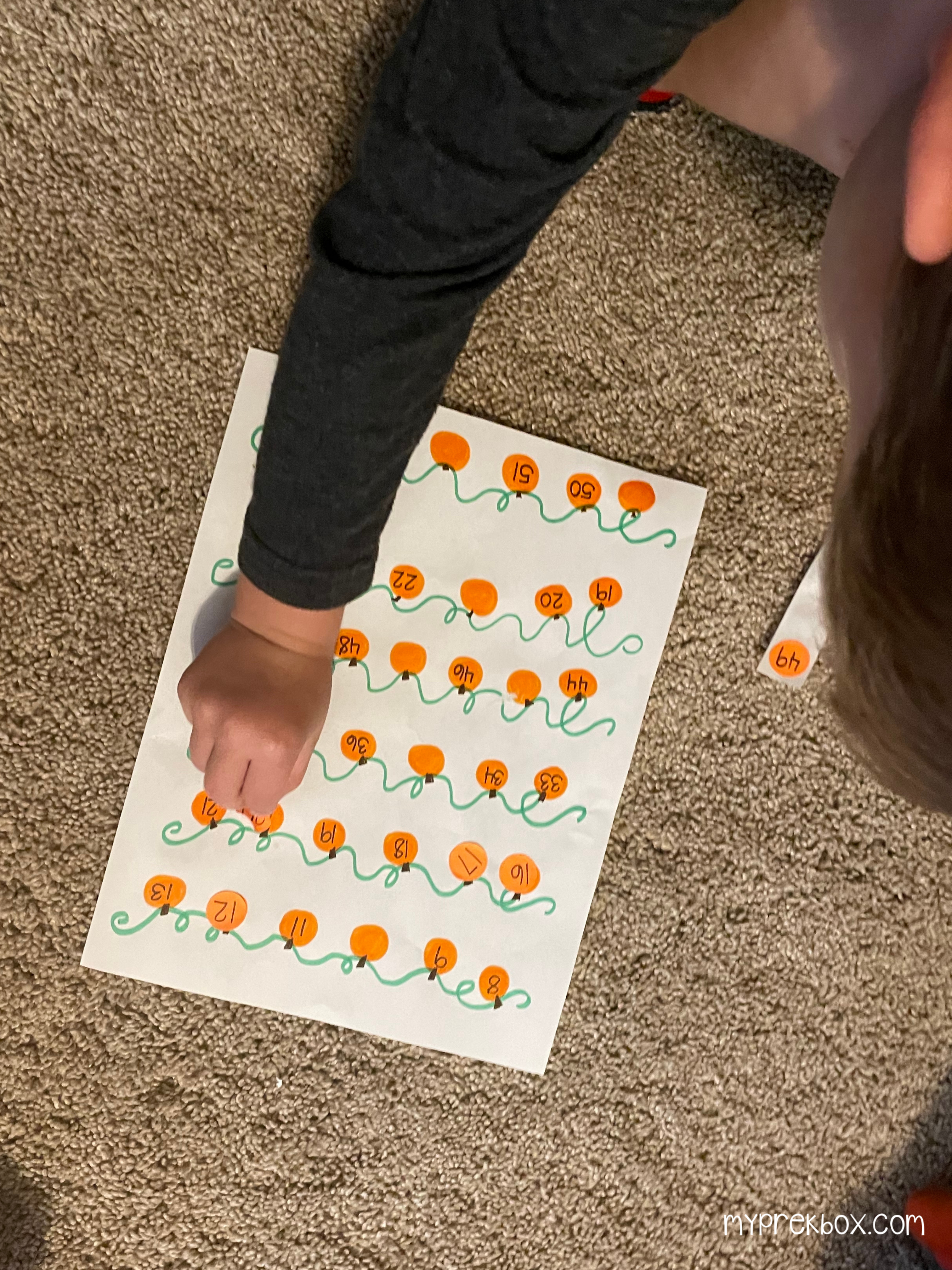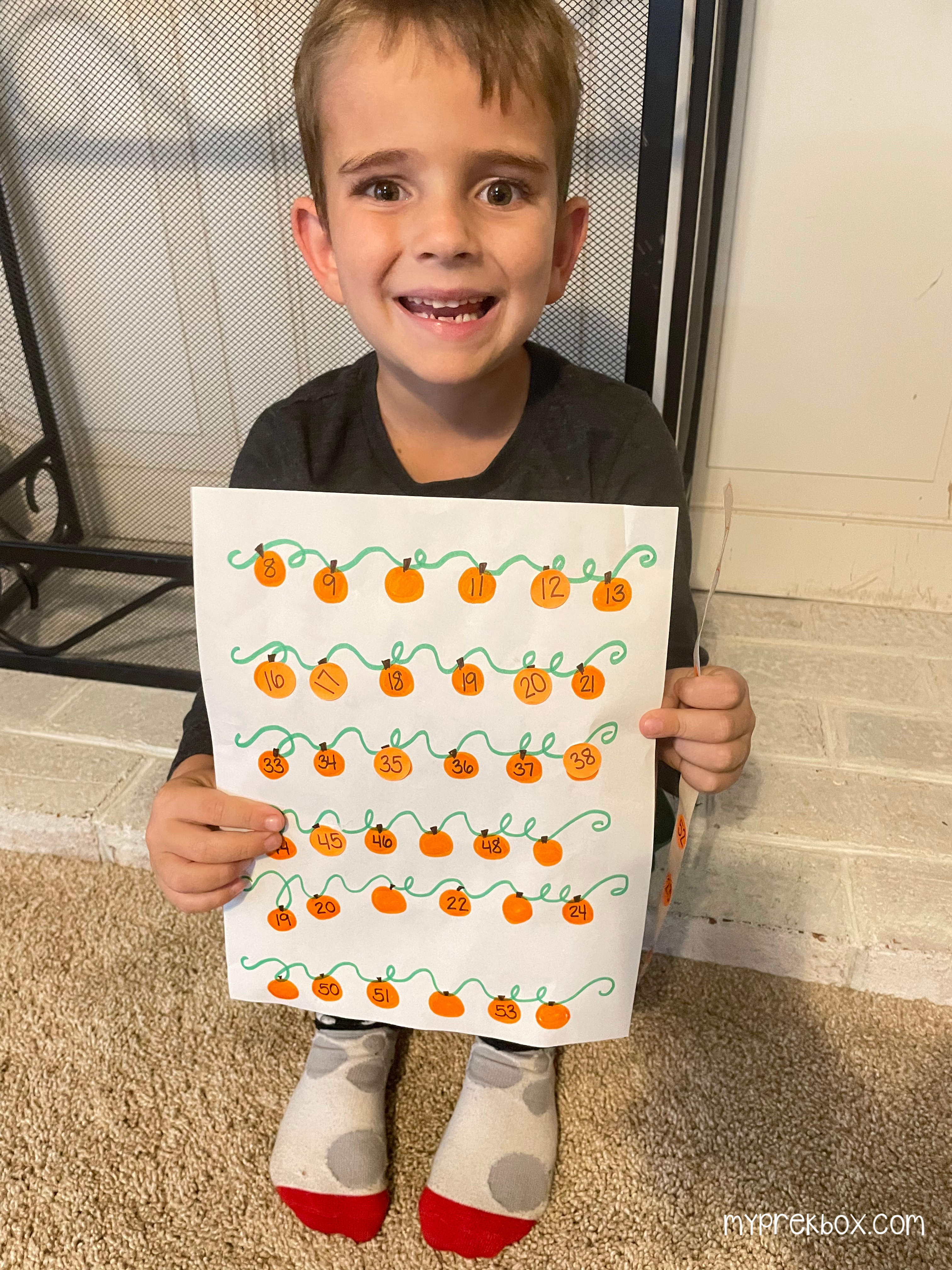 Alternative Play: Write matching numbers on the pumpkins and on the stickers. Have your child select a sticker and put it on the matching pumpkin!
Let's Connect!
We absolutely LOVE seeing your preschoolers learning through play! Please take photos and videos of your child's work and share your photos with us on Facebook and Instagram!
Also, if you aren't already, be sure to follow us on Facebook and Instagram for more fun activities to do at home with your little ones!
Haven't yet tried My Pre-K Box?
My Pre-K Box is the best monthly subscription box for kids ages 3-5.

Everything you need to create, play, laugh, and learn!