One of the best parts of fall is watching the leaves change colors and fall to the ground. You'll enjoy watching your child bring out his/her creativity with this fun fall leaf painting activity. What's even better is that you don't have to live in a place where the leaves are actually fully changing! It also allows for your child to express their creativity without creating a huge mess. Each tree they make, creates a different, unique masterpiece.
My Pre-K Box: The Best Educational Subscription Box for Preschoolers
My Pre-K Box is an educational subscription box for preschoolers aged 3-5! We deliver the most fun play-based preschool learning available! Each box has its own unique theme and is filled with different learning activities to target math and literacy skills. Your kids will have fun exploring the new activities, and you will delight in the fact you are helping them with essential Kindergarten readiness skills! These kits are delivered straight to your door and are sure to get your child into the spirit of the holiday AND learning.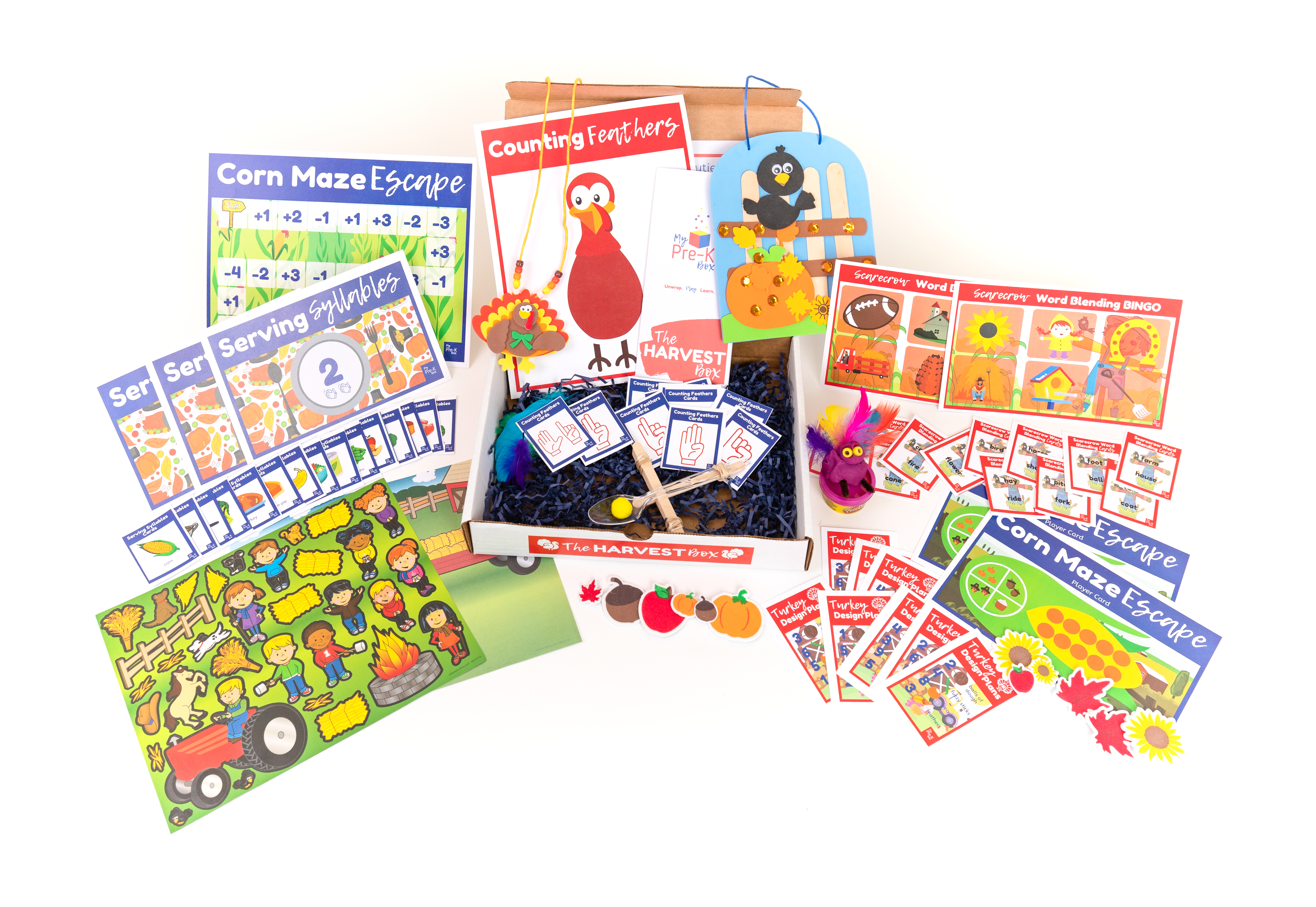 Get your FREE Fall Harvest Worksheets!

Check out our FREE harvest themed preschool worksheets! These harvest themed worksheets are perfect for children aged 3-5! They target important preschool skills like counting, capital and lowercase letters, sorting, and more


Included in the FREE Preschool Harvest Worksheets:

Autumn Count and Compare

Pre-Writing Harvest

Pumpkin Shapes

Tractor Pull Letter Match

Fruit and Veggie Sort

Fall Harvest Beginning Letters

Fall Decorations Count and Color

Leafy Rhymes Clean Up
Get your Harvest-Themed Preschool Fun Pack
Fall Leaf Process Painting
Materials
an empty toilet paper roll

paints, assorted fall leaf colors

a tree trunk shape cutout
Instructions
Step 1 Take your toilet paper roll and squish it so it creates a leaf-like shape.
Step 2 Allow your child to dip the open end into a color of their choosing. Then, they will stamp the painted end somewhere on their tree. Ultimately, it doesn't matter where and it's fun to see what they come up with.
Step 3 Continue to dip the toilet paper roll into the different colors until your child feels like their artwork is complete.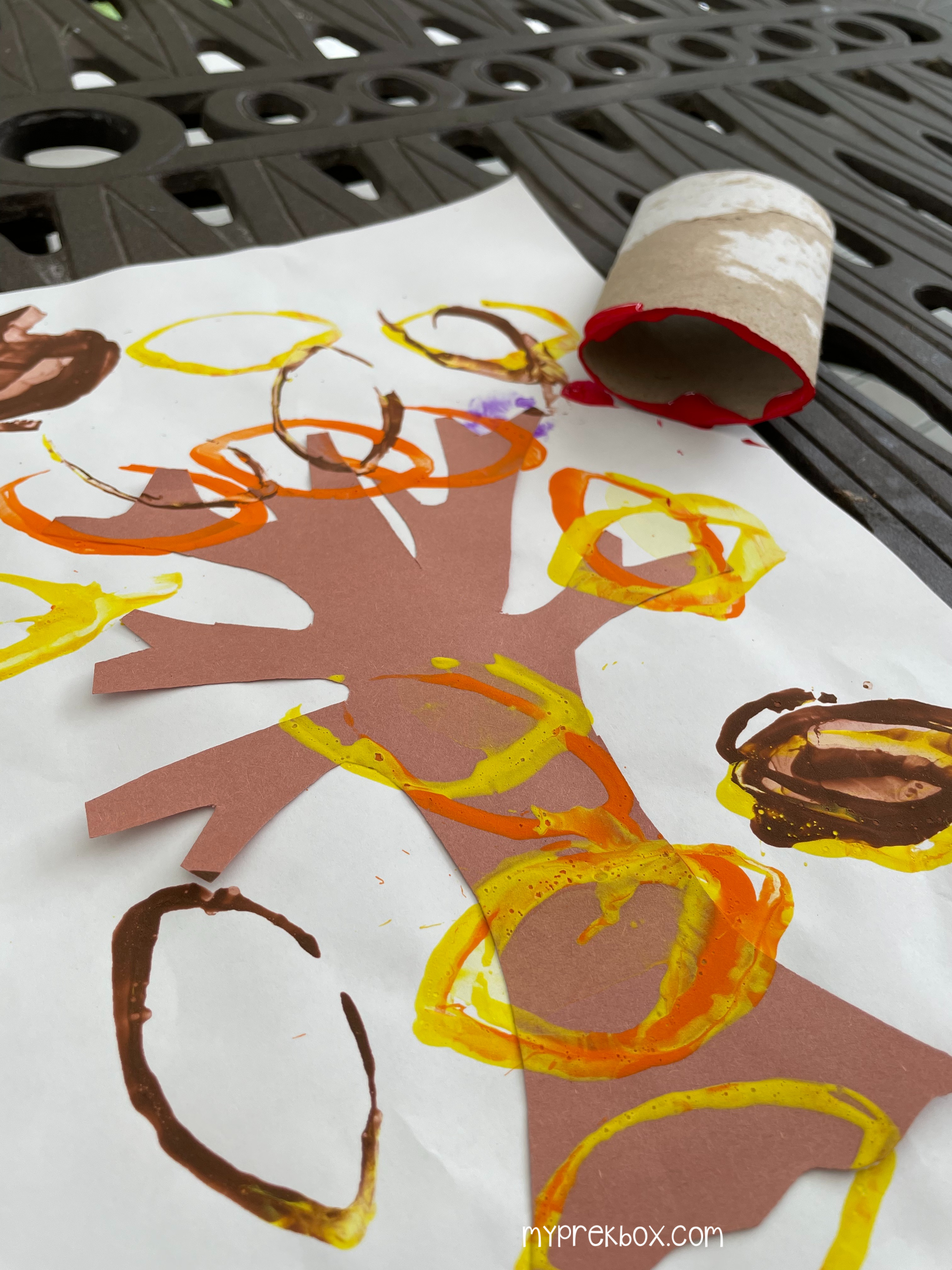 This process art is great for kids ages 2-6, or so. The younger the child, the more supervision is advised.
Looking to Add In Some Learning?
Art pairs so well with reading and writing! This is a great activity to do along side reading a book about fall or changing leaves. You can find books at your local library, through an app on your phone or computer, or at a book store.
Fall Themed Books
The Little Yellow Leaf by Carin Berger
Fall Leaves Fall! by Zoe Hall
Autumn Leaves by Ken Robbins
Let's Connect!
We absolutely LOVE seeing your preschoolers learning through play! Please take photos and videos of your child's work and share your photos with us on Facebook and Instagram!
Also, if you aren't already, be sure to follow us on Facebook and Instagram for more fun activities to do at home with your little ones!
Haven't yet tried My Pre-K Box?
My Pre-K Box is the best monthly subscription box for kids ages 3-5.

Everything you need to create, play, laugh, and learn!