One of the best parts of fall is watching the leaves change colors and fall to the ground. You'll enjoy watching your child bring out his/her creativity with this fun fall leaves painting activity. What's even better is that you don't have to live in a place where the leaves are actually fully changing! It also allows your child to express their creativity without creating a huge mess. Each tree they make creates a different, unique masterpiece.
My Pre-K Box: The Best Educational Subscription Box for Preschoolers
My Pre-K Box is an educational subscription box for preschoolers aged 3-5! We deliver the most fun play-based preschool learning available! Each box has its own unique theme and is filled with different learning activities to target math and literacy skills. Your kids will have fun exploring the new activities, and you will delight in the fact you are helping them with essential Kindergarten readiness skills! These kits are delivered straight to your door and are sure to get your child into the spirit of the holiday AND learning.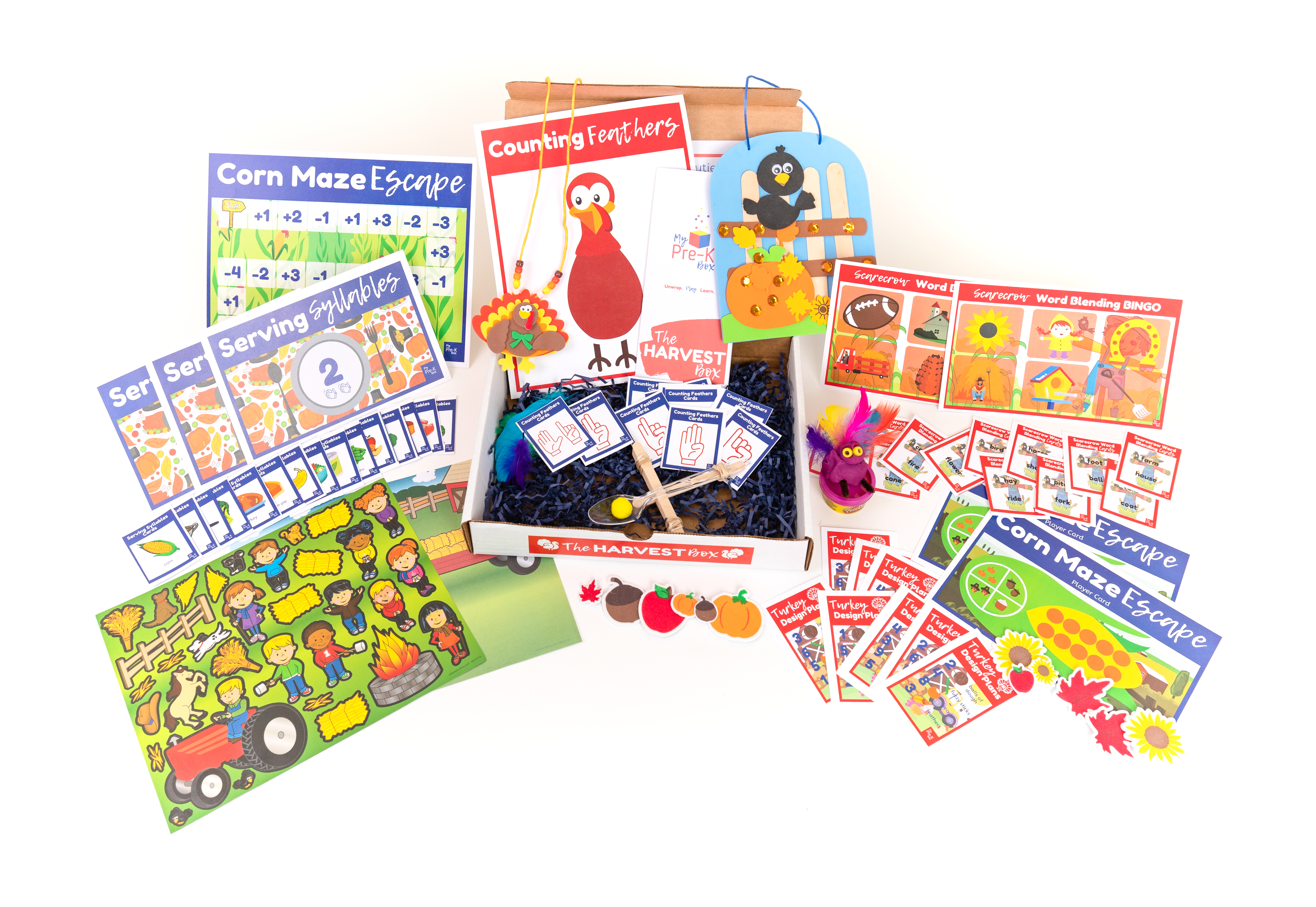 Get your FREE Fall Harvest Worksheets!



Check out our FREE harvest-themed preschool worksheets! These harvest-themed worksheets are perfect for children aged 3-5! They target important preschool skills like counting, capital and lowercase letters, sorting, and more


Included in the FREE Preschool Harvest Worksheets:

Autumn Count and Compare

Pre-Writing Harvest

Pumpkin Shapes

Tractor Pull Letter Match

Fruit and Veggie Sort

Fall Harvest Beginning Letters

Fall Decorations Count and Color

Leafy Rhymes Clean Up
Get Fall Harvest Preschool Fun Pack
Fall Leaves Process Painting
Process art is becoming a more popular method in teaching children, as it focuses on the process rather than the product or output. It allows learners to learn and explore without exactly copying the product or output. In other words, they can freely decide what to do and how to do their artwork! This is good because they can try various things and see what happens - and learn from it! As parents, we would only be there to supervise and give remarks. When giving feedback, remember not to always praise them or their output. It would be better to say something about their choice of color or materials, give suggestions, or ask why they chose it.
Materials for the Fall Leaves Painting:
an empty toilet paper roll

paints, assorted fall leaf colors

a tree trunk shape cutout

white paper or cardstock

glue
Procedure in creating your own
Fall Leaves Painting:
Step 1 Attach the tree trunk shape cutout in white paper or cardstock using glue.
Step 2 Take your toilet paper roll and squish it so it creates a leaf-like shape.
Step 3 Allow your child to dip the open end into a color of their choice. Then, they will stamp the painted end somewhere on their tree. Ultimately, it doesn't matter where and it's fun to see what they come up with!
Step 4 Continue to dip the toilet paper roll into the different colors until your child feels like their artwork is complete.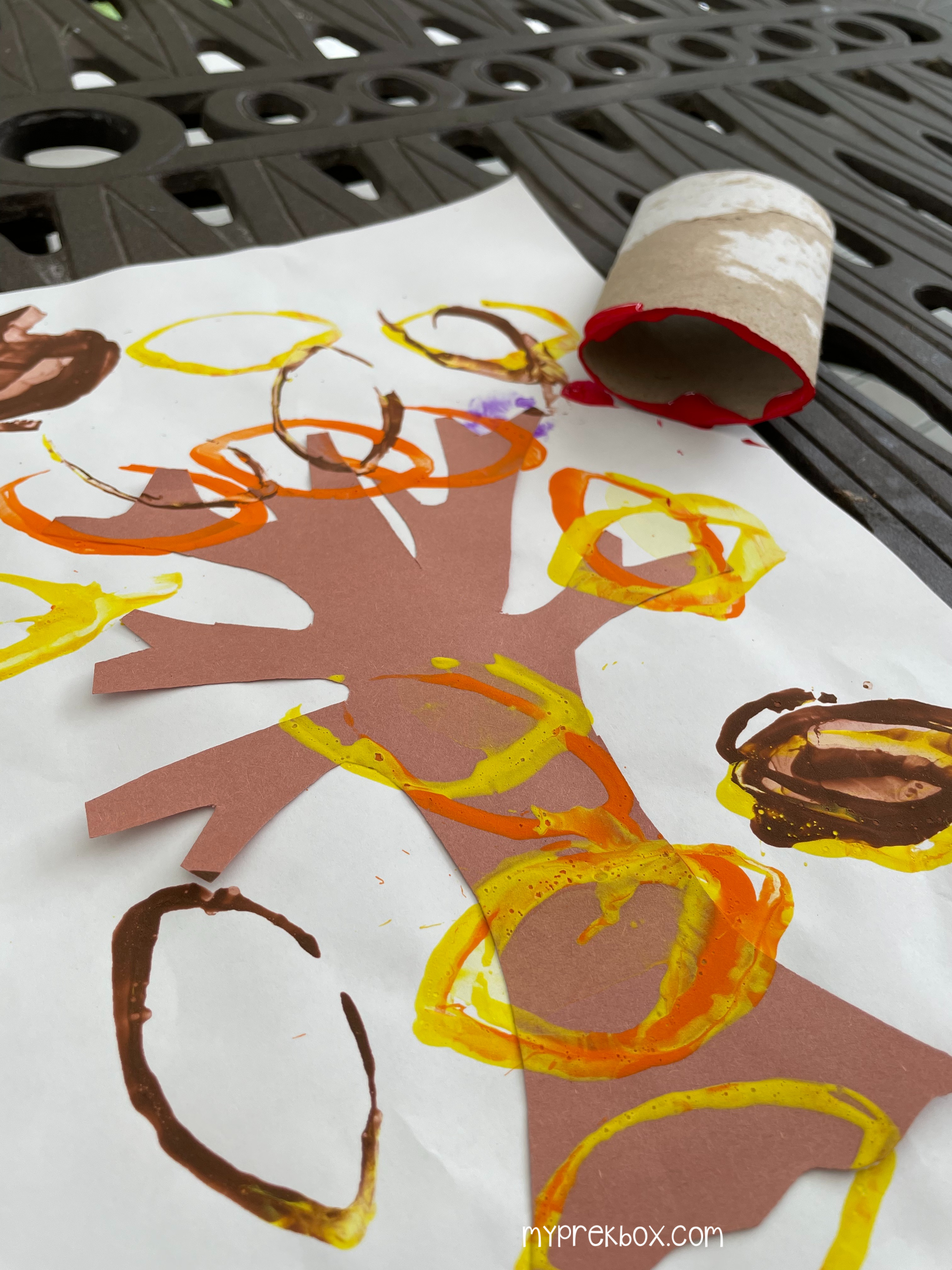 This process art is great for kids ages 2-6, or so. The younger the child, the more supervision is advised.
Looking to add in some learning?
Art pairs so well with reading and writing! This is a great activity to do alongside reading a book about fall or changing leaves. You can find books at your local library, through an app on your phone or computer, or at a book store.
| | | | | | |
| --- | --- | --- | --- | --- | --- |
| Here are some Fall-themed books recommendations: | | | | | |
The Fall Leaves Process Painting is just one of the many art activities we shared in our blogs. And if you want more activities but don't have enough time to prepare the materials and tools, check out My Pre-K Box! It's a subscription box that is filled with fun preschool activities, delivered every month to busy families like yours.
And because want our customers to be happy and satisfied, we always make sure that My Pre-K Boxes' games and activities are safe and of excellent quality. It is also very kid-friendly, incredibly practical, and reusable! It can be shared with his siblings and friends and can be used repeatedly! We also sell duplicate crafts for only $3.25 per month, so you can get a duplicate for his siblings! If your little one is a fan of our craft, you can also subscribe to our Craft Lovers Upgrade for $4.25 per child, which includes more fun crafts and two more arts and crafts activities.
The fun and exciting activities inside My Pre-K Box will help your child enjoy learning, and you won't have to worry about a thing - it will be all prepped and delivered to your door! No more researching, planning, and cramming to make the activities yourselves! My Pre-K Box will handle it all for you, while you can simply guide and watch them learn in the convenience of our home!

Let's Connect!
We absolutely LOVE seeing your preschoolers learning through play! Please take photos and videos of your child's work and share your photos with us on Facebook and Instagram! Just use the hashtag #myprekbox! Be sure to give us a LIKE and FOLLOW our social media pages for more fun activities to do at home with your little ones!
Haven't yet tried My Pre-K Box?
My Pre-K Box is the best monthly subscription box

for kids ages 3-5.

Everything you need to create, play,

laugh, and learn!