♫♬ My mommy is the best, the best there ever was! ♫♬♫♬
♫♬ My mommy is the best, and I love her just because… ♫♬♫♬
Because? Well, because there are tons of reasons why we love our moms! From the smallest things like preparing our food, tucking us in bed, to the huge sacrifices they make for us - the list is endless! So, this Mother's Day, why not give her a simple yet heartwarming gift? How about a DIY homemade card? No matter how small or simple it might be, we're sure she'll love it!
My Pre-K Box: The Best Subscription Box for Kids Ages 3 to 5!
My Pre-K Box is an educational subscription box for preschoolers filled with different learning activities for math and literacy skills! With fresh new themes each month, your child will delight in all of the fun, play-based learning activities inside! Prepped and delivered straight to your door, My Pre-K Box is so much fun - your child won't even realize how much they're learning!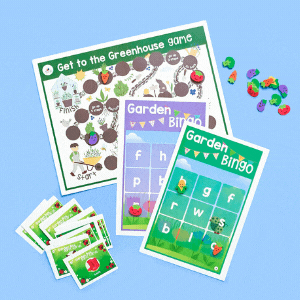 If you're a dad who wants to surprise your wife with simple gifts made by your kids themselves (and teach your kids at the same time to show their appreciation to their mom!), we're here to help! Our cute Mother's Day card idea for preschoolers is very easy, and you can have fun with your kids while doing it! Plus, they'll be learning some useful Kindergarten skills from it too!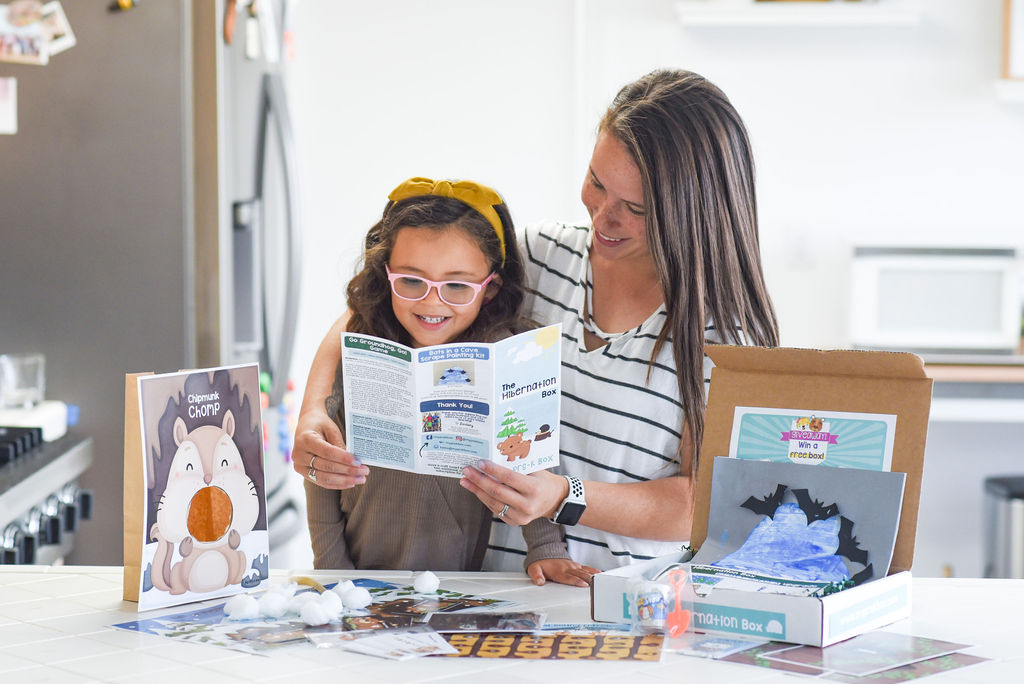 Materials for the Handmade Mother's Day Card Craft:
colored papers

pencil and markers

scissors

glue
Steps in Creating the Handmade Mother's Day Card Craft
Create a really cute DIY Mother's Day card by following these 8 easy steps!
Step 1 Choose a piece of colored paper for the background. It can be your mom's favorite color! Then, prepare a green colored paper, and cut it into 3 thin strips. It will be the flower's stem. Arrange these green paper strips with one end of each strip placed together, so they look like a letter V with an extra line in the middle. Glue them together in your chosen background.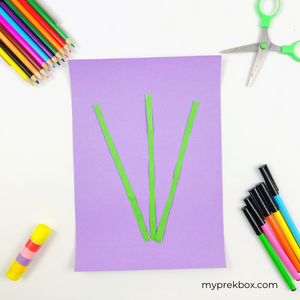 Step 2 Choose a color for the bud on the inner part of our tulips. For this, we used light pink! Cut into 2x2 inches square, and make 3 pieces. Then, fold it in half and cut it into a half-circle, with a slightly pointed top. Open it up, and now you have a flower bud!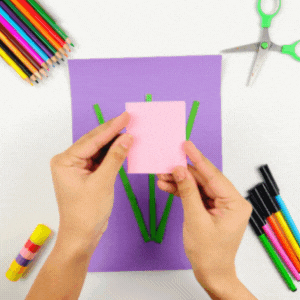 Step 3 Glue a flower bud on the end of each stem. Then, choose another color for the outer petal of your flower craft. We used red for this one, but you can choose a different color if you like! Just repeat step 2, but this time make 6 pieces of the pointed half-circle.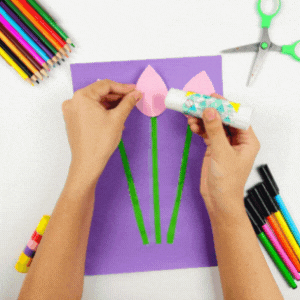 Step 4 Keep this closed and attach 2 pieces on each side of the flower bud, leaving a V-shaped space in the middle. Do this for all 3 flowers. The flaps of the folded petal give off a 3d effect to the lovely tulips!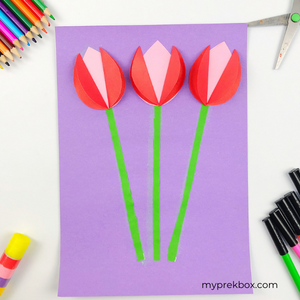 Step 5 For the flower pot, you can choose a piece of yellow or light brown paper. Make sure the color is light enough for you to write on it later. Next, fold the paper into two and draw a flower pot using a pencil. Once you are sure it is big enough, cut out the flower pot! You'll have 2 flower pots of the same size now.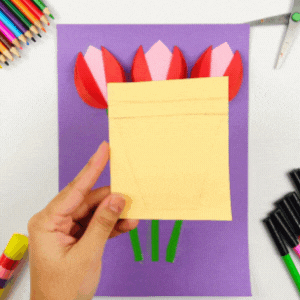 Step 6 Glue together the upper part of the 2 flower pots. Be sure to only add glue on the upper part of the pot, so you can still open the lower part. You will write your message here later!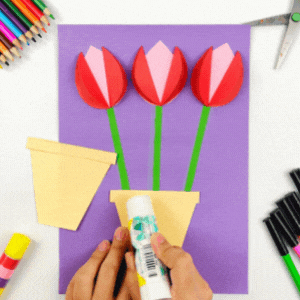 Step 7 Now, add glue to the back of one of the pots to attach it to the flowers! Paste it at the bottom part of your handmade card. Then, cut out some small green leaves for your tulip flowers! Lastly, use a marker to design your flower pot! You can simply add slant lines on the glued top part of the pot, just like what I did!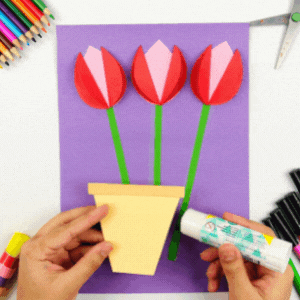 Step 8 This is a very special step in making your handmade Mother's Day card craft - writing up a simple message for your mom! Use the marker to write a short message inside the flower pot. It can be a simple "Happy Mother's Day!", "I love you, Mom!", or "You are lovely like these flowers!". On the outer part of the pot, you can write "Mom", "To mommy", "Mama", or to whoever you want to give these flowers to. Now you're all done!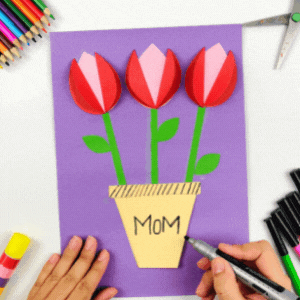 See how simple and easy it is? Your preschooler will surely have fun doing this for his mom, while practicing his fine motor skills through folding, cutting, drawing, writing, and gluing together this cute DIY card!
You can also use this card for other occasions like Valentine's Day, birthdays, grandparents' day, or on any day actually! Even without special occasions, show your love and appreciation to your mom or your loved ones by giving them this cute handmade card!
For other mom gift ideas, you can also try our Mother's Day Bouquet Craft! It's as easy and cute as this craft, and more convenient to use with our FREE printable template! Check out the blog post about this Mother's Day gift idea and how you can get the FREE DOWNLOAD here.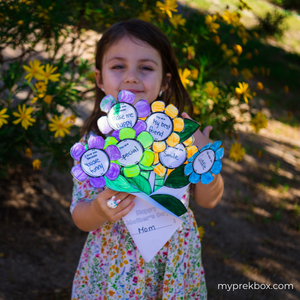 But you know what's a better gift for mamas this Mother's Day? A subscription to our wonderful boxes! It will give them more me-time and time for your kids too, with less hassle and effort in preparing hands-on activities for your little ones. They can enjoy their coffee or scroll through their phone while looking over and guiding their kids - because My Pre-K Box offers lots of hands-on, play-based learning activities!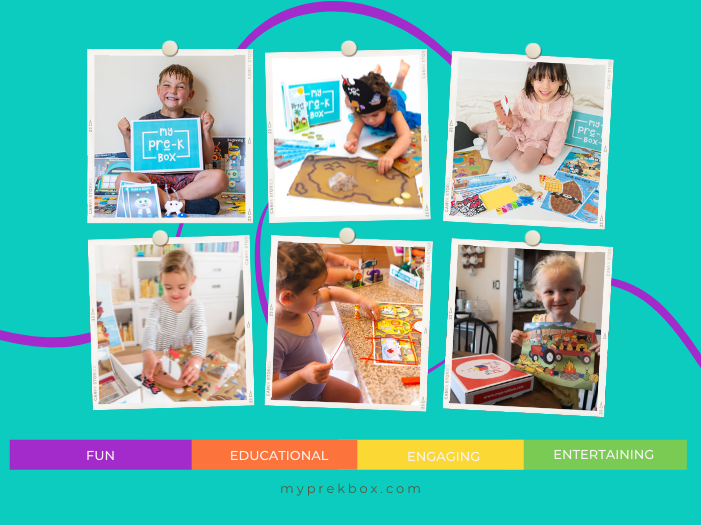 Every box delivered monthly has a fresh, new theme, and is filled with hands-on learning tools suitable for preschoolers. It contains fun math activities, literacy games, sensory play, and thematic crafts. It also comes with a grownup guide too! And do you know what else moms love about My Pre-K Box? It's very practical and affordable! As most of the games can be shared and reused, it is perfect for those who have more than one child! You can also get duplicates of the craft for the siblings for only $3.25 a month! Preschoolers who love arts and crafts will surely love The Craft Lovers Upgrade! It comes with more fun crafts and two additional arts and crafts activities! You can get it for just $4.25 per child. Moms can have less time prepping activities and get more time teaching and playing with their kids with My Pre-K Box!
Let's Connect!
If you love our Handmade Mother's Day Card Craft, be sure to LIKE and FOLLOW us on Facebook and Instagram! We have more arts and crafts and fun learning activities for you! Stay tuned for updates, and don't forget to use the hashtag #myprekbox when sharing your precious moments with your little ones as they enjoy hands-on activities from My Pre-K Box!
Haven't Tried My Pre-K Box Yet?
My Pre-K Box is the best monthly subscription box for

kids ages 3-5!

Everything you need to create, play, laugh, and learn!