Pretty butterflies are a great sight on a nice, spring day! Their colorful wings are very attractive, especially to young children. And if you are looking for a DIY butterfly craft for preschoolers, you're on the right page! We have an easy butterfly craft for kids that you will surely love. Get ready with your arts and crafts stuff, we're flying on a DIY adventure!
My Pre-K Box: The Ultimate Subscription Box for Kids Ages 3 to 5 years!
My Pre-K Box is an educational subscription box for preschoolers aged 3-5! We deliver the most fun, play-based preschool learning available! Each box has its own unique theme and is filled with different learning activities to target math and literacy skills. Your kids will have fun exploring the new activities, and you will delight in the fact you are helping them with essential Kindergarten readiness skills!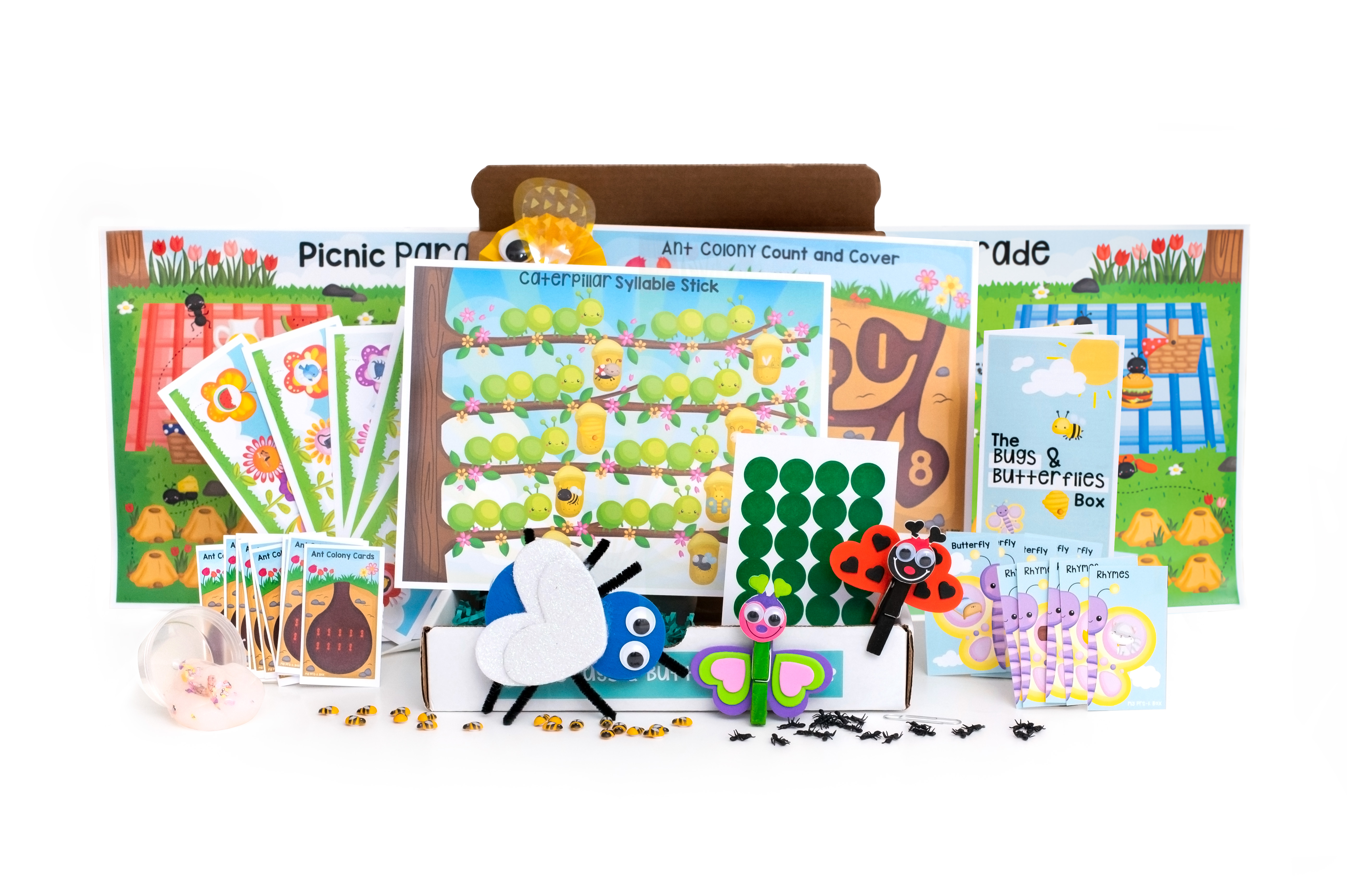 Kids are curious beings - no wonder they are easily attracted to crawling bugs and flying butterflies around them. So if you want to settle them down with some arts and crafts (and still develop Kindergarten skills), check out our easy and simple DIY Butterfly Craft! Preschooler kids can do this with your guide, and materials are easy to find.
Materials for DIY Butterfly Craft

Transparency film or acetate sheet

cardstock (for the pattern only)

round wood craft dowels

cotton balls

acrylic paint (multiple colors)

plastic spoon

colorful yarns

glue gun and glue sticks

pipe cleaner

beads

marker
Steps in Making a DIY Butterfly Craft
Step 1 Using the cardstock, draw or print an outline of a butterfly. Then, cut it out and use it as a pattern. Place it on top of the transparency film or acetate sheet and cut it out! You can also use a marker to trace its outline on the acetate sheet, then cut it out.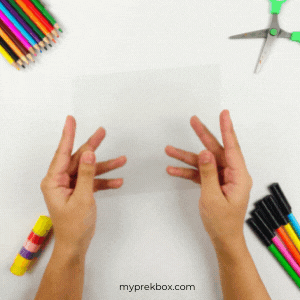 Step 2 Get a wood craft dowel and dip it in acrylic paint. Then, stamp it along the outline of the butterfly on acetate sheet. You can also leave space so you can alternate the colors! It would also be a good idea to change to a new wood dowel when using a different color to avoid mixing up the colors!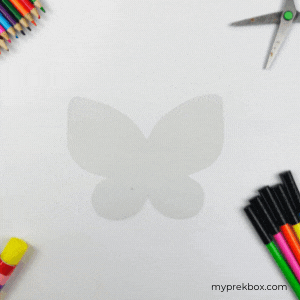 Step 3 Now, use the cotton balls to decorate and color the inner wings of your pretty butterfly! Dab it on the acrylic paint (make sure not to dip it too much!). Then dab it lightly on each side of the wings to make the design asymmetrical. Use different colors too! The more, the merrier!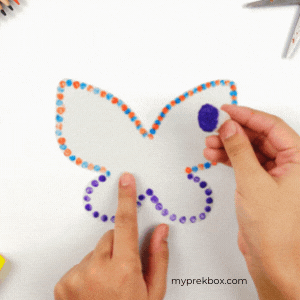 Step 4 While waiting for the paint to dry up, prepare the butterfly's body! Grab the spoon and wrap it up with some colorful yarn. Cover the whole handle of the spoon, which will serve as the thorax and abdomen of the butterfly! You can secure the yarn with a glue gun and glue stick.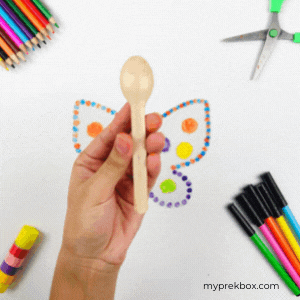 Step 5 Bend the pipe cleaner into a Y-shape, then attach it to the head of the spoon using the glue gun and glue stick again. It will become the colorful butterfly's antenna! Add some beads at its ends too!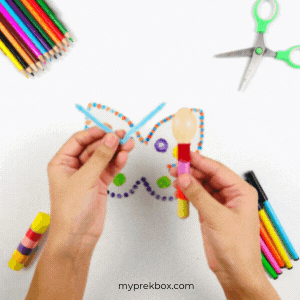 Step 6 Draw the butterfly's smiling face using a marker! Aww, look how cute and happy it is!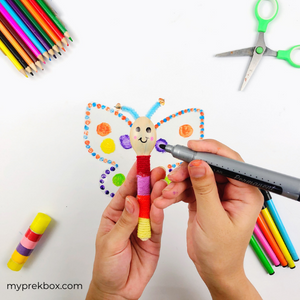 Step 7 Lastly, attach the body made out of a spoon to the acetate sheet. Glue it to the colorful wings you just painted - and there you have it! Your very own lovely butterfly!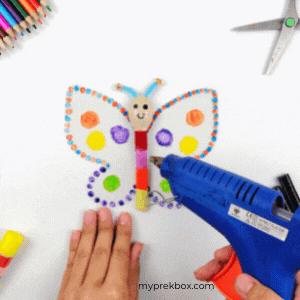 Did your kids enjoy the DIY Butterfly Craft? If they want more spring fun, we got the right freebie for you! Here is our Print & Go Spring Salt Painting - a collection of spring-themed templates you can use for salt painting! If your kids haven't tried salt painting yet, they will surely enjoy this one. And it has a butterfly template too! Click here to read more about Print & Go Spring Salt Painting and how to download it for FREE!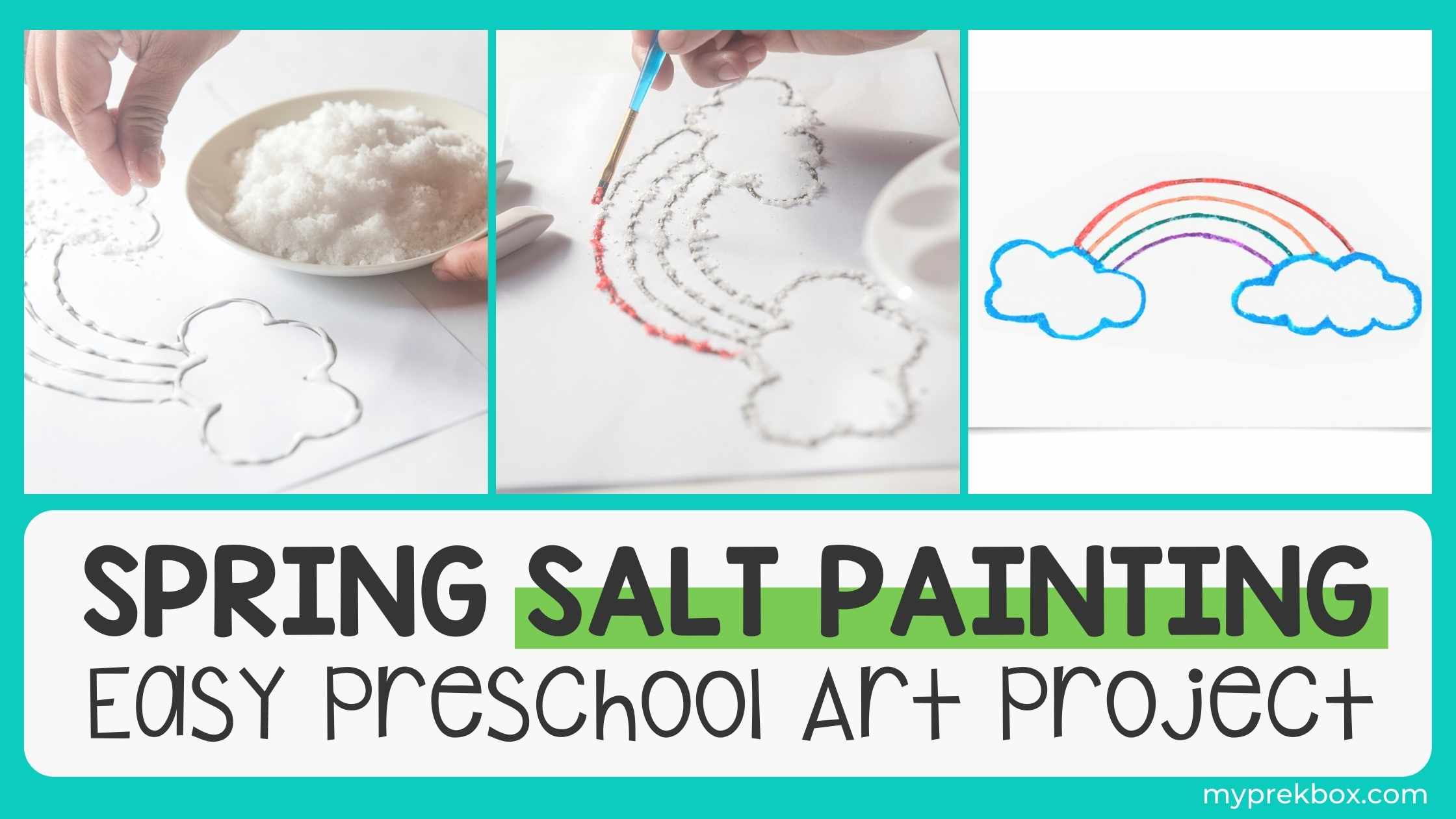 If your kids loved our DIY Butterfly Craft, they will absolutely be delighted with our latest addition to our amazing boxes - The Bugs & Butterflies Box! This new themed box from My Pre-K Box is packed with play-based, hands-on, learning activities for preschoolers. It is one of the monthly boxes delivered to busy families who enjoy the convenience and ease offered by our fun and engaging math activities, literacy games, thematic crafts, and sensory play! It even has a grown-up guide to help parents and caretakers assist kids as they explore our fun games and learning activities.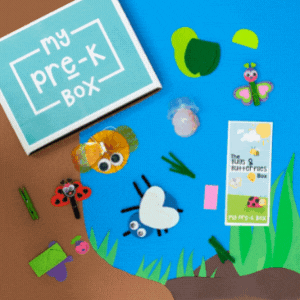 Even the games are reusable, so their younger siblings can play with it in the future! What a great value for money, right? You can also get duplicates of the craft for his/her siblings for only $3.25 a month! And if your child loves our thematic crafts, you can subscribe to our Craft Lovers Upgrade for more fun crafts and two additional arts and crafts activities. That's just $4.25 per child! Savor your time with your kids with less time researching and preparing for hands-on activities - with the help of My Pre-K Box!

Let's Connect!
How was your experience making your very own DIY Butterfly Craft? Share it with us on Facebook and Instagram by using the hashtag #myprekbox! Don't forget to LIKE and FOLLOW us for more arts and crafts fun!
Haven't Tried My Pre-K Box Yet?
My Pre-K Box is the best educational monthly subscription box for

kids 3 to 5 years old!

Make learning at home engaging, easy,

and more fun!