Let's celebrate Chanukah! My Pre-K Box has created 3 Chanukah preschool activities that highlight holiday traditions while also building on appropriate skills for children ages 3 to 5. Whether or not your family celebrates Chanukah, its rich history and meaningful customs are fascinating to discover.
My Pre-K Box: The Best Educational Subscription Box for Preschoolers
My Pre-K Box is an educational subscription box for preschoolers aged 3-5! We deliver the most fun play-based preschool learning available! Each box has its own unique theme and is filled with different learning activities to target math and literacy skills. Your kids will have fun exploring the new activities, and you will delight in the fact you are helping them with essential Kindergarten readiness skills!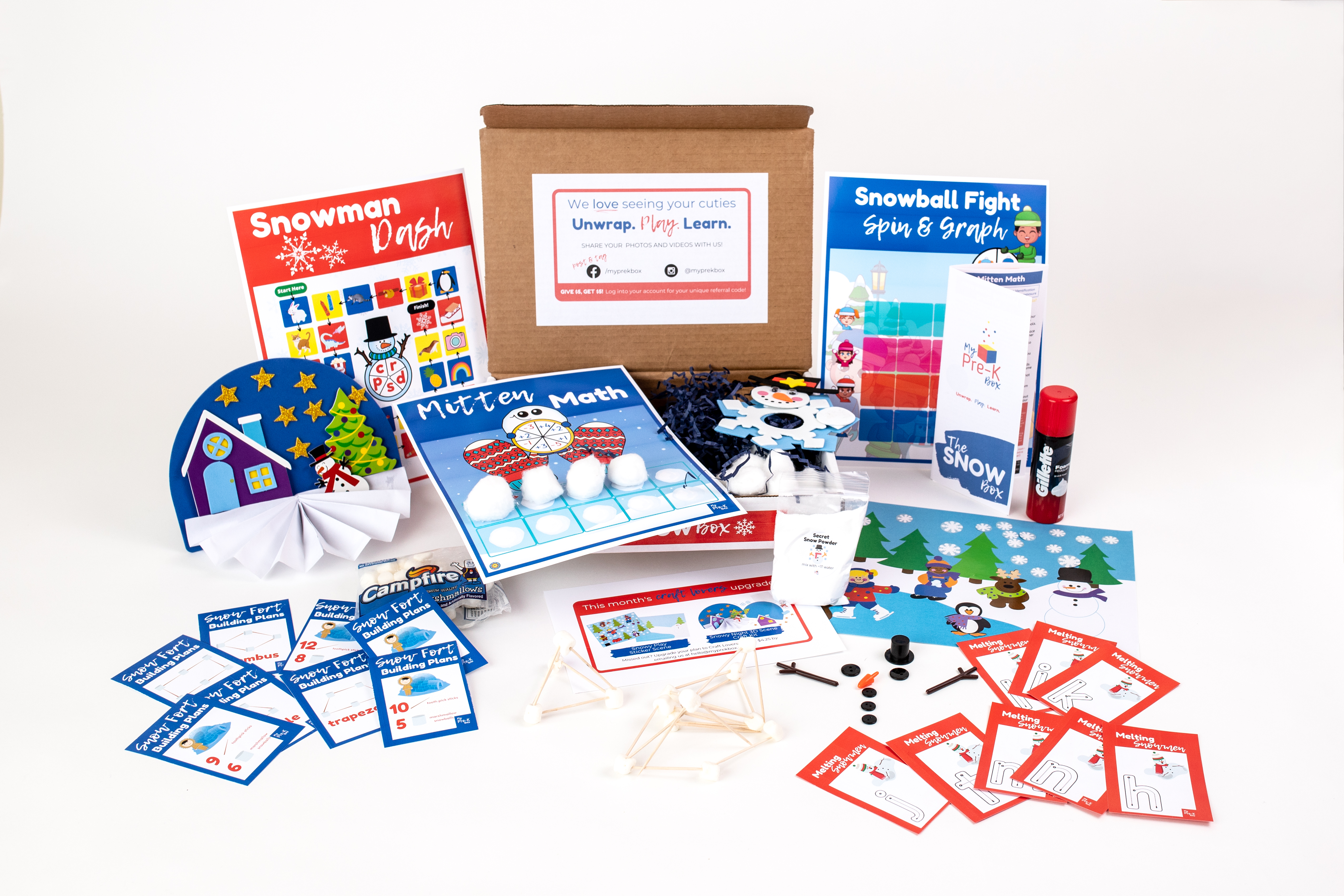 Check out these FREE Snow-themed Worksheets!
These snow-themed worksheets are perfect for children aged 3-5! They target important preschool skills like counting, capital and lowercase letters, sorting, and more!

Included in the FREE Preschool Snow-themed Worksheets:

Snowglobe Counting

Grouping Winter Gear

Snowy Letter Match

Count and Compare Snowy Objects

I Snow Beginning Sounds

Matching Snowmen

Snow Gear Sorting

Winter Patterns
Get Your Snow Preschool Fun Pack!
Explaining the History of Chanukah to

Children
Chanukah—also written as Hanukkah—is a Jewish holiday marked by an 8-night celebration, sharing of gifts, and the display of candles held in beautiful menorahs. The menorahs represent warmth, comfort, and the miracle that led to the creation of the holiday. Similar to Diwali, Chanuka is well-known as The Festival of Lights.
Over two thousand years ago, a cruel king, Antiochus, ruled over the Greek Kingdom. King Antiochus imposed new, unfair rules that banned the practice of Judaism. He prevented Jewish people from celebrating Shabbat (Judaism's day of rest from sundown on Friday to sundown on Saturday), observing festivals, and reading the Torah (a book of Jewish teachings, writings, and laws). Worst of all, King Antiochus stopped Jewish worship in the Temple, a special building for people who practice Judaism.
Many Jewish people feared the king and felt forced to follow his orders. However, there was one small group of people who refused to give up the Jewish religion: the Maccabees. The Maccabees came together to fight and defeat the Greek general and his army.
The Jews were ecstatic over their victory and were able to reclaim the Temple. They quickly got to work cleaning the holy building for a rededication, but soon realized there was only 1 jug of oil to light their lamp. The people were saddened because this was only enough oil to keep it lit for 1 night.
Much to their surprise, the 1 jug of oil burnt for 8 nights. The Jewish people believed a miracle had occurred, and they danced and shouted in excitement. The Chanukah holiday grew out of their excitement about this wonderment, and each year it reassures those who celebrate that strength, courage, and hope will always succeed.
When will Chanukah be celebrated in 2021?
Chanukah begins on the evening of November 28 and ends on the evening of December 6.
Chanukah Books for Your Preschooler
These books pair perfectly with the activities below:
How do Dinosaurs Say Happy Chanukah? Jane Yolen and Mark Teague
Latkes, Latkes, Good to Eat, Naomi Howland
The Story of Hanukkah, David A. Adler
Chanukah Preschool Activities
Latke Counting and Matching Game
During Chanukah, many families enjoy latkes—a tasty mixture of shredded potatoes and onions fried in oil. The oil serves as another representation of the Chanukah miracle.
Although the latkes in this game are not edible (here is a simple recipe for latkes you can eat), this game is deliciously fun. It focuses on 3 essential math-related skills for preschool-age children: counting, matching, and number recognition.
Counting the dots on the latkes and matching them with the numbers written on the plates helps your child develop a stronger number sense. In addition to practicing their counting skills, this activity increases a child's understanding of how our number system works and how numbers relate to each other. This will open doors to a plethora of mathematical concepts down the road.

Materials:
Cardboard or yellow/brown cardstock

6 small paper plates

Toy spatula (or a real one works, too)

Serving plate

Dice

Scissors

Marker

Instructions:
Step 1 Cut 6 latkes from the cardboard.
Step 2 Draw 1 dot on the first latke, 2 dots on the second, and so forth.
Step 3 Write the numbers 1 through 6 on the paper plates.
Step 4 Put all 6 latkes on the serving plate and arrange the paper plates nearby.
Step 5 Roll the dice and have your child find the latke with the corresponding number of dots.
Step 6 Encourage your child to use the spatula to move the right latke to the plate with the same number written on it.
Star of David Suncatcher
The Star of David is a 6-pointed symbol representing both Judaism and Israel. Geometrically, it is 2 triangles superimposed on each other that form the shape of a hexagram. Click here to download a Star of David template for this Chanukah craft. For this activity, you will also be using shades of blue and white. These colors are closely associated with Chanukah and also represent the colors of Israel's flag.

Materials:
Star of David cutout, the center needs to be cut out, leaving a 1-to-2 inch border

Scissors

Contact paper

Tape

Tissue paper in shades of blue and white cut into small pieces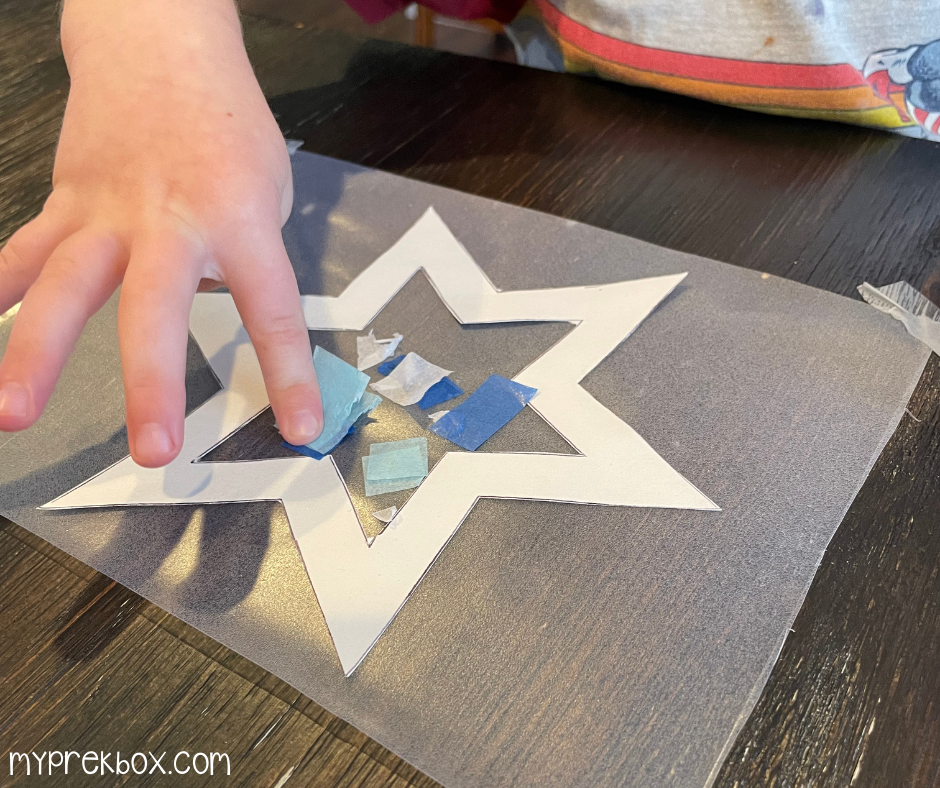 Instructions:
Step 1 Place contact paper sticky-side up on a flat surface, secure the corners to the surface with tape to prevent shifting.
Step 2 Place the Star of David onto the center of the contact paper.
Step 3 Have your child use pieces of tissue paper to fill the center of the star.
Step 4 Place a second sheet of contact paper on top, sandwiching the star.
Step 5 Trim around the star to remove the excess contact paper.
Step 6 Hang the completed Star of David in a window so light shines through the tissue paper.

Engineering a Menorah
Historically, menorahs used in the Jewish religion have 7 branches. However, during Chanukah, the menorah used has 9 branches. There are 8 lights in a row and a ninth-centered light above. The 8 lower lights represent the 8 days and nights the oil burned. The ninth candle is referred to as the shamash (helper candle) and is used to light the other candles. During each night of Chanukah, a subsequent candle is lit starting with the far-right candle on day 1.
For this Chanukah activity, your preschooler will tackle some engineering concepts. They will use straws fastened to a disposable cup to create the 9 branches of a menorah. The straws can be bent, layered, and trimmed as your child sees fit. For example, one child may decide to use fewer straws, opting to use both ends for candles, while another may choose 9 separate straws.
As your child adds new straws, they may find that the cup topples over, or there are not enough branches to complete the menorah. Gently remind them that errors are not failures. Encourage them to brainstorm how to fix any issues and offer your own solutions as needed.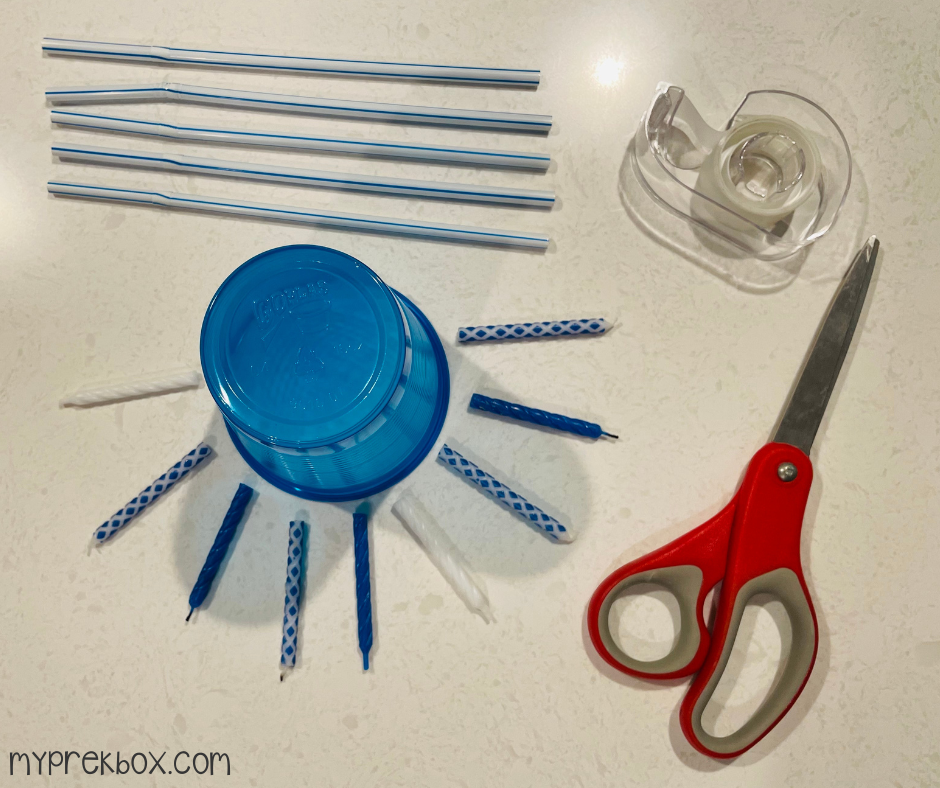 Materials:
Disposable cup

Tape

Straws

Scissors

Birthday candles
Instructions:
Step 1 Flip the cup upside down so that the opening is on a flat surface.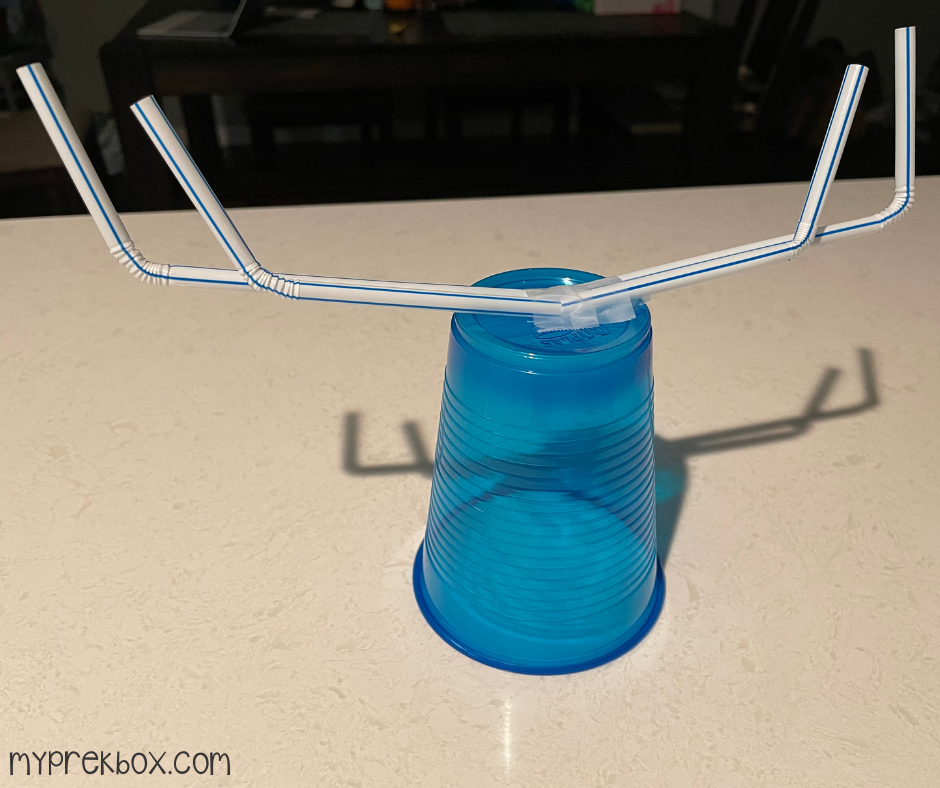 Step 2 Your child should arrange the first straw onto the cup, fastening it with tape and bending and trimming as desired.
Step 3 Repeat this process until all 9 branches are in place.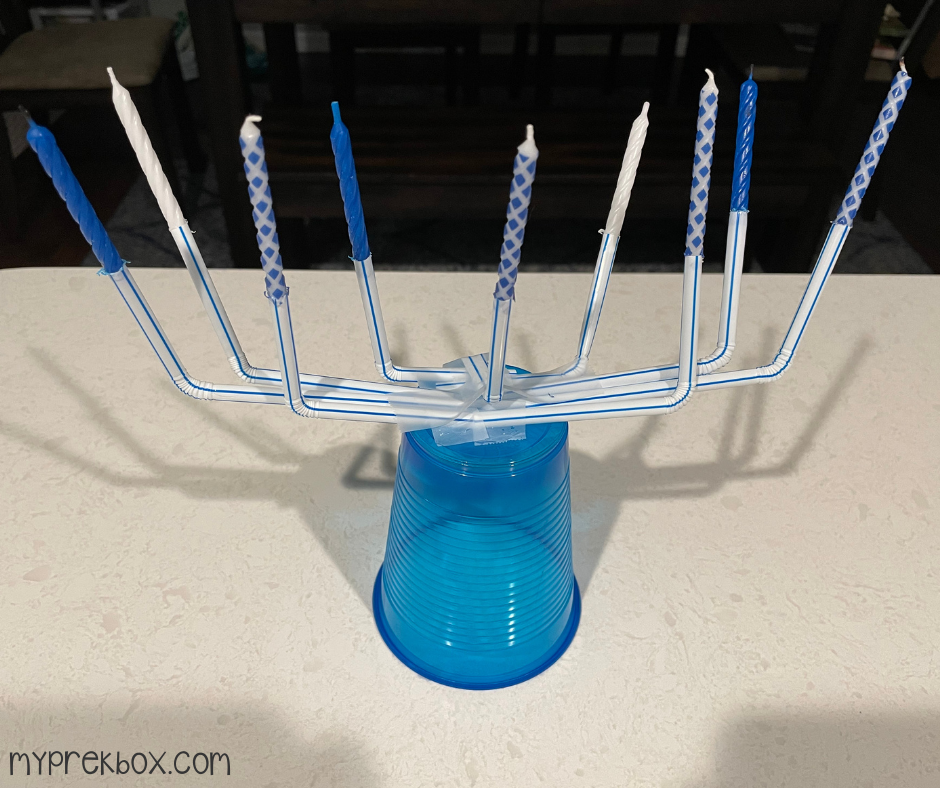 Step 4 Once complete, add birthday candles into the openings of each branch.
Let's Connect!
We absolutely LOVE seeing your preschoolers learning through play! Please take photos and videos of your child engaging in these Chanukah crafts and activities and share your photos with us on Facebook and Instagram!
Also, if you aren't already, be sure to follow us on Facebook and Instagram for more fun activities to do at home with your little ones!
Haven't tried My Pre-K Box yet?
My Pre-K Box is the best monthly subscription box for kids ages 3-5!

Everything you need to create, play, laugh, and learn!