There's nothing kids love more than combining learning with delicious treats! Using this free downloadable guide, you will work through this activity with your preschooler, resulting in a fun little snack to share with neighbors, classmates, etc.
Download your FREE Valentine's Day Snack Mix & Graph Activity here!
My Pre-K Box: The best monthly subscription box for kids ages 3-5
My Pre-K Box is an educational subscription box for preschoolers filled with different learning activities for math and literacy skills! Each box is based on a different theme and is focused on play based learning. Your kids will love exploring new activities each month while practicing kindergarten readiness skills!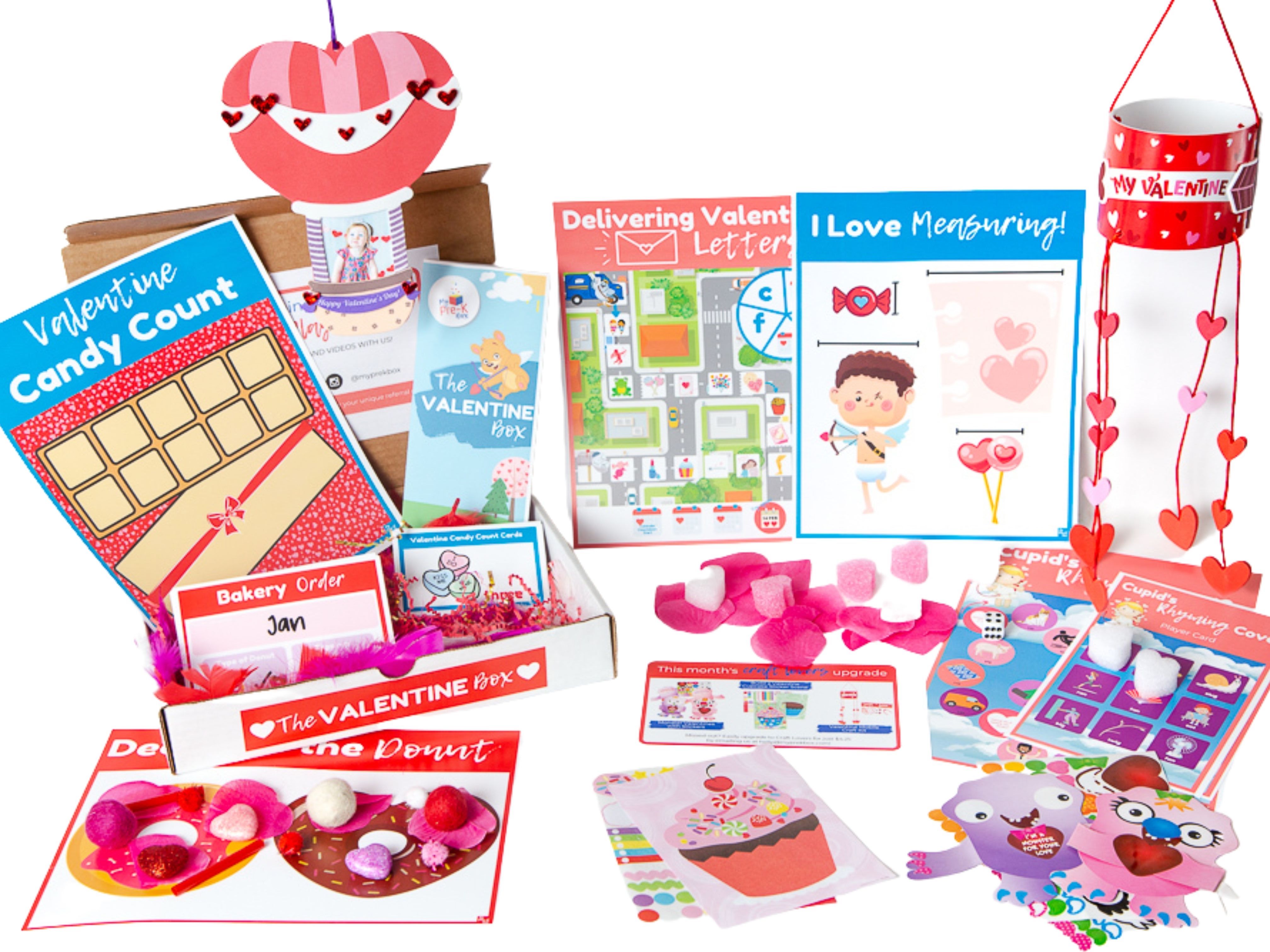 Valentine's Day Snack Mix & Graphing
Materials
6 different kinds of countable snacks (popcorn, m&m's, raisins, teddy grahams, marshmallows, etc.)

snack sized plastic bags
Directions
Step 1 Download and print out your free Valentine's Day Snack Mix & Graph Activity downloadable.
Step 2 Separate each of your six snacks out into bowls or groups so they're ready for counting. There are two different counting versions included. In one version, the child uses a spoon or scoop and counts up to ten. In the other version, they count out individual ingredients, one by one, and they count up to 16. Depending on your child's level, you can print the version that is best! Here we show the version of counting in the teens.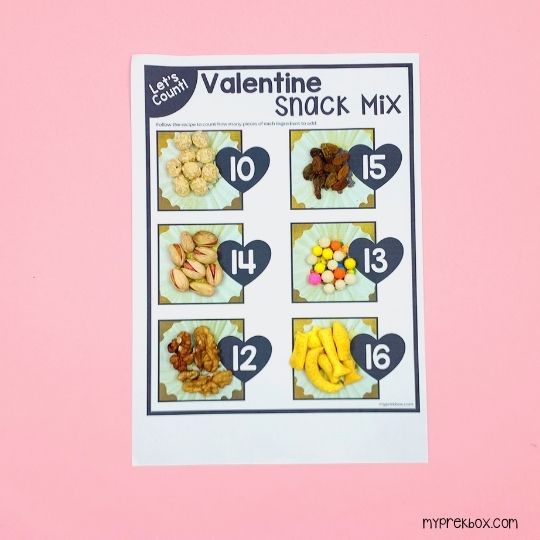 Step 3 One by one, add the snacks into a bowl to mix everything together.
Step 4 Once everything is mixed together, add it in a snack bag.
Step 5 Adding the final Valentine's Day touch, cut out and fold the label to staple to the top of your bag. The bag topper is included in your free printable! Addressing their friends' names on each bag is a bit too much for this age, so we left that off! Instead, just help your preschooler write his/her name on the label, so their friends know who their snack mix is from.
Step 6 After you've got your snack mix ready (whether you are giving the Valentine Snack Mix to teachers, friends, or family), your child deserves some too! We've added in some more math! Your child should take his/her completed mixed up snack, close his/her eyes, and use a spoon or small scoop to scoop out a bit of their snack. Now, comes the fun! They look at the snack that they scooped out, and graph it on the included "Scoop & Graph" page!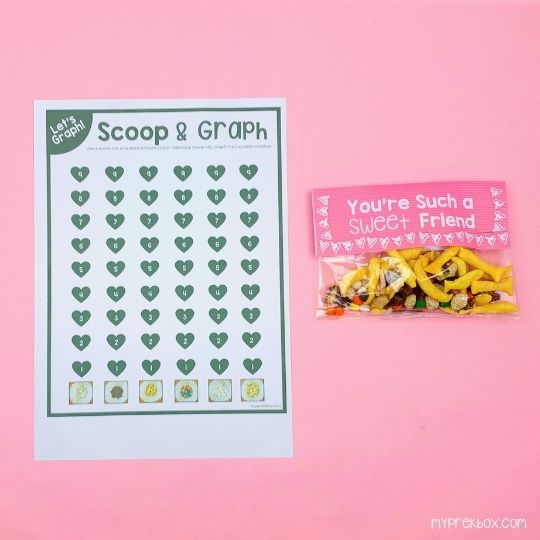 Let's Connect!
We absolutely LOVE seeing your preschoolers learning through play! Give this activity a try and share your happy little learners with their Valentine Snack Mix & Graphing Activity with us on Facebook and Instagram!
Also, if you aren't already, be sure to follow us on Facebook and Instagram for more fun activities to do at home with your little ones!
Haven't yet tried My Pre-K Box?
My Pre-K Box is the best monthly subscription box for kids ages 3-5.

Everything you need to create, play, laugh, and learn!