Love is in the air! Have a fun-filled Heart's day at home with your kids with this free lovable Valentine Preschool Fun Pack full of printable PDF worksheets! Each Valentine-themed worksheet develops a variety of skills for your little ones such as sound and alphabet recognition, sorting, counting, and so much more! Read on to see all that's included in our FREE Valentine Preschool Fun Pack!
My Pre-K Box: The best monthly subscription box for kids ages 3-5
My Pre-K Box is an educational subscription box for preschoolers filled with different learning activities for math and literacy skills! We come up with fun, new themes each month, and your child will be definitely excited in all of the play-based learning activities inside! Prepped and delivered straight to your door, My Pre-K Box is so much fun, your child won't even realize how much they're learning!
As our Valentine's Day gift, you can download the Valentine Preschool Fun Pack for free! Just print it at home and enjoy some quality time with your kids. Click the button below and grab your copy now!
What's inside the FREE

Valentine Preschool Fun Pack?
Edible Valentine Sort

Cupid Count and Color

Color by Numbers Cupcake

Alphabet Conversation Hearts

Valentine Beginning Sounds

Coloring Candy Syllables

Heart Patterns

Valentine's Cards Shapes
Download FREE Valentine Preschool Fun Pack
How to use the

Valentine Preschool Fun Pack
Simply print your free downloadable Valentine Preschool Fun Pack and grab the materials needed and you're all set! We suggest that you guide your kids with each activity; though the instructions are fairly simple, your support is what makes learning fun! Kids love our activities more when they get to spend time with their caretakers! So use your imagination, play around with colors and numbers, give real-life examples - there's so much learning and fun with these worksheets.
Materials:
paper

printer

pencil

crayons or markers

scissors

glue
Check out the included worksheets inside the Valentine Preschool Fun Pack!
1

Edible Valentine Sort
Which ones can be eaten and which ones cannot? This fun Valentine-themed sorting activity helps preschoolers develop cognitive skills through categorization and by analyzing similarities and differences among objects.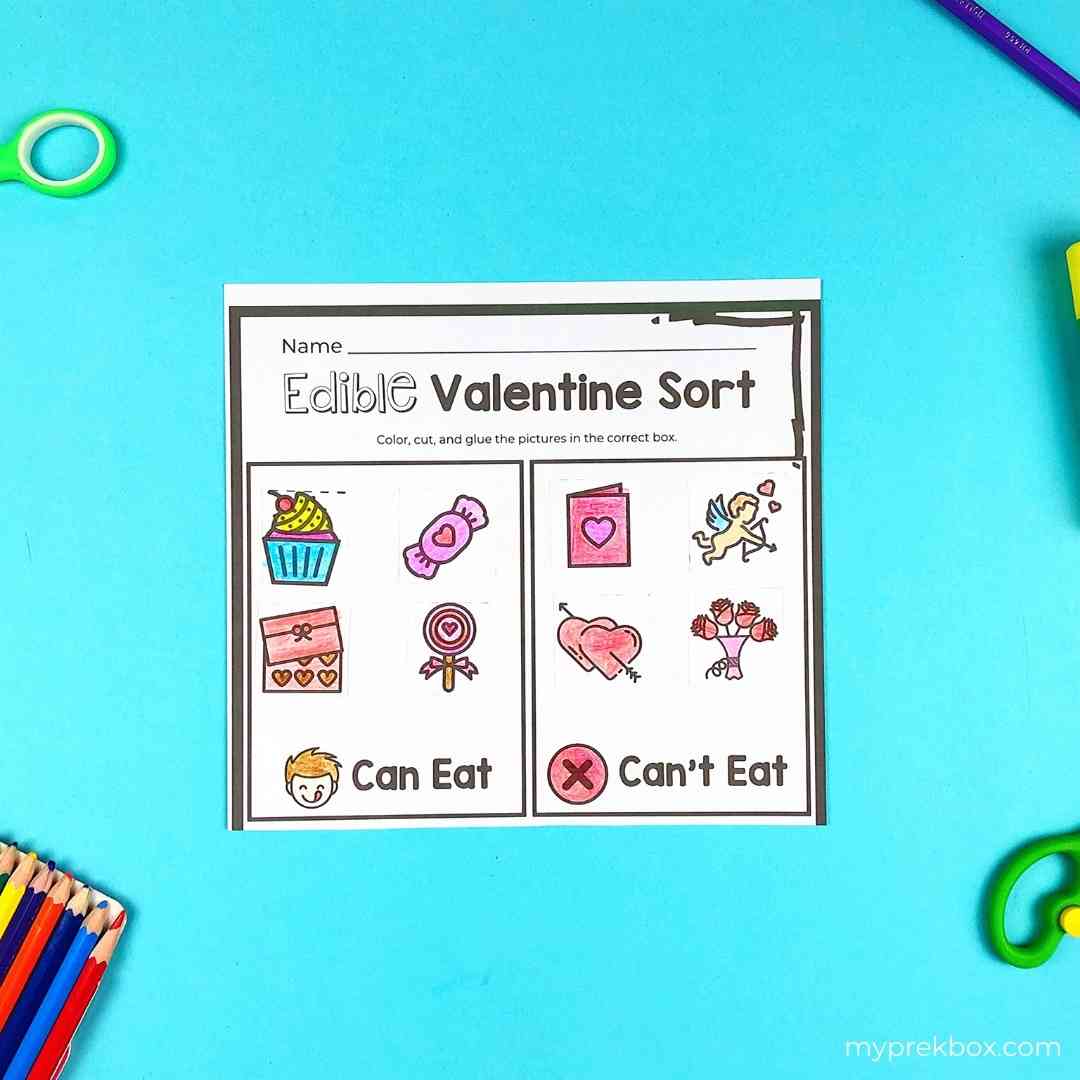 2

Cupid Count and Color
Develop your kid's numeracy skills with this cute Valentine activity! You can join them as they practice counting hearts, love letters, cupid's arrows, and coloring the correct number for each set. If your child is resistant to coloring, you can also have them place a pom-pom, candy heart, Bingo dabber, or Valentine sticker to indicate the correct number for each set!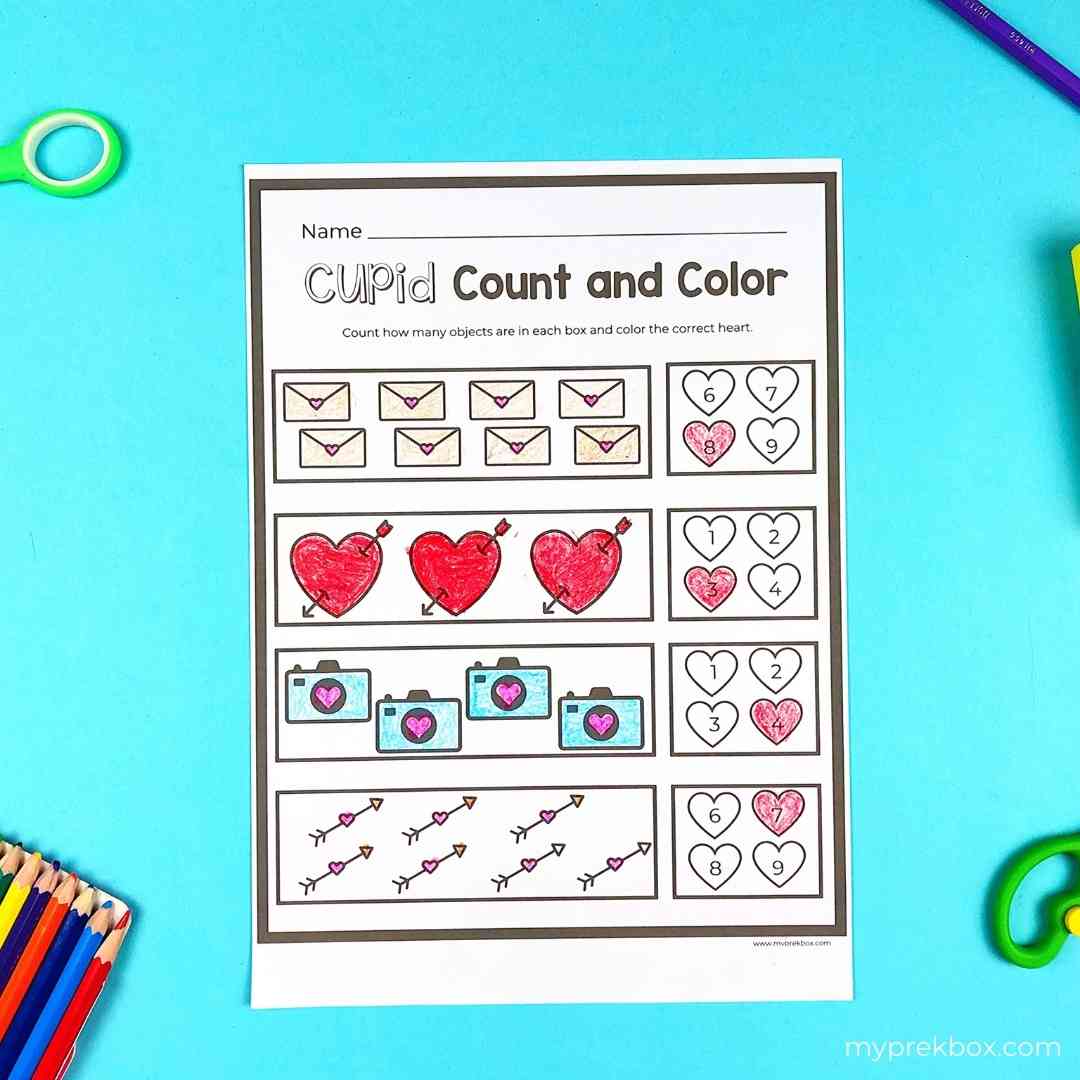 3

Color by Numbers Cupcake
Help develop your child's fine motor skills with this fun coloring activity! At the same time, you can also check their ability to recognize colors and numbers.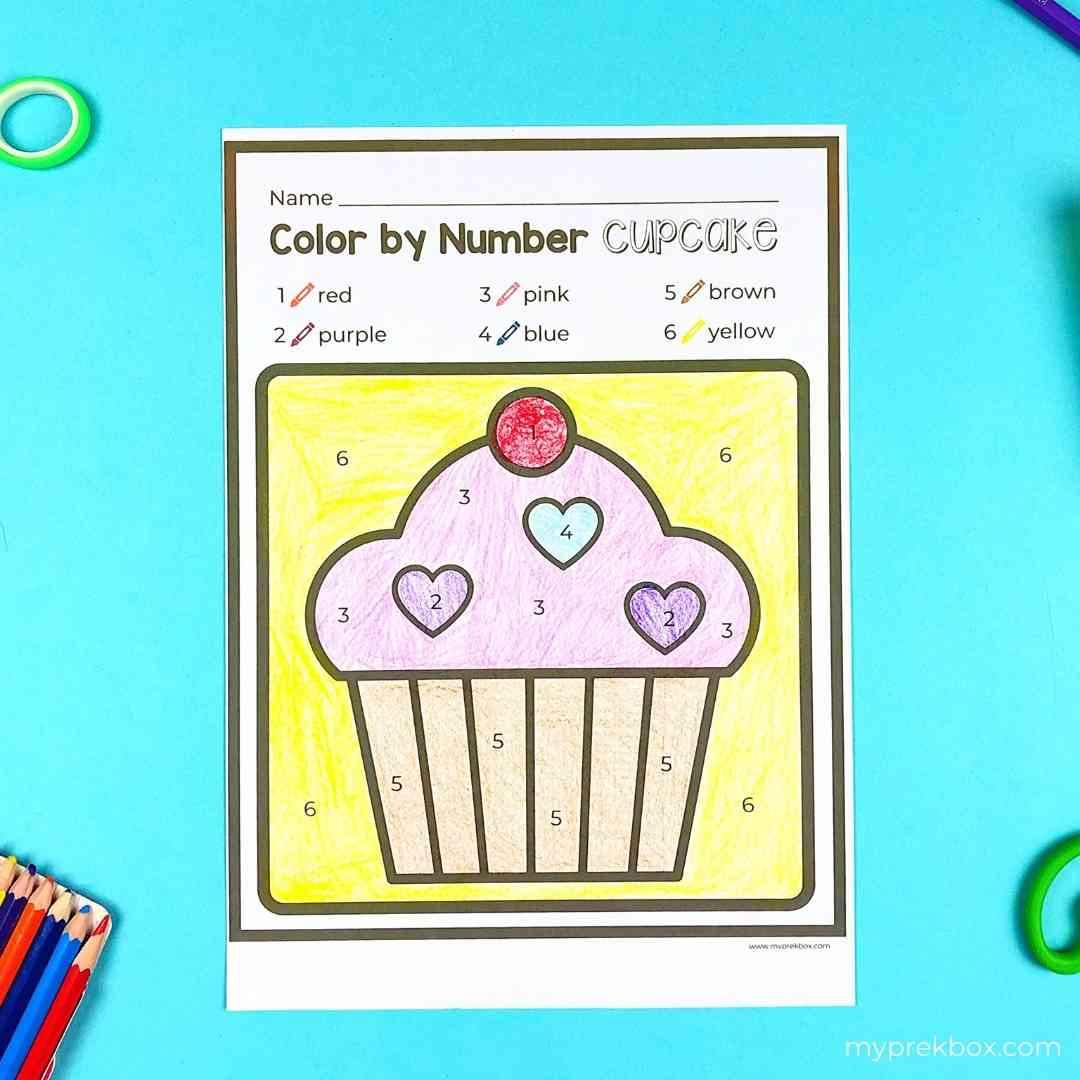 4

Alphabet Conversation Hearts
Find and color the matching small letter in the conversation hearts inside a jar. This activity helps children distinguish big and small letters, and differentiate a small letter among others.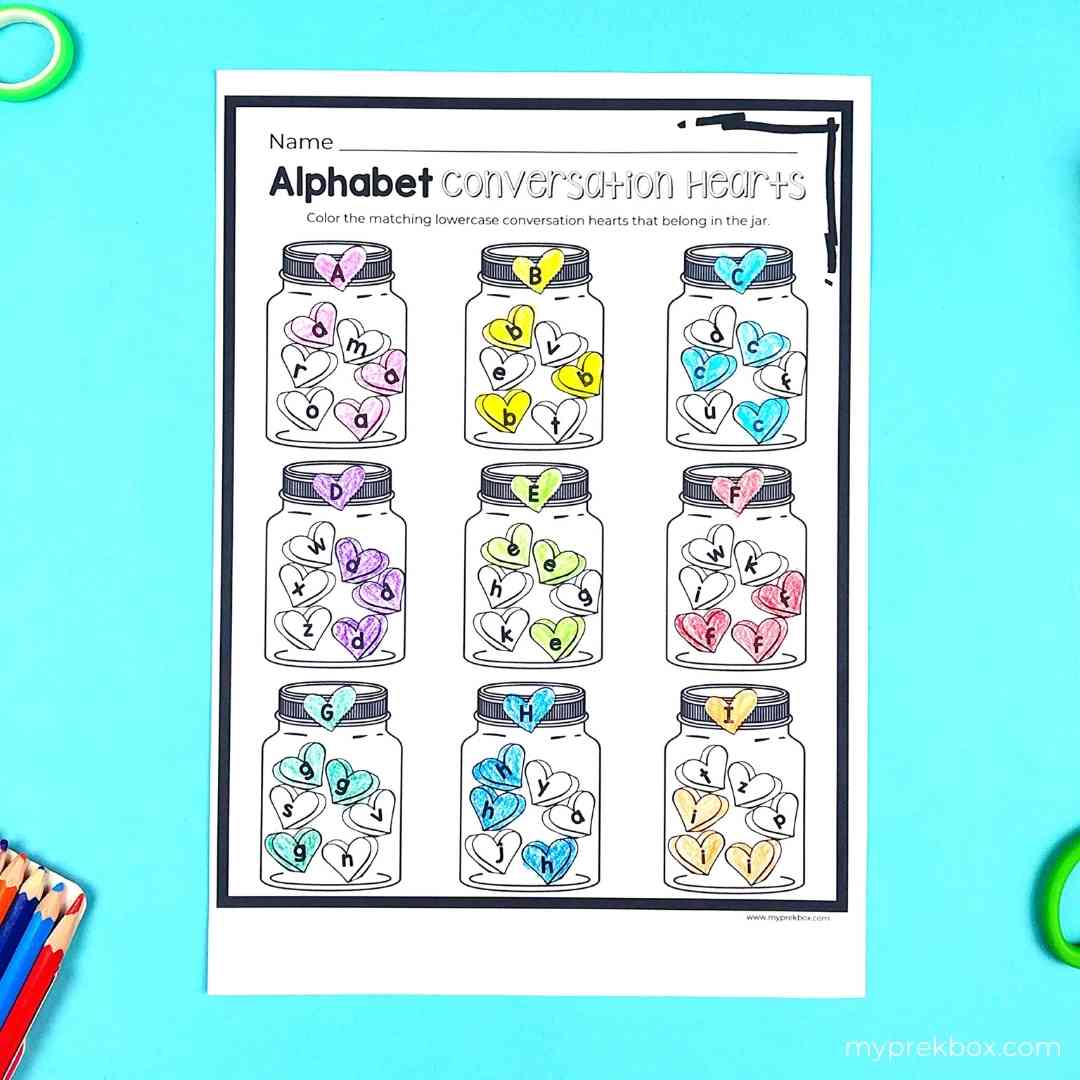 5

Valentine Beginning Sounds
Isolating beginning sounds is an important prerequisite skill for reading! Enjoy this activity with your child as they identify the beginning sound of an object in the envelope and match it to the correct letter. It's the perfect introduction to letter sounds and phonics!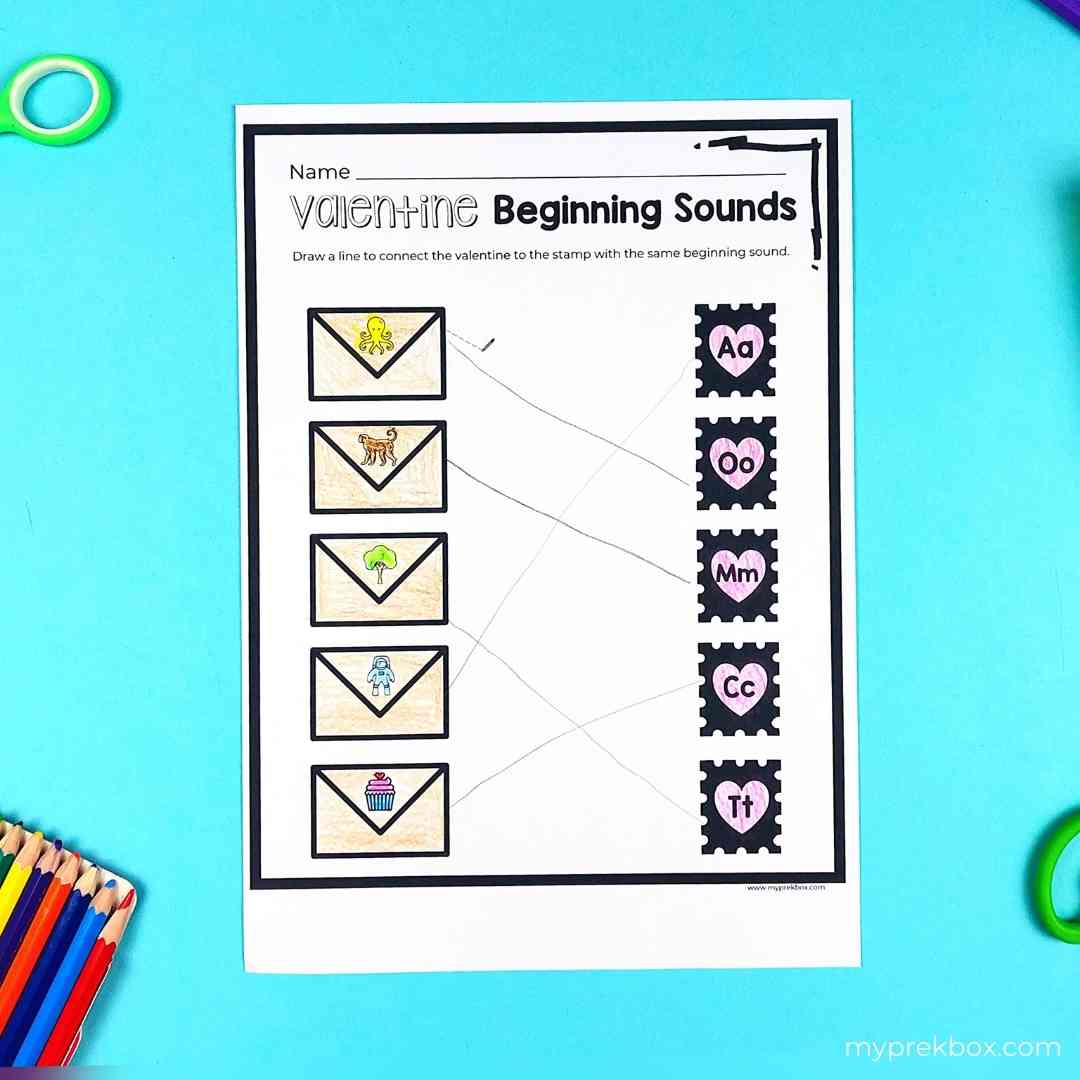 6

Coloring Candy Syllables
Play while teaching syllables with this Valentine-themed worksheet. All they have to do is name the objects correctly, count the number of syllables in it, and color the corresponding number of candies for every syllable. Alternatively, your child could also also use pink pom-poms or candy hearts to indiciate the number of syllables! What a sweet treat!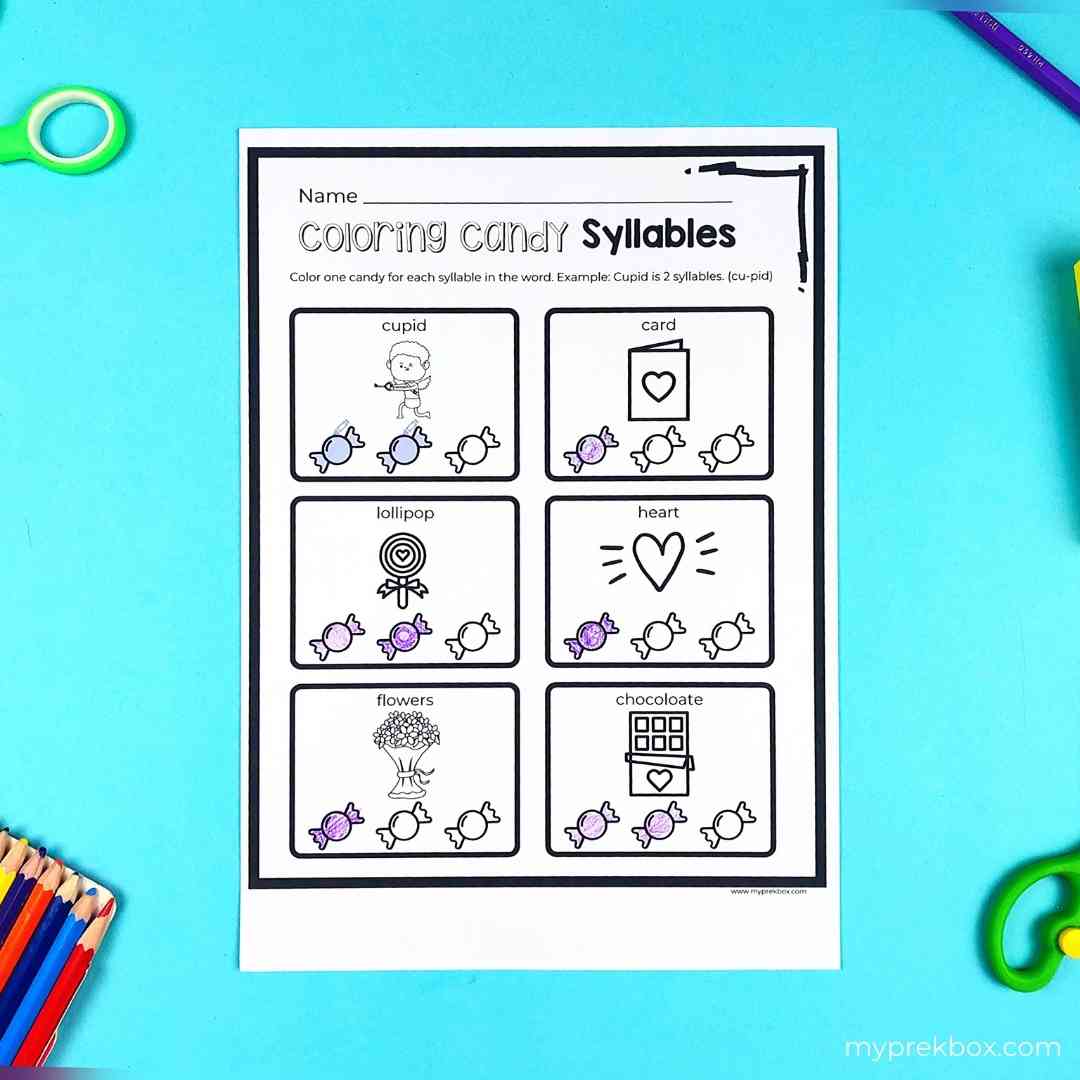 7

Heart Patterns
It's Valentine's, so yes, we have a series of heart patterns and kids have to predict what comes next. This cute activity helps develop their logical thinking by making connections through observable patterns. We've included simple AB repeating patterns as well as slightly more advanced AAB and ABB patterns. When they get to the last pattern, there will be two hearts to choose from. One will not be used, so kids actually have to think critically all the way through to the end!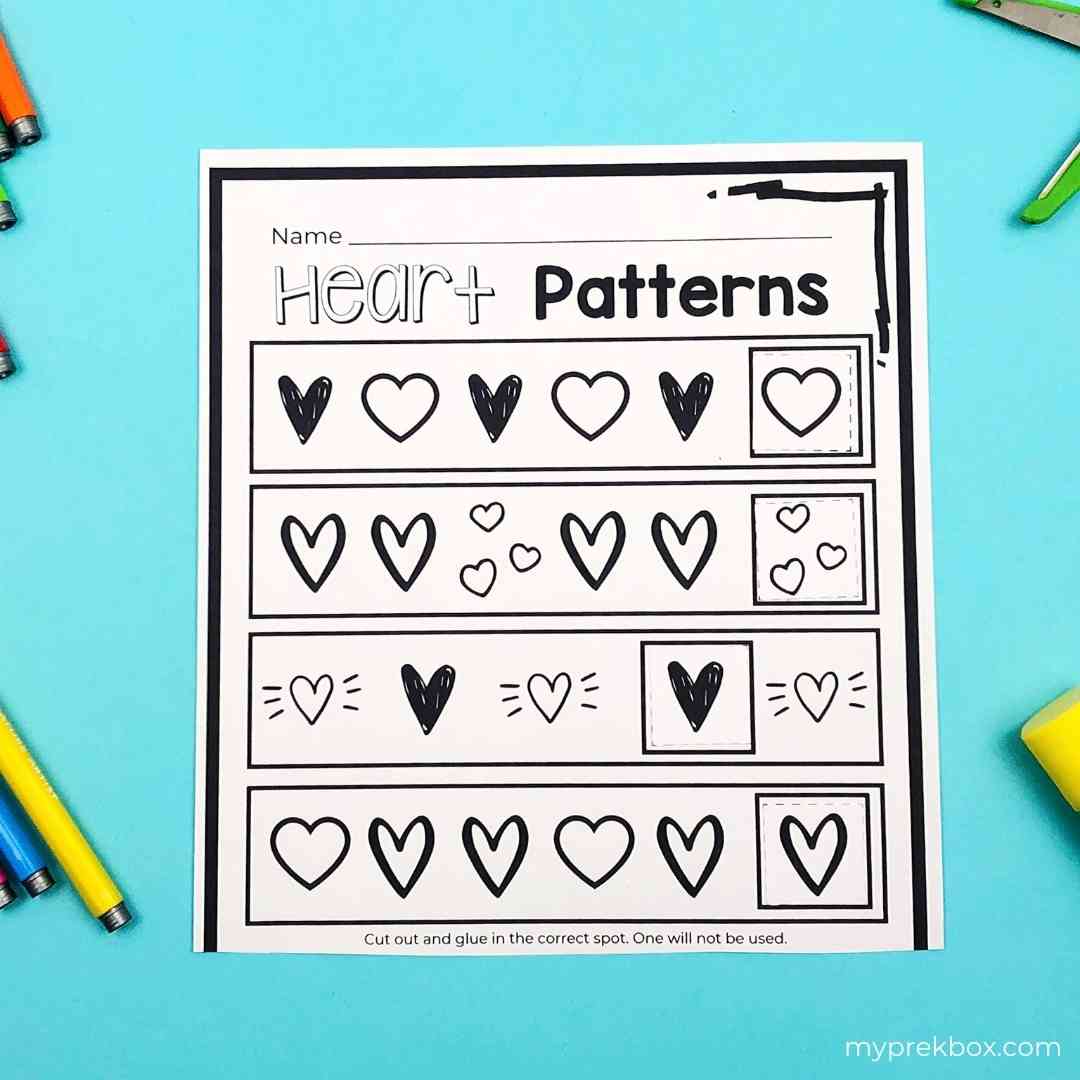 8

Valentine's Cards Shapes
Color each Valentine card correctly in this simple, yet entertaining worksheet. Improve their knowledge in colors and shape recognition with more play-based activities, or you can also make your own Valentine's cards after!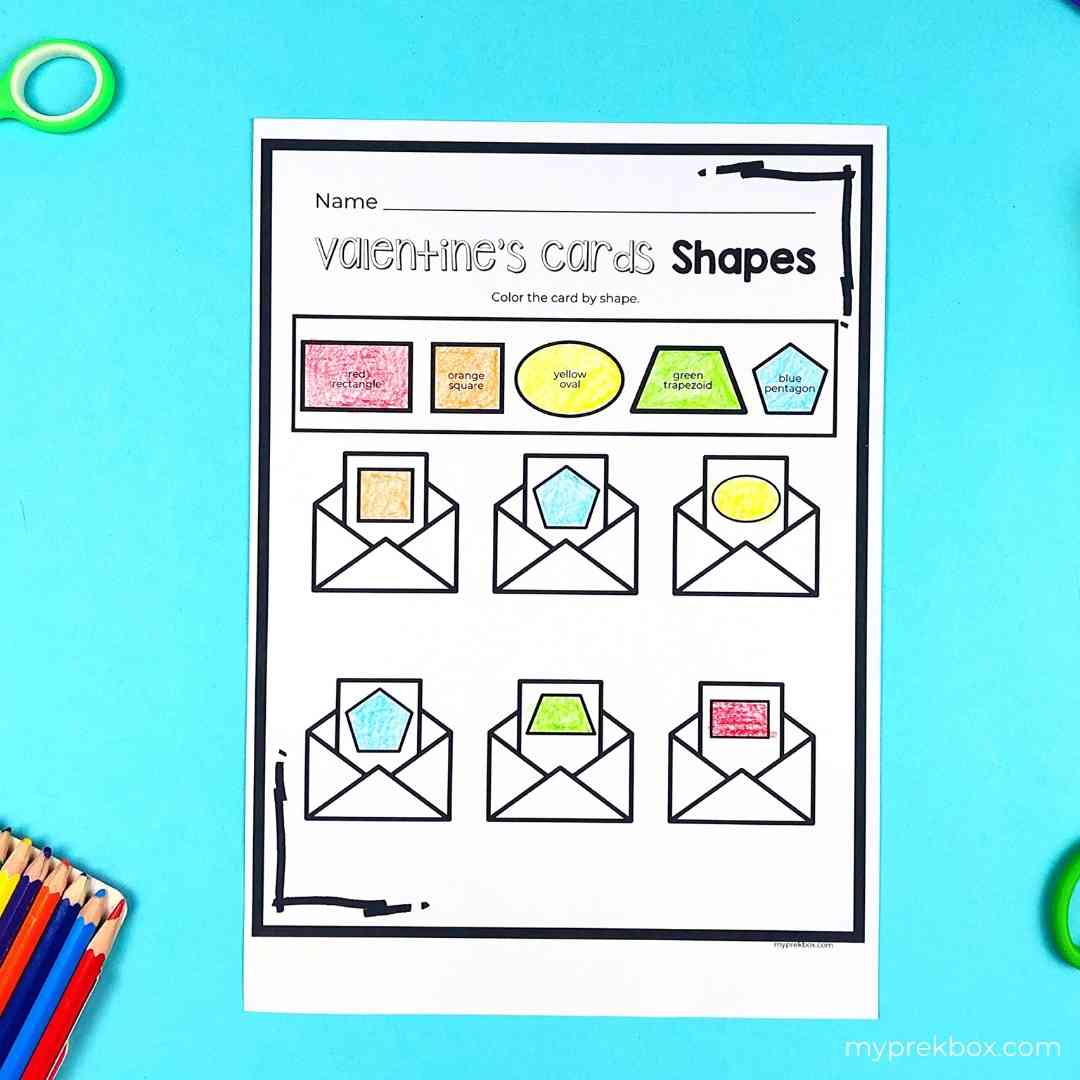 This Valentine's Day, we hope you have so much fun with these free PDF preschool worksheets! This Valentine Preschool Fun Pack is an entirely prep-free and fun way to celebrate Valentine's Day with your toddler while learning! Be sure to download yours today and share this blog with a friend!
Grab your FREE Valentine's Day

Preschool Worksheets now!
Let's Connect!
We'd LOVE to see your preschoolers learning through play, so share their photos and videos engaging in our fun-filled activities in your social media accounts! And don't forget to tag My Pre-K Box. We might feature the best photos of your kids too! Follow us on Facebook and Instagram.
Haven't tried My Pre-K Box yet?
My Pre-K Box is the best monthly subscription box for kids ages 3-5!

Everything you need to create, play, laugh, and learn!