September is here! The wonderful apple season has arrived, and if you are looking for easy apple-themed crafts for preschoolers, you're in the right place! We are excited to share with you these 10 adorable apple-themed crafts, and your kids will surely love them all. What's more, they are all simple projects with materials that are sure to be in your home already!
Engaging in arts and craft activities will help develop your child's motor skills, hand, and eye coordination, and helps them to make cognitive advances such as learning proportions and other important concepts. Join us in discovering the joy of crafting and learning together this apple season!
My Pre-K Box: The best subscription box for kids ages 3 to 5!
Do you love crafts and cute learning activities but find yourself spending more time looking and preparing them rather than actually doing the activities with your preschooler? We developed no prep learning kits for a busy parent like you! With our educational subscription box, each month we mail your preschooler a learning kit with a fresh new theme! Our boxes are packed full of fun, hands-on, play-based learning that preschoolers LOVE to do! You'll love how fun and easy it is!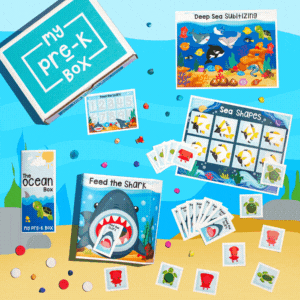 10

Easy Apple-Themed Crafts for Preschoolers
1
Apple Stamp
Through the use of stamps, your kids will work on fine motor, focusing, and creative skills. Start by cutting juicy apples in half, then dip each half in red, green, or colorful paint! Next, press them onto a white paper for awesome apple prints. Wait for the paint to dry and glue the seeds in it. And guess what? You can even make a cute basket by cutting and arranging brown strips of paper. It's like making your own apple-themed artwork – super cool and totally easy!

2

Marble Painting Apples
Marble painting apples is very easy and fun! All you need are apple cutouts, marbles, paint, tape, and a small tray. First, you have to attach the apple cutouts to the tray using tape. Now here's the fun part - dip marbles in paint, then let them roll over the tray with apple-shaped cutouts, making them burst with colors! Roll, swirl, twirl, and design your own amazing apples in a super fun way. Let marbles and paint work their magic to turn plain cutouts into colorful apple creations! Messy, check. Simple, check. Fun, check!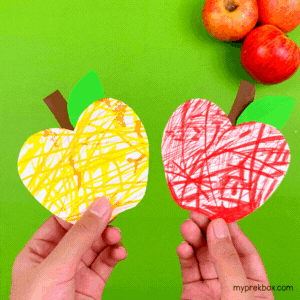 3
Tissue Paper Roll Apple Tree Craft
Got empty tissue paper rolls hangin' around? The Tissue Paper Roll Apple Tree craft will help you recycle those and turn them into an adorable apple tree craft! Grab those empty tissue paper roll cores and cut them on both sides (about an inch long) to use them as tree trunks. Cut out a cloud-like leaf shape from green paper, then use a marker to trace the outline and add some dots or branches! Now, for the fun part: red and green pompoms become your apples! Stick 'em on the green paper and insert it on the cuts on the empty tissue paper roll cores! Your tree comes to life with colorful apples.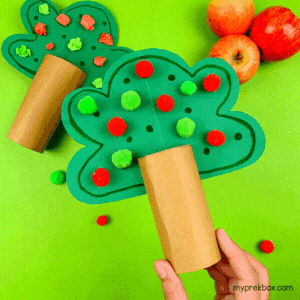 4

Apple Craft Bubble Wrap
Do you know that you can make painting more fun with bubble wrap? If you don't, better try bubble wrap painting with your kids! You start by cutting out a simple apple-shaped outline. Then, grab a bit of bubble wrap, and spread red, green, or any color you fancy on it! You can use a roller or even your fingers – yes, finger painting can be messy but so much fun! Press your painted bubble wrap onto the apple cutout, and like magic, the paint transfers, creating a fantastic design! This Apple Craft Bubble Wrap is not just for creativity and learning colors, it is a great sensory activity for kids too! As they work on it, they'll feel the bubble wrap, see the colors mix, and watch their apple art come alive.

5

Handprint Apple Tree
Create a cute remembrance of the apple season with your child's handprint using this Handprint Apple Tree Craft! Invite your child to place his/her hand on brown construction paper. Trace their hand and arm on it, then cut out the handprint. Next, cut leaves for the tree, and glue the handprint on top of it. Lastly, add some red and green pompoms for apples. Now your Handprint Apple Tree is complete!

Enjoying the apple-themed crafts?

Here's the best freebie to perfectly match these crafts!

Check out the Apple Preschool Fun Pack - a cool collection of apple-themed worksheets that target the development of math and literacy skills through fun and engaging activities. It includes 8 worksheets filled with adorable apple-theme activities that kids will surely love. Read more about the Apple Preschool Fun Pack in this blog post, and download it now!
6

Apple Core Craft
As you munch apples with your kids, you can chat about and show them what the apple core looks like – a super fun conversation starter! Now, invite them to work on a cute Apple Core Craft. Start by cutting out apple shapes first, then cut the middle part leaving only the upper and lower part of the apple. Next, grab popsicle sticks for the apple core. Attach the apple-shaped cutouts on the top and bottom of the popsicle stick and use markers for the apple seeds. You can also add a cute worm to it! And it's an awesome gift idea too, just add the words – 'I love you to the core!' How sweet is that?

7

Apple Name Craft
If you want to practice name spelling and do crafting at the same time, there are lots of fun ideas we can share! And one of them is the Apple Name Craft. You will need a bright red apple-shaped cutout and jazz it up with cute leaves. Now, here's the fun part – grab some green paper and make circles to craft a worm (or a wiggly caterpillar)! In each circle, write a letter from your little one's name. Put it all together by arranging those circles to spell your kiddo's name while making the worm come to life. It's like a name puzzle, but way more colorful and exciting!

8

Worm in My Apple Upcycled CD Craft
Happen to have any old scratched-up CDs laying around? Use it in this Worm in My Apple Upcycled CD Craft! You can make one by cutting red paper into strips and then invite your preschooler to cut them into rectangles with short little snips! This is a great way to scaffold the learning, where you have done the prep work of cutting them into strips, and your child just needs to do little snips! Glue them onto the CD. Add a leaf and a stalk using green and brown paper. The fun part is using your finger to act as a little worm (or maybe a very hungry caterpillar) poking its head out of your apple!

9

Caramel Apple Craft
If you love sweets, you'd surely want to try our Caramel Apple Craft! Grab an apple-shaped cutout and let the creativity flow. Add pompoms, stickers, glitters – anything that looks like delicious sprinkles. Then, pop in a popsicle stick, and you've got a super cute caramel apple craft. It's like making a sweet masterpiece! This apple-themed process art can help kids develop their fine motor skills and creativity as they place pompoms (or other materials) in the apple, and they get to explore different materials to decorate and complete the craft.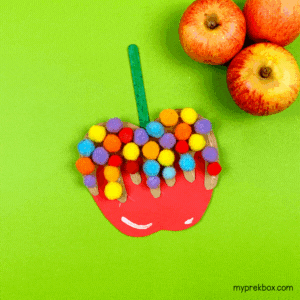 10

Yarn Wrapped Apple Craft
Have you tried yarn wrapping before? This activity can boost kids' fine motor skills and patience as they wrap and create. Plus, it's a fantastic way to explore colors and textures. And this apple season, you can try this Yarn Wrapped Apple Craft! Just get your apple-shaped cutout ready and grab some colorful yarn. Start wrapping the yarn around the apple shape, giving it a cozy and artsy look. This simple apple craft can also be used as a beautiful decoration for your home this apple season! Moreover, this awesome activity is also a great sensory experience for kids as the soft yarn touches and glides through their hands!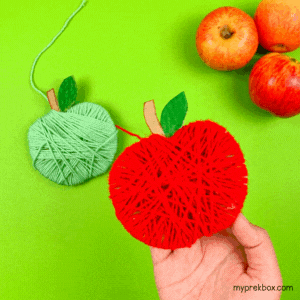 Simple Apple Crafts to Do at Home
That wraps up our 10 Easy Apple-themed Crafts for Preschoolers that you can make at home this September! Whether you're painting with marbles, crafting with bubble wrap, or getting hands-on with yarn, these apple crafts are a fantastic way to spark creativity, learn, and have a ton of apple-themed fun! And if you want more wonderful crafts with no prep at all, be sure you have subscribed to My Pre-K Box! We offer fun preschool activities delivered to your front door, with NO PREP. All of the materials are included and ready for you!

If your little one enjoyed making these apple-themed crafts, he surely has a knack for fun and exciting crafts! Why not delight him EVERY MONTH with new surprises from My Pre-K Box?! Each month we deliver a fun new theme jam-packed with the best, hands-on preschool fun around! Teacher-designed, My Pre-K Box incorporates play to teach your child essential math, STEM, literacy, and creativity skills needed to be kindergarten-ready! Our boxes are filled with fun crafts and lots of exciting hands-on activities! Each month features a new theme, which lots of kids look forward to. You can get one by subscribing to My Pre-K Box - the best subscription box for preschoolers! Our hands-on learning tools are play-based, targeting math and literacy skills. It also includes sensory play, fun thematic crafts, and a grownup guide.
The games and activities in My Pre-K Boxes are made with love and guaranteed to be of top quality. It is also kid-and-adult-friendly, very practical, and reusable! If your child has siblings, it can be shared and can be used again and again! We also offer duplicates of the crafts, since these are mostly not reusable. You can get a duplicate for his/her siblings for only $3.25 a month! Craft lovers can also subscribe to our Craft Lovers Upgrade, which comes with more fun crafts and two additional arts and crafts activities for just $7.95 per child.
With all the fun and exciting activities inside My Pre-K Box, your child won't even notice he's learning a lot! And as parents, we wouldn't have to worry about the hassle of researching, planning, and making the activities! We can simply guide and watch them learn in the convenience of our home - with the help of My Pre-K Box!

Let's Connect!
In the meantime, we'd love to see what you made! Send us photos and videos of your little one enjoying these apple crafts, or post them using the hashtag #myprekbox! Know another great apple-themed craft? Share it with us! Tag us on Facebook or Instagram and be sure to LIKE and FOLLOW us on these social media pages to get updates on new crafts and free printables!
Want to try My Pre-K Box?
My Pre-K Box is the best subscription box for

kids 3-5 years of age!

Everything you need to play, create, explore,

learn, laugh, and enjoy!