With a baa-baa here, and a baa-baa there! It's time to take a trip to the farm and learn about one of the most beloved animals- sheep! In this activity your child will learn facts about sheep and the shearing process while learning through sensory play. It's time to get shearing!
My Pre-K Box: The Best Educational Subscription Box for Preschoolers
My Pre-K Box is an educational subscription box for preschoolers aged 3-5! We deliver the most fun play-based preschool learning available! Each box has its own unique theme and is filled with different learning activities to target math and literacy skills. Your kids will have fun exploring the new activities, and you will delight in the fact you are helping them with essential Kindergarten readiness skills! This activity pairs perfectly with The Farm Box.
You May Also Like Our Farm Themed Preschool Fun Pack!
Check out our FREE Farm themed preschool worksheets! These farm themed worksheets are perfect for children aged 3-5! They target important preschool skills like counting, capital and lowercase letters, sorting, and more


Included in the FREE Preschool Farm Worksheets:

Color and Count on the Farm

Baby Animal Match

Barn Sound Matching

Farmyard Sort

Measuring Veggies


Tractor Letter Match




Rhyming on the Farm

Help the Farmer
My Pre-K Box had a farm (e-i-e-o) and on the farm, there was a...SHEEP!
The behind-the-scenes workings of a farm are fascinating to children—milking cows, collecting eggs, shearing sheep. Their curiosity and wonder for animals are at the forefront of this farm-themed project, which provides your preschooler with a hands-on opportunity to pretend to shear sheep and experience new textures. Honestly, there is so much potential for fun and learning in this activity!
Why do sheep need to be sheared?
While the act of playing with the shaving cream is what your preschooler will be most thrilled about, start this activity by talking about farm animals and how they are cared for. In addition to being fed and looked after, sheep need to be sheared annually. Much like the buzzers used to give close-shave haircuts, shearing removes excess wool that the sheep has grown throughout the year. Sheep need to be sheared because too much wool could cause them to overheat. Overgrown wool can also impair a sheep's eyesight, and the weight may lead to problems walking. Often, the wool cut from sheep is turned into fabrics for clothes and blankets. Are there any wool items in your home?
Before your little ones embark on shearing their sheep, here are two kid-friendly videos that demonstrate the process:
● Sheep shearing at the L.A. Zoo
● Curious Tots: How wool is made into fabric - from farm to shearing shed to mill
Preparing to shear the sheep
Very few items are needed to create this farm-inspired sheep sheering activity for preschoolers!
Materials:
● Posterboard
● Paint or marker
● Shaving cream
● Paintbrush, toothbrush, or popsicle stick to use as shears
● Bucket to collect shaving cream
Instructions:
Step 1 Draw your sheep on the poster board and cut it out.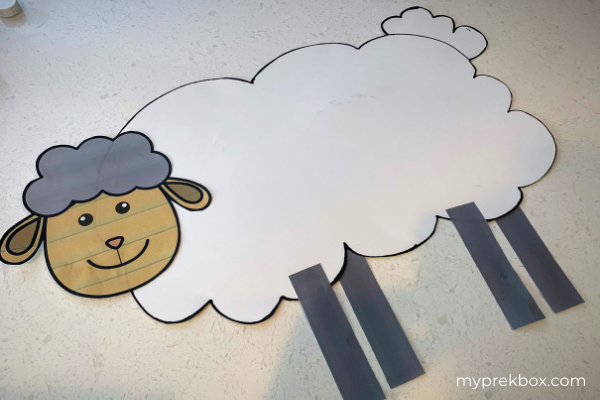 *If you'd prefer, this is a YouTube video on drawing sheep or a free stock image to print.
Step 2 Attach the sheep to a post, chair, or wall
Step 3 Spray the shaving cream onto the body of the sheep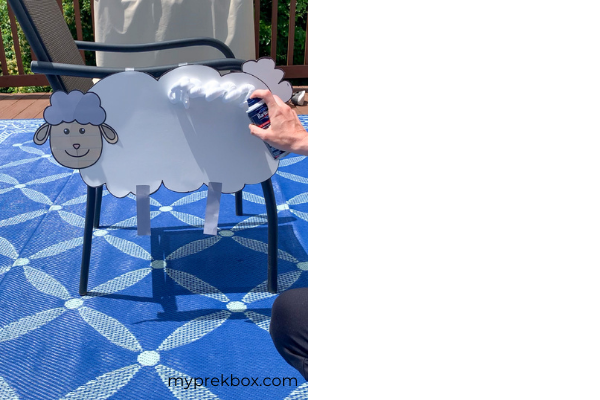 Step 4 Encourage your preschooler to use the paintbrush to shear the shaving cream from the sheep into the bucket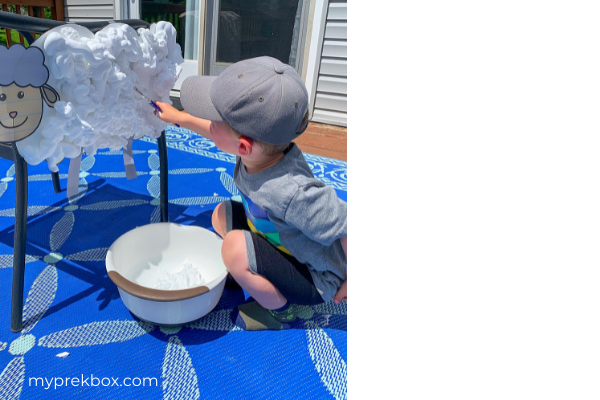 Sometimes messy means learning
The idea of a child scooping shaving cream might give some parents a bit of anxiety. After all, the clean-up tends to fall on mom or dad. But remember, getting a little messy can be one of the best learning tools for preschool-aged children. Instead of seeing sticky hands or splatter on the floor, focus on what your child is learning and experiencing.
Fine-tuning their fine motor skills
Throughout the "shearing" process of this activity, your preschooler will be busy strengthening their fine motor skills. This is especially important for children ages 3 to 5. Practicing their pincer grasp, wrist movements, and hand-eye coordination helps your child develop the skills necessary to be successful in school. These foundational techniques are the precursor to daily activities such as writing, dressing themselves, and using scissors.
Sensory learning and vocabulary
Incorporating sensory elements into activities is one of the most fun ways for your little one to learn. Touch is the first sense babies develop in the womb and is essential to the early development of physical and communication skills. By feeling different textures, temperatures, and consistencies, your little one becomes better acquainted with the world around them.
This sheep shearing activity—as well as other forms of sensory play—is an opportunity to strengthen your child's vocabulary, too. Exploring their sense of touch helps preschoolers become more descriptive when explaining what is going on in their world and builds their vocabulary in the process. So start talking! How does the shaving cream feel? What sounds does it make when it falls into the bucket? Sprinkle in some new facts and concepts about sheep as well. For example, male sheep are called rams, and females are ewes.
Let's Connect!
We absolutely LOVE seeing your preschoolers learning through play! Please take photos and videos of your child engaging in sensory activities and share your photos with us on Facebook and Instagram!
Also, if you aren't already, be sure to follow us on Facebook and Instagram for more fun activities to do at home with your little ones!
Haven't tried My Pre-K Box yet?
My Pre-K Box is the best monthly subscription box for kids ages 3-5!

Everything you need to create, play, laugh, and learn!