Go on a treasure hunting, pirate adventure with your little one! Your preschooler will have a blast making their very own treasure map and searching for hidden letter clues to find the treasure. This fun, play-based learning activity is great for both fine and gross motor skills, as well as important early literacy skills.
My Pre-K Box: The best monthly subscription box for kids ages 3-5
My Pre-K Box is an educational subscription box for preschoolers filled with different learning activities for math and literacy skills! Each box is based on a different theme and is focused on play based learning. Your kids will love exploring new activities each month while practicing kindergarten readiness skills!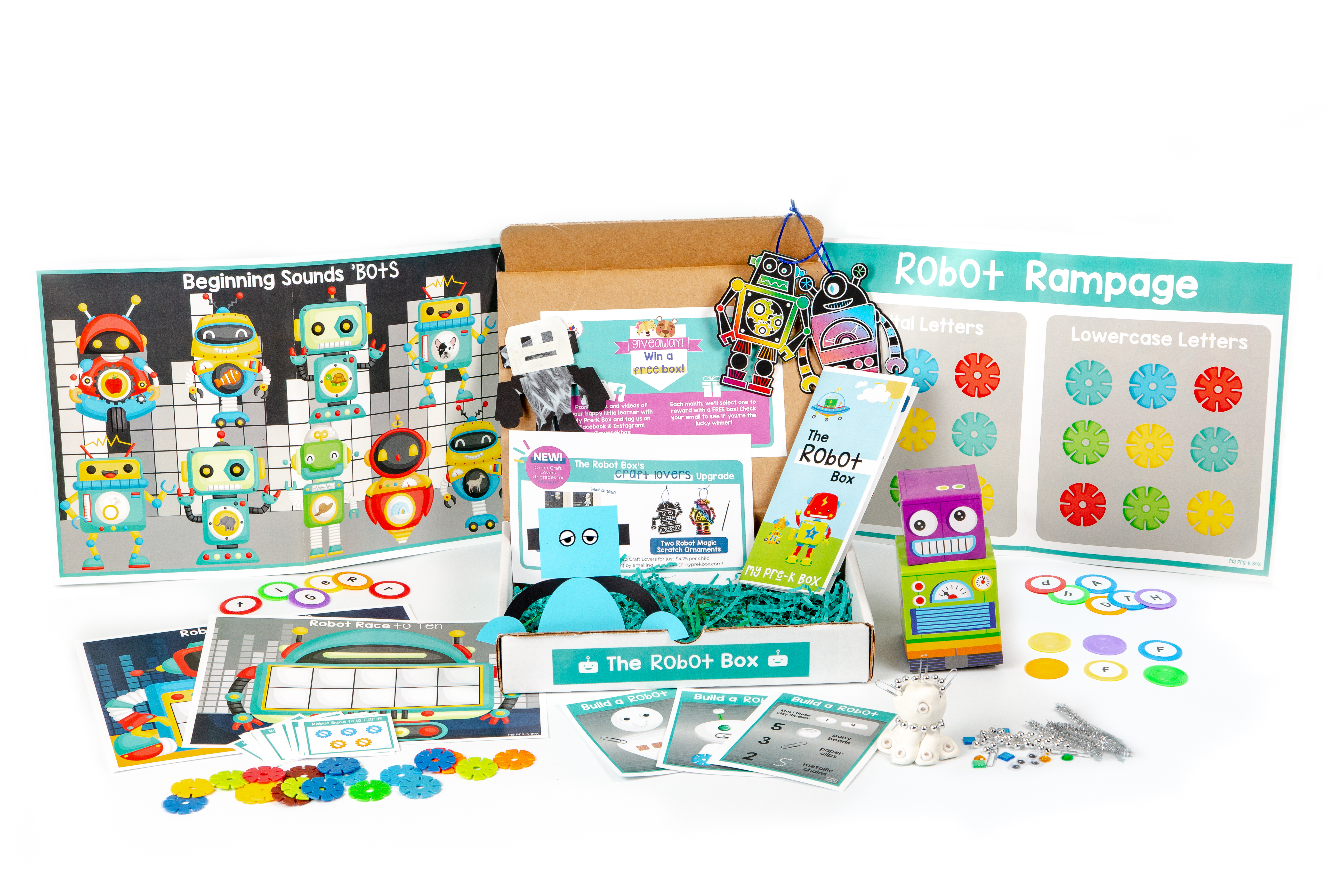 You May Also Like Our Free Preschool Science Fun Pack!
Check out our FREE Preschool Science Fun Pack! These activities are great for teaching your preschooler important concepts like:

Labeling parts of a plant

Weight of different objects

Taste

Animal habitats

Seasons

Weather

Sorting trash, recycling, and compost

...and more!!
Download Your FREE Preschool Science Worksheets Now!
Making the Treaure Map

Materials
paper grocery bag cut into 2 rectangular pieces

water

coffee and/or tea bags

spoon

old cloth

black marker

pencil

bowl

sponge

something to use as "treasure" - a favorite toy, pretend pirate treasure (gold beads, treasure chest, etc.), a sweet treat (juice box, lollipop, etc.) - really anything works here!
Instructions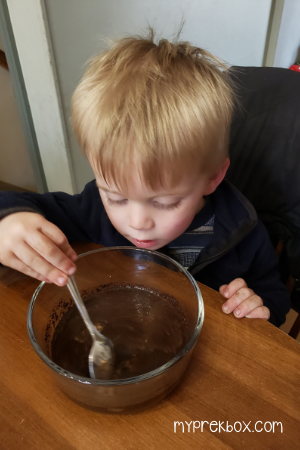 Step 1 Mix the tea bags and/or coffee into a bowl of warm water.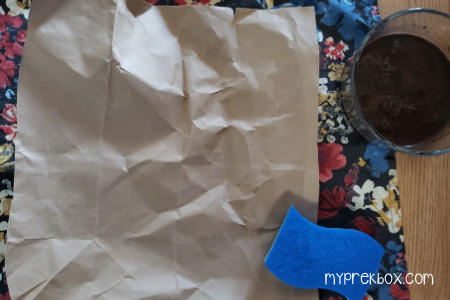 Step 2 Put one of paper on top of the old cloth and use the sponge to put the mixture onto the paper, turning it a darker, multi-toned brown.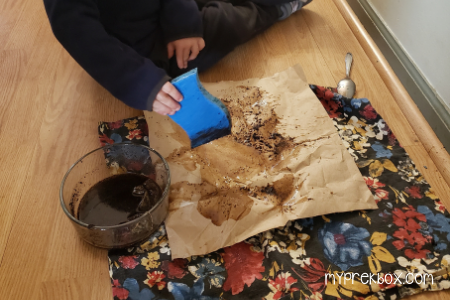 Step 3 Repeat step 2 with the other piece of paper and leave both to dry.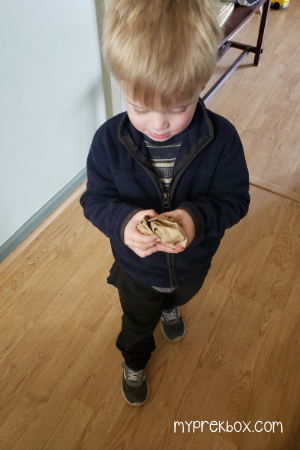 Step 4 Once the papers are dry it will look old and dirty, just like a pirate map! Scrunch up the paper.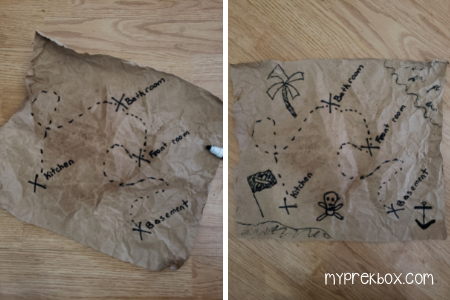 Step 5 Choose four spots in your house, such as the bathroom or kitchen, then mark them on your map with a black marker. Your can draw other pirate-y things on the map (skulls, caves, etc.) to make it look even more like a real treasure map!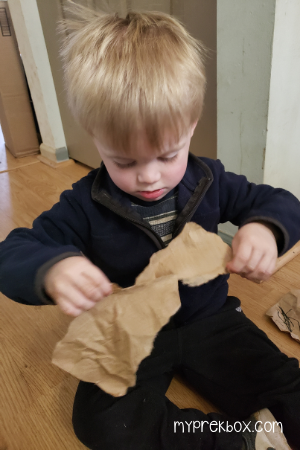 Step 6 Now tear the other sheet of paper into pieces. You will need a piece for each letter of the treasure's location. For example, if you plan to hide the treasure in the dryer you will need five pieces to spell out D-R-Y-E-R.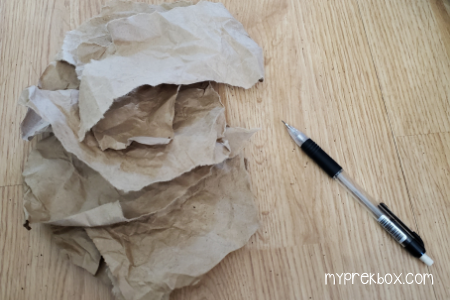 Step 7 Write a letter IN PENCIL (this is important so you can do the treasure hunt more than once and change the location of the final treasure) on each piece of paper and hide them throughout the map's marked locations.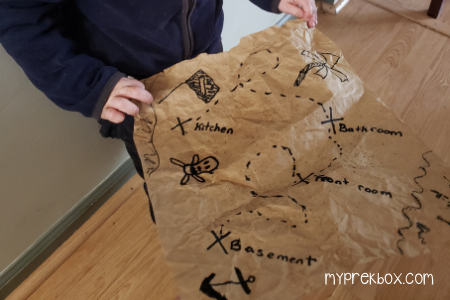 Step 8 Hide the treasure in the place the letter clues spell out.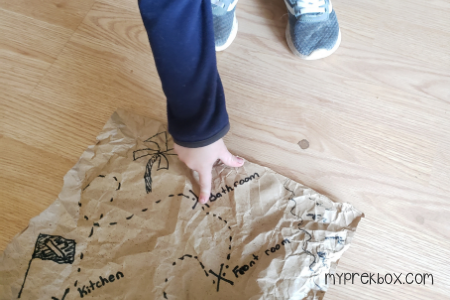 Step 9 Fold up the map - you're ready to start the treasure hunt!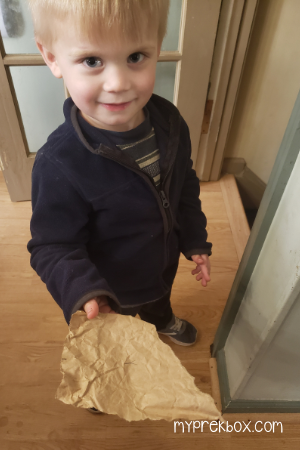 Searching for Treasure
This game is for two or more people. One of the players is in charge of hiding the treasure in the final spot, as well as the letters in the locations marked on the treasure map. Once the letters and treasure are hidden, the other player(s) are to follow the treasure map to the different marked locations and search for the letters that spell out where the final treasure is. After they have found all of the letters (make sure to tell them how many letters they need to find!) they will unscramble the word to spell out the spot of the treasure.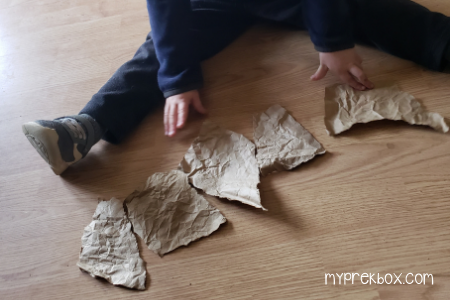 What skills are your child learning and practicing?
The making of the treasure map requires a lot of fine motor skills - using the spoon to stir and mix the water with the coffee and/or tea, tearing the paper for the individual letter pieces, drawing the letter hiding locations, writing the letter clues - all require fine motor skills. Practicing fine motor skills is great for strengthening little one's hand and finger muscles, getting them ready to write.
This activity is also great for gross motor skills. Moving about from spot to spot in your house and searching various locations for letters and treasure gets your little one moving and exploring. This is an awesome way to get gross motor activity inside - perfect for rainy or chilly days!
Searching for and identifying letters adds a literacy component to this activity. Once they have found and counted the letters to make sure they have the right amount (math skills!), unscrambling the letters to build a word works on those kindergarten readiness reading skills. Making the treasure map and playing the treasure hunt game also enable your little one to express their creativty, solve problems, and practice teamwork and cooperation (if playing with more than 2 people).
Let's Connect!
We absolutely LOVE seeing your preschoolers learning through play! Please take photos and videos of your child making their treasure maps and going on their treasure hunts and share them with us on Facebook and Instagram!
Also, if you aren't already, be sure to follow us on Facebook and Instagram for more fun activities to do at home with your little ones!
Haven't yet tried My Pre-K Box?
My Pre-K Box is the best monthly subscription box for kids ages 3-5.

Everything you need to create, play, laugh, and learn!