Chalk Recipes and Games
Sidewalk chalk is a summertime staple. The vibrant colors against the backdrop of a driveway or sidewalk are as quintessential as popsicles, sprinklers, and the smell of sunscreen.
Drawing with chalk presents your child with opportunities to explore their creativity through a new medium. For extra educational components that are fun and memorable, My Pre-K Box has compiled 4 activities you and your preschooler can work on together. These activities focus on fine-tuning motor skills and recognizing shapes, letters, and sight words—all precursors to excelling in school.
My Pre-K Box has also tested different recipes for creating sidewalk chalk and paint that your preschooler can master (check out My Pre-K Box on Instagram for a puffy sidewalk chalk paint tutorial!). The sidewalk paint recipe below uses just 3 ingredients to create bright colors that will turn an ordinary sidewalk into a masterpiece.
My Pre-K Box: The Best Educational Subscription Box for Preschoolers
My Pre-K Box is an educational subscription box for preschoolers aged 3-5! We deliver the most fun play-based preschool learning available! Each box has its own unique theme and is filled with different learning activities to target math and literacy skills. Your kids will have fun exploring the new activities, and you will delight in the fact you are helping them with essential Kindergarten readiness skills!
Looking for More Summer Preschool Acitivites?
Check out our FREE camping-themed preschool worksheets! These camping-themed worksheets are the perfect compliment to your Sidewalk Chalk Paint and teach your preschooler important skills like:

Letter matching

Size comparisons

Counting

Sorting

Patterns

Sound matching

Map concepts

...and more!!
Download your FREE Camping Preschool Fun Pack!
Make Chalk Paint
This simple recipe is another way for your 3 to 5-year old to practice measuring, mixing, and making new color combinations.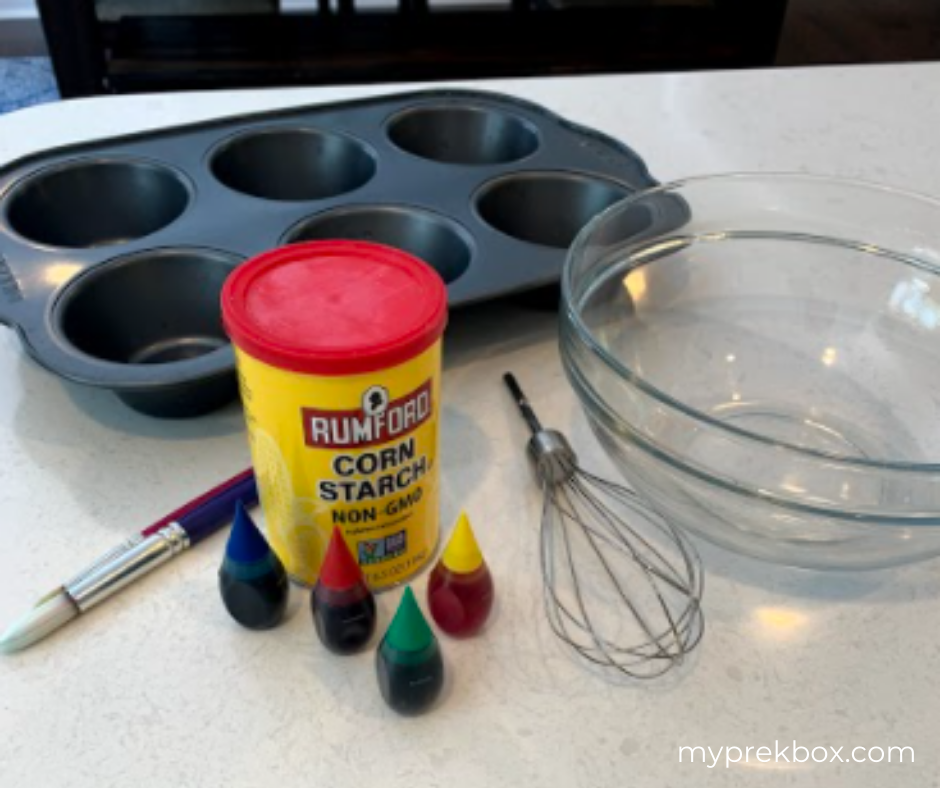 Materials:
2 cups cornstarch

2 cups water

Food dye in various colors

Muffin tin or containers

Whisk

Paintbrushes
How to Make Sidewalk Chalk Paint
Step 1 Mix equal parts cornstarch and water and pour into muffin tin. The described amount was enough to fill 6 muffin tin slots.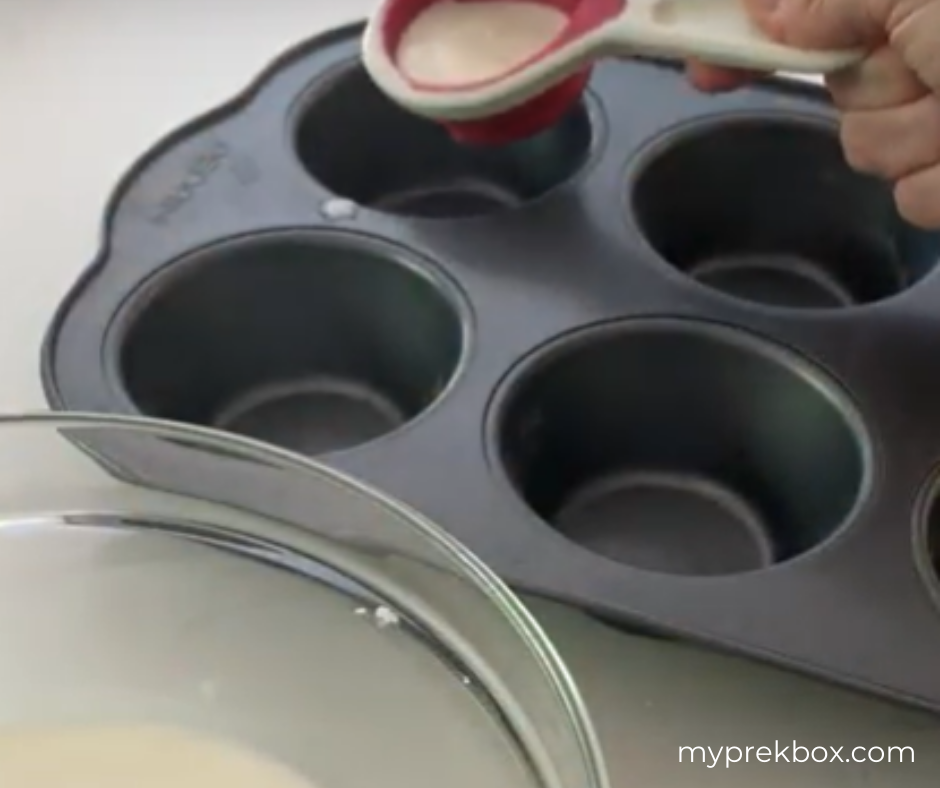 Step 2 Add 4-6 drops of food color to each muffin tin slot.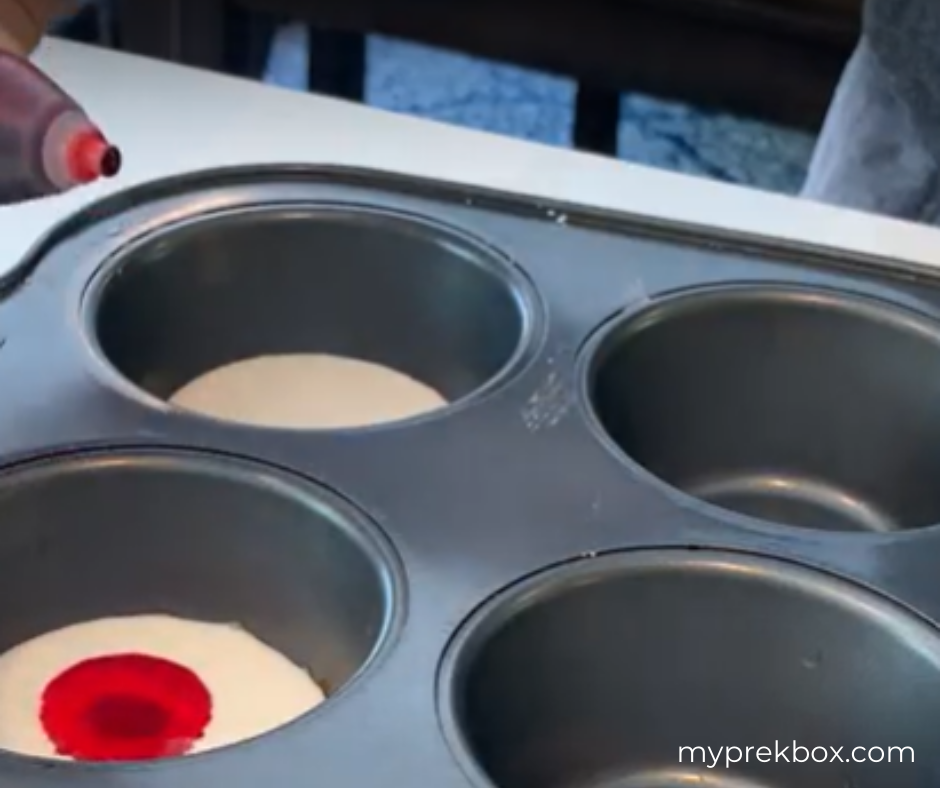 Step 3 Mix well.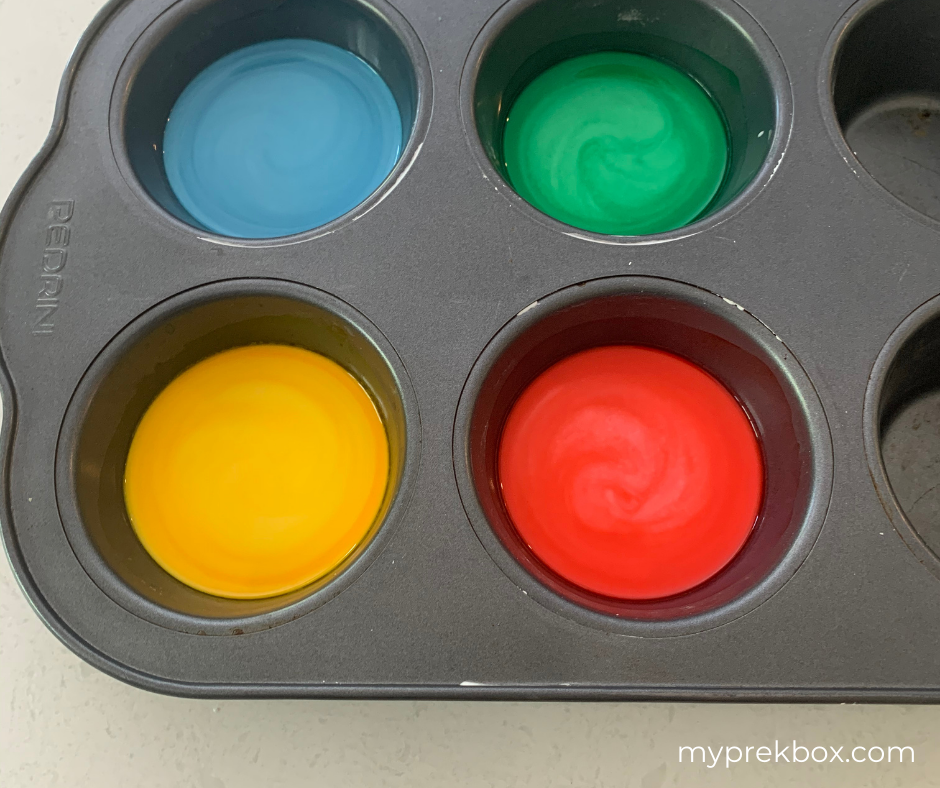 Step 4 Use paintbrushes to apply chalk paint to the sidewalk.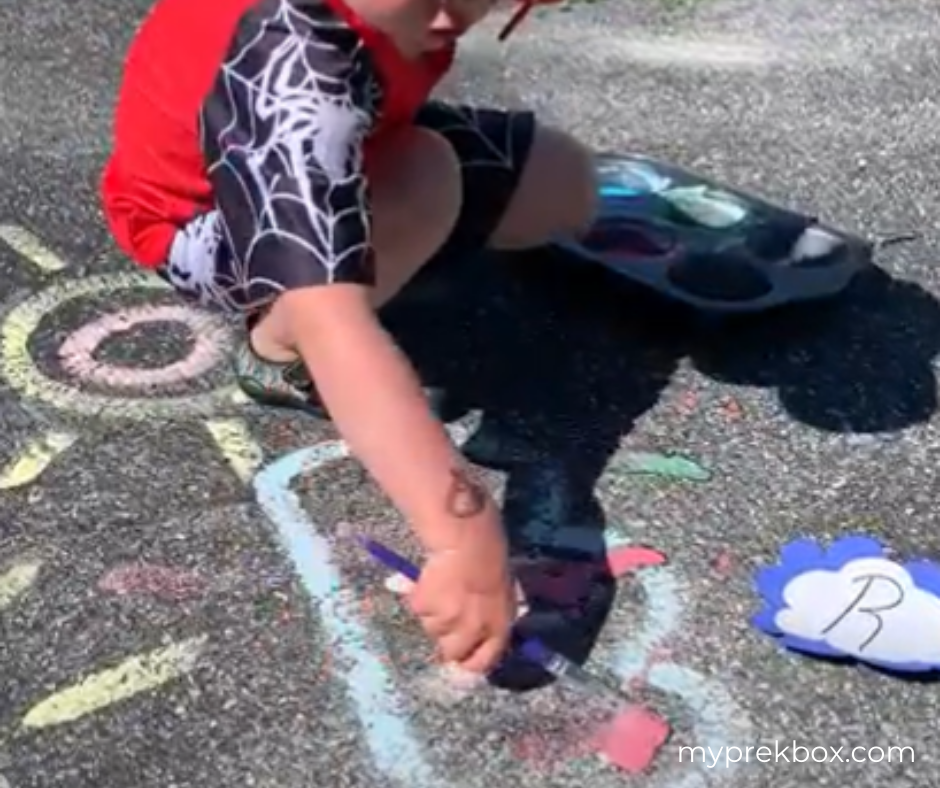 As the chalk dries, the colors will become more vibrant. The chalk paint is not meant to stay on surfaces overnight. To avoid any staining, spray the surface to remove the paint after use.
Creative and Educational Sidewalk Chalk Activities
Now that your child has created their own paintable sidewalk chalk, it is time to have some fun! Use the paint or any type of chalk to create and play these educational games.
Cloud A

lphabet Game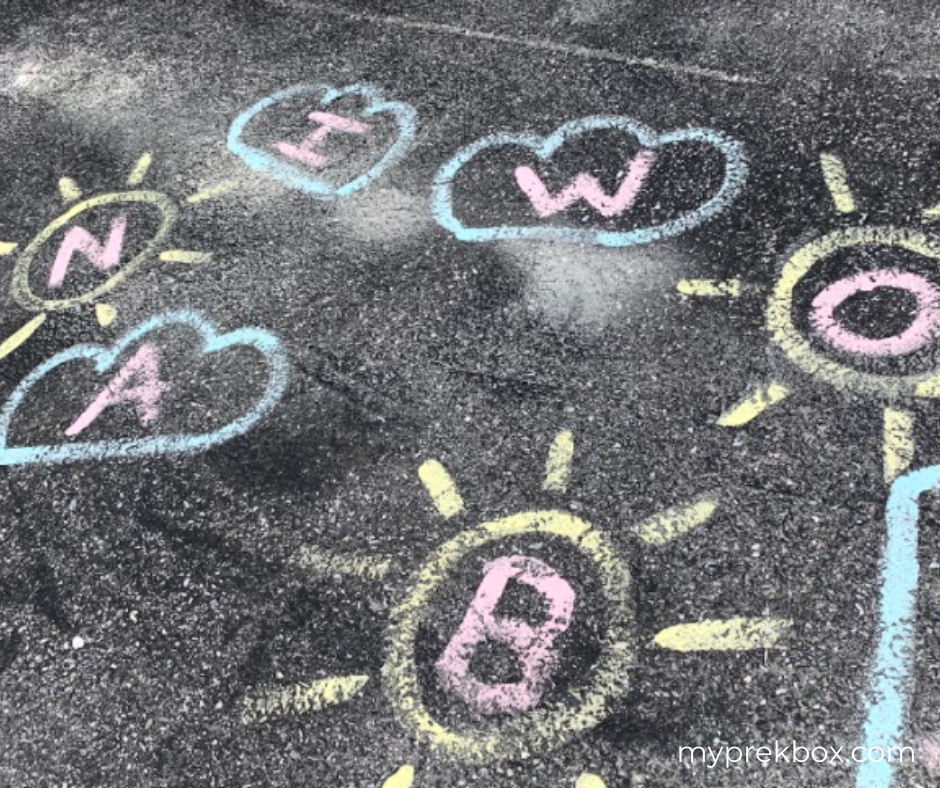 Materials:
Chalk

Construction paper

Scissors

Marker
Step 1 Cut cloud shapes from the construction paper.
Step 2 Add a letter to each cloud. You can create the entire alphabet, a summer-themed word, your child's name, or any assortment of letters.
Step 3 Draw clouds and suns with the chalk onto a sidewalk. One shape for each letter you've added to the paper clouds.
Step 4 Add one letter to each sun and cloud.
Step 5 Lay the paper clouds face down.
Step 6 Have your child pick a paper cloud and reveal the letter.
Step 7 Encourage your child to color in the corresponding letter with chalk.
Step 8 Repeat until no letters remain.
Your child will be learning:
This sidewalk chalk game is the perfect way to reinforce letters of the alphabet in a fun, interactive way. Your child will love the surprise of flipping over each letter and racing to find its match on the sidewalk. If your child can, have them write the letters onto the chalk clouds and suns for extra practice. Coloring in the clouds and suns with chalk strengthens fine motor skills necessary for writing.
Shape Matching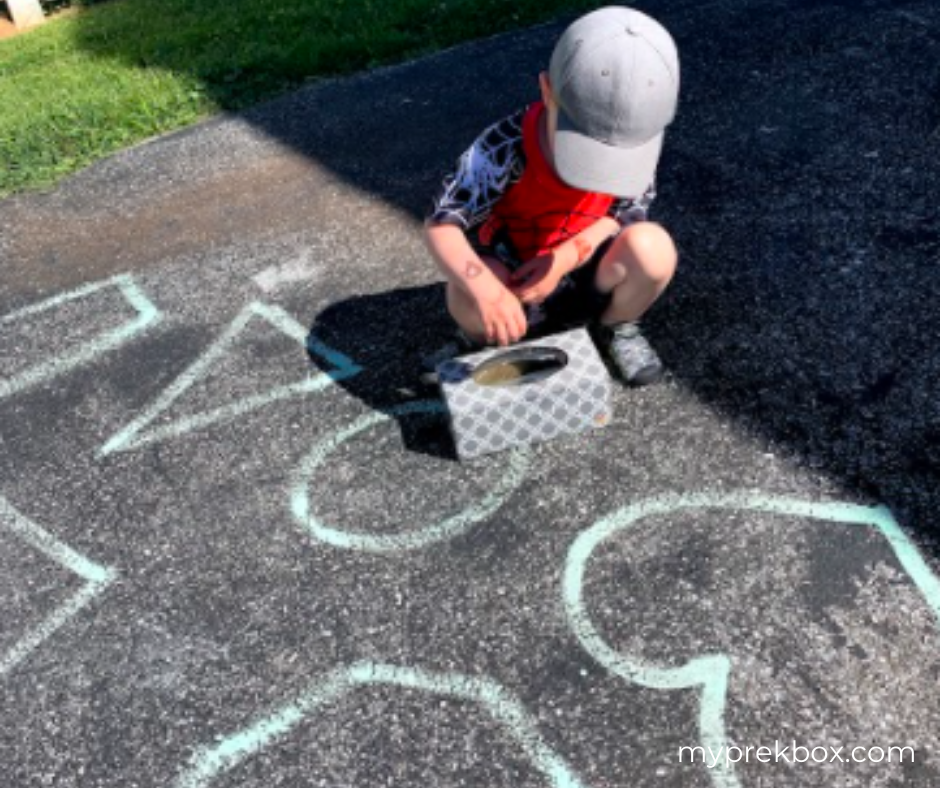 Materials:
Chalk

Construction paper

Scissors

Empty tissue box or similar-size container
Step 1 Cut different shapes out of the construction paper (triangle, square, rectangle, circle, heart, etc.)
Step 2 Add the shapes to the tissue box so they are hidden.
Step 3 Draw those same shapes with chalk onto the sidewalk. Or help your child learn to draw them!
Step 4 Have your child select a shape from the box and then color in the corresponding shape using chalk.
Step 5 Repeat until there are no more shapes in the box.
Your child will be learning:
When your child learns to recognize shapes it sets them up to memorize numbers and letters, too. Shapes are also a first step to understanding symbols and will assist your child in reading, writing, math, and science. Help your child strengthen their dexterity, coordination, and fine motor skills by assisting them in drawing the shapes on the sidewalk and cutting them from the construction paper.
Chalk Movement Path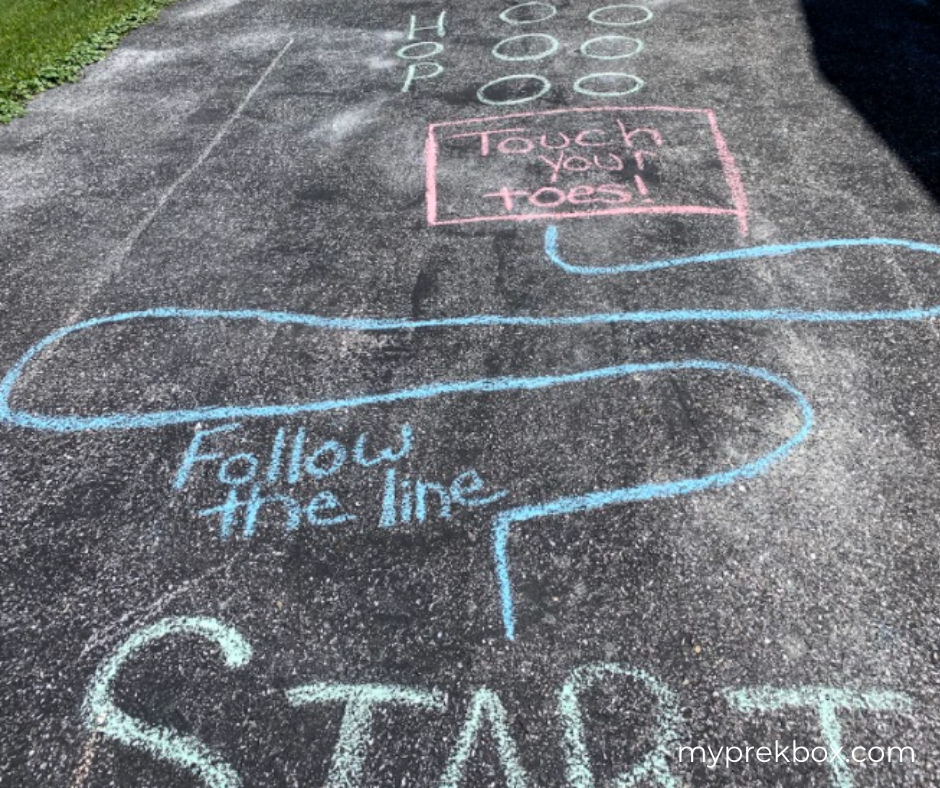 Materials:
Step 1 Pick a starting point on a long stretch of sidewalk or driveway.
Step 2 Every few feet, draw a new directive for your child to accomplish. Examples include running, following a wavy line, touching toes, hopping, and spinning.
Your child will be learning:
Gross motor skills are on full display with this game. In addition to burning off some energy and staying active, movement paths exercise a child's ability to follow directions, memorize steps, and increase hand-eye coordination. Switch up the activities each time you create a movement path full of new challenges.
Sight Word Race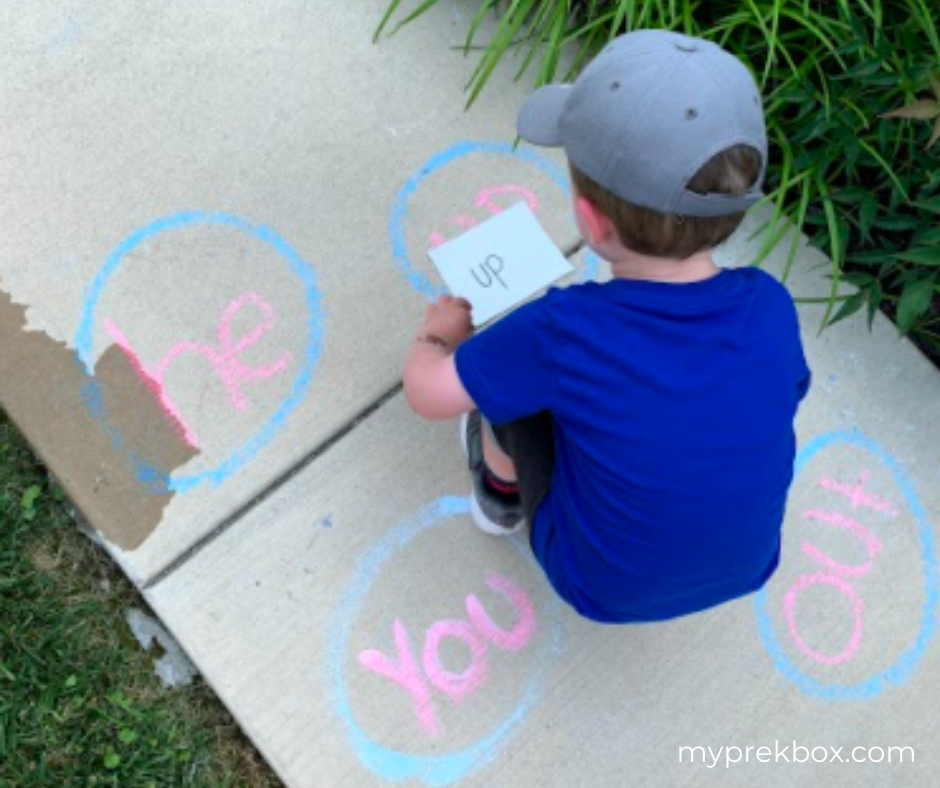 Materials:
Step 1 Write a different sight word on each notecard. Choose some sight words your child has mastered and others they are still learning.
Step 2 Use the chalk to draw circles on the sidewalk.
Step 3 Add a sight word to each circle that corresponds with what you have written on the notecards.
Step 4 Draw a 'start' line a few feet from the circles and place the note cards face down.
Step 5 Have your child select a notecard. Together, read the word on the card.
Step 6 Have them run to the same word written in chalk and place the card on top.
Step 7 Repeat until all of the cards are used.
Your child will be learning:
Sight words are a collection of words a child should learn to identify without sounding out the letters phonetically. Sight words include: the, of, in, is, he, she, they, but, not, what, more, go, and see. By recognizing these frequently used words, your child will become a more fluent, faster reader.
Let's Connect!
We absolutely LOVE seeing your preschoolers learning through play! Please take photos and videos of this fun summertime activity and share your photos of your Chalk Paint with us on Facebook and Instagram!!
Also, if you aren't already, be sure to follow us on Facebook and Instagram for more fun activities to do at home with your little ones!
Haven't yet tried My Pre-K Box?
My Pre-K Box is the best monthly subscription box for kids ages 3-5.

Everything you need to create, play, laugh, and learn!