Are you looking for fun winter book activities for preschoolers? Your 3-5 year old will love this one! These activities accompany one of my favorite Christmas books, There was an Old Lady Who Swallowed a Bell. This book, along with these activities and sensory bin are sure to entertain your tot for hours this Christmas season!
My Pre-K Box: The Best Educational Subscription Box for Preschoolers
With the joys of the holidays, there are also many days outside of the normal routine. Wouldn't it be nice to have ready-made learning activities for your children to stay entertained during winter break? With a subscription to My Pre-K Box, we deliver the best, hands-on playful learning activities for your busy preschooler! Each month our kits are delivered straight to your door, so there is no need to drag the kids to the store!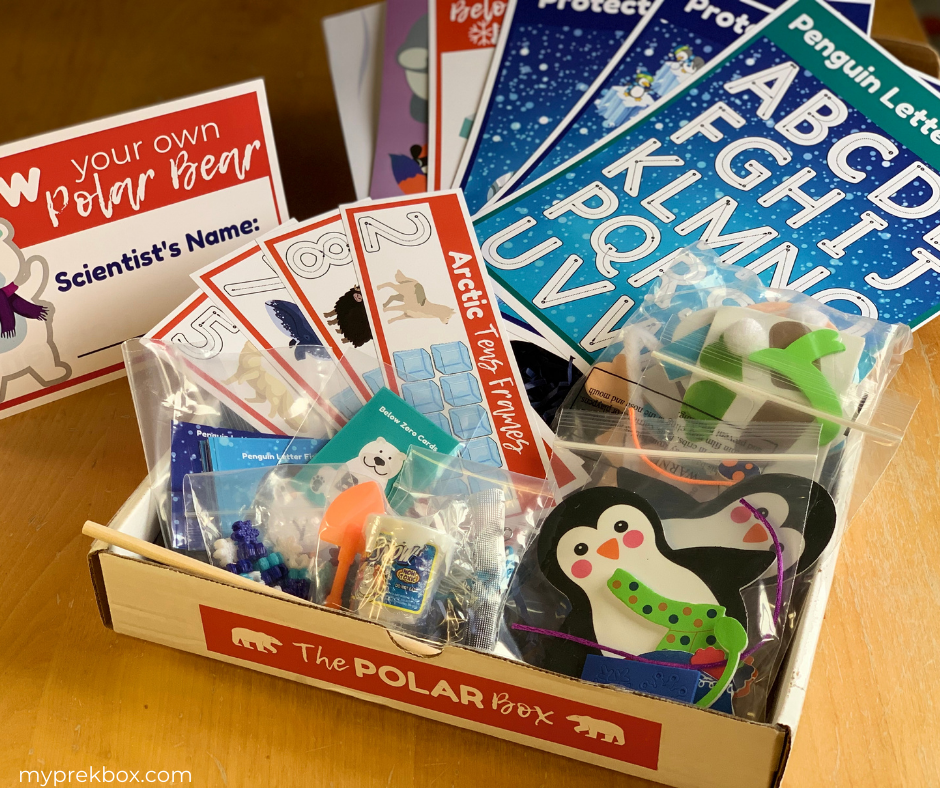 There was an Old Lady Who Swallowed a Bell Activities
Your preschooler will love these activities with the book, There was an Old Lady Who Swallowed a Bell. In this picture book, the silly old lady swallows some strange Christmas-themed items! Your kid will get a kick out of the story, and even better, they will love being able to feed these silly trinkets to her in this fun play-based learning extension activity!
These activities work on many different kindergarten readiness skills including attention, fine motor strength through using tongs, visual motor skills as they search the sensory bin for the items, sequencing, and matching. The tactile sensory component also helps build concentration, focus, relaxation, independence, and creativity!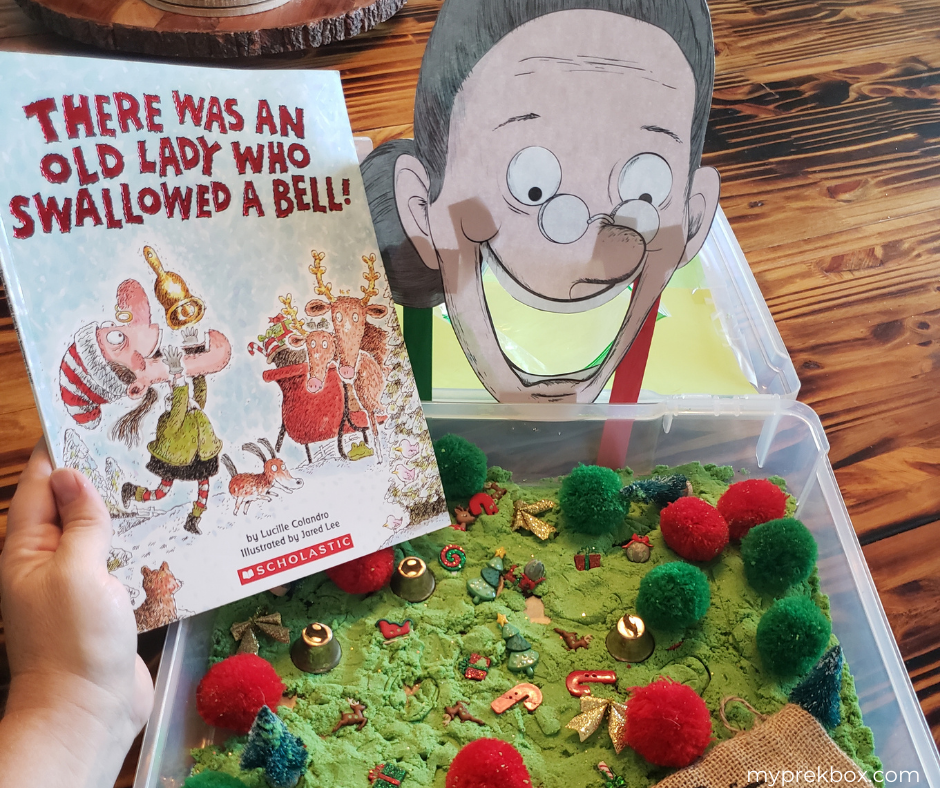 Feed the Old Lady

Reading books is so much more fun when you can also act it out! Your child will love this sensory bin and feeding activity as you read the story together!
Materials:
There Was an Old Lady Who Swallowed a Bell book

Sensory Bin

Container to hold items

Kinetic Sand (choose any Christmas themed color)

Glitter (optional)

Items for her to eat: bell, bow, gift, sack, sleigh and reindeer (could be pictures or you can find small items at your local dollar store!)


Additional Christmas-themed items (Christmas trees, red and green pom poms, and candy canes. Try and get some different textures in there!)hr

Tongs

Old Lady

Plastic bag

Popsicle sticks

Tape or glue gun

Scissors

Free Download - Old Lady Cutout

Laminator and sheets (Optional: This helps our sweet, hungry old lady stand up to the kids better)
Don't have time to create all the materials yourself? We've got you covered!
Check out our FREE Old Lady Who Swallowed A Bell Print & Go Activities! This packet makes completing these book activities simple and easy!


Included in the FREE Old Lady Who Swallowed A Bell Print & Go Activities:


Old Lady print out (used for Feed the Old Lady)

Items the Old Lady ate print out (used for Feed the Old Lady and Matching!)

Old Lady Sequencing worksheet
Step 1

Add glitter to the kinetic sand if desired to create a glistening effect. Once you have gathered all your materials, place all sensory bin items in your container. Be sure to hide some of the items in the sand with just part of them visible.

Step 2
Print, laminate (if you choose) and cut out the Old Lady's mouth. You can cut out around her head or leave the white part if you want.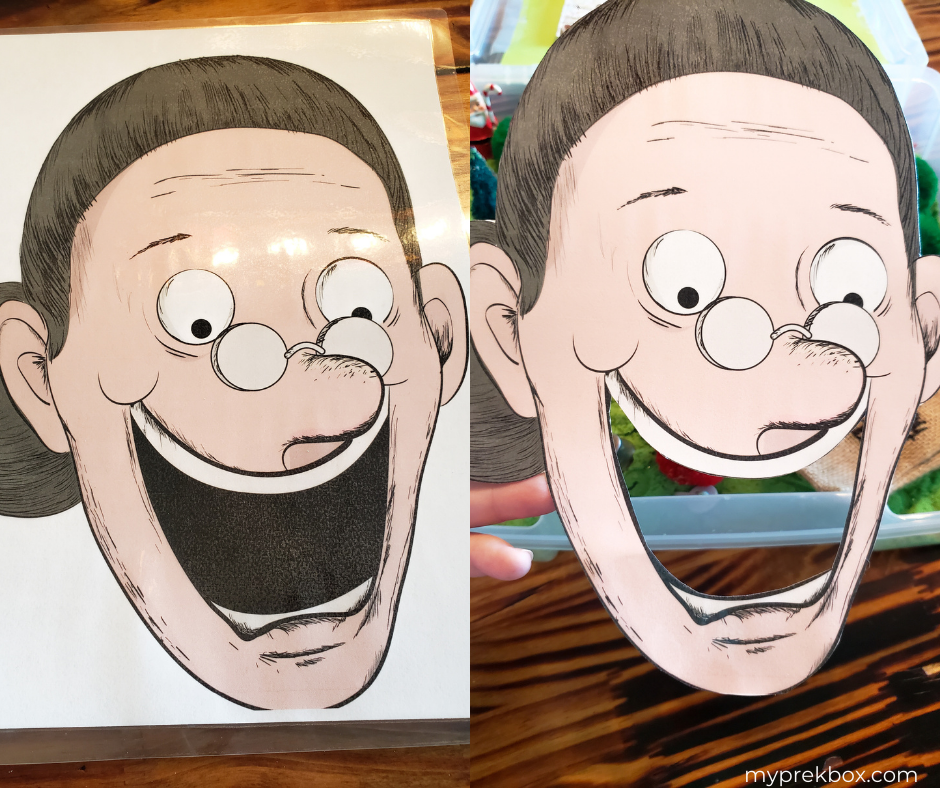 Step 3
Attach popsicle sticks to the Old lady using tape or glue gun. I use the popsicle sticks to hold her or prop her in the hinge of the craft box.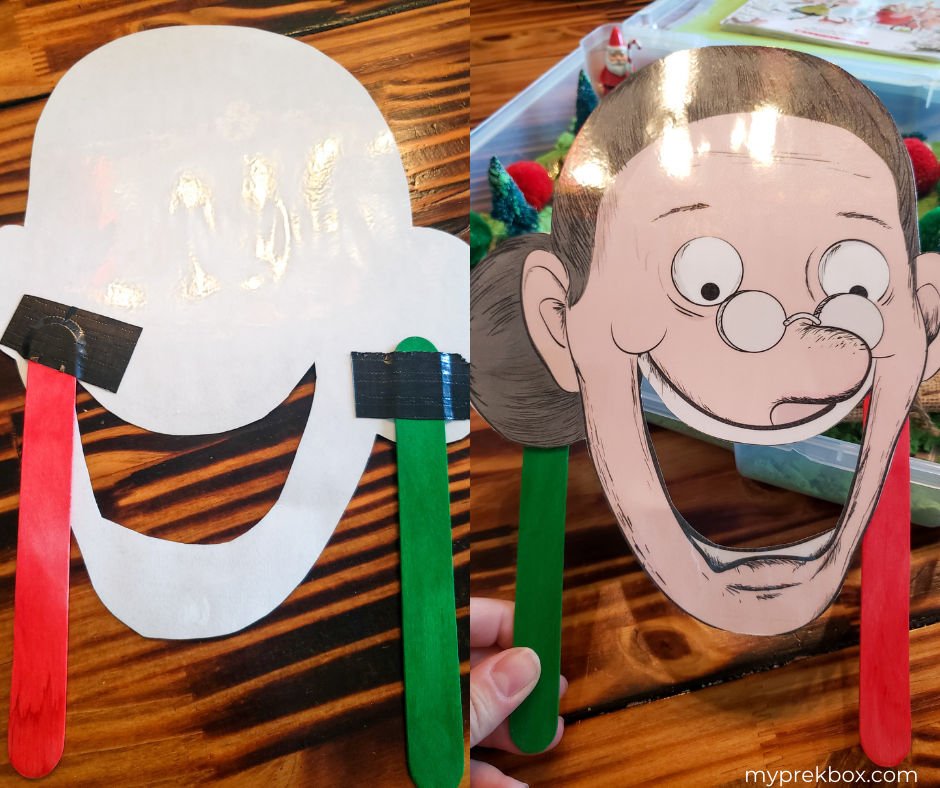 Step 4
Attach the baggie behind the Old Lady's mouth (to catch the items she eats) using tape.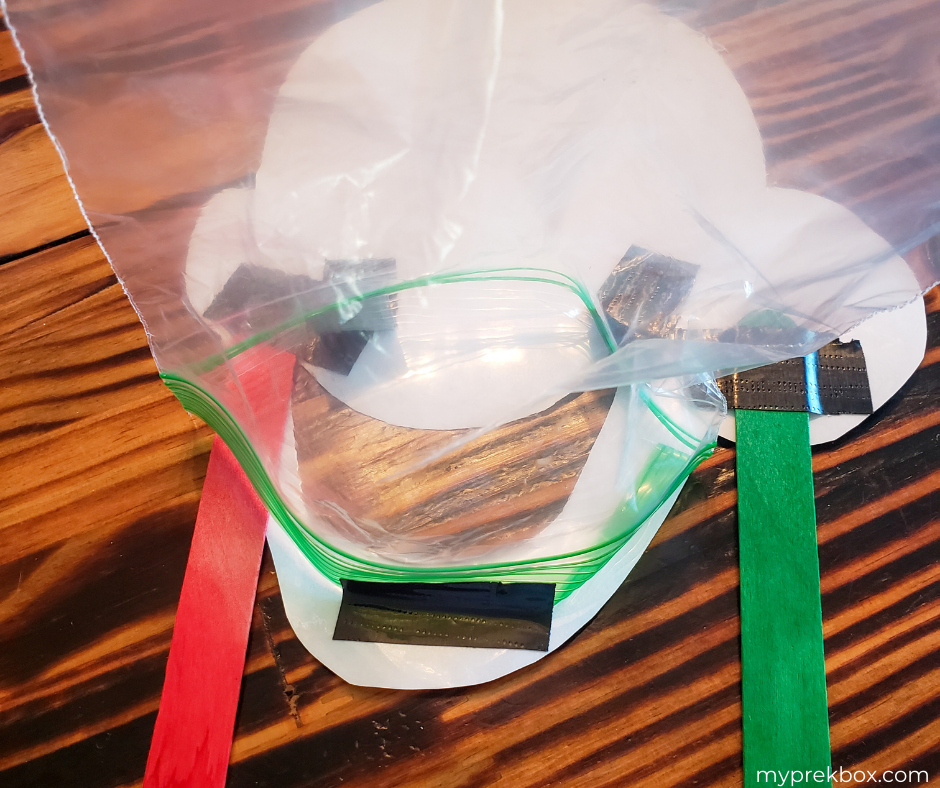 Step 5
Read the book to your child, as she eats each item in the book, allow your child to search for the item in the box, retrieve it using the tongs and feed the Old Lady.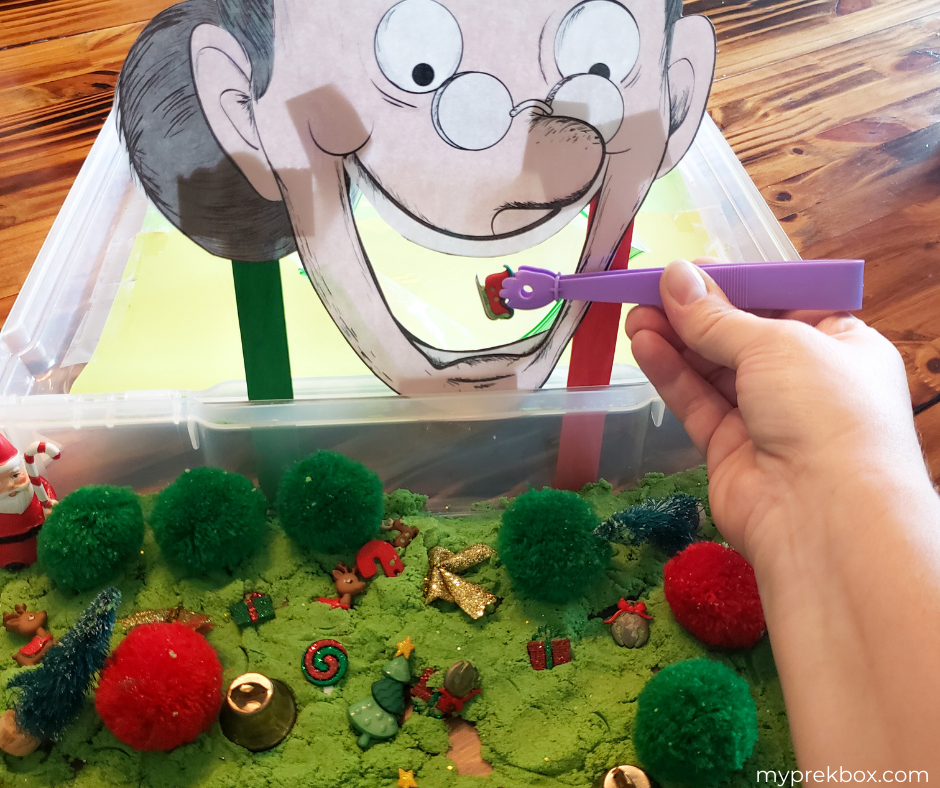 Gross Motor Sensory Bin Fun
We all know how busy our little ones are! Incorporate some gross motor skills as an extension to reading the book!
Materials:
Paper (Christmas colored paper is recommended)

Pen or marker

Scissors

Laminator and sheets (optional)
Step

1



Write 10 Gross motor actions on paper (i.e. jump on one foot 10 times, spin in a circle, walk on your tippy toes, etc.). If you have the time you can type, print and laminate these for smaller, harder to find pieces. Plus, you can easily use them again!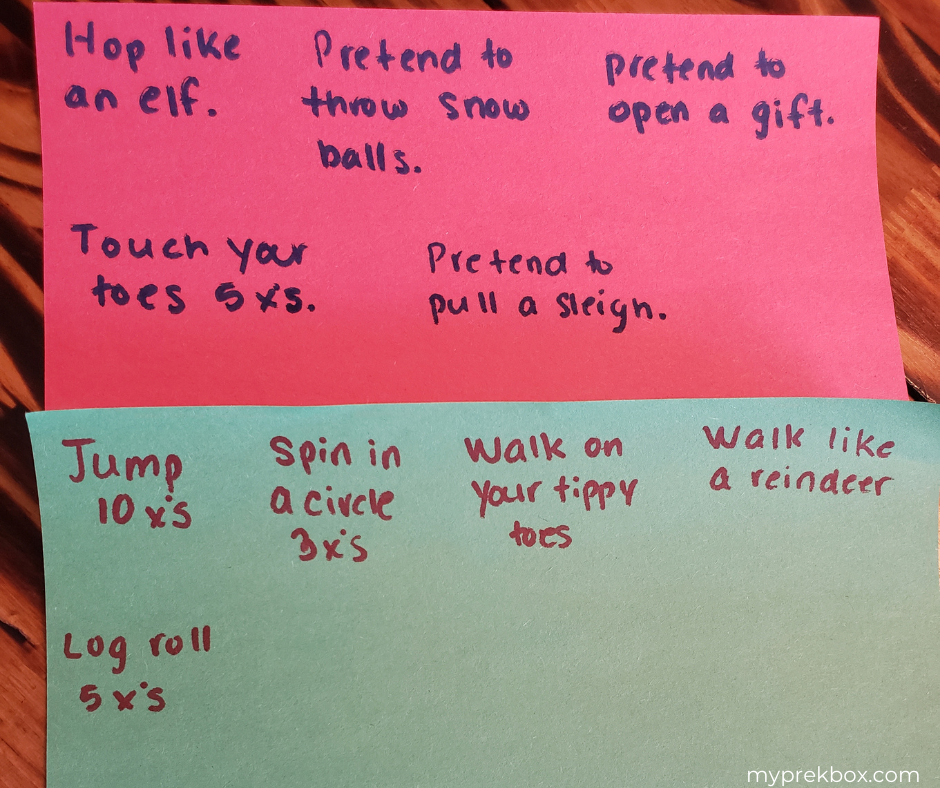 Step

2
Cut out gross motor actions (laminate if you desire) and hide throughout the sensory bin.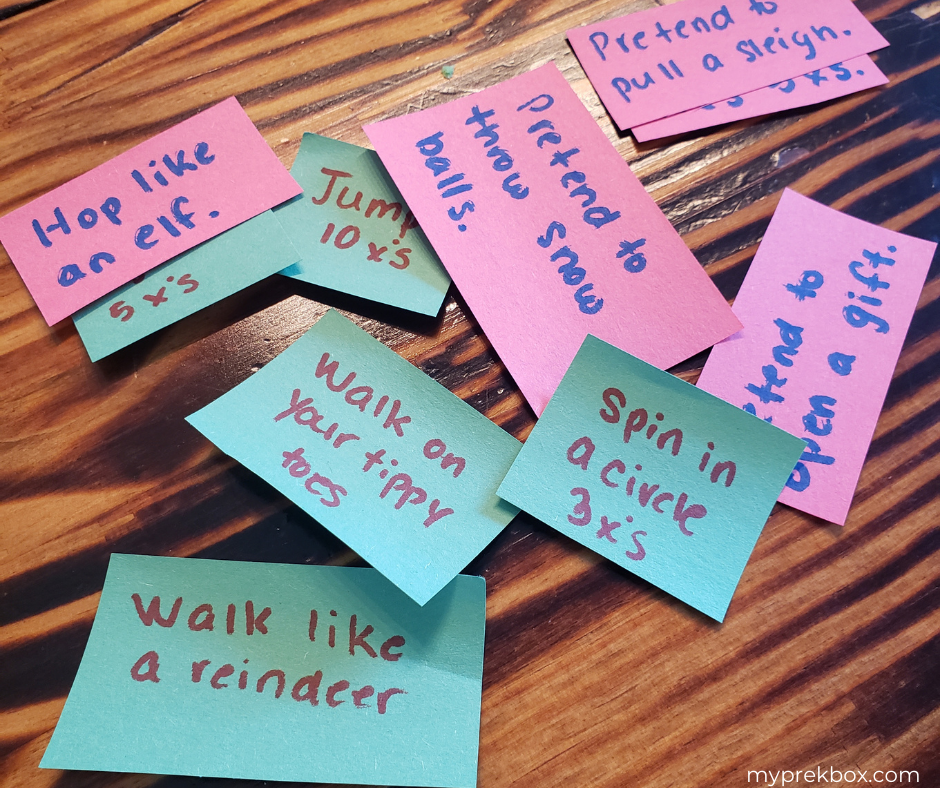 Step

3
Include the gross motor actions into the story by allowing your child to find one after feeding the Old Lady and completing the task in order to move on in the book OR complete the actions as their own activity.
Storage tip: If you have a real "sack" in your bin, you can store the gross motor cards inside it.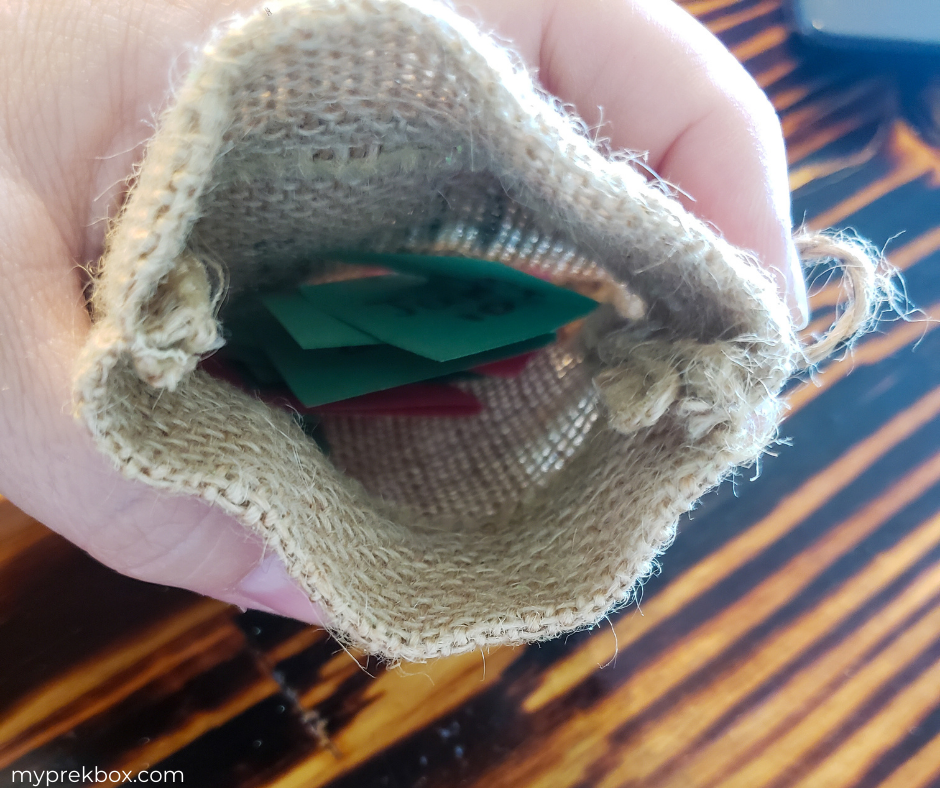 Little Old Lady Sequencing
This sequencing activity will help your child with comprehending the story and with vocabulary acquisition. Your preschooler will learn ordinal numbers like first, second, and third as well as sequencing words like next, then, after that, and finally. This activity also helps your little one learn how to retell a story while using hands-on manipulatives!
Materials:
Sensory bin with all above items
Step 1
Line up the items the Old Lady eats in the order of the story.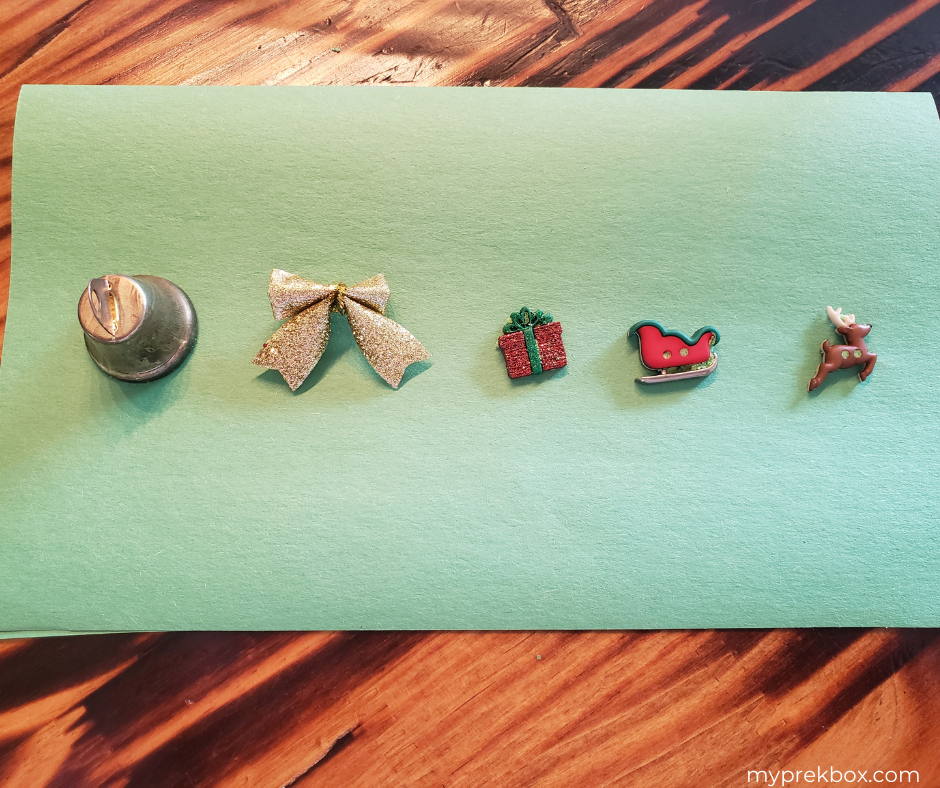 Step 2
Ask your child to name the item that came before, after or in between. Example: "What item is before the bows?" OR "What item is between the sack and the reindeer?"
If you'd like, use numbers to help your child understand sequencing and the relationship between ordinal numbers (first, second, third, fourth, fifth) and numerals (1, 2, 3, 4, 5).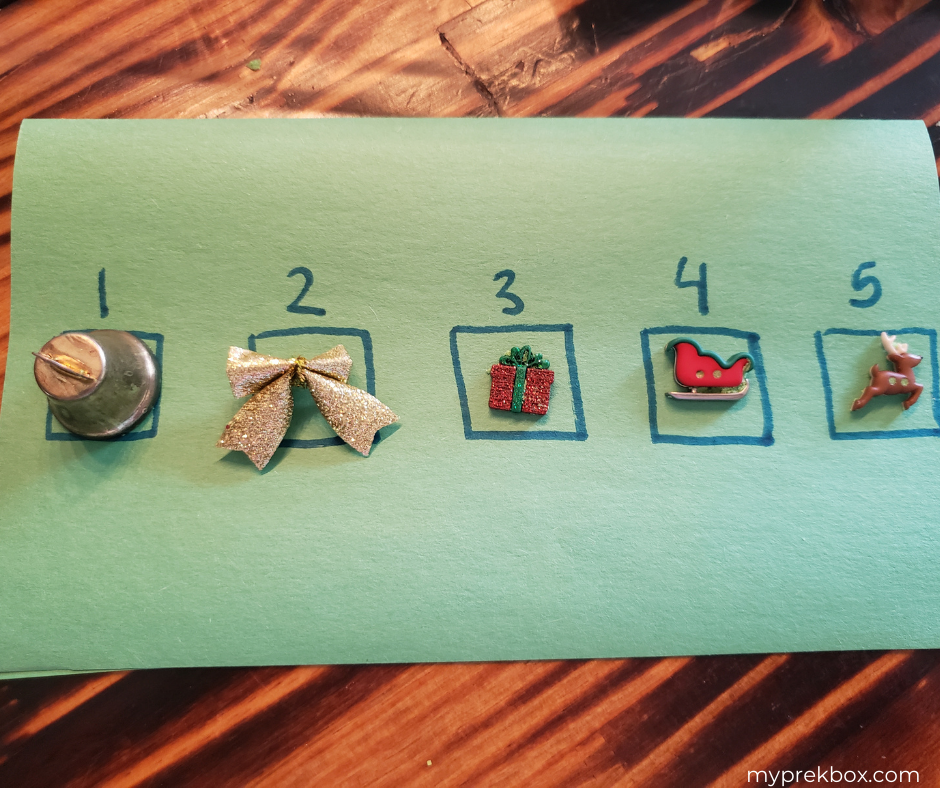 Matching with the Old Lady
This matching activity is a great way to wrap up the book with your preschooler. Now that they are familiar with the items that the Old Lady swallowed, they can practice matching the items to non-identical pictures: a critical skill for Kindergarten readiness!
Materials:
Sensory bin with all bell, bow, gift, sack, sleigh and reindeer

Pictures of items from the book (grab a copy here)
Step

1
Print out (and laminate if desired) the picture sheet with items from the story.
Step

2
Have the child retrieve an item of their choice (or you can ask them to retrieve a specific item) from the sensory bin. They can use the tongs to make the task a little more challenging.
Step

3
Have your child place the item on the matching picture on the printout.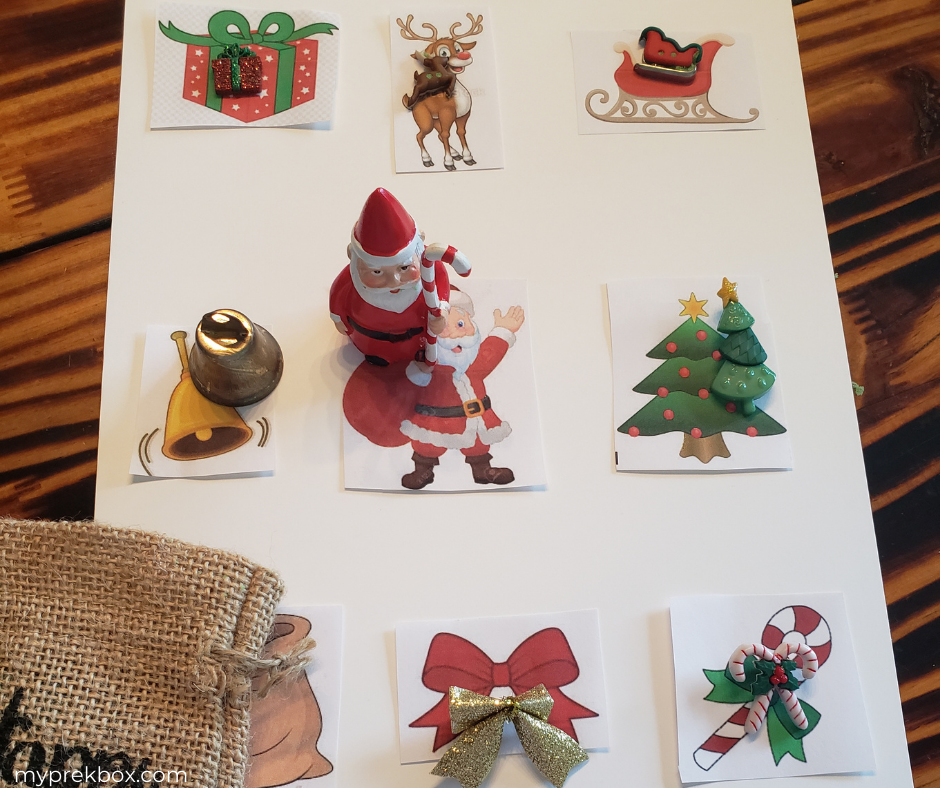 Teaching Tip: Combine the gross motor and matching activity by placing the printout away from the sensory bin (10 or more feet) and ask your child to pick an item and an action from the bin and complete the action (while holding the item) to the printout and match the picture.
Reading can be so much more fun when matched with activities that engage and teach children. These preschool holiday themed activities will allow your children to have fun without knowing they are learning valuable skills that will help them in kindergarten!
Let's Connect!
We absolutely LOVE seeing your preschoolers learning through play! Please take photos and videos of your child engaging in these Old Lady Who Swallowed A Bell preschool activities and share them with us on Facebook and Instagram!
Also, if you aren't already, be sure to follow us on Facebook and Instagram for more fun activities to do at home with your little ones!
Haven't yet tried My Pre-K Box?
My Pre-K Box is the best monthly subscription box for kids ages 3-5.

Everything you need to create, play, laugh, and learn!